005: Supporting Someone With Anxiety with Sarah
In this episode Lucy interviews Sarah (@sarahprovirose) on supporting someone with anxiety, including her own experience with anxiety. Sarah talks about when her anxiety started, how she learned to manage it and how best to support someone with their anxiety.
Scroll down to read or click play to listen
Supporting Someone With Anxiety with Sarah
Lucy: Let us know a little bit about you and where your anxiety began.
Sarah: My anxiety began when I was very young, although I didn't know it. It wasn't a topic that was bought up, especially in my household as my parents were old-fashioned. When I was younger I had huge self-confidence issues and was terrified of speaking in public. I remember always telling my parents that I had stomach aches and didn't want to go to school, I've heard a lot of people say they had the same thing. I didn't realise it was anxiety at the time. When I was in high school it really started taking over my life and I realised I've been dealing with this a long time. My self-esteem issues got worse and I found myself coping with it in not the most healthy way. I had no one to talk to, or didn't feel comfortable talking about it. It became a daily struggle. It a nutshell, it began when I was younger but only escalated though high school and in my teenage years.
Lucy: It's interesting that you say you hear a lot of people have had the same experience as you. Mine is exactly the same, it feels like I was listening to my own story then.
Sarah: Yeah, it's something so common. I guess its because when we're younger we don't label it as anxiety, it's just this nervous feeling. Like I said my parents said to go to school, they didn't realise something was going on and sit me down to talk about it.
Lucy: Unfortunately it's that way for a lot of people. I didn't know about anxiety until the counsellor said the word and that was the first time I knew what it was.
Sarah: It's amazing how we can go so long without knowing what's going on inside us.
Lucy: Exactly, which is why it's so different to physical health. If we were experiencing physical symptoms you would go to the doctors and get a diagnosis to know what's going on straight away and you can deal with it. It just doesn't seem to be the same right now for mental health, although it is going in the right direction.
Sarah: I think we're definitely making progress but still people need to be educated on understanding and awareness of mental health.
Lucy: Do you feel like you've got control over your anxiety now and you know how to manage it better?
Sarah: I do, I've made a lot of progress which I'm happy with. I have those odd days where I feel a little anxious in certain situations, which is natural and common. I would have to say the last time I experienced a full on anxiety attack was about 2 years ago. I'm very happy with the progress I've made and I have ways now that I use to control it, so that's good.
Lucy: 2 years is amazing, so what kind of things have you used to help you get to this point?
Sarah: A lot of self-reflection. I'm all about getting to know yourself and really becoming friends with the person in the mirror before anyone else. I had a very negative mindset up until a few years ago, everything was negative, about myself and my life so that was very unhealthy. So I changed that and that led me to managing my anxiety better. I journaled a lot, something that really helped me. I also used positive affirmations and quotes. I really threw myself into that self-reflection mode, I got to the point when I realised something needs to change. I actually did this one thing that I was so happy with, I made something called a 'good moments jar.' I got a jar and little pieces of paper and put it beside my bed, every night before I went to bed I wrote something good that happened and put it in the jar. Then at the end of the year on New Years Eve I took out the papers and read them all back. I was crying by the end because I could see the progress I'd made over the year and it really showed me that no matter how bad your day is theres always something good in it. So I think that was the biggest thing that changed my mindset, I still have my jar so every time I see it, it brings back that feeling.
Lucy: That's amazing, do you still add to that jar now?
Sarah: I don't, I was thinking about bringing it back and doing it again so maybe I will.
Lucy: Yeah, it's such a good idea. I always talk about creating  a gratitude jar so one thing that you're grateful for everyday but I love this, it's a really great idea.
Sarah: Yeah because it also adds that physical aspect to it, whenever you see it you remember you have to add to it. Journaling is great and I love it but you close the book and put it away. I decorated the jar all nice with stickers on it so I could see it was there and know that I needed to add to it.
Lucy:  Amazing. So for people that are struggling with anxiety now and haven't yet got the support and don't understand how to manage their anxiety or where to get started, could you just share a little about how your anxiety made you feel – so the physical and emotional symptoms that you experienced from it.
Sarah: My anxiety attacks were not a good feeling, probably one of the worst because it really does takeover your life physically and emotionally in that moment. So just some of the things I would experience were crying uncontrollably, leading to me having trouble breathing, tingly sensations all over my body, back pains, nauseas. Emotionally, I had so much going on in my mind that it was very hard to come back down and realise what was going on. Luckily when I experience my anxiety now it's ten times better than it was then. The crying is still there, I'm a very emotional person so that happens naturally and I still get the tingling a little bit but only in my hands and wrists. That's how I know that the anxiety is coming on, so it's almost like a positive trigger, I know the anxiety is coming so I need to cope with it. It's important to look out for those signs.
Lucy: I was about to say that, it's almost like you use your symptoms as a warning, that's a really great way of looking at it. Quite often people get caught up in beginning to worry about the symptoms they are experiencing with anxiety, which is easily done because especially with physical symptoms it can feel really overwhelming and like something more is wrong that just the original anxiety. It's important just to catch that as quickly as possible and start using any skills you've got to help manage it. Once you understand your symptoms you can start using them as a warning.
Lucy: What activities would you recommend for somebody who hasn't got started yet at all with managing their anxiety?
Sarah: There are so many, it really depends on the individual. What works for some people may not work for others. Journaling is a great one, putting your feelings onto a page can make you feel lighter and it's almost like you can get it out of your brain and if you need to go back to it, it's there. Meditating or praying, if you're spiritual connect with that. Exercising, getting outside – fresh air always seems to help. Doing something you love, listen to your favourite song, read, have a dance party or do something that makes you feel good. For me it's making lists, whenever I feel anxious I write down a to-do list or write out all my feelings which eases my mind. I always suggest talking to someone and getting it out there, a lot of people aren't comfortable talking to someone but need to get their feelings out so I suggest saying everything and recording yourself. But also, grounding exercises are great – the most common one is 5 4 3 2 1 – 5 things you can see, 4 things you can touch, 3 things you hear, 2 things you smell and 1 thing you taste. When you're anxious you can focus on things around you and become more self-aware, you really zone in on whats going on so you can bring yourself back down to that place where you're at ease and a place where you're peaceful, because it's not going to happen right away.
Lucy: Yes, it's about learning the ways that are best for you. It's all trial and error, figuring out what you enjoy and what works and then sticking with those when you need them.
Sarah: Yes, exactly. Even something you love, like soccer can help your anxiety.
Lucy: Going back to what you said about soccer and if it's a hobby that they love doing. Sometimes it can work as a distraction and take your mind off the worries and anxiety and can be as powerful as any kind of meditation or journaling.
Sarah: Some people are very active and can't meditate or choose not to because they feel they can't focus on their breathing. So if you're one of those people find what works for you.
Lucy: If someone is struggling to open up about how they're feeling and are worried about judgement or feel ashamed, what would you suggest for them?
Sarah: I really think no matter how much progress we make as a society it's never going to be easy. It can still be challenging to open up, I know I've been in situations where it's been hard for me to open up and I have been that person that supports. I think educating yourself is a great tip, before you go to someone to open up to them, you want to know what you're talking about (not that they will judge you if you don't know but if they have questions you can also educate them as well). So learning about whats going on in your life. Practising is always a good thing, stand in front of your mirror and prepare what you are going to say because it helps you plan and prepare. Having someone as a support is a huge thing, someone you have already told about your anxiety and asking them to come with you to talk to others about your anxiety. Let them know that they are not alone, even though they may be physically alone I believe we are never actually alone. For someone who's struggling to open up, it's extremely scary to have to tell their friends and family and they might think one they tell them that they will be judged. I think humans are compassionate beings and that we're made to be supportive to each other and be there for each other, so if they don't understand it they're still going to be there because they love you. Yes it's scary but it can be done.
Lucy: I like that you say about having someone to support you, so if someone is supporting somebody else have you got any advice for them on how they can help support?
Sarah: Yes, it can be challenging to support someone even if you have anxiety yourself. I have anxiety myself and I've struggled in the past when other people have come to me. I think it's natural that we're not supposed to have the answers to each and every thing in life. I do have a few do's and don'ts for this to help people.
DO:
Assure them that everything will be okay. Maybe not now, but soon.
Encourage them to breathe and drink water. We need to take care of our physical selves.
Remind them that they are not alone. Let them know you are there for them.
Check in on them the next day to see how they are.
DON'TS:
Tell them to relax or calm down – physically they probably can't in that moment.
Ask them why they're panicking or why they are anxious – they probably don't know.
Be judgemental or brush it off.
Try to distract them (optional – this does work for some people)
There's an endless list of do's and don'ts to support someone. Just educate yourself and if you do know someone going through anxiety ask them what they want you to do for them. Just be there for them.
Lucy: All your tips have been so useful. Have you got any last bits of advice or knowledge you'd like to share?
Sarah: Reassurance is huge, when someone is going through something and they can't think of anything else just letting them know that it's going to be okay and that you're there for them. Just be there for them and be a compassionate person.
Sarah's links:
Instagram: @sarahprovirose
Head over to Instagram and share a screenshot of you listening to this podcast and let me know what you thought. @lucyjsmith_26
Lucy J Smith is a Mental Health Advocate, Author of the Stand Up To Anxiety Book and creator of the Mental Wellness Club. After her own struggles with severe anxiety, Lucy found ways to understand and manage her anxiety and continues to manage it using personal development, self-care, routines and having an anxiety toolkit.
Related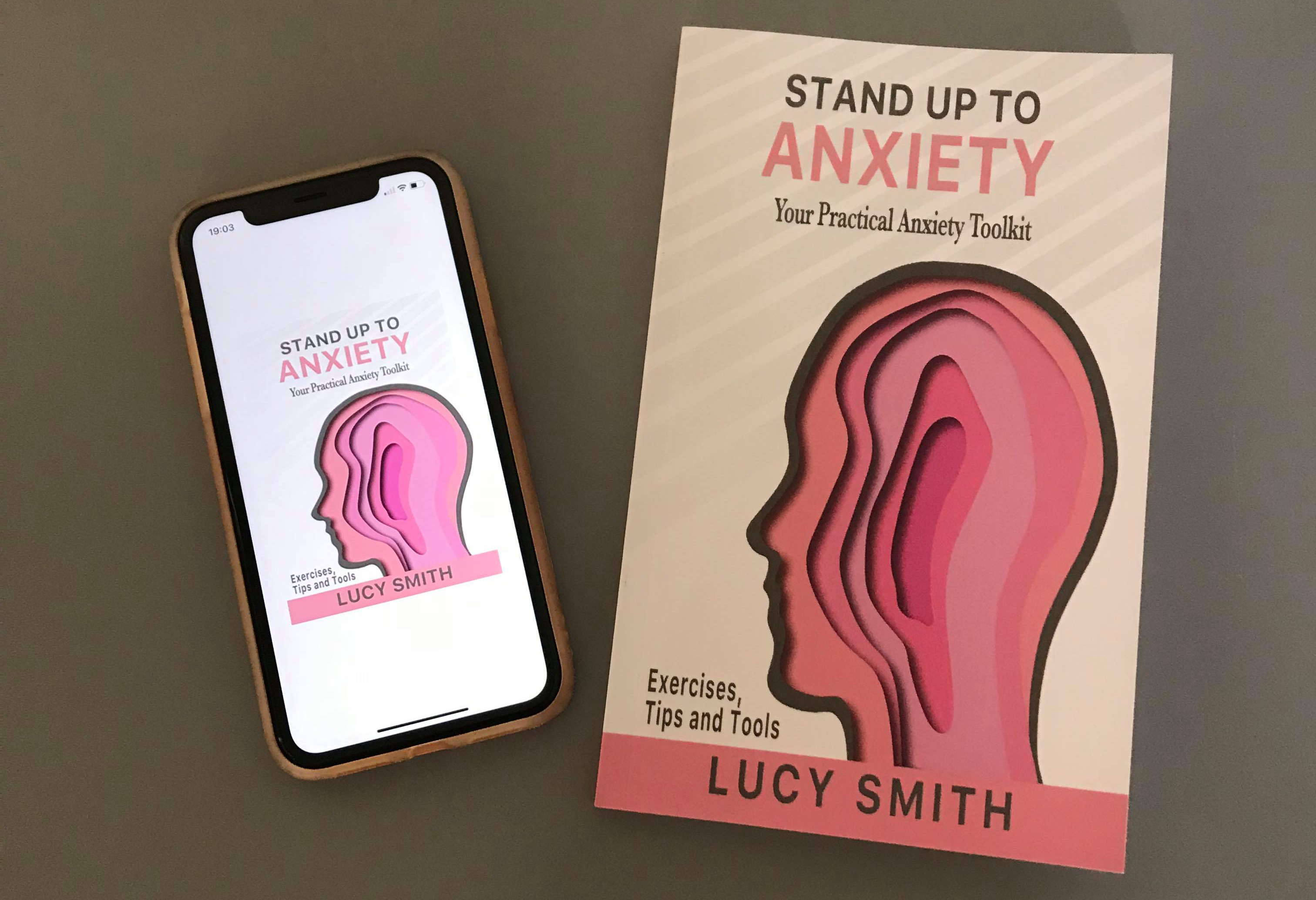 Is anxiety holding you back?
If you are struggling with anxiety right now, this book will be so helpful to you! It is based on my own experience of anxiety and panic attacks and talks you through the steps I took to understand and manage my anxiety.

Get the first chapter of the Stand Up To Anxiety Book for free
Enter your email below to get it sent straight to your inbox!
By entering your email address below you are agreeing to receive weekly emails from Lucy.