017: Stand Up To Anxiety Book Reviews
In this episode listen to Lucy reading some book reviews for the Stand Up To Anxiety Book. Lucy wrote this book after her own struggles with anxiety. When she needed support there wasn't a simple, easy to understand book out there, so once she had all the knowledge from understanding and managing her own anxiety she put it all into a book to help you too.
 Scroll down to read or click play to listen
In today's episode, I'm gonna do something a little bit different. I want to read out a few of the reviews that I've got for my book Stand Up To Anxiety. I wrote this book because when I first was diagnosed with anxiety, and my counsellor recommended a book for me, the book was too big and overwhelming and hard to understand. I didn't know where to start, so I ended up just not reading the book at all.
I really wanted to be able to write a book that I could get out there to anybody that needed it, that would help them at the moments of their most severe anxiety so that they had something that they could read that was really simple, that was really easy to understand and that was practical, so they knew exactly what steps they had to take.
I'm really, really grateful to see from the reviews that I've got so far, that is exactly what I have achieved. So we're just wanting to read a few of them out. If you have any questions at all about the book, please feel free to let me know. All of these reviews are on Amazon and on my website as well so you can have a little look through them. There's also loads of videos and pictures as well as the book if you want to have a little look at that before ordering yourself.
"A book which is relatable, interactable and essential to our wellbeing."
Laura
"What a fantastic and easy read with so many useful exercises and techniques to help manage anxiety. I think the tool kit is amazing and will help so many people- not only those suffering with severe anxiety. I think we could all benefit from applying these exercises to our lives in some way or another! Especially after reading that 80% of our self-talk is negative. I will definitely be using these exercises to manage my own negative self- talk."
Rhianna
Rhianna wrote that because I actually have a section on confidence and I talk about negative self-talk and how we talk to ourselves on a daily basis and how that affects us and our mental health and it can trigger our anxiety. So it's really, really good to know that Rhianna not only takes away things from this book from an anxiety point of view, but also from a confidence and self-talk point of view as well because that's exactly what I wanted.
"Love the coping tools/mechanisms it had to offer. Will apply them whenever I'm feeling anxious. I would have never been able to focus under the amount of pressure I was under had it not been for this book."
That is really good to know. I've had that a lot recently that people struggling with Coronavirus and pandemic and everything going on has been even more triggering, and for their anxiety and cause more stress and worry so this book is really helpful for that as well.
"Amazing tips really helpful to me through some tough times mentally and emotionally."
Grace
"I've never read something that has connected with me as much as this book. It has had me thinking differently and the exercises in the book have been great! The book is well written and I would 100% recommend this book for anyone who experiences anxiety! It has been an absolute Godsend. Thank you!"
Sasha
I find it really hard to not smile when we don't have these reviews. I remember every time I've had a review like this, anytime I had any review for the podcast or for the book, I always end up crying. Because I feel like I felt exactly how that person felt a few years ago and I didn't know what what to do to help my anxiety. So reading these reviews and knowing that it's helping people and they're feeling exactly the same way I was just makes me really, really happy.
"This book is super helpful to everyone who's quite struggling to calm down their anxiety. I used the simple tips and techniques from the book and so far I have noticed the change in my anxiety levels. Thank you so much for writing this wonderful book. It surely is going to help everyone out there who are looking to cope up with their anxious mind. It's super simple to follow and Lucy is a certified anxiety mentor so she knows it all well. I would highly recommend grabbing this toolkit for effective change."
Sonia
"Lucy did an amazing job covering all things anxiety. As someone that has generalized anxiety disorder and experiences panic attacks the way she shared her personal experiences made me feel less alone. The detailed tools and methodologies she covers are ones that I use personally to live with my anxiety. This book is a wonderful read for anyone that is looking for support in navigating anxiety!"
Ashley
So like I said you can find all these reviews and more on Amazon and on my website. If you go to www.lucyjsmith.com/book. So, have a little look at the Stand Up To Anxiety Review is if you want to read some more. There's also a video on that page as well. So you can watch that video, I actually read a little bit of the introduction in that video so you can have a listen. I talk about my own experience with anxiety and how this book will help you. If you've got any questions, please let me know.
I just really hope that if you haven't already, then you order this book and it really helps you with your anxiety because I know for me personally, you may have seen if you follow me on Instagram or you were in my facebook group. I had COVID recently and my anxiety came up again loads of new triggers, loads of new symptoms, and I was struggling if I'm completely honest. But I was able to go back to the tools and techniques that I wrote in this book, go back to basics, learn about what's triggering my anxiety, what's causing it, how it feels, and the symptoms that I'm experiencing, and then actually be able to put in place practical tools and techniques to help me manage my anxiety which worked really well for me.
The book is something that you can keep coming back to, it's not something that you just read once and that's it, you put it away and you never ever think about it again. It's definitely not that kind of book it takes time for you to continue to reflect on your anxiety because like I just said new triggers new symptoms come up all the time. So it's really important to stay on top of it and to really understand your anxiety be up to be able to manage it in the best way possible.
I hope you enjoyed listening to a few of those reviews I know I definitely enjoyed reading them. It's so lovely to hear so many reviews for the Stand Up To Anxiety Book. If you have read the book and you haven't yet left me a review, please do. I do love a good cry and I'm sure I'll cry when I read your review. So please leave me a review on Amazon so that I can read it. Have a lovely day and I'll speak to you soon.
Lucy J Smith is a Mental Health Advocate, Author of the Stand Up To Anxiety Book and creator of the Mental Wellness Club. After her own struggles with severe anxiety, Lucy found ways to understand and manage her anxiety and continues to manage it using personal development, self-care, routines and having an anxiety toolkit.
Related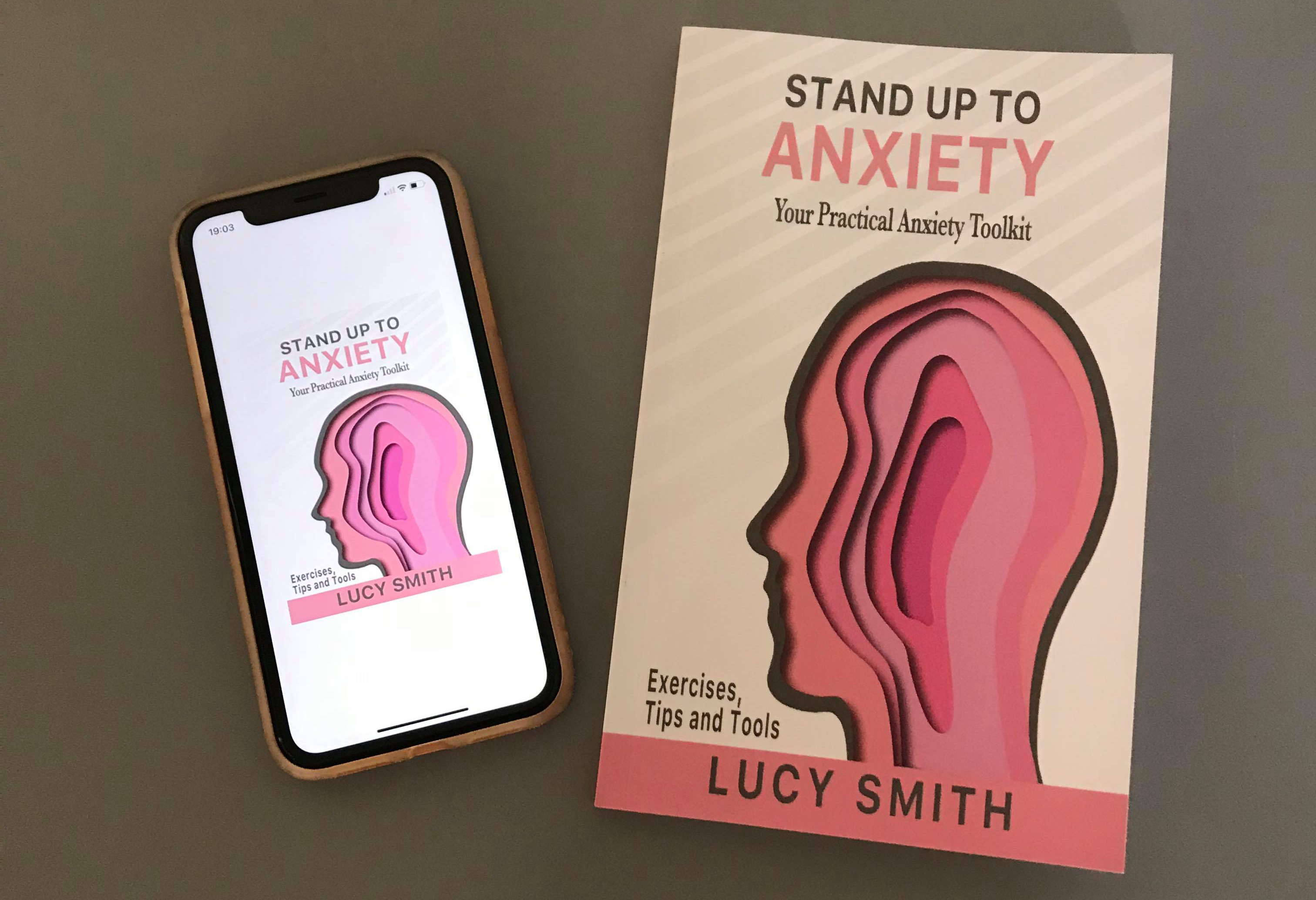 Is anxiety holding you back?
If you are struggling with anxiety right now, this book will be so helpful to you! It is based on my own experience of anxiety and panic attacks and talks you through the steps I took to understand and manage my anxiety.

Get the first chapter of the Stand Up To Anxiety Book for free
Enter your email below to get it sent straight to your inbox!
By entering your email address below you are agreeing to receive weekly emails from Lucy.