019: Create A Positive Morning Routine
In this episode Lucy talks about how to create a positive morning routine, including 5 techniques to use in your morning routine to help you calm anxiety. Create your own morning routine with as much time as you can spare to help you start your day feeling calm and ready.
Scroll down to read or click play to listen
Create A Positive Morning Routine
In today's episode, I'm going to be talking to you all about how to create a positive morning routine. So this is something that I did quite early on in my anxiety journey because I noticed that when I woke up, that was when I was feeling like my most anxious, I experienced a lot of severe symptoms physically and mentally. I knew that if I implemented some tools, strategies or techniques into my morning, that it would help me start my day in the best way possible.
The morning routine actually starts with the night before. For me, I always spend time away from my phone before I go to bed, especially with social media and everything going on in the world with the news. Everywhere we look at the moment on our phones, laptops and devices we are facing things that could cause us more anxiety. So I always make sure I spend time away from my phone before bed. That just gives me time to be able to really wind down to relax and to get ready to sleep.
If we are on our phones or laptops really late at night, and then we get into bed, it's going to take our brain a while to actually switch off and get to sleep. So if we can give ourselves that little break and allow our brain to switch off and to wind down ready for bed, that will be a lot easier for you to maybe fall asleep. I am going to talk about evening routine in a lot more detail in another topic. So I will save that for then and just focus on the morning a little bit more now.
Getting out of bed
If you struggle with getting out of bed, which I know I definitely used to, I don't so much anymore. I don't even use this technique anymore because I'm actually really good in the mornings. But I didn't used to be so please just know that things can change. If you're one of those people that presses the snooze button loads of times and you just feel like you can't get out of bed, then I would suggest putting an alarm clock on the other side of the room – so you physically have to get out of bed to be able to turn the alarm off, you can't just roll over, press the snooze button and go back to sleep.
Once you're out of bed, you will feel a lot more alert and ready to start the day. And yes, there obviously will be the the odd day where you fancy getting back into bed, that's completely normal. We all have those feelings, and but you'll be a lot less likely to if you've actually already got up. So that's something that's really useful to consider, if that's something you struggle with.
Morning routine techniques
I'm going to talk about five different tools or techniques or strategies wherever you want to call them, that are really good for the morning. But the first thing I just want to say is not feel overwhelmed by this episode. To start with, I actually dedicated an hour to a morning routine, I don't do that anymore, purely because it doesn't fit in with what I've got going on in my life at the moment. And that's completely okay, if it's five minutes, or 50, it doesn't matter, anything is better than nothing. So please don't be overwhelmed and think it's too much and you can't commit to it. Because it's all entirely up to you. If you just pick one habit and you do it for five minutes, that would be really good. For those of you that have longer, fair enough, you can spend longer.
Affirmations
The first one is affirmations. So if you've read my book, you will know in the confidence chapter I talk about negative self talk and how 80% of our thoughts are actually negative. And most of those as well are actually about ourselves and things like calling ourselves an idiot, or stupid or not good enough or not worthy. All of those kinds of things that we say to ourselves on repeat, which actually just aren't true. They're just things that we are making up about ourselves.
So affirmations are a way to flip that to a bit more positive. So you could instead of saying I'm stupid, I mean, the exact opposite would be I am clever. But that might not feel right to you right now. So you might want to go for an in between kind of affirmation that feels a lot more realistic to you.
I'm not going to sit here and tell you loads of affirmations because it's really important that you pick the words that are that relate to you and that you want to use because the same words won't work for everybody. I will just say the important things about affirmations is one that they are said or written in the present tense. So I am rather than I will be or I want to be, so make sure you start with I am. And that they're positive. Don't use the word anxiety in your affirmations. Make sure you say things like I am free and I am calm, rather than I am free of anxiety, or I no longer have anxiety, try not to use the word anxiety.
Make some powerful positive, and in the present tense affirmations, and you can say these to yourself, you can say them in your head, you can say them out loud, if you're feeling brave, you can say them in the mirror. And just get used to saying those words about yourself. It will feel funny at first, I know because I've obviously been through this myself and at first you feel like a bit of a wally. But please just stick with it, give it a go, and it will get easier. Especially with the mirror thing, that probably not something that anybody is going to be able to do straight away, it took me quite a few months to be able to actually do that and even the first time I did it, it didn't feel very natural. So that takes time to build up to that one. So don't worry about that too much. Just constantly saying them to yourself on repeat in your head is a really, really good start.
Meditation
Another thing that's good to do in the morning is meditation. Because hopefully, when we wake up, we're feeling nice and relaxed and calm. I know for me personally, that actually wasn't the case, which is why I started a morning routine. But even if you're not feeling calm meditation is a really good thing to do to help you get to that place of calm.
You could meditate even just for one minute. Just think about something, count your breaths, or think about anything that keeps you grounded in the present moment. I like to count breaths. I remember when I was younger my Poppa used to always say to count sheep if I couldn't sleep, and now I realise that actually, that was a form of meditation, but it just wasn't cool back then and no one talked about it  so he didn't know it was meditation. I don't think he'd ever heard of the word. I wish he was here now, so I could ask him. But just counting your breath, something as simple as that can really keep you grounded in the present moment and take you away from your thoughts, which is a really useful way to to use meditation.
Visualisation
Now, visualisation might not come easy to everyone. So if you give it a go, and it doesn't completely work for you, that's fine. Just keep trying and it will get easier over time. What you want to do with visualisation is, think about something that you want to be true. So you could actually imagine a day without feeling anxious:
What would it look like?
How would you speak?
How would you walk?
How would you talk?
What would you do when you went to work?
What would you wear?
What what conversations would you have?
Would you walk to work instead of drive?
What would you do differently if you didn't have anxiety?
You can visualise that in as much detail as you possibly can. Then the more you visualise that the easier it will actually be to make that reality because there's some really interesting studies. I really recommend that you look into them if you haven't already. The studies show that visualisation and actually doing the activity, the brain can't tell the difference between the two. So if you are practising visualisation of feeling completely free of anxiety, your brain will actually believe you are free of anxiety and it will be a lot easier for you to do those things that you visualise. So it's a really interesting thing to do.
Exercise
Something else I like to do first thing in the morning is exercise, it's a really good way to get your body up physically and mentally. It's also releases positive hormones into the brain, endorphins which are  a really good feel good hormone and helps you to feel absolutely amazing even if you don't before or during your exercise you will feel amazing after. With exercise, I would suggest that you pick a form of exercise that you really enjoy doing. It has to be something you want to look forward to. Because we all know finding motivation to exercise can sometimes be hard. So make sure it's something that you really enjoy, so you actually can't wait to do the exercise.
Feed your mind
The last thing is listening to something whether that's a podcast, YouTube video, an audiobook. Anything at all, listening to something really positive and uplifting or something educational can be a really good way to start your day. For me, I actually don't watch TV in the mornings anymore. I stopped quite a few years ago when I used to watch the news while eating my breakfast. I don't know why it seems like a silly thing to do now that I don't do it. But a lot of us do it and I wondered why I started my day feeling anxious and worried, and I realised it was because I just spent half an hour watching the news, which was all full of negativity. So now when I have my breakfast and I'm going about my morning getting washed, ready to ready to go out, I listen something really positive and uplifting instead, whether that's a podcast, YouTube video, audiobook, or even a music playlist, something really positive can help to boost your mood and make you feel a lot calmer.
I hope you found those tips really useful. If you want to give any go and you've got any questions, please feel free to come over onto Instagram or my facebook group and ask me I'm more than happy to answer your questions. In episodes coming up, I'm actually going to go into all five in a lot more detail. So there'll be a lot more more detail in those episodes to help you with getting these all set up. But that will obviously come over time because I only have one episode a week. I hope you found that really useful and I'll speak to you soon.
Lucy J Smith is a Mental Health Advocate, Author of the Stand Up To Anxiety Book and creator of the Mental Wellness Club. After her own struggles with severe anxiety, Lucy found ways to understand and manage her anxiety and continues to manage it using personal development, self-care, routines and having an anxiety toolkit.
Related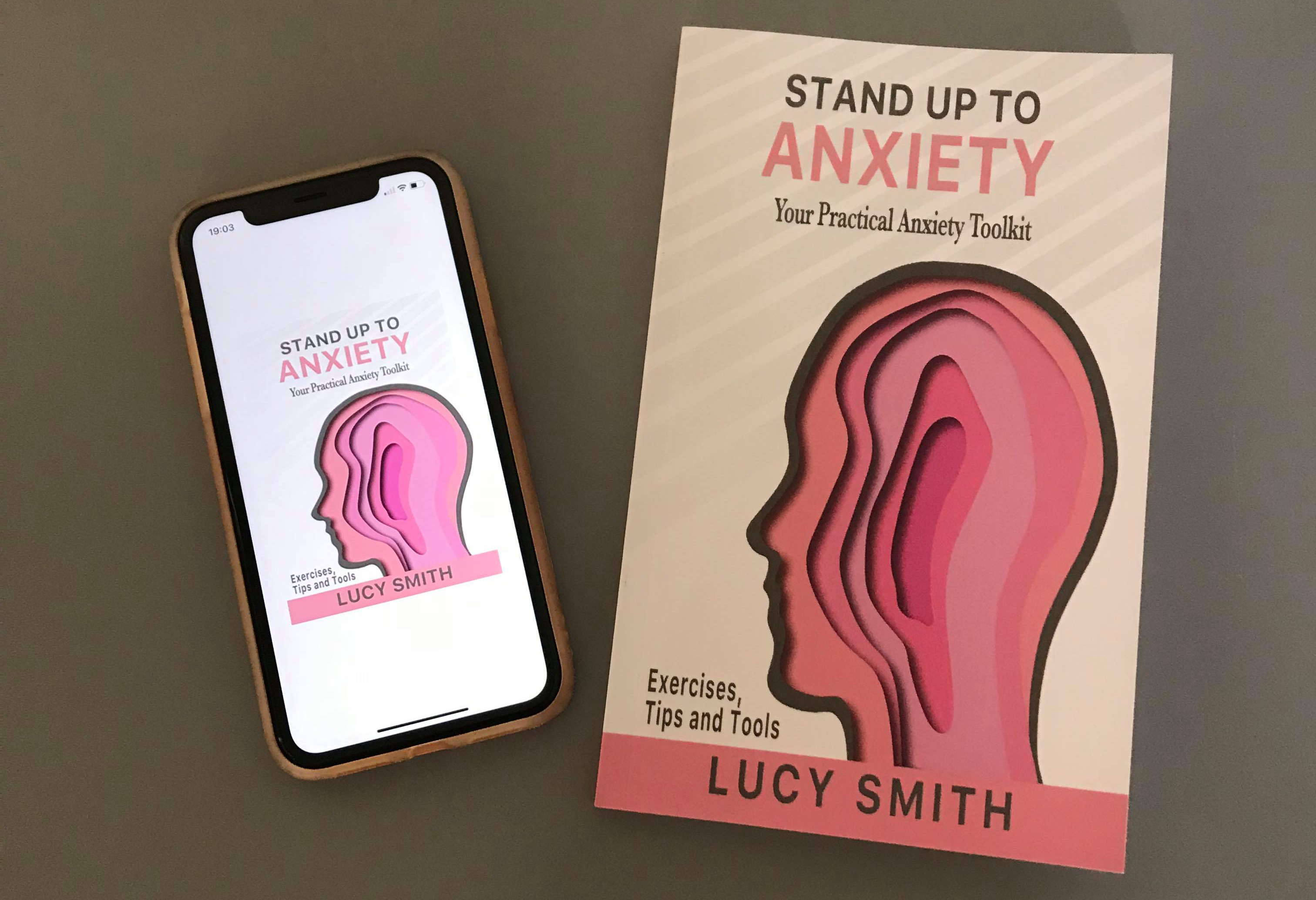 Is anxiety holding you back?
If you are struggling with anxiety right now, this book will be so helpful to you! It is based on my own experience of anxiety and panic attacks and talks you through the steps I took to understand and manage my anxiety.

Get the first chapter of the Stand Up To Anxiety Book for free
Enter your email below to get it sent straight to your inbox!
By entering your email address below you are agreeing to receive weekly emails from Lucy.