020: Anxiety For Medical Appointments
In this episode Lucy talks about preparing for and dealing with anxiety for medical appointments after her recent smear test. 
Scroll down to read or click play to listen
Anxiety For Medical Appointments
In today's episode, I'm going to be talking all about how to deal with anxiety for medical appointments. So I wanted to talk about this topic because I have had a personal experience with this recently, I've just turned 25 and had to have my first smear test. I was feeling really, really anxious about it. It was going to be the first time I'd had it, I wasn't really sure what to expect. I was a bit worried about it. And as well, with everything going on at the moment, I was really reluctant to go into a doctor surgery while we are dealing with Coronavirus. I had a lot in my mind about this, I had a lot of anxiety, triggers and symptoms. I just wanted to share a few little tips that have helped me get through it.
Preparation
The first thing is to be prepared. Research is great, but I just want to emphasise 'factual' research. So don't spend hours and hours looking at horror stories about whatever it is you might be doing, whether it's a concern you've got or whether it is something like a smear test or even like dental appointments if you need to have a filling or anything like that. Do some factual research about it, so you can just see what the procedure or treatment might be like, and just actually figure out exactly what it is that's going to happen to you.
This really helped me in particular, purely because I wasn't sure what to expect. So it told me what to expect and reduced my anxiety for medical appointments, it just made it a little bit easier for me to understand exactly what was going to happen and get my head around it happening.
Be honest and ask for support
Tell them that you are worried. So they deal with people being worried and anxious, probably every single day. And there's absolutely no harm in admitting that you're a little bit worried about this, they may actually have some advice for you, they may be able to help you calm down, maybe they'll be able to put the radio on or something and help you just to relax a little bit more. So that can be really useful.
Take someone with you. This is something that I did, my partner came with me, he knew that I was really nervous. So he offered to come which was really nice. He talked to me while it was going on. Just asking me about our garden project, because he knows knows that's something that will keep me calm. So he was talking to me about birds and flowers the whole time, which is really nice. So if you can, if it's possible to take someone with you, someone that's going to support you, someone that's going to keep you calm, somebody that understands your anxiety and that can be there for you to support you.
Mindfulness
While you're actually in the appointment, try if you can to practice mindfulness. I know like for example, with me in the smear test, it can be quite uncomfortable. I just want to add actually, if any of you are due a smear test, and you're worried about it, it really wasn't anything like I expected. It wasn't nice, but it wasn't awful. So I built it up to be a lot worse in my head than what it actually was in reality. So I just want to add that as well, in case, as any of you are in the same situation about this have your first smear test. I know now for next time that it won't be as bad as I'm expecting. Although I'm sure in a few years time when it's due, I will probably work myself back up again. But that's just how anxiety works.
So if you can practice mindfulness, count your breaths, like I've already said, if they can put the radio on and you can listen to music, that would be really, really helpful. Try to focus on something else rather than focusing on what's happening. Because if we focus on what's happening, we become really tense and really anxious and we get even more severe symptoms and that's just not going to help you with feeling any better. So try to keep present and grounded in the moment. If you can count your breaths or say in and out in your head, or out loud, I'm sure the doctor or nurse or dentist or whoever won't mind if you have to do that. They may even suggest you do something like that as mindfulness is becoming really popular at the moment in the medical industry.
To summarise, I would really just suggest that you don't put off medical appointments because of anxiety. And it's so so important if you've got a concern or you need some kind of procedure or some kind of test or anything like that. I mean even take the COVID test, I actually had a panic attack will taking mine.
Just know that your physical health and your mental health are so, so important, it's really important that you learn to manage your anxiety to be able to go to these appointments, and to be able to actually face them with confidence and feeling somewhat calm.
My COVID test
I will just quickly talk about my panic attack with my COVID test actually, because if nothing else, it might be a little bit funny for you to listen to. So I went to the drive in test centre, I went on my own, which probably was the first mistake, but you obviously you have to.  I turned up, and I was early and it was the first appointment of the day. I didn't know where it was going, I put it in the Sat Nav, I got there, and I didn't know where to go. There was loads of cars waiting on the side street next to the test centre and I couldn't figure out if they were waiting in the line, or if they were parked, I just didn't know what was going on. So that was the first issue. As you all know, I've got driving anxiety as well, although it is getting better, it still is something that I struggle with.
Anyway, when I finally figured out that that was the line, I joined the line, and I then had to sit there for about five or 10 minutes. Those of you with anxiety will know that having to wait for something like that can be a really stressful time, I was overthinking, I was worrying what's it going to be like, what people have told me it's not very nice, I don't want to gag, I don't want to be stuck in my car, thinking all these things that just aren't going to be very helpful, really.
I tried to practice mindfulness, I tried to do a little meditation, I had the music on and I tried to focus on that nothing really worked. It is important to know that sometimes the usual techniques don't work in moments of anxiety, especially if it's getting into quite high anxiety and bordering on panic attack, it can get quite hard to use your usual tools and techniques.
I went into the test centre and you have to reverse in to a space and I never reverse in, I always drive into space. I reversed in for the second or third attempt. Then I was looking around and everybody can see in my car, everybody can see me doing it, so then I was thinking, oh, now everybody's watching me what if I'm sick? What if I can't do it? What if it goes wrong? All of these what ifs that obviously more often than not, don't actually happen.
I'm sat there and I finally compose myself. I'm reading through the instructions and I went to take the test. And for those of you that have taken the test, I hope I'm not the only one that experienced this, but my tongue got in the way and it just wouldn't move. Every time I went to put the swab to the back of my throat it was like my tongue was a body guard, it kept lifting up and I didn't have any control over it. I couldn't get it out the way, I couldn't keep it low. So that was interesting. I suppose that's just the body's natural way of trying to stop something unnatural.
I finally figured out that I just need to do what I do at the dentist because apparently my teeth my tongue never get in the way at the dentist. So I'm sitting in the car now with my mirror down and I'm literally shouting "AHHHHH" and then I'm thinking oh, what's everyone else around me going to think all these other cars and these people looking in probably can hear me as well. Thinking what on earth is that girl doing?
Then I started having quite a severe panic attack, started sweating, shaking. I think I cried a little bit as well, which is a common thing for me. Normally when I get high anxiety and panic attacks, I often cry. I composed myself again, I got my phone now I considered calling someone and then I decided against it. Then I just went for it. I was like right, this is it. It's gonna take a few minutes from now we're doing this come on, let's go. And I just shouted as loud as I could. So my tongue stayed out the way and managed to get the swaps that I needed.
So that was that. I hope that you if you've had a COVID test, yours went slightly better than mine. But also hope if you haven't had one, and you listen to this and in the future you have to have one that most story has made you laugh or not caused you to panic. And please just know like with everything and like the tips I said at the start, just be prepared. See whatever you can find out about it. So for example, with the COVID test, I watched loads of videos the night before on how to do it. Obviously I still had a panic attack and that that is okay, that's normal. Sometimes we are prepared and we use our tools and techniques and we still have a panic attack or high anxiety. And that's okay. I don't want you to be frustrated or annoyed or upset about that. Just know that you've prepared yourself in the best way possible and that's all you can do if the panic attack still happens. We just need to learn to manage that panic attack when it does happen.
So I hope you found that useful and maybe even funny, who knows. I just hope it helps you with managing anxiety for medical appointments.
Lucy J Smith is a Mental Health Advocate, Author of the Stand Up To Anxiety Book and creator of the Mental Wellness Club. After her own struggles with severe anxiety, Lucy found ways to understand and manage her anxiety and continues to manage it using personal development, self-care, routines and having an anxiety toolkit.
Related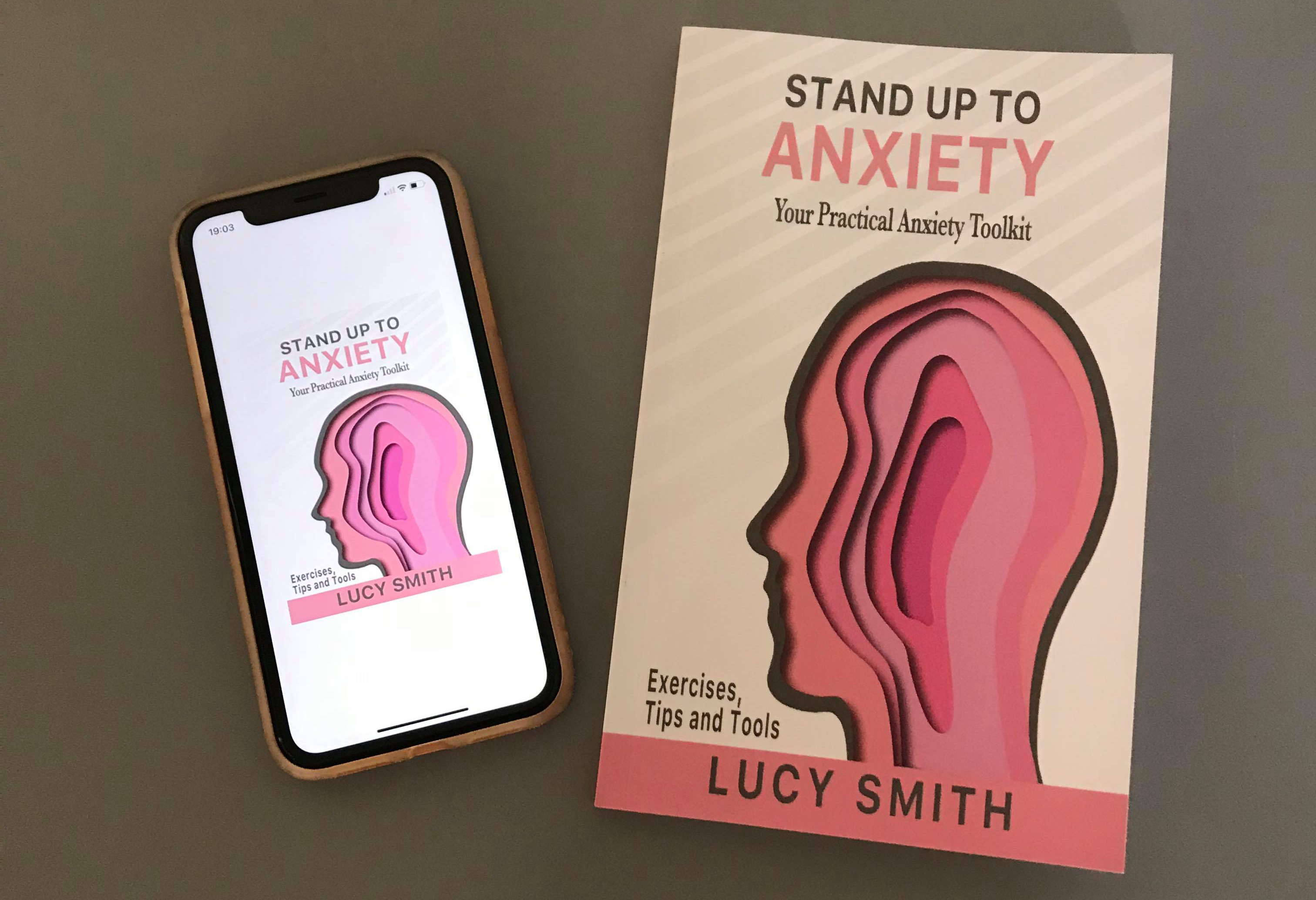 Is anxiety holding you back?
If you are struggling with anxiety right now, this book will be so helpful to you! It is based on my own experience of anxiety and panic attacks and talks you through the steps I took to understand and manage my anxiety.

Get the first chapter of the Stand Up To Anxiety Book for free
Enter your email below to get it sent straight to your inbox!
By entering your email address below you are agreeing to receive weekly emails from Lucy.