021: How I Overcame My Fears
In this episode Lucy reads the start of the Fear chapter in the Stand Up To Anxiety book. Lucy's two main fears were driving and being in public places alone, particularly supermarkets and she shares with you the technique she used to overcome this fear to now be able to do her weekly food shop alone with little anxiety.
Scroll down to read or click play to listen
How I overcame my fears
In today's episode, I wanted to read to you a little bit from the fear chapter of my book stand up to anxiety. This is because this week I have realised how far I've come in my fear journey, and how the things that I used to be really, really afraid of, I actually do really easily now with little to no anxiety.
So in particular, my two fears, which you'll learn in the chapter, were driving and being in public places alone. For those of you that don't know, I recently bought my first house with my partner, and I am now doing the weekly food shop on my own on the way home from work. I'm driving there, going to the supermarket on my own and walking around and getting our food, paying and coming home.
To some may seem like a really easy, obvious thing to do, that you can do without any anxiety or fear. But for me, just a few years ago, I could not have done that I would have had a huge panic attack before even leaving the house. Most days, I wouldn't have gone because I was so scared. Other days I would have tried maybe with my sister or my mum and I would have had such a bad panic attack while I was there that I had to leave. So it's actually a huge thing for me to be able to do this now.
I wanted to read you just the first page or two of the chapter just so you can see how I used to feel.
"One of the first things my counsellor uncovered was what I was afraid of. Everyone is afraid of something, sometimes many things. So fear is perfectly normal is when our fear stops us from doing things and living our lives that becomes a problem. My fears for driving and being alone in public places, particularly shops, both of which I had to overcome to live a normal life." (Quoted from my book, Stand Up To Anxiety – click here to order yours)
There's an exercise on recognising your fears. So it asks you what your fears are and encourages you to write a list of any fears that you know you have, then goes on to say the technique I use to overcome my fears was a simple one that I like to call writing my anxiety.
"This is a great technique to use for fears like being in public places, social occasions and driving, we're actually doing it will help you overcome it. I plan to time every week when I would go out and face my fear. Before I left I wrote is how I felt from one to 10. In the beginning, it was very high, I felt very severe symptoms and like I was on the verge of a panic attack. I push through the anxiety and went to do it anyway.
When I got home, I recorded the level of anxiety I felt during and during the event and anything that happened during the event. Finally I rated the anxiety I felt after overtime my anxiety dropped during and after the event because my catastrophizing thoughts were proved wrong, in turn my level of anxiety before the event began to increase and decrease because I had built up evidence that I was usually safe doing this activity.
Occasionally, when doing this exercise, something will happen that confirms the fear. For example, when I was using this technique for my fear of driving, on one occasion, a car nearly crashed into me. When this happens, we have two choices, give up and stay afraid or carry on and try to overcome it. I chose to overcome it and continue to go up for that same drive every week until it became easier for me and I was no longer as afraid." (Quoted from my book, Stand Up To Anxiety – click here to order yours)
There's then an exercise here for you to do the same rating my anxiety exercise that I did. So to pick a date and the time and plan that and then rate your anxiety level before, during and after. So that is the main exercise that I used for my fear of driving and supermarkets. I just went out every single day. I remember it really clearly it was a Monday at 4pm I would go out. I picked my my granddad's grave, and my granddad's old house that he lived in before he died because that gave me the extra motivation to go because I missed him, I wanted to talk to him and I felt like I could do that while I was there. It just gave me something special really to add on to the exercise. So it made it a little bit less scary knowing that I was going to do something that I actually wanted to do while I was there.
It's really important that you can try and add something like that into your exercise. It's also really important that you try and make it the same day and time every week. That's something I still do now with my weekly food shop or I always go on the same days at the same time, I have started to go to a different shop instead just to try and push myself a little bit. I do believe it's really important to keep continuing to push yourself even, like now when I feel that a food shop is easier for me, try and change it up by a driving a different way, or going to a different supermarket and going to different places, because that continues to push us and to help us and prove to us that we actually can do these things that we're afraid of.
So for me, the thing with fear is that it exists, obviously, we're all afraid of things. For me, driving and supermarkets were my main fear. And that is okay, it's okay to feel afraid of doing things. It's okay to have things that trigger your anxiety, that's completely normal, especially for us struggling with anxiety, obviously, we're going to have things that trigger our anxiety, and we're going to have fears.
But it's really, really important to remember that we can overcome these fears, we can manage these anxiety triggers, we can learn to live a normal life. Without these symptoms of anxiety coming up every time we drive, or go to a supermarket or go out for a meal with friends, or have to do public speaking we can learn tools to manage these things. And that's what I go on to in section three of the book, I go into all the different tools and techniques that I have used to actually manage my anxiety while I'm at the place. So things like mindfulness, meditation, self-care, looking after ourselves, practising gratitude, and also how to create an anxiety toolkit for yourself full of all of those tools and techniques to really be able to know exactly what to do when your anxiety is triggered when those symptoms start what you need to do to help get them under control.
I hope you enjoyed the little reading from my book. If you haven't yet ordered your copy, you could order on Amazon. If you go to my website you can read all the reviews on the book, I've got so many five star reviews, which makes me really, really happy. I read a few of them in the recent episodes. If you've not already listened to that, please go and have a listen. I cry every time I get a review. So if you have read the book and found it useful, please leave me a review.
I wrote this book because I needed this book. When I was struggling with anxiety, I looked everywhere for help and support with my anxiety and everything was so complicated, using big long words about the brain and all sorts of things that I just didn't understand. And I wasn't ready to learn about because I was in the moments of high anxiety and I just needed to know how to get it under control. I didn't need to know all the brain function side of anxiety. So I really wanted to make a simple easy to understand book and reading the reviews so far, I do feel like I have achieved that. So that makes me really proud.
I can't wait to hear how this book helps you. It's available on Amazon in paperback and Kindle. So you can either go to my website or you can search for "Stand Up To Anxiety" on Amazon and you'll find that on there. I hope you found this really useful and I'll speak to you soon.
Lucy J Smith is a Mental Health Advocate, Author of the Stand Up To Anxiety Book and creator of the Mental Wellness Club. After her own struggles with severe anxiety, Lucy found ways to understand and manage her anxiety and continues to manage it using personal development, self-care, routines and having an anxiety toolkit.
Related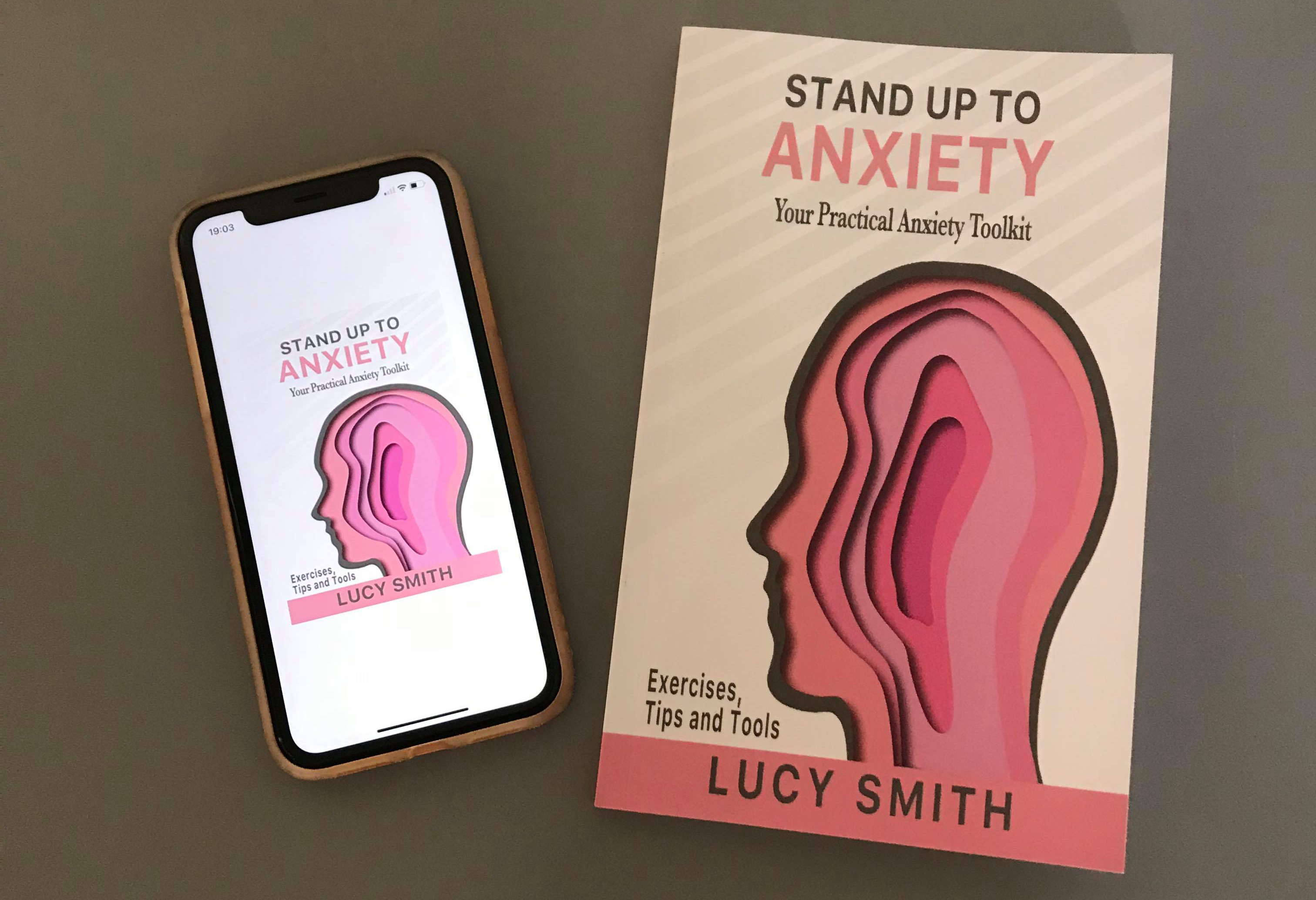 Is anxiety holding you back?
If you are struggling with anxiety right now, this book will be so helpful to you! It is based on my own experience of anxiety and panic attacks and talks you through the steps I took to understand and manage my anxiety.

Get the first chapter of the Stand Up To Anxiety Book for free
Enter your email below to get it sent straight to your inbox!
By entering your email address below you are agreeing to receive weekly emails from Lucy.