022: How Anxiety Affects Hobbies & Sport
In this episode Lucy talks about how anxiety has affect her playing the sport of bowls, what she learned and how she overcame it.
Scroll down to read or click play to listen
How anxiety affects hobbies & sport
In today's episode, I'm going to talk about how anxiety has affected the sport that I play. So you may or may not know that I play the sport of bowls and I have done since I was 11. To start with, I really enjoyed it. I loved playing. I played with my family with my sister and my dad, so it was a really nice family activity to do. I began to make a lot of friends from bowls and it was really enjoyable.
It was really good until I started struggling with what I know now was anxiety and depression. I didn't know that at the time. So I remember really clearly I was at a bowls club one day playing in a tournament. It was a singles tournament, so I was playing on my own. I remember halfway through the game, something just completely changed with the way I was feeling. I began to feel really paranoid, really worried, anxious, and I was sweating. I felt like I was going to cry. I felt really hot. I felt like everyone was looking at me, laughing at me and talking about me. None of that was actually happening. It was just what I perceived to be happening.
I remember I came off after, I don't even know how I managed to finish the game, to be honest. One of my really close friends was organising the tournament and he could tell that I wasn't wasn't right. So I told him, I don't know what's going on, I don't know why I'm feeling this way, I don't know how to stop it, I don't know what's going on at all. The tournament was in Brighton so I was staying in a hotel. My mum took me back to the hotel room and I literally spent the rest of the day in bed crying. I couldn't stop. I just started crying and I couldn't stop, I cried and cried and cried.
Everyone went out for a meal that night, my family, my friends and I didn't go. I stayed in the hotel room and continued to cry. I remember, I literally didn't want to do anything. I didn't pick up my phone, I didn't look at anything. I didn't talk to anyone. I didn't put the TV on, I didn't do anything. I don't think I even ate that day. I literally just stayed in bed all day. I had no idea what on earth was going on.
That was really the first time that something like that had happened in the bowls world. I'd had a few times where I sort of lacked confidence or felt a bit shy. But that always felt manageable. So this was a real shock to start experiencing that. Luckily, since then I've not had another experience quite as severe as that.
A few years later, I was in my first outdoor national final. For those of you that don't know the sport, we play our national finals in a place called Leamington and there's always loads and loads of people stood watching the national finals. There was about 300 people watching and I wasn't playing very well. I was getting a bit stressed and I began to doubt myself thinking I'm not good enough for this level, I'm not good enough to win this game, I feel out of place here, what am I doing here, I shouldn't be here. All those sorts of thoughts which are not ideal when you're in the middle of a national final. I was playing with my sister and I think she noticed that something wasn't quite right with me.
Luckily, this was slightly after beginning to understand my anxiety. So I felt like I was a lot more in control of it, it felt a lot more manageable. I felt more equipped with the tools and things I needed. So I was able to recognise that I had started to feel really anxious and get really worried. I was able to try to use my management tools to get myself out of it. I began to say positive affirmations, I began to visualise playing well. I began to visualise feeling confident which is a really key thing, something I've used a lot is visualising being confident.
I began to play better. I remember I probably played the best end of Bowls I've actually ever played, which is unbelievable really because I'd gone from being so low and potentially going back that way like I did in Brighton. But instead I managed to turn it around purely because I knew exactly what to do. To get control of my anxiety and stop it from spiralling out of control. So we did unfortunately lose that game, only by four shots in the end and the way it was going at the start, we could have lost by 40. So I think that was an achievement in itself.
Since then I've been in two national finals, and have won both of them. Again, I used exactly the same techniques. In the first one I began to feel a bit nervous again, we were playing, I suppose most people would say they were the best two players in England at the time, myself and my sister again. We're playing them in the final, everybody expected them to win, I'm not afraid to admit that. They were definitely favourites to win. But we won, we played really well. We were able to feel confident enough and win the game.
Myself and my sister then went on to win the British Isles. Again, at the British Isles, I remember, in the first game when we played against Scotland, I began to feel dizzy. I don't know if you remember, but I have had a fainting spell recently. I began to feel dizzy and I was thinking, oh god, no, I can't faint at the British Isles in front of hundreds of people. But my boyfriend was there, he saw that I was struggling and he got me a peppermint tea and spoke to me and calmed me down. So that was good. But again, I was able to actually go on and win that game. Even though at one point, I felt like I was going to faint from feeling so nervous.
It's really just about knowing your anxiety really well, being able to catch it as soon as you can and using your management tools to get it under control, and not let it affect you. Because we've got two choices with anxiety. We can either let it affect us, let it ruin our lives, let it stop us from playing hobbies and sports or going to the supermarket or driving or socialising. Or we can choose actually to accept we've got anxiety, yes, we've got it, but we're not going to let it ruin our lives. We're going to learn how to understand it, learn how to manage it, and use those tools when anxiety starts to help get it under control and make it more manageable.
Lucy J Smith is a Mental Health Advocate, Author of the Stand Up To Anxiety Book and creator of the Mental Wellness Club. After her own struggles with severe anxiety, Lucy found ways to understand and manage her anxiety and continues to manage it using personal development, self-care, routines and having an anxiety toolkit.
Related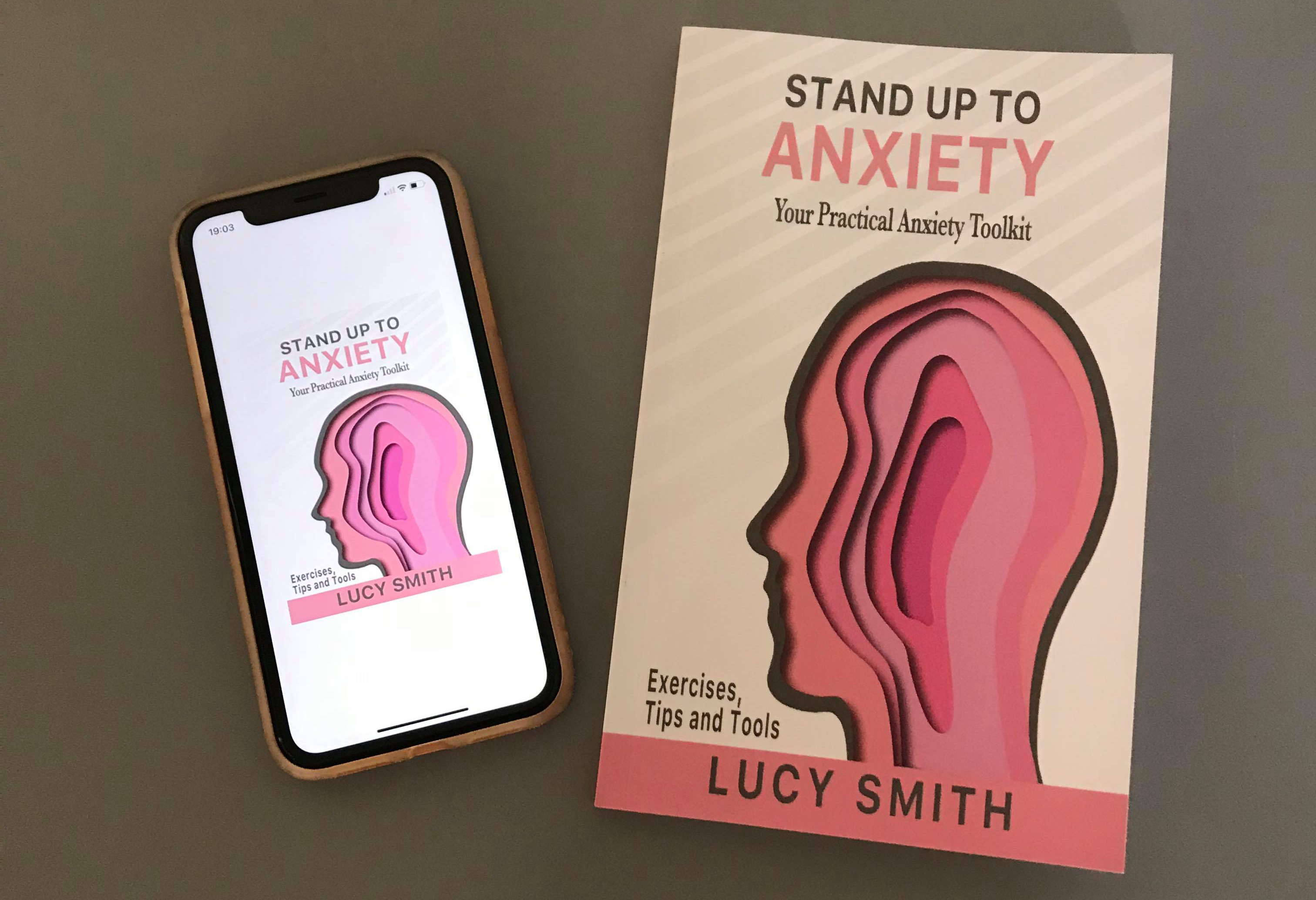 Is anxiety holding you back?
If you are struggling with anxiety right now, this book will be so helpful to you! It is based on my own experience of anxiety and panic attacks and talks you through the steps I took to understand and manage my anxiety.

Get the first chapter of the Stand Up To Anxiety Book for free
Enter your email below to get it sent straight to your inbox!
By entering your email address below you are agreeing to receive weekly emails from Lucy.