024: My Experience Seeing A Counsellor
In this episode Lucy talks about how she realised she needed help with how she was feeling, her first doctors appointment and her experience seeing a counsellor for anxiety.
Scroll down to read or click play to listen
My experience seeing a counsellor
In today's episode, I'm going to talk all about how my first few appointments with my counsellor went, and also how my initial doctor's appointment went. So, for a very long time, I didn't realise that there was something actually wrong with how I was feeling, I didn't realise that anxiety and depression existed, I didn't know that I could receive help, I didn't know that counsellors existed, I didn't really know anything about that whole world. I just assumed that I would just be shy and lack confidence and be afraid of things forever, and I accepted that as just who I was, and that I would just have to live my life in that way.
The day came where I was in a supermarket with my sister, and she walked off and left me alone in the aisle, a completely natural thing to do. I didn't think there was anything wrong, I hadn't told her that I thought there was anything wrong. So there would be no reason for her to not do that. I had what I know now is my most severe panic attack I've ever had. I was just completely frozen over stood in the middle of a supermarket aisle. I was sweating, shaking, crying, I couldn't breathe, my heart was racing, I felt dizzy, I felt sick. I had so many severe physical symptoms. I literally thought What on earth is happening? I have no idea what's happening into my body, I have no idea why I'm feeling this way. I have no idea what caused me to feel this way. I definitely don't know how to stop it. I just didn't know what to do.
I sat in my car, and I couldn't drive home. I was just sat there crying and crying, thinking what on earth is wrong with me? What can I do to stop this? And that was the moment where I realised that it wasn't normal, and it wasn't okay and that maybe I didn't have to live like this. I was sat there thinking, I can't go into supermarkets and I can't drive home, so what what kind of life am I going to have if these feelings and these physical symptoms that I was feeling keep happening, every time I go to try and do a food shop or go to get in my car and drive, I'm not going to be able to do much, I'm not going to be able to live a normal life.
I didn't know what to do. I didn't know what on earth was going on. But I just made that first phone call to the doctors there and then in the car. I remember really clearly the receptionist answered the phone and I couldn't find any words. I didn't know what to say I didn't know how to explain what was going on. I remember I just cried and cried and cried on the phone. Luckily, the receptionist was like it's okay, don't worry, we're going to get you an appointment and you can see a doctor next week, you can explain to them or try and explain to them what you're feeling and what's been happening for you.
I went to that first doctor's appointment a week after. I remember he asked me if there was anything wrong with my work life or anything wrong with my home life. The answer was no, there was no obvious sort of problem, there was nothing making me unhappy, there was nothing for me to worry about or that some doctor may feel that I had nothing to worry about. So there was no obvious sort of trigger. And he said, well, the problem must be you then. I sat there still crying. I hadn't hadn't really stopped crying that whole week.
If I'm completely honest, I felt like this doctor was blaming me and making me feel like I was in the wrong for feeling this way. Because there was nothing wrong with my life. He was telling me my life was perfect and there was no reason for me to be upset, there was no reason for me to be worried or afraid. I didn't really know what on earth to do because that wasn't quite the reaction I was expecting. He did, however, and I'm very grateful for this, say that I could be referred to a counsellor, and that maybe they could help me to uncover a little bit more about how I was feeling or why I was feeling that way. So he wasn't completely useless.
About a week later, I had my first counsellor appointment. When I arrived, I had to do a questionnaire of how many times do you feel sad per day or per week? How many times do you feel worried and I think there was a little bit on there as well about physical symptoms of how I was feeling. I filled that out and when I got into the appointment with the counsellor she added up my scores of the questionnaire, and she told me that I had severe anxiety and severe depression. Now, this was I don't know the exact year, but it was several years ago. So anxiety, mental health, depression, things weren't really talked about very much back then. I had actually never heard of the words anxiety or depression, let alone know what they meant.
I was sat there really confused thinking:
What on earth do these two words mean?
How long have I been experiencing this?
How did I start experiencing this?
Why am I experiencing it?
I had all these questions. I didn't even know what the words meant. So I told her this and she began to explain. Everything did start to make a little bit more sense, I did start to understand why I had been feeling the way I'd been feeling. I began to feel like it was a bit more normal, because there was a name for it. So that was good and it was really helpful.
Seeing the counsellor, she really helped me with my driving and with being in public places, particularly shops, and supermarkets. However, one thing that did happen was she recommended a book for me on mindfulness, which was about 700 pages long, I remember I ordered it on Amazon that night thinking, yes, this is going to be good. I'm going to listen to everything my counsellor says, I'm going to read all the books, I'm going to do all the things, I'm going to feel better. Anyway, this book arrived, and it was huge and I was still struggling with severe anxiety and severe depression at the time, obviously, it hadn't really got under control yet, because it only just announced itself, shall we say. I couldn't read the book, it was too overwhelming, it was too scary to start a book that big on a topic I'd never heard of, obviously, I'd never heard of mindfulness either back then.
However, it did give me an idea that there was more out there that I didn't know about, there was books, blogs, articles, websites, Instagram accounts and YouTube. To be fair, I'm not even sure if Instagram was about back then, but, now Instagram is really, really good for this.  I began to do loads of research and I began to do my own kind of self help. journey. That was when I really began to see a huge difference in my anxiety that alongside seeing my counsellor really helped me to start to understand my symptoms, my triggers the kind of things that helped I began to learn about mindfulness in a more easy to understand way.
This is actually why I've got my book now because I needed a book like mine back then, I needed something that was really simple showed me how to understand and manage my anxiety, how to create a toolkit and how to know exactly what to do and why I'm feeling that way. So there was nothing like that out there, which is part of the reason why I've created the Stand Up To Anxiety book that is now available on Amazon.
It's really important, if you are struggling and you feel like I did, you don't know what's going on, you don't know how to manage it, you don't know where to start, I would really really suggest seeing a counsellor to help you with those first few stages. It might be like me where you begin your own self help journey after that, alongside it as I did in the start, and just help you to open up to that world out there of actually being able to live with your anxiety and depression or OCD or any other mental health conditions that you may have. It's just really important to have that understanding and I really feel like the counsellor appointments really helped me with that.
Also, if you are struggling severely, there are medications out there that can help you. I was put on citalopram after a really severe panic attack that was just before I was going to go to work. I had really severe physical symptoms. My heart was racing, I felt sick and really dizzy, a tight chest felt and felt like I was going to faint. I ended up going to the doctor's because I thought there may be something more severe wrong than a panic attack. But they assured me that it was a panic attack that I was experiencing and they put me on medication to try and help the physical symptoms of panic attacks. So medication can be really helpful.
Obviously, a mixture of all of these things, counselling, medication, self help, mindfulness, meditation, exercise, a mixture of everything is really, really useful. But most importantly, I think it's really important for you to understand and manage your anxiety. So know what your triggers are, know what your symptoms are, know how or when you may feel your anxiety and then know what tools you can use to help you in those moments of high anxiety. So is it that mindfulness works best for you? Is it that distraction during something like cleaning or crafts or fun hobby that you like to do, or being creative. Create a physical list if you can on your phone or in a journal if you prefer, so that you've always got that and you always know what tools you can use in moments of anxiety.
I hope you found that really useful, his isn't something that I talk about very often. It's right at the start of my journey so it was quite a few years ago. Now obviously, since then, I've done a lot and worked a lot on myself and improved a lot, especially with my anxiety but it's really nice to think back to that time and realise how much I struggled and how far I've come. So please let that inspire you or encourage you and let you know that there is a way out, there is light at the end of the tunnel. If you've got any questions at all, please just let me know and I'll speak to you in the next episode.
Lucy J Smith is a Mental Health Advocate, Author of the Stand Up To Anxiety Book and creator of the Mental Wellness Club. After her own struggles with severe anxiety, Lucy found ways to understand and manage her anxiety and continues to manage it using personal development, self-care, routines and having an anxiety toolkit.
Related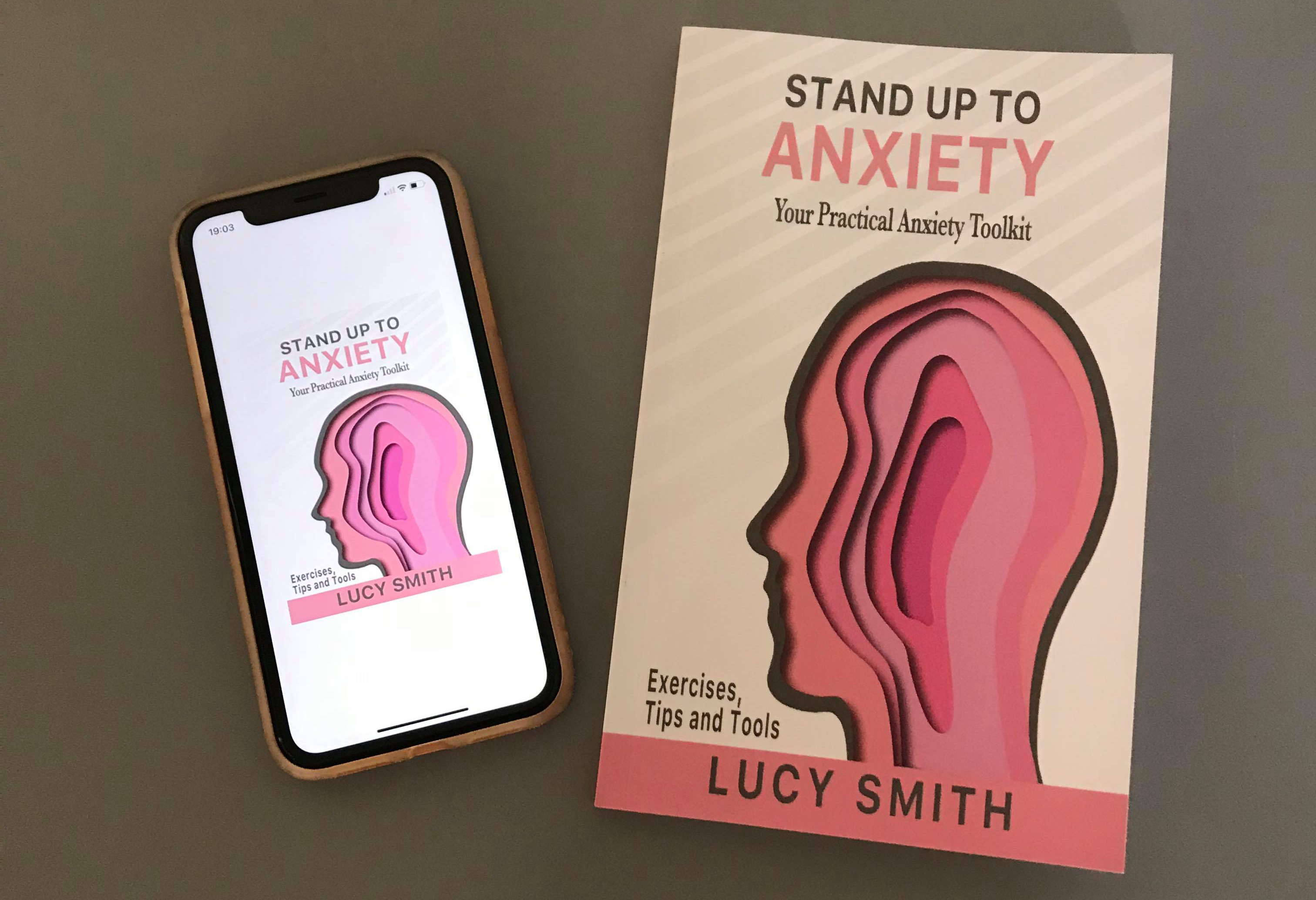 Is anxiety holding you back?
If you are struggling with anxiety right now, this book will be so helpful to you! It is based on my own experience of anxiety and panic attacks and talks you through the steps I took to understand and manage my anxiety.

Get the first chapter of the Stand Up To Anxiety Book for free
Enter your email below to get it sent straight to your inbox!
By entering your email address below you are agreeing to receive weekly emails from Lucy.