027: My Anxiety Progress Check
In this episode Lucy reviews her anxiety progress. She talks about the triggers that have got easier, what's got worse and new ones that have started. She also talks about improvements in her toolkit that she plans on making.
Scroll down to read or click play to listen
My Anxiety Progress Check
My triggers
In today's episode, I'm going to be talking all about my anxiety progress and a few new triggers that have come up for me recently. So a few triggers that I'm feeling a lot better about are driving and shopping, particularly supermarkets. A few years ago, when I first saw my counsellor, those were the two main triggers that she picked up on and that I began to work on with her, so they're the two that I knew about first, and that I was able to start working on first.
Now I have to drive every day, I feel quite comfortable doing it, obviously, every now and then something happens and my anxiety gets triggered. And that's fine. That's okay for that to happen. But I feel a lot more in control when it does happen. And I'm able to kind of catch it and feel more in control that I used to. The same with supermarkets, because I now do the food shop twice a week, I feel a lot more comfortable. I've got used to it and in turn that's helped calm anxiety around going to the supermarket.
I have had a new trigger recently, which you may have seen already, if you follow me on social media. The other day when I was driving to the food shop, my petrol light came on and I knew that I needed to get petrol I actually was on my way to get petrol because I knew that I needed to, and the petrol light came on. I was thinking, well, that's fine, because I'm going to go anyway. My first thought was actually positive, and that I could do it.
Then I began to think, well, what side is my petrol cap on? Is it the passenger side or the driver side? I couldn't remember, I spent about 10 minutes worrying over that. I was actually trying to look in my mirrors to try and see if I could see it, and I couldn't see it. I talked myself out of it as a result because I just because I didn't know what side my petrol cap was on. I drove home and I didn't go and do the food shop and I didn't go and get petrol.
I wake up the next morning, and think now I need food because we've got nothing for dinner. And I need petrol because I can't basically get any further than the petrol station with the amount of petrol that's in my car. So I began to use my toolkit I prepared for the event. I prepared myself with some deep breathing, positive self talk and I listened to some of my favourite music on the way I find music really helpful in the car in particular. I made sure I looked to see what side the petrol cap was on, I might have to get a post-it note or something and put it in my car to remind me next time. I've actually forgotten I was about to tell you, I think it's on the passenger side. I'm not 100% sure, though, I'm gonna have to get a post it note in place.
That morning I was feeling a little bit anxious, with some physical symptoms, if I get anxiety, I tend to have physical symptoms last for quite a few days after particularly feeling really tired and drained. I can sometimes have an ongoing headache as well. I felt a bit rubbish but I managed to get myself up out and go and get petrol.
A couple of things that I am working on social situations, obviously, majority of us have not spent much time in social situations recently, over the last 18 months. I feel a bit out of practice for that, I'd got to a really good place with social situations, going out for meals, I'd even got to a place where I was happy going out for drinks, even though I don't really like being around people when they're drunk. But I'd got to a place where I felt comfortable with that. But now because obviously we've had a year without doing that regularly. I feel like that is out of my comfort zone again, so I'll have to work on that.
Trigger Warning: Spiders
Spiders are a bit of an issue for me at the moment. Trigger warning if you guys don't like spiders, you might want to either turn this off or turn it down for a minute. I'm really struggling with spiders at the moment. We had a really big one in our bathroom a couple of weeks ago and I basically couldn't sleep that night because I know it was in there. And my boyfriend's really good with insects and he will take them out he he doesn't kill them he'll he'll rescue them from the house and take them far away outside of my garden. I don't even let them put let him put them outside the door they have to leave the garden.
But the worst thing was that the other day when we were driving there was one in the car and I've always struggled with when I'm in an enclosed space with them, particularly a car because I feel like I've got nowhere to go. I know thinking about it now and talking about it that it's completely irrational, I know they're not going to cause me any harm, and they're not dangerous in any way, especially here in the UK. I know, obviously, somewhere in the world, they are dangerous.
But basically, this one was a jumping one, and it was jumping around and jumping towards me. We were nearly home and we were on a roundabout and we were only going really, really slow. But I got out the car, which obviously, is very dangerous and I shouldn't have done that. But the panic took over, and I couldn't help it. I couldn't stay in the car another second with the spider.
I'm really, really trying to work on that at the moment. Because I can't feel like that when I see a spider in the car. I mean, luckily, I wasn't driving, but what am I going to do if I'm driving and there's a huge spider on my steering wheel, I can't jump out the car, I can't stop the car, I have to try and keep myself safe. So I am working at the moment on my anxiety around spiders, which is easier said than done. So that is what I'm currently working on.
If anybody has any tips for that, please please let me know. I'm currently doing a bit of research and trying to figure out what's best. So far I've been trying to visualise them being in the same room as me and trying to stay calm because I feel like if I can picture them because my imagination is quite strong. If I can picture them and stay calm, I'm hoping that will trick my brain into believing that I'm not afraid of them anymore and that when I actually do see them, I can act in the same way and feel calm. So I'll let you know I'll keep you updated on that one.
My symptoms
Symptoms wise I feel like I've been overthinking a lot recently. Like going over conversations, for example if someone doesn't reply to a text thinking why aren't they replying to the text? and going over that a million times so that's one. Overthinking wasn't a huge one for me before and that is definitely seems to be getting worse at the moment.
Most other symptoms are mainly still physical. So feeling dizzy, sick, shaky, sweaty, my heart racing having a tight chest, like I said headaches, even tired the next few days after anxiety or panic attacks. So my symptoms, mainly the same.
My toolkit
Toolkit wise, I have been absolutely loving mindfulness recently. You may know we moved into our new home and we have a lovely grass park type area outside of our house and it's surrounded by trees and nature. In our garden, we've planted flowers, and we've got a nice hedge and we're going to grow some fruit and vegetables as well. So my garden is a lovely place for mindfulness.
We also have a bird feeder, which I absolutely love watching. I love watching the birds come and go. That is my main daily practice at the moment and looking at nature trying to be in the present moment, put my phone down and get off social media for 10 minutes and just focus in on nature.
Improvements for my toolkit, I am planning on starting more exercise, I've been absolutely rubbish with exercise the last year, I'm not afraid to admit it. I've tried so many times to try and get into a consistent habit with it. But I find it really, really hard exercising at home. The gym opens next week, I am a little bit worried about going back in because like I say it's been a while. The things that we were used to doing, if we don't do them for a year, obviously, they're going to become a little bit harder again, we're gonna have to get used to them again. So I'm hoping that that'll be okay.
I'm trying to reduce the amount of sugary foods that I eat and easier said than done. Yeah, basically lockdown for me equals no exercise and lots of sugar, which I know is so much worse for my anxiety. So that's definitely something that I'm going to try and work on. We eat so many fruits and vegetables, but chocolate is my downfall. So I'm going to just try to eat a little bit less. Although I think actually, the best thing to do would be just to buy less if it's not in the house and I can't eat it. So maybe that's the plan.
I'm also going to be planning on using my journal every single day. You may have seen I have created a journal to go alongside my book. It's called Stand Up To Anxiety the same as the book. It uses the same methods and techniques that I talked about in the book and just gives you space to write about it so you can literally focus on understanding and managing your anxiety every single day. So make sure you check that out on Amazon if you would like to. If you want to see what I'm writing in my journal, then follow me on Instagram because I'm going to be sharing my daily journaling, and what's going on for me.
I think that's pretty much it really, for my anxiety. I'm gonna definitely start doing these episodes a little bit more often, maybe once every couple of months. To try and check in with myself. I feel like it's good for me to explain. I mean, I feel so much better even just saying this out loud. I hope it just kind of gives you an idea of how to do our own progress check every now and then because it's so important that we do and again, that's something that the journal can help you with. So I hope you found that really useful and I will speak to you next week.
Lucy J Smith is a Mental Health Advocate, Author of the Stand Up To Anxiety Book and creator of the Mental Wellness Club. After her own struggles with severe anxiety, Lucy found ways to understand and manage her anxiety and continues to manage it using personal development, self-care, routines and having an anxiety toolkit.
Related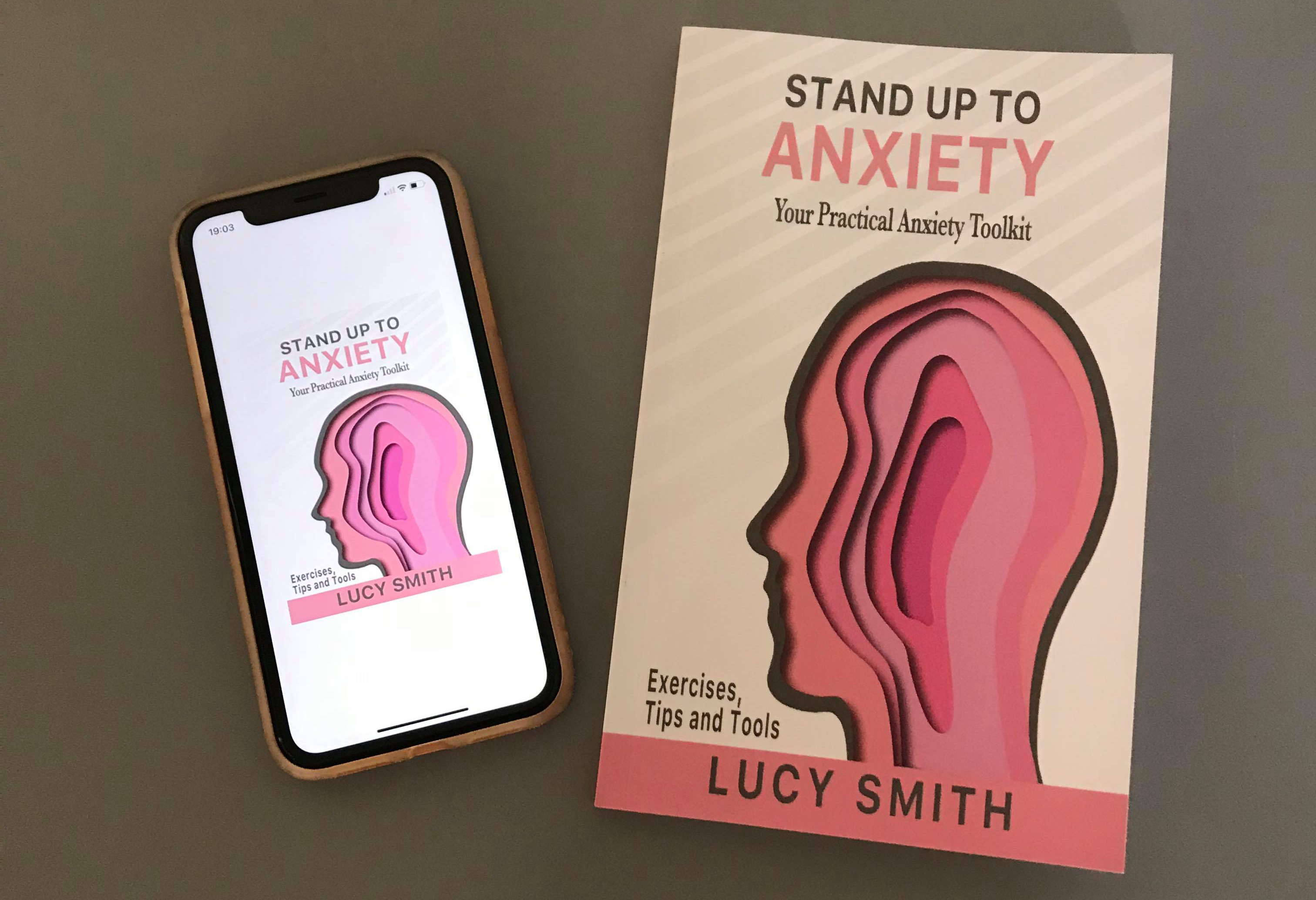 Is anxiety holding you back?
If you are struggling with anxiety right now, this book will be so helpful to you! It is based on my own experience of anxiety and panic attacks and talks you through the steps I took to understand and manage my anxiety.

Get the first chapter of the Stand Up To Anxiety Book for free
Enter your email below to get it sent straight to your inbox!
By entering your email address below you are agreeing to receive weekly emails from Lucy.