029: The Benefits Of A Social Media Detox
In this episode Lucy talks about the benefits of a social media detox and why we should intentionally plan them into our days and weeks. Social media can be very addictive and can trigger our anxiety and harm our mental health so it's important to know how and when to use it effectively. Learn how Lucy uses social media and how often to have little impact on her mental health.
Scroll down to read or click play to listen
The benefits of a social media detox
In today's episode, I'm going to be talking about the benefits of a social media detox. So this is something that I'm really cautious about because although social media is a really good place to be, it's a place that you can connect with lots of other people, where you can stay in touch with family and friends.
There's so many lovely things about social media. But there's also another side to it, where we may feel like we see the highlights for the people's lives. And we may get caught in comparing our lives to theirs. Which, by the way, is not very productive at all, because they are only going to share the positives of their life. And you're seeing the behind the scenes and everything in yours. So you can't even compare the two.
Although with my own social media, personally, I always choose to be completely honest and to share the bad as well as the good. So for those of you follow me on Instagram, you'll see that I often share my panic attacks or if I've had a bad day. So I always make sure I share the behind the scenes as much as I can, which a lot of people find really useful because it makes them feel like they're not alone. But obviously, not all accounts are like that.
On Instagram in particular, but all forms of social media, you have access to filters, so people don't even show their body and skin the way it actually looks in real life. So it's really important to make sure that you're aware of all of this before getting trapped in the world of social media. We don't want to stop using it altogether. It's a really good platform, I absolutely love my Instagram and my Facebook, and I wouldn't want to get rid of them.
However, what I do make sure that I do is use it in a healthy way and a healthy amount of time. So, for example, sometimes I'll realise an hour has passed, and I've just been scrolling through Instagram aimlessly. If that happens, I have a word with myself and distract myself and basically just tell myself to get off and put the phone down. But it's really important to try and get to it before that point, because you don't want to waste hours of your life scrolling aimlessly.
What I do to control my social media intake
The first thing is I have a nine o'clock shut off time, where I turn off my phone, so I don't go on social media, or Facebook or even my laptop, so I wouldn't turn my laptop on or do anything to do with the podcasts or the website or the book, or anything after nine o'clock. I would reply to a text if it was an emergency because only friends and family have my number. So that's a little bit different to social media. That nine o'clock cutoff, just gives me a time every single day of no more social media, I'm switching off and I'm just enjoying my life in my house, my own world, which I find really, really useful.
The other thing that I do is I turn off all social media notifications. So the only notifications I have available on my phone because it's easier to tell you what I've got rather than what I've turned off. So I only get notifications for texts, WhatsApp and phone calls. And that's it. So everything else is turned off, no Facebook, no Instagram, even my email notifications are turned off, I literally don't have any other notification. Since doing that everything has felt a lot better.
I don't know about you guys, but I really struggle when I see the notification like the number. So I have an iPhone and when you put your notifications on, numbers come up saying like five unread messages and 20 unread Instagram notifications, for example. I find it really hard to switch off once I've seen those so I would have to go on and reply to them, no matter what time of day it was. So I just find it much easier to just turn the notifications off and then I don't have a constant reminder.
Another thing that I do is I get really intentional on what I need to do on my phone. So for example, on a Monday, I always post about the podcasts on my various social media accounts. So I'll open it, I will go to the app that I want to go to I will post the picture and the post and then I will hopefully, in theory, leave the app straight away. Obviously that doesn't always happen. I am human and social media is definitely addictive. So obviously, sometimes I get stuck on there. But then I go back to point one, and I remind myself of what I'm doing, and I manage to get myself off of it.
Set a plan and boundaries
So it's really important to try and have a plan. So if, for example, you use social media for business, to set those intentions where maybe you have to go on to post on all of your social accounts every day, so you give yourself half an hour between five and a half past five, for example, to go on to post or to catch up with any messages and comments, and then to leave again. And that's definitely something that I look into doing.
Even if you don't have a business, so obviously, a lot of us just use social media for our personal lives. So if that's you, then make sure that you set the same kind of intentions. So you're not going to constantly be scrolling Facebook for the whole evening. Maybe you can catch up for the first half an hour when you get home then after that, you're only going to reply to important messages. It's just about setting those boundaries and making sure that social media isn't in our life 24/7.
I don't have my phone in my bedroom. This isn't just for social media reasons, this is more because of sleeping and getting better sleep. I just feel a lot more relaxed on my phone isn't in the room with me. Obviously, for health reasons, as well, there's a lot of research that suggests you shouldn't sleep with your phone near you when you're in your bedroom. So that's something that I've done for as long as I can remember. It's really good, because then you don't have that temptation when you wake up in the middle of the night to get on your phone.
The same first thing in the morning, I always make sure that I wake up, meditate, visualise, journal and just relax a little bit before I get up and just go straight on my phone.
That's the main things that you can do yourself to have a sort of social media detox, or really just to use social media in a more healthy way.
Surround yourself with positive people
But the last thing I just wanted to talk to you about was making sure you surround yourself with positive people, so we can't choose our family. While I believe we can change our friends, maybe you've got long term friendships or relationships with people.
But they may be not exactly the most positive and uplifting, but you don't want to lose them as a friend. Again, that's fine. But what I would suggest, especially on places like Facebook and Instagram, just unfollow them. On Facebook, you can be friends, but not see any of their posts, and they don't know about it. So that's a really handy tool. I won't name any names, but I've definitely done that for a few people in the past, purely because everything they posted was negative or about politics or about the news. I just didn't want to read it and it often triggered my anxiety. So I just unfollowed them but remained friends who I can still talk to them. We're still connected, but I didn't have to see their posts every single day.
I actually don't follow any of my friends or family on Instagram, I purely follow other mental health advocates, positive, uplifting accounts. I follow accounts like happy news. I don't follow any sort of celebrities, I do follow a couple but only the ones that are really uplifting, like Fearne Cotton and Stacey Solomon, the rest I don't really follow because I have no interest in celebrities. But also, I want to make sure that I'm surrounding myself by only positive people that talk about positive topics.
I have a lot of control over who I follow on Instagram. So that tends to be my go to platform if I am going to have a little scroll, because I can have a 15-20 minutes roll on there and actually feel better than I did when I first picked up the phone. Because I'm surrounded by so much positivity.
I really suggest that you take on a few of these tips, you begin to add them into your life. See how it helps. Obviously, you could go to the extremes and have a day a week where you just completely put your phone in a drawer. I know a lot of people that do that. And it does seem to work. I personally don't do that because with my book and podcasts and everything else going on, I need to be a little bit more present on social media. But if I felt we had to I would take the day off because my health physically or mentally is more important than any any form of social media.
So I hope you found that really useful. If you have any questions come over to Instagram and let me know. If you don't already follow me I'm @lucyjsmith_26 and let me know what you think of the podcast. I'm always really keen to get to know what you think and how it's helped you.
Lucy J Smith is a Mental Health Advocate, Author of the Stand Up To Anxiety Book and creator of the Mental Wellness Club. After her own struggles with severe anxiety, Lucy found ways to understand and manage her anxiety and continues to manage it using personal development, self-care, routines and having an anxiety toolkit.
Related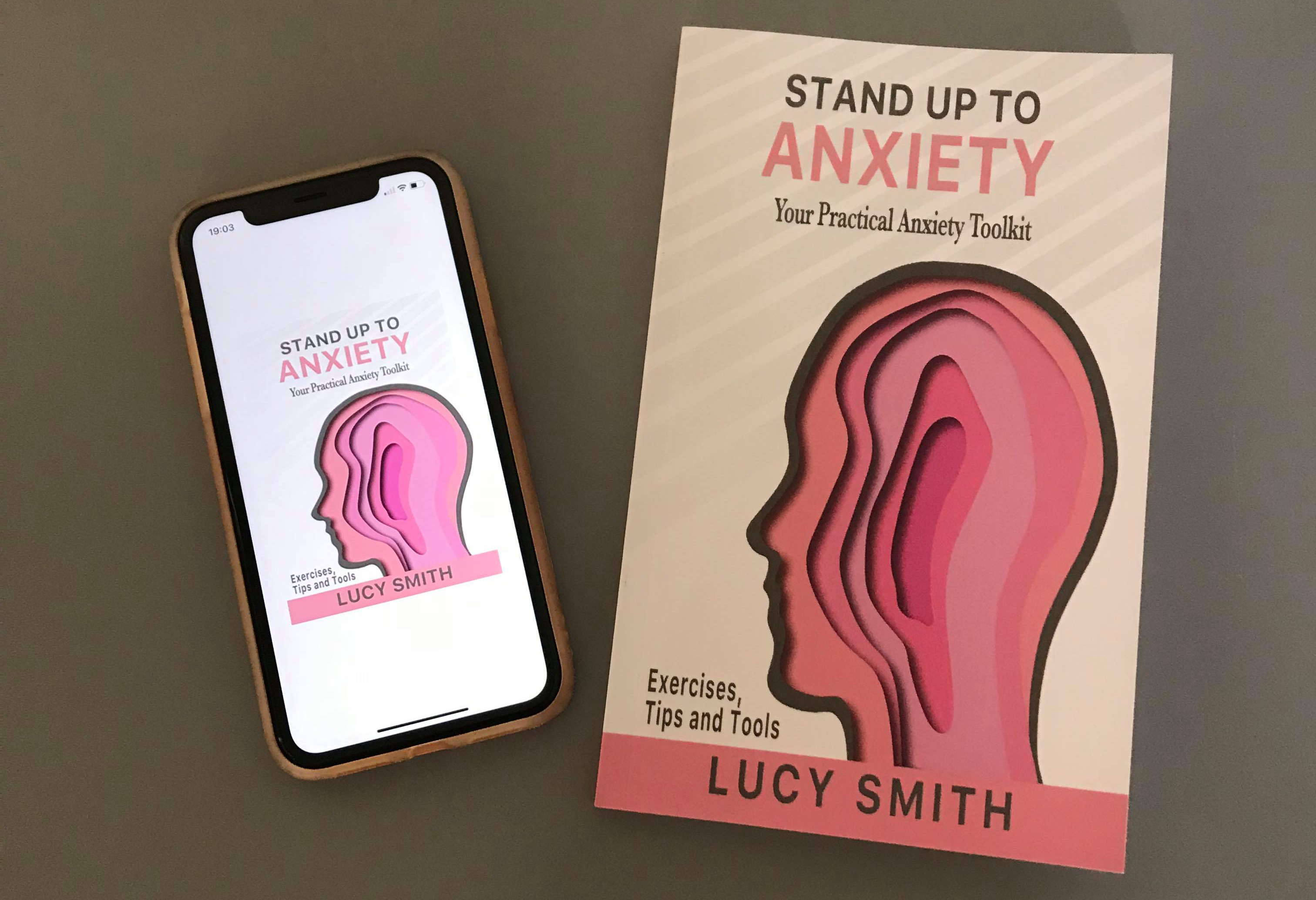 Is anxiety holding you back?
If you are struggling with anxiety right now, this book will be so helpful to you! It is based on my own experience of anxiety and panic attacks and talks you through the steps I took to understand and manage my anxiety.

Get the first chapter of the Stand Up To Anxiety Book for free
Enter your email below to get it sent straight to your inbox!
By entering your email address below you are agreeing to receive weekly emails from Lucy.