030: Running An Online Business Despite Anxiety
In this episode Lucy interviews Carly on running an online business despite anxiety and how anxiety can have a positive or negative impact on your business.
Carly answers these questions:
When did you first realise you had anxiety?
How has it held you back in your business?
Has it helped you in your business in any way?
How do you deal with anxiety to still be visible in your business?
What do you think of "feel the fear and do it anyway"?
What's one tip you'd give someone starting out in business and struggling with anxiety?
Scroll down to read or click play to listen
Running an online business despite anxiety
Lucy: Hi, everyone. In today's episode, I'm joined by Carly to talk all about how anxiety can impact your visibility and the ability to run a business. So to start with Carly, tell us a little bit about yourself.
Carly: Hi, Lucy. Thanks so much for having me. It's always great to chat. I am a brand strategist and a copy coach. I'm a mum of three.
Lucy: So when did you first realise that you had anxiety?
Carly: Yeah, it's funny one, because I feel like I've always had it. I think you probably know this yourself as you get into adulthood, you look back and think actually, I probably always had it. I look back, I was probably quite a nervous child and was quite an outgoing child. But especially when I hit puberty and went to school, I look back think that's definitely traits of having anxiety. But I guess if you don't know about it, and don't can't put a name to it, you don't really know what it is.
The first turning point was about five years ago, I would say it was the first real big turning point. Actually, it's quite late on for me to decide that actually, that is what I've got. I've had friends openly admit to having anxiety. But I didn't always relate. I think I ended up putting it down to more that they had maybe more social anxiety that I didn't have. That's helped me in a way just to be able to put a bit of a label on it and to know how to manage it.
Dealing with anxiety in business
Lucy: So you've had multiple businesses over the last several years. So did you find that anxiety impacted your businesses, especially when you got to that point where you realised it was anxiety? How did that affect your business?
Carly: Yeah, I've have had different businesses. I guess, when I first realised it, five years ago, which was more to do with going from two children to three children, it really came to a head. I think it's always affected it in terms of visibility. And a little bit if you're just feeling wary, generally, I think I was putting myself out there and holding back. I guess that's the way it's affected it more than anything. And then, as I stepped into it, so many years ago, I think it's like anything in life, if you if you really work on your mindset and personal growth, you start to see it as a superpower. That's how I've started to use it. So it has affected my business. But it's actually been a really useful tool as well.
Lucy: Yeah, definitely, I feel the same, especially, because my business is based around helping people with anxiety. I couldn't do that if I didn't have anxiety. So it makes you more relatable, I suppose to other people, like people in business have got anxiety, and they do struggle with it. So I think seeing somebody else being successful in business like yourself, and having anxiety as well it can be an inspiration.
Carly: I think so. Yeah, I think it's back to that relatable. I mean, I talk all about brands stories and sharing that side of you and being quite vulnerable. Some people will say to me, well, how vulnerable should I be? And I was saying, well, it's okay to sharing the parts that you feel relatable. I think that's been a big one for me.
So sharing the fact that I do have ups and downs, do suffer with anxiety, and that as a result of that, as you probably know yourself you then end up having ups and downs with bouts of depression as well. They seem to go hand in hand. I'm happy to share that because that is part of my journey, and it will be part of so many other people's. I think there's so many ups and downs in the entrepreneurial world and I just wonder sometimes if we end up masking the fact that we feel anxious or concerned or high and low, and these buzzwords go around like procrastinating and perfectionism and imposter syndrome. I wonder if they're connected as well because they definitely come from my anxiety.
So I think to actually be really open about it and put a positive label on it because I know labels can be quite limiting, I think to be able to offer that support and help is crucial. Because these other words that we do hear in the business world, I just wonder sometimes if they're masking this as well, I don't know, what do you think on that?
Lucy: Yeah, definitely. I feel like, I definitely struggle with procrastination. Like this morning, for example, I had a to do list and I basically did everything but the to do list.
Carly: I know that one.
Lucy: And it's like, why? I'm still busy, I'm still doing things. I'm still being productive, but I'm not doing the things I'm supposed to be doing. I'll share the example it was actually Instagram posts I was supposed to be creating. But for me creating an Instagram post requires me to dig deep into my own anxiety, because that's, that's how I help others. I go for my own experience and I share tips that work for me, I share my own struggles with anxiety, what symptoms I'm experiencing, what triggers I'm having at the moment. I feel like I was procrastinating because I didn't want to dig deep on my own anxiety for some reason. So yeah, I definitely think they will go hand in hand and the more aware we can be and the more we can talk about it and accept it, I think the easier it will get for us all.
Carly: This is it, I think, yeah, what you're doing is key. I think it helps so many people because if we can put a label on it and ask others just as like you said that dig deep and tap into what is really going on. Because I think there is something deeper, there is anxiety, are there anxious thoughts, then your work is saying, well, let's recognise it and work on it and actually have a coping strategy. Whereas I think when it's over thinking and procrastination, they just get thrown around and not necessarily have mechanisms to deal with it. So that's what I feel is crucial in what you do. And that's what definitely I've been able to do by recognising that it is anxiety and that if we strip back the layers, and it's similar to what I do my role with people, I ask them to really go deep on their business and their brand. It's almost like you do that with their personality, but with themselves, their mind, because it's peeling back the layers and it's going really deep. Is it just perfectionism? Is it just imposter syndrome, actually, at the cause? But good news is we can work on it and I feel like that's what you do.
Learning to accept your anxiety
Lucy: Yeah, definitely. I always feel like you can't work on something until you've accepted it. And you have to get to that place. It is hard, I mean, like you said, it took you a while until only five years ago to figure it out. And for me, it took me until my early 20s. When looking back, I've had anxiety since I was about 10. So it takes you a while to get to that point of acceptance, but however long it takes, that's fine. But when you're ready, just get to that place of acceptance. So you can start to really be proactive and work on it.
Carly: Yeah, I mean, I was mid 30s. I'm just thinking that's ridiculous. How can I not really put that label on that to that point? But I guess if that's all you've ever known, and it's almost like maybe we just accept it and we think that that's part of us and is that just what everybody goes through. I think that's, again, something really important for people to know that. It's, it is kind of working ourselves and do that inner work and digging deep and looking for support as well.
I look back to my wedding day. People say it's supposed to be the best day of your life. I feel, I'm not ashamed, that's the wrong word I want to give myself more self compassion than that. But I do look back and feel that little bit of guilt that actually it wasn't the best day. When I look back, it was actually anxiety running the show, but I didn't know it that then I was clock watching and worried about speeches, not being on time and the photographer. And really in a way, I mean, that's a good tip for anybody getting married with anxiety just to take that pressure off, because it didn't ruin it. I had an amazing day. But I look back now since I've been able to put this label on it and put my own structures in place. I think I would have done things so much more differently than I did.
Lucy: It's like going back to being present in the moment, isn't it? And mindfulness. It seems like you weren't very present during your wedding day. You weren't enjoying the moment you were thinking about what was coming next. Whereas if you'd have known about your anxiety, you could have prepared yourself for that and practiced mindfulness for a few months before and really got used to being present in the moment before the day.
Carly: Yeah, I know we're on wedding talk now but I guess this can be relatable into business as well. You know, things like launching a podcast, which I did last year. I treated that differently. There's always things up to a bigger event or big thing that you know, to me the wedding, the hen do and doing this and everything was just stress, stress stress.
But I think the ironic thing is that we were actually meant to get married in Ibiza and I fell pregnant and that then transpired into having to have it over in England. And that's when it switched. Looking back, I think that actually, the fact that we were originally going to Ibiza and an element of control is taken away, and they were going to plan it all and set it up. I think I knew deep down that's what I needed that, that sort of stress free, chilled vibe. But then it changed. So sometimes that's something else, I guess, whether it's business or life with anxiety, is how we deal with change as well. I obviously didn't deal with it very well and it didn't go well, for me in that sense.
Lucy: It's all a learning processes isn't it?
Carly: Yeah, it is definitely, definitely. And, as I explained, putting back into business terms, my podcast launched last year, I almost fell into that trap. But I do think once you're aware of it, I really took it back a peg, recognise it and I've taken the pressure right off. And it's the way I deal with it.
How anxiety helps you in running a business
Lucy: That's really good. So do you feel like it's helped you in any way having anxiety? I know we've kind of talked about, it's helped with being vulnerable and being more relatable, maybe to people, but is there anything else that kind of you feel has helped you?
Carly: That's a good question. I think possibly awareness, I think when you're just aware of whatever it is, in your mindset in your mind, if it is mental health related, I think it really encourages you to take step back and just just chill a little bit on your inner work.
I think that's probably helped me in my business, because it forces me when I am aware of times where I'm feeling anxious, or that I could possibly start to feel it. That helps me get more clarity over what I need to do. So I guess that's where it's helped me. I would say that it helped me just take a bit of more of an overview, look at everything, rather than just going full steam ahead. Maybe when I didn't really know what it was. I would just hurtle towards burnout and I still do at times, I can't say I've totally recovered in that sense that I am quite a high energy, I'm creative, I'm a thinker. That helps me with my job. But it can be really easily lead towards burnout as well.
Lucy: Yeah, definitely. That's really good. So are there any days where you feel like you just can't show up for you don't want to be visible? Where your anxiety has got too much? Like, are there any days like that? And how would you deal with it?
Carly: All the time. It's exhausting, isn't it? I think it is the ups and downs of having anxiety, it can be quite tiring, because you just you want to be there so it becomes a bit of a mind battle, doesn't it? You know, I mean, for anybody online, this applies. But for myself, I think I've got an extra layer of pressure because I am about visibility and showing up as you and showing up regardless. I even did a podcast episode about this topic, my top tips there were just to take step back, if you have to take a bit of downtime, and then sharing it, I think just just being honest, you know, it depends how bad you feel. As you'll know, and this is what you do Lucy. But you know, for me personally, I take a step back saying well, how am I feeling? Do I need a duvet day? Do I literally needs to come offline? Or, can I share a bit of it. And 9 times out of 10 I probably do but I'll take the pressure off and think I don't have to go over the top. Maybe it's just a really simple post, or maybe it's just sharing in my stories that I'm feeling a little bit this way. I've been asking a question where I can support other people. So I did that this morning, this is sort of first day back after four days, just in a poll saying that I always feel the need to hold back and practice that self compassion as well. I'm trying to get the balance right.
Lucy: Yeah, definitely. I'm pretty good at scheduling things, and then sticking to them to be fair, but sometimes, I'll go days without posting on Instagram or posting in my Facebook group. My podcast again, because I know that an episode has to go out every Monday at nine, I'm good at getting that done. So for me, it's like prioritising what needs to be done and what has a deadline. For example, I'm running a free challenge this week that needs to get done, I've advertised for it, people have joined and are waiting for it so it has to be done. And the podcast has to go out.
But the other things, like you say it's just been a bit compassionate, isn't it and just letting yourself have time for self care instead of pushing yourself too much? Because sometimes if you push yourself too much, it's going to have the opposite effect. It's not going to help at all, it's going to make things 10 times worse, and the next day is going to be even worse than the day before. So yeah, I'm quite good at doing that, and noticing it and catching it early so that I don't go over the top.
Carly: Yeah, it's interesting, because our intentions are one thing. And we are especially as entrepreneurs, as business owners, we're so excited on this mission. But yeah, we are working towards, well there's never there's never an end goal in sight. But we just keep working. We're on this mission to help other people. So we do want to show up when we do want to do the work. And I think it's really easy to think that I'm going to get this, this and this done, because we know we need to. But I think that and reality are two separate things and that's what I'm trying to tap into more. It's almost like well, yes, that's what I want to get done. But is that realistic? Can I take step back? Watching out for those triggers and that the pressure that you put on yourself. I just take a step back when I need to as well.
Lucy: Yeah. Do you feel like you're an introvert because for me, after this podcast, I'll feel really, really drained because I've spoken to someone for a long period of time. Same as if I do a video or I do a live or anything like that. After I'll feel like I just need to lie on the sofa for like an hour just to recover from it. Do you kind of have the same experience? Or are you would you not say you're an introvert?
Carly: Oh, yeah. 100% introvert. If you rewind so many years, I was a classic introvert. I was quiet and shy. Now I guess I'm an extroverted introvert, that's kind of how I feel. I love connection. I love to have this high energy around me I can be quite bouncy, but it will be like a Duracell Bunny. Where I literally feel like I've just unplugged and then I'm out of battery certainly. I need to literally put plug myself back in to recharge. I'm the same, but I do feel like I've probably got a bit of both, I definitely need that time to just come back to it. That's what I'm trying to be aware of is putting that time in, it's almost allowing for that time, just to unplug a bit as well and then refresh. I think if people don't give that that's probably where that burnout comes from.
"Feel the fear and do it anyway"
Lucy: So I know the saying "feel the fear and do it anyway" is literally huge at the moment, and everyone seems to be saying and doing it. So what do you think of that?
Carly: Oh, yeah, that's a good one. I guess it comes back to again, that intuitive approach to life and to business. I always say I'm about the feel good is going with what feels good and not going with the shoulds. I always hate that word should. I think if we change it from a should to a want and that tells you whether you actually want to be doing that and whether it's part of your mission.
I think it's down to you because if you feel like that's far too much for you and you know your own limits and boundaries, then I think it's holding back and sitting where you feel comfortable. But I guess if you know it's a limitation if it's a limiting belief, if it's something that you you know, you could push through with maybe some support or the right mindset some journaling, some gratitude, meditation.
I think it's quite subjective  because I think you have to look and explore it first and answer some questions like:
What is the fear?
What is the fear holding you back from?
Is it something in your comfort zone?
Do you need to do it?
Am I comparing myself to someone else's journey?
It's a funny one, isn't it? Because it could lead so many different answers. If we're comparing to others, that's probably not what we need to do any way. But it's something that we want to do not should it wants you to take action to move forward, especially if we're talking in business, but it could be in life, then I think just explore and get journaling around it. What is this fear? Where does it come from? If it's genuine? Do we need to do it? And can we just take a step back? And not do it? Or work through it?
I think it depends on the situation depends on the action needed. I think so many times I have pushed through the fear, but in a really nourishing, self compassionate sort of way. I definitely don't think you should just do it because I think there's so many barriers to that. It's whether you need some support with it or whether you just don't need to do at all.
Lucy: Yeah, the example that came to my mind was my first ever live video. I think back to how scared I was, and I felt like I couldn't do it, I felt like I would just stutter and forget what to say and cry and just have a panic attack on live video. Then I did it and now I'll happily do a live video and go live for 20-30 minutes. I rarely actually prepare, I don't write a script, I literally just write a few bullet points. Then I listened to them back and there's nothing that I was ever afraid of. There's no stuttering, there's no forgetting my words, and I think I was so scared. If I hadn't done that first live video and pushed through it and done it anyway, I wouldn't be where I am now. I wouldn't be confident doing live videos.
Carly: Yeah, it's interesting. You can start by just putting the structure in place, you could bullet point it and you could practice. I do think maybe preparing and looking at it but make sure you're not holding back and you do actually do it. To me, it is about having that self compassion again.
Lucy: I think what you said about practising and preparing is really key. So with that example of the live videos, maybe preparing a few recorded videos and never publishing them, or doing short videos on Instagram, the ones that only are there for 24 hours and just building yourself up to that final goal.
Carly: Another tip I say is that you can just create and create a free group on Facebook. You could just have you and your best friend in there or your business bestie or somebody that you really trust in there that you can just go live to them and just do it within a group. Then could you get brave and invite a couple more people in and that's that's a different way to do it where you can do live, but you know, it's a safe protected environment. There's all these different ways, I do especially think with anxiety you need to nurture it first before you take that big scary step.
Carly's top tip
Lucy: Yeah, definitely. So what would you say is your top tip to give someone who is starting out in business and has anxiety?
Carly: I think it is just be gentle with yourself. But be aware of the triggers as well. It's such a tricky one. It's almost led by yourself. But I think should be led by yourself and your feelings, journaling, meditation, all the tools that you give Lucy that are just so key to managing our mindset, knowing that you are taking baby steps forward. So it's not like the fear and the anxiety hold you back completely.
I think it is getting support as well, I think that helps knowing that somebody's got your back. And there are still days where you feel just like hiding away. But if you have that little bit of support, and perhaps a bit of accountability. So I do think it's the support wherever that comes from, or whatever it looks like whether it is friendship, paid help, I think that is going to help you move forward, rather than just been sat in your own thoughts. Because we know how that goes, don't we? That can go horribly wrong. Maybe it's that maybe it's just getting support whichever way you look at it.
Lucy: Yeah, definitely. I love that. Well, thank you so much for talking to me. I'm sure that everyone listening will find this really, really useful. And a lot of these tips can be taken whether you're someone in business or just someone in the online world, or just generally in life, I think everything can be transferred across.
Carly is a Personal Brand Strategist and Copy Coach on a mission to empower and support women to step up in their business and SOAR. She lives in a village in North West England with her husband, 3 young daughters and their 3 guinea pigs. 
Lucy J Smith is a Mental Health Advocate, Author of the Stand Up To Anxiety Book and creator of the Mental Wellness Club. After her own struggles with severe anxiety, Lucy found ways to understand and manage her anxiety and continues to manage it using personal development, self-care, routines and having an anxiety toolkit.
Related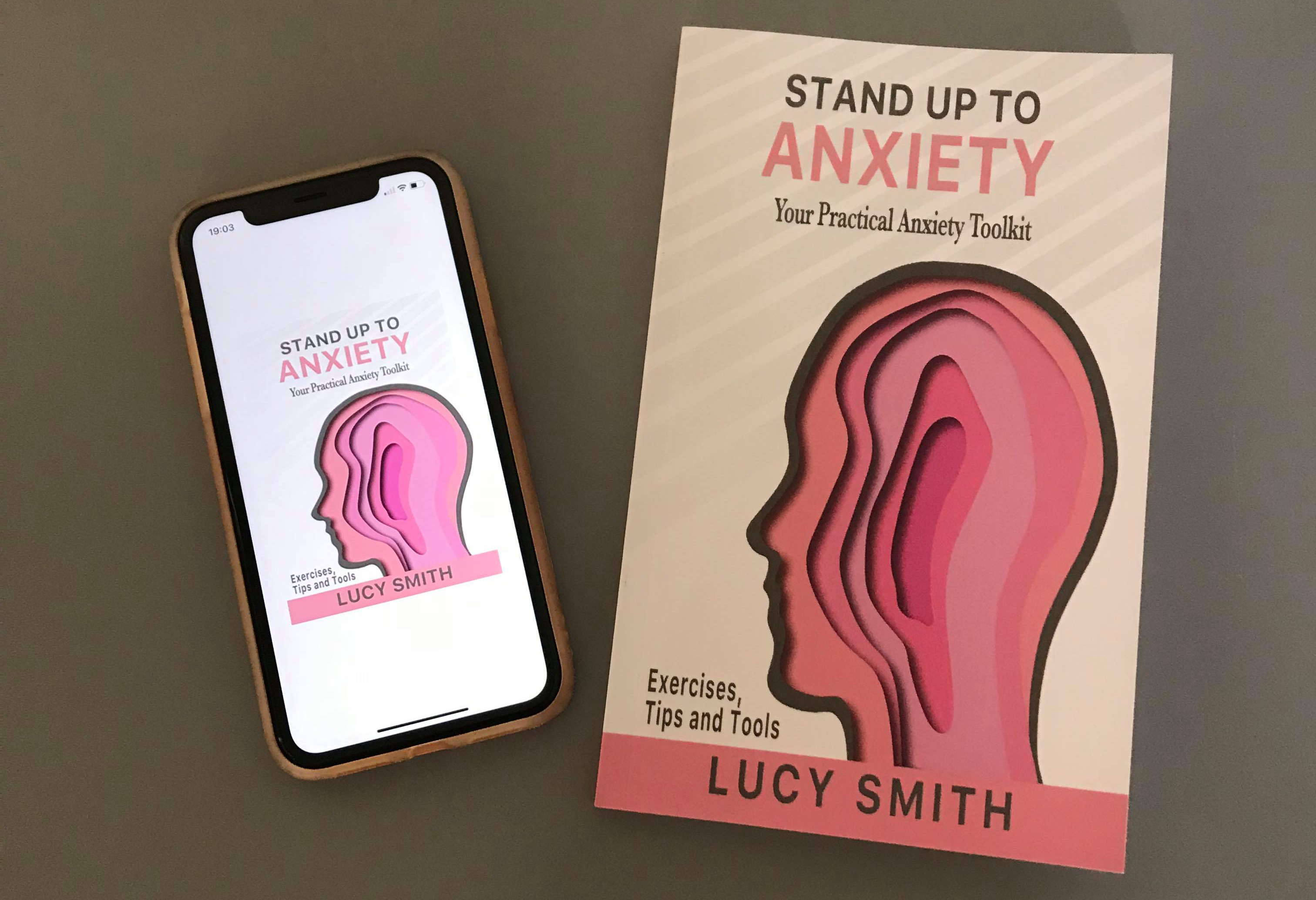 Is anxiety holding you back?
If you are struggling with anxiety right now, this book will be so helpful to you! It is based on my own experience of anxiety and panic attacks and talks you through the steps I took to understand and manage my anxiety.

Get the first chapter of the Stand Up To Anxiety Book for free
Enter your email below to get it sent straight to your inbox!
By entering your email address below you are agreeing to receive weekly emails from Lucy.