031: Using The Stand Up To Anxiety Journal
In this episode Lucy talks about the benefits of using the Stand Up To Anxiety Journal. Lucy talks about the benefits of journaling, how it's helped her and the layout of the Stand Up To Anxiety Journal. Click here to order your copy of the Stand Up To Anxiety Journal.
Scroll down to read or click play to listen
Using The Stand Up To Anxiety Journal
In today's episode, I'm going to be talking all about how to use the Stand Up To Anxiety Journal. So if you don't already know I have created and published a journal to go alongside the Stand Up To Anxiety book. The journal is now available on Amazon as a paperback journal and on my website if you prefer a PDF to use on your phone or iPad.
The reason that I created this journal is because lots of people that had read the book had asked if I could create a journal to go alongside it, something that they could use to help them implement the tools and the strategies in the book, and help them to get consistent with it by using the journal. So since I absolutely loved journaling, and it's been a great technique to help me with my anxiety, I thought this was a really good idea. So I created it and now the Stand Up To Anxiety Journal is available.
Why Journaling is useful
Journaling is a really great tool to explore how you're feeling, it's really good to ask yourself questions like "How am I feeling today?" and "Why am I feeling this way?" You can you can ask yourself questions and write the answers down in a journal.
It's a really good way to track your triggers and symptoms and to begin to recognise your patterns. So I don't know about you, but if I try to remember all of my symptoms and triggers and when they happened and what tools I used in my head, I'm not going to be able to remember more than a day or two. But being able to write it down in a journal just helps to be able to have it all in one place, be able to track it really consistently, and to be able to recognise patterns. So for example, if every time you go out to a restaurant, you feel the symptoms of sweating, shaking and feeling really sick and dizzy, you know that that's one of your triggers. Then you can then begin to learn how to prepare for that trigger next time you have to go to a restaurant.
It's also a really good way to track your anxiety toolkit and to make notes. So if you've read my book, or even just listened to a few episodes of this podcast, you'll know that I'm all about creating a physical anxiety toolkit, full of tools and techniques that you can use so that you don't even have to think when your anxiety is triggered you've got a physical list, you pick one and you try it. It just takes all of the thought out of having to pick a technique to try in that moment of anxiety, which as we all know, is sometimes a little bit hard to think straight. It's just a really good way to track everything to do with your anxiety or triggers your symptoms and the tools that you've used.
It's also really nice to look back on your progress. So it's nice to look back and see over the last week, you've only had one anxiety trigger that's come up and caused you to feel some symptoms, or maybe you've gone a whole week without any.
The Stand Up To Anxiety Journal
The Journal split into three sections, but it's entirely up to you how you use them. To start with, I was using mine for about five minutes in the morning and 10 minutes in the evening. Now I tend to just use it all in the evening, purely because the mornings can be a bit chaotic. It's up to you how you use it, you can split it into regular times throughout the day and come back to it whenever you want to. Or you can just do the morning or the evening whatever works best for you.
The three sections are roughly split so you like I say you can do all in one go. There's space for six daily habits, at the moment are meditating visualising, reading, journaling, stopping technology at nine o'clock and only eating two or less sugary snacks. It's going really well. I find it a lot easier to be consistent with it if I've got the reminder in my journal because I really want to tick that box at the end of the day to say that I've done it. Again, I can look back and see my progress and I can see how I'm getting on with those new habits.
The next section is anxiety reflection. So this is where you write down any triggers that have come up, any symptoms you found and any tools that you've used. There's also prompts for you to reflect on the tools to think about if they helped or not and what you can learn for next time. So that will really help you to keep your anxiety toolkit up to date. It will also help you to reflect on what tools help and what tools don't so you can better create your anxiety toolkit to suit you.
The second page of the journal is all about positive reflection on your day. Including one good thing from your day, one thing that you're proud of, a self care activity that you've done (because we all know that self care is really important and not selfish at all) and then up to five things that you are grateful for, I'm a big believer that there's always something to be grateful for, sometimes it's going to be harder than others to actually sit down, think of them and write them down. Some nights, I literally can't think of anything and I end up writing things like Scott cooked dinner, or I had a really nice cup of tea. Other days, you're going to have an amazing day, and you're going to have loads to be grateful for.
Then the last section is a brain dump. So I know that a lot of you that struggle with anxiety, really struggle with falling asleep at night, and that is completely normal. The ones of us that struggle with anxiety do have a lot going on in our mind, there's a lot of overthinking. For example, I know I'll get into bed and all of a sudden, I'll be going over every conversation I've had that day thinking about what I said, what I didn't say, what I shouldn't have said, how I sounded, the tone of my voice, what the other person was thinking during that conversation, I could go on. And so there's so much going on in our mind at night that it's really useful just to use that brain dump to write it all down, get it off your mind, into the journal, and then tuck it away in your bedside table drawer, and hope for a good night's sleep.
So that is a little bit more about the stand up to anxiety journal. Like I said, it's available on Amazon as a paperback if you prefer that if you're more of a pen and paper person. Or you can get the PDF version on my website if you prefer to use your phone or iPad. I wasn't actually planning on creating the PDF, but someone on Instagram contacted me and asked if I could create it because she wanted to be able to use it on her iPad so that she could have more access to it all day because it's easier to carry an iPad around than it is to carry a paperback journal. So I thought it was a really good idea. And she really wanted it so I created it and since then quite a few people have ordered the PDF version. So clearly there is a need for that as well.
If you've got any questions at all, please just let me know if you come and join me over on Instagram. You can ask me any questions that you've got. If you've ordered the journal or the book, please can you let me know how you get on because I absolutely love hearing your reviews. So send me pictures of you using your journal and book and let me know what you think of them.
Lucy J Smith is a Mental Health Advocate, Author of the Stand Up To Anxiety Book and creator of the Mental Wellness Club. After her own struggles with severe anxiety, Lucy found ways to understand and manage her anxiety and continues to manage it using personal development, self-care, routines and having an anxiety toolkit.
Related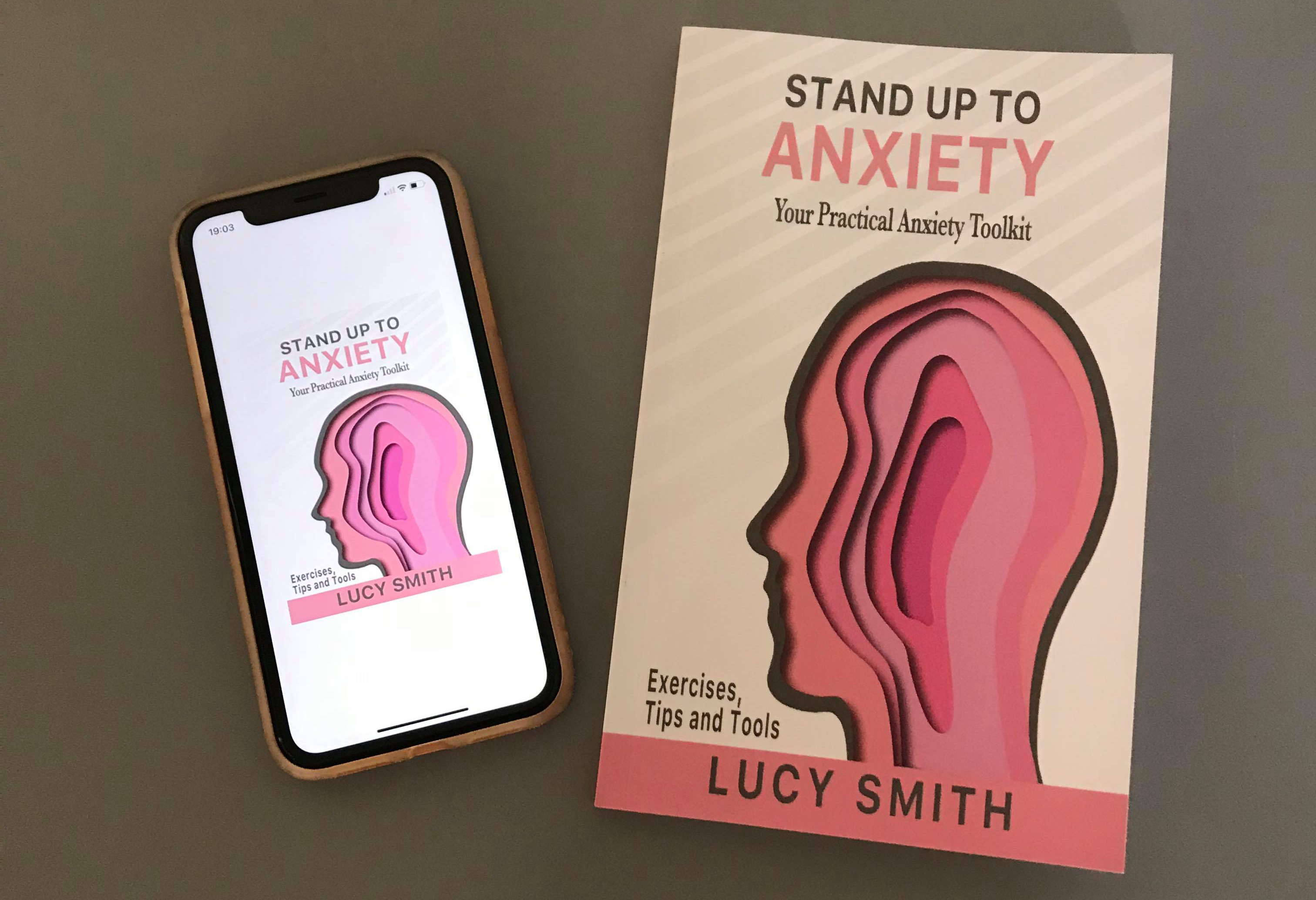 Is anxiety holding you back?
If you are struggling with anxiety right now, this book will be so helpful to you! It is based on my own experience of anxiety and panic attacks and talks you through the steps I took to understand and manage my anxiety.

Get the first chapter of the Stand Up To Anxiety Book for free
Enter your email below to get it sent straight to your inbox!
By entering your email address below you are agreeing to receive weekly emails from Lucy.