032: Managing Anxiety When You Feel Busy
In this episode Lucy talks about managing anxiety when you feel busy. This is how she is currently feeling with all the things she is committed to and has to do each week. However it is made easier with some simple techniques to help you get organised and manage the anxiety that comes with feeling busy.
Scroll down to read or click play to listen
Managing anxiety when you feel busy
In today's episode, I'm going to be talking all about how to manage anxiety when you're feeling busy. So this is something that I am experiencing at the moment. I currently have my podcast and my books, I still work full time in a school, I go to the gym, I have a new house that I'm still getting used to living in and cooking and cleaning and all of those kinds of jobs. And soon, we are planning on starting the sport that we play again. Now that lockdown is easing, we're able to play bowls again.
So I'm feeling really, really overwhelmed. I'm feeling like I don't know how I'm going to fit it all in. And it's really easy to get to a state where you feel like you're too busy and you haven't got time to relax anymore. And for me, that's something that triggers my anxiety because I know that if I don't get enough time for self care, if I don't get enough time to just chill on the sofa, or to just be with my family, I know that that can cause a lot of anxiety for me.
Schedule everything
I like to be really organised and prepared and know what to expect. So for me, the best thing to do is to schedule everything in. So if I can, if, if there's something that I can do consistently on the same day at the same time, then I will do that. That is just personally what works best for me. So for example, I go to the gym on a Monday, Wednesday and Friday, I leave my house at 415. Honestly, it's so precise, it's crazy. I get home about six o'clock. On those days, we have a dinner in the slow cooker, so that when I get home from the gym, dinner is ready. My boyfriend is at home before me so he'll do anything that needs doing for dinner.
I do the food shop on a Monday and a Thursday and I go straight from work for those. So again, very, very consistent, it's the same time every week on the same days. Bowls is a lot harder to know in advance, because sometimes I need to arrange games. So I don't know too far in advance when I'm going to be playing. But the days that I do know I put into my calendar, so that I can see an overall picture and I literally put everything into my calendar. So I'll put the gym, I don't put the food shop, actually. But I might have to even do that. And I literally just schedule everything. So it's all in my phone and laptop, I can see it really clearly, that just helps me to feel a lot more, a lot more calm and sort of in control of what's going on.
So obviously, I have a lot going on, I haven't even mentioned things like housework, and the podcast and books that kind of just fits in around as and when like for example if I'm not feeling 100%, then I won't record a podcast because I like to put everything into them and I like to be able to do them really well. Same as with my books. If I'm planning on creating a new product, I will always schedule time aside for that, so that I can feel my best for that.
It's really, really tricky, because obviously we've all got these kinds of commitments, we've all got these things going on in our lives. And yes, it is needed. And obviously that's life, that is just what we have to do, we have to kind of live with it. However, it can be really triggering for your anxiety.
Write down all your commitments
I would really suggest that you write down all of the commitments that you have currently got. So literally list them even add things like work in a food shop like I do, because they are still things that need to be done. And obviously things like cleaning the house as well, that kind of stuff needs to get done. But very often, it's kind of, well, I know for me, sometimes the bottom of the list because everything else kind of feels more important. But if we if we were able to break them all down and see them there on paper in front of us, it'll be a lot easier to be able to start managing them and figuring out when we're going to get them all in.
So schedule a day or time for the ones that you can. So like I said, I go to the gym on a Monday, Wednesday, Friday, about 4.15 till 6pm and I know that time is blocked out for that and the food shop, I do the same two days every single week. So I know that those are the days that those things are scheduled. And I can try to not arrange anything else on those days. Obviously, every now and then I'm going to have Bowls on a Monday or Thursday and then I'm not going to be able to the food shop or bowls on a Wednesday, I'm not going to be able to go to the gym. And that's fine.
Ask for help when you need it
I am getting a lot better at accepting that and when things change. But I think that's just something that comes with anxiety when our plans change it can be quite daunting and quite hard to deal with, but I'm definitely getting better. And the last thing is just to ask for help if you need to. So if you feel like it is all too much you've taken on too much and you've got too many things going on.
How can you ask for help?
Can you ask your partner to do the food shopping instead?
Can you ask him to maybe help out around the house a little bit more?
Can you And what can you do to sort of ease your workload a little bit?
Maybe at work you've taken on too many commitments?
Can you maybe get back to just doing what you need to do for your job role and not take on any extra activities?
Like, for me, personally, I don't want to give up any of those things, I absolutely love all of those things that I have to do. However, obviously, all together, it can seem very overwhelming. So I think by just being able to write them all down schedule, any ones that I can and just be able to know that I have got time for all of it just helps me to make it a lot clearer in my mind and a lot easier to manage.
Make self-care a priority
The last thing that I wanted to talk about was self care. So you'll notice that I didn't mention self care in my list of things that I can commit to and that purely is because I don't need to write it in the list to know how important self care is, for me, I always make time at the weekend for self care, while I make time every single day for self care at least 10 minutes, because as you all know, it's a prompt in the journal. So I make sure that I've done at least one so that I can write it in the journal. But I will always do at least 10 minute activity every single day. But at the weekends, I will do a little bit extra. So I may have a really long, relaxing hot bath with petals and bath salts and bath bombs and whatever else I want to chuck in there. Or I might go for a really long walk, I might enjoy time reading out in the sunshine. So it's really important to make those times for self care as well. And to make them activities that you enjoy. So don't do self care for the sake of doing self care and make sure that it's things that you really, really love and you can't wait to do.
Another thing that you can do as well is so for example, at the moment every time I'm driving, so whether that's to work or to the food shop or to the gym, although most of the time I do walk to the gym because it's only around the corner. And I will listen to an audiobook in the car. So I will make sure that it's a nice positive audiobook, either something sort of self help wise, or something that's just really enjoyable and the kind of genre of reading that I like. And I will listen to an audiobook during those times. I really liked doing that at the gym because I used to listen to music. But I found that if I listened to an audiobook, I kind of feel like I'm having self care as well as being at the gym. So that's a really nice feeling for me. So I will now listen to audiobooks in the gym. So if you can try and double things up. So try and get more into your day by doubling things up.
I hope you found that really useful. If you are struggling with this and you've got a lot going on, please feel free to send me a message and we can have a little chat about it. And I would love to know what you guys are all committed to and struggling with at the moment. I hope that those little tips help you. So remember, write them all down, schedule any ones that you can and ask for help if you need to. Please don't ever be afraid to ask for help. It's really, really important that you do so when you need to. I hope you found this really useful and I'll speak to you in the next episode.
Lucy J Smith is a Mental Health Advocate, Author of the Stand Up To Anxiety Book and creator of the Mental Wellness Club. After her own struggles with severe anxiety, Lucy found ways to understand and manage her anxiety and continues to manage it using personal development, self-care, routines and having an anxiety toolkit.
Related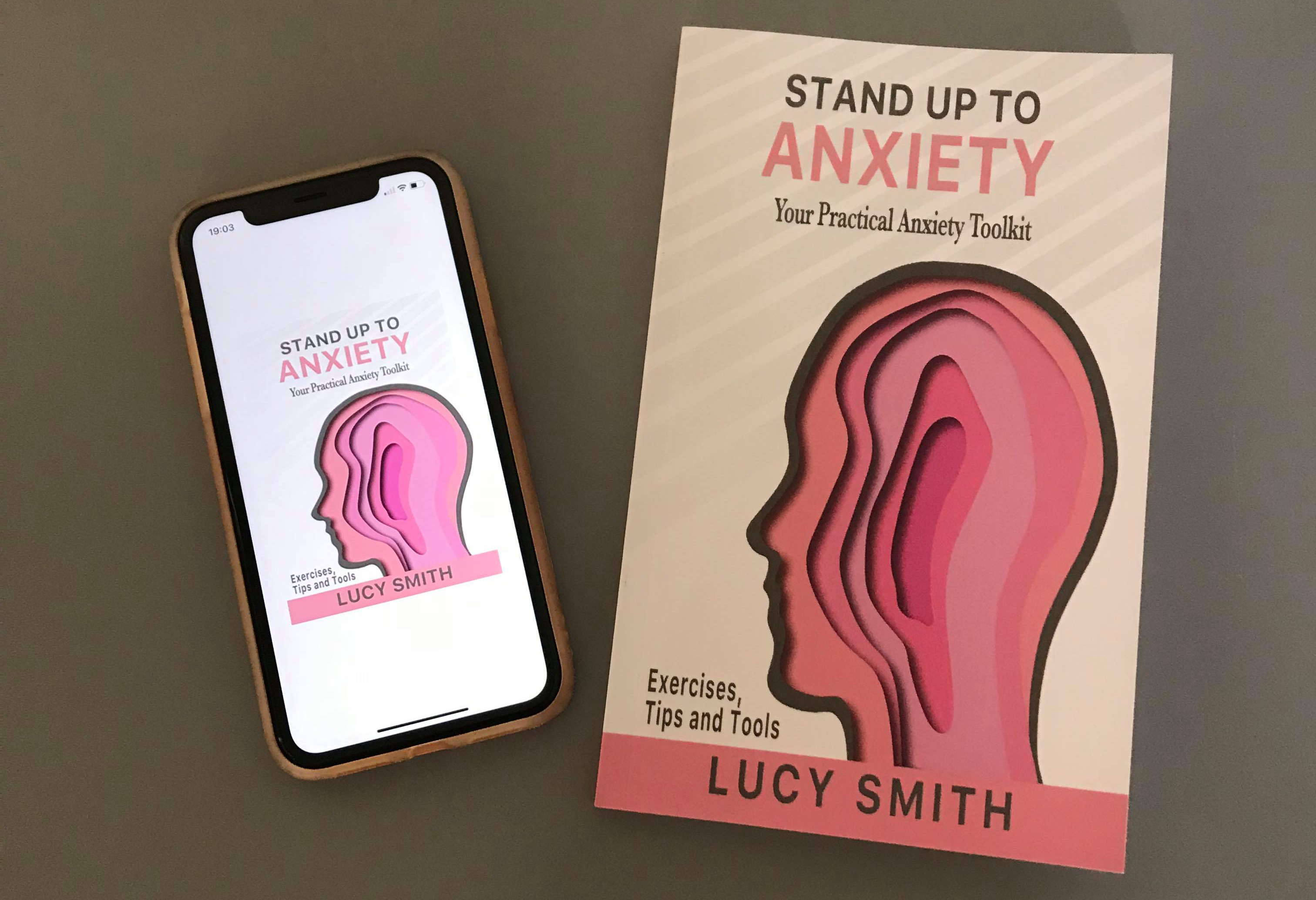 Is anxiety holding you back?
If you are struggling with anxiety right now, this book will be so helpful to you! It is based on my own experience of anxiety and panic attacks and talks you through the steps I took to understand and manage my anxiety.

Get the first chapter of the Stand Up To Anxiety Book for free
Enter your email below to get it sent straight to your inbox!
By entering your email address below you are agreeing to receive weekly emails from Lucy.