033: Using Crafts To Manage Anxiety & Depression
In this episode Lucy talks to Sharon (@jamminsharon) all about using crafts to manage anxiety and depression. Sharon shares details about her own mental health and how crafts have helped her with managing it.
Scroll down to read or click play to listen
Using crafts to manage anxiety and depression
Lucy: Hi everyone, on today's episode, I'm going to be chatting to Sharon all about how crafts can help with mental health. So Sharon to start with, do you want to tell us a little bit about you and why you're here today?
Sharon: Hi, Lucy, thanks for inviting me on. Yes, I'm Sharon, I run my own small craft business called nails, knots and notions. And that really came out of the fact that because on and off, I've always suffered with mental health issues throughout most of my adult life, crafting was one of those things that kind of relieved it. And then I was finding I was making all this stuff and people were actually interested in it. So that gave me a bit of a boost and that's when I started selling my stuff.
Lucy: That's amazing. And so what mental health issues were you struggling with, if you don't mind sharing that?
Sharon: I suffer from anxiety and depression, what tends to happen is if my anxiety gets high, so if I'm getting stressed, and I don't deal with it, then I find it tips over into depression. And that can last a couple of months at a time, my anxiety tends to be social anxiety. So new people and new places can sometimes be quite hard. So for example, if I'm meeting friends at a pub or something, they either have to make meet me in the car park, or I have to know that they're in there, and they're sat there, I couldn't go in and wait on my own. And just the silly little things like I can't tell a waiter in a restaurant if something's wrong with my meal, that sort of thing.
Lucy: That's quite similar with to mine really, especially what you say about going to a pub, I couldn't be the first one there.
Sharon: Yeah and it's quite interesting. Because people say, well, you're doing things like live interviews and this podcast, but it's completely different. Actually, through lockdown, I have probably connected with more people, because things have been online, than I would have done it in the real world, if that makes sense.
Lucy: Yeah, definitely. So when did your anxiety start? When did you first notice it?
Sharon: I had it on and off since probably my mid 20s. And the two sort of linked together. But it's probably actually only in the last three or four years that it was properly diagnosed that actually, your anxiety is social anxiety, not just generalised anxiety. And actually, it's when you get anxious and stressed and don't manage the situation that then tips over into depression. So it's been quite a tough road, because people sometimes just tend to chuck the two together, or not actually sort of split out or realise that one leads on to the other and which way around they come as well.
Using symptoms as warning signs
Lucy: Yeah, definitely. So I always talk a lot about using symptoms as the warning signs of is that something that you do? I like what you say that if you don't deal with it, it turns into more and it can lead to depression for months. So are you quite good at knowing what your symptoms are and catching them early?
Sharon: I'm getting much better at it now, I mean, sometimes I can all of a sudden go downhill overnight. But over the years, I've learned to recognise the symptoms better. So if I find myself getting hyper, or if random things are making me cry, or just I'm getting a bit short tempered and irritable with people, those are kind of my warning signs that I need to do something about this. And it can be something as simple as in a work context, if I find that somebody is really winding me up, or I've had a stroppy email, that actually just to take time out, and just go off and sit quietly and have a cup of tea, and then come back to things. Also, my family and my partner are much better over helping me identifying and ask "are you okay?" Or my partner will say to me, I think maybe you need to take some time out rest up a bit, you've perhaps been overdoing it and pushing yourself too hard. So yes, over the years, I've managed to gradually start to notice it more. But also just accept things more. I did quite a lot of acceptance therapy last year and that has made a huge difference.
Lucy: Yeah, that's really good. I always think for me, it's, it's really important first to accept that you're experiencing anxiety or depression or any other mental health condition and then be able to recognise, why it's happening, how it's actually making you feel and trying to figure out those symptoms, so you can use them as a warning sign. That was really good that you've got to that place now where you will be able to work on that and that can help you a lot.
Sharon: Yeah, and it's also just sometimes accepting that I can't change situations or even people sometimes. So actually just to save my energy for the things that I can make a difference to all that make me and my loved ones happy.
Using crafts to manage anxiety and depression
Lucy: Yeah, definitely. So how did you first realise that crafts were a good way to help with your anxiety and depression?
Sharon: Probably in more recent years, I mean, I've always, always done craft, I can't remember learning to knit or crocheting. So I must have been sort of reasonably young when I learned to do it. I did find that particularly when I was knitting, I could almost lose time. I'd be sat knitting, and then I'd suddenly realise that an hour, and a half's gone. So it was all it's clear in my mind, and I did some research on it. And I find that actually, there are kind of proven clinical benefits. Particularly with knitting. It's also for the pain as well as the anxiety. So I built on that and then looked at what I actually do. And I find that I've always got half a dozen different projects of different kinds of craft on the go. And you know what, the more I sat and probed it and thinking well, why is that? And it turns out that while if I do all these different crafts, sometimes I see my anxiety is really overwhelming. I don't even know what I want to do. I was getting myself stressed out over why do I always have so many projects on the go? Why don't I ever finish anything? And it's one I looked into a bit more and also chatted it through with my therapist at the time, it turns out that the reason I have so many different things on the go is at different times, I need different things. So for example, if I'm having a really bad day, and I'm just so overwhelmed, I don't know what to do with myself, then I've got a couple of quick and easy crafts like knitting that I do that I can just pick up a ball of yarn and don't need anything else. It's all done on my arms, and in about 20 minutes, I can actually have something finished. And that is long enough to kickstart my mind back into what can we do now. But then other times longer, more involved pieces I can just lose hours doing something. So if I'm the right frame of mind to be really concentrating and I've got a bigger period of time, then I'll pick up one of my more involved projects. So actually, all these different things dotted around aren't because I can never finish anything it is because that's what I need at different times.
Lucy: Yeah, that's really interesting, I can really relate to that. Not with crafts, because crafts aren't actually something that I've tried before for my anxiety. Sometimes deep breathing really helps and other times, it makes my anxiety worse. Sometimes I just need to read and other times reading a book causes me more anxiety. So it's like you need different tools for different situations and different kinds of severities of how you're feeling, I guess.
Sharon: Absolutely and also, of course, with the craft is at the end of it, I've got something tangible to show so I can say to myself well, if I achieved nothing else today, I did that. So it's almost that allowing myself to give myself a pat on the back and say it's okay.
Lucy: Yeah, I bet that's really rewarding.
Sharon: It can be.
Getting started with crafts
Lucy: So if me or someone listening wanted to start using crafts to help their anxiety? How would you suggest they start? What should they do?
Sharon: It's different for different people. I mean, ideally, the best thing to do is just grab some craft materials and see what happens. My anxiety is such that I always have to have an end purpose in mind, but actually is really, really easy one to start with is like colouring books, adult colouring books, because they're readily available and it's not a huge outlay on all this equipment. And it's so quick just to grab is quick and easy to grab a book and a couple of coloured pencils, and just sit there and do that. And then it's about finding something that really interests you. I do knitting and crochet, and arm knitting and bead embroidery and lots and lots of different other things. But it's about finding something that interests you. But also that you're not going to get stressed out if you find you can't do it. So for example, knitting, you can start on something simple. But if you if you are getting frustrated that you're not getting very far or you keep getting holes in everything is kind of defeating the object of doing it. So start with something simple. And also if you can remember things that you did as a child that you really enjoyed. Like I'm sure we all did the little cross stitch on the really big hold cross stitch fabric. So something like that. And so much stuff is available in kit form these days, that you can just grab something and get started on it.
Also I find Pinterest and YouTube really helpful. They are almost another hobby in themselves, but just having it for ideas and YouTube videos. They're great, because if I'm learning something new, I can pause it and do a bit and then rewind it and think yes, that's worked really well. With my bead crafts, there's a couple that actually, you can make quite intricate things for not too much effort. So things like bead stringing, just getting some bead threads, and some beads and just threading them on and making a necklace or sun capture something out of it. They look really really complicated, quite elaborate bead embroidery projects. So basically, you're so you have an outline of what you're going to do on a piece of backing, thin backing material. And you literally sew beads onto it to make the finished picture that you can then make into know a brooch or piece of jewellery or bag charm. And although it looks very, very intricate, as long as you can throw that as long as you can thread a needle, you can do it.
Lucy: Wow, that sounds amazing.
Sharon: Yeah, it was something I thought I thought I'd give it a go because I love the end product it was back in when we could do face to face workshops I thought well, I loved the end product, let me give it a go and see how I got on. It was a morning workshop, it's not a huge investment. And surprisingly, as long as I could thread my needle, which I now know a few tricks about it's it's almost like painting with beads and you just threading these beads on and then stitching them back through the backend. And again, it is  repeated motions. It's very repetitive. It's very meditative. And it kind of gets you into that almost meditation state. But there's also other people around you sort of chatting, so you're not sat totally isolated.
Lucy: I feel like it must be really blissful. Especially when you're at home on your own, just being able to get lost in doing something creative.
Sharon: Yeah, absolutely, absolutely. I've had a bit of a shuffle around with some furniture lately. And now I have a really comfy arm chair just by the patio doors in the house. So it gets a bit of sun in the morning and I can sit in there in the sun, doing something and on a really warm day, I can actually open the doors. So even this time of year when there's still a bit of a nip in the air. I'm almost still outside so getting that fresh air whilst I'm doing it really helps me through the summer. Often, I'll often be out in the garden with everything spread across the patio table, and it's fine until it gets windy.
Lucy: Yeah, I can imagine. And all hell breaks loose haha. Well, thank you so much. I hope that this inspires a few people to start with crafts. And now I'm definitely going to get my colouring books back out and give that another go. I'm not sure I'm quite ready for sewing and knitting and things but colouring is definitely something that I that I absolutely love. So yeah, I'm gonna definitely get that back out and have another go.
Sharon: I would it's really, really worth it. And I'd love to see some of what you come up with and how you get on with it.
Lucy: Yes, definitely. Are you on Instagram?
Sharon: I'm on Instagram. My handle is @jamminsharon
Lucy: I will tag you on Instagram with my creations. And anyone else that's listening, if you decide to get into sewing or knitting or anything else craft wise then make sure you tag Sharon so she can see yours as well.
Lucy J Smith is a Mental Health Advocate, Author of the Stand Up To Anxiety Book and creator of the Mental Wellness Club. After her own struggles with severe anxiety, Lucy found ways to understand and manage her anxiety and continues to manage it using personal development, self-care, routines and having an anxiety toolkit.
Related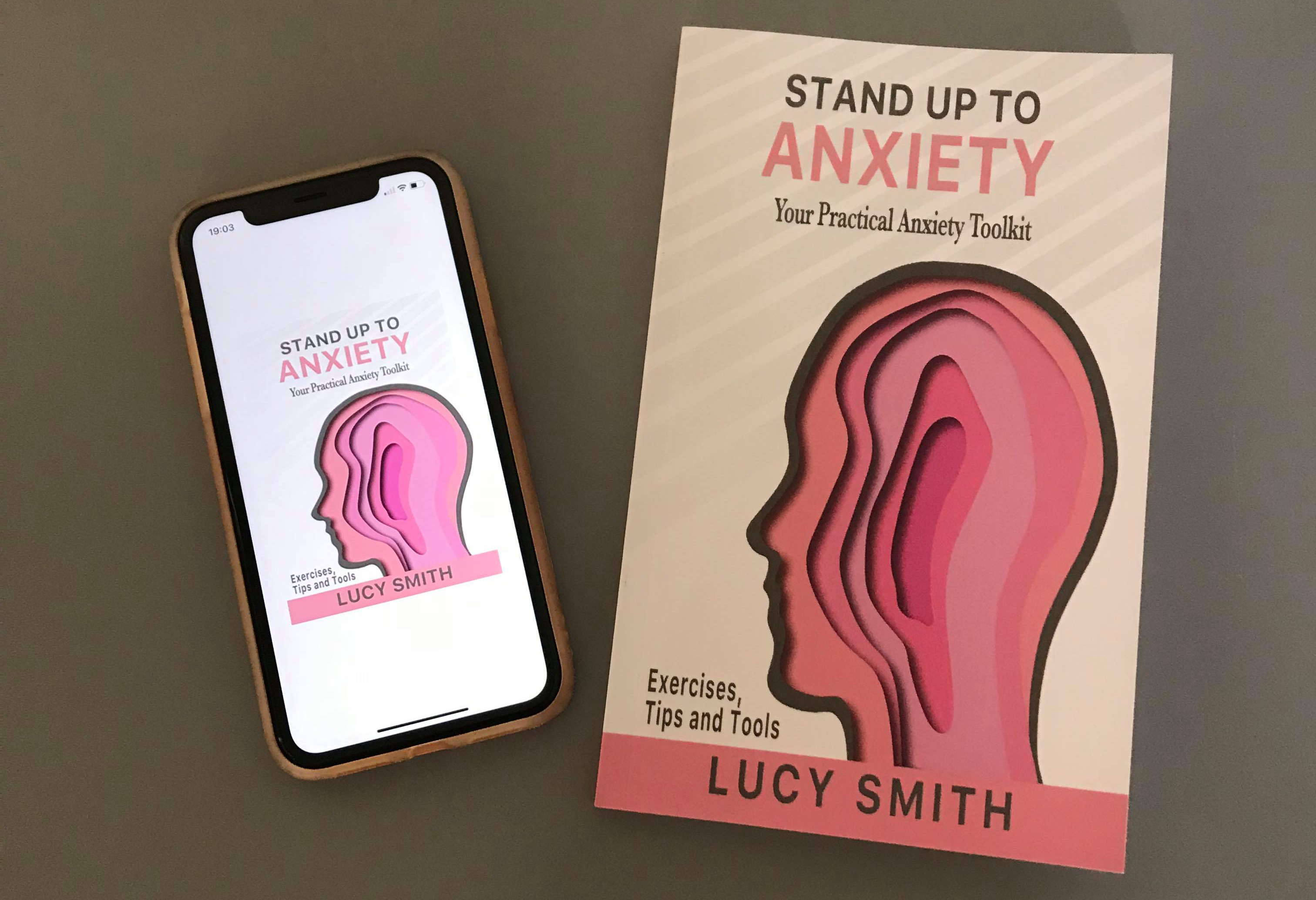 Is anxiety holding you back?
If you are struggling with anxiety right now, this book will be so helpful to you! It is based on my own experience of anxiety and panic attacks and talks you through the steps I took to understand and manage my anxiety.

Get the first chapter of the Stand Up To Anxiety Book for free
Enter your email below to get it sent straight to your inbox!
By entering your email address below you are agreeing to receive weekly emails from Lucy.