034: Visualisation Techniques To Calm Anxiety
In this episode Lucy talks about visualisation techniques to calm anxiety. Lucy has used visualisation for her whole life (unknowingly as a child when her Poppa told her to count sheep to help her fall asleep). Now Lucy uses visualisation in all areas of her life including success in a job interview and in the sport of bowls. You'll hear 3 ideas for visualisation to calm your anxiety.
Scroll down to read or click play to listen
Visualisation Techniques To Calm Anxiety
In today's episode, I'm going to be talking about one of my favourite techniques visualisation. So this has been one of my favourite techniques for a really, really long time. I remember the day that I read a study about how powerful it really is and that study has stuck with me ever since and really reminded me of how important visualisation really can be for anything, but it can be used for anxiety as well.
So the study was about basketball and a group of people were split into three groups. The first group were asked to practice free throws every day for an hour. The second group just visualise themselves making the shot. And the third group did absolutely nothing. And they were then tested after 30 days to see how many free throws they could actually throw and how much they had improved. And the first group that actually went out and practice had improved by 24%. And the second group who would just visualise themselves throwing it and never actually touched a basketball had improved by 23%. So only 1% less than the actual group that went out and practised playing basketball. I remember, when I heard that I was like, how is that even possible? How can somebody get better at something without actually doing it? And that's really when I began to use it in my own life.
How I've used visualisation
So I've used visualisation for so many things. I remember when I applied for a job in a school I really wanted the job, but I was really nervous about the interview. I began to visualise the interview going really well. I began to visualise it in as much detail as I possibly could, what I would wear, what I would say, what I would do, how I would act, I literally visualised everything I possibly could about it. I visualised it every single day. I didn't just visualise it once, and that was it, I visualised it every single day. Still to this day, I can't even tell you the difference between the visualisation and what actually happened in the interview. It went better than I ever could have imagined. Well I say that but I did imagine it when as good as I'd imagined. I got the job and it went really, really well. I purely believe that was because of the power of visualisation.
Since then, I've used it in so many other ways. I play a sport and I visualised myself winning national and British Isles which I have now achieved, I visualised myself playing really well. I visualised myself being confident while playing because for a while I went through a stage where I really lacked confidence in myself, in every area of my life, but particularly in bowls. Every time I've used visualisation, what I have visualised has come true and I don't believe that that's a coincidence. I believe that just shows how powerful visualisation really is.
My introduction to visualisation
So whenever I think of visualisation, I always think back to when I was a child, and I would be with my grandparents, and I never used to sleep well, as a child, I always found it hard to fall asleep. And now obviously, I know that's because I must have been an anxious child now. But now, I'm an anxious adult and a lot of overthinking, a lot of thoughts going on in my mind while I'm trying to fall asleep. I remember my Poppa always said, count sheep and imagine in your head that the sheep are going through a gate into their field and count them as they go through the gate. And before I knew it, I would be asleep. I don't think I could ever get to any more than 20 or 30 sheep because it just completely knocked me out.
Now I realise that actually, that was visualisation. And what I was doing back then was a common visualisation to help to control how I was feeling to help me relax to help me fall asleep. Now, I don't think that Poppa knew about visualisation as mental health, anxiety, self help, visualisation and meditation were not talked about at all back then when I was younger, it just wasn't even talked about and social media obviously didn't exist as well at that time so I don't know where he got that from. I wish I wish I could ask him because I want to know how he even thought of that.
But now, I want to share with you a few of my favourite techniques specifically for anxiety. But like I've said already, you can use this for things like job interviews for sports for absolutely anything. But I'm going to share three in particular to help you with your anxiety right now.
Happy place visualisation
So the first one is a happy place visualisation. So this is one that can really help you to feel calm and relaxed. So for example, my happy place would be being surrounded by nature, hearing water, the sun on my back, it feels really warm and I'm surrounded by green and nature and water and just lots of beautiful things that that can make me feel really calm and relaxed. So you use this in moments where you are struggling when maybe your anxiety has been triggered, or you're feeling really wound up or frustrated or any kind of negative feeling, you close your eyes if you can, if you need to obviously go to a private place. And you imagine that you're in that happy place, and you imagine it in as much detail as you possibly can down to feeling the sun and the warmth or smelling what you would smell and, and hearing what you would hear. So try to get it in as much detail as possible using all of your senses.
Visualise your triggers
The next one is visualising your anxiety triggers, but visualising them going well. So again, this is one I've used, I've used it for driving, I've used it for being in public places. Like I said, I've used it for job interview. I've used it for bowls, which at one point had actually gone from the sport I loved to something that triggered my anxiety. So I've used it in so many areas. And you literally imagine and in as much detail as you possibly can, that event going well. So say for example, you struggle with social anxiety, and you've got a restaurant booked that you need to go to in a couple of weeks with some friends, but you're really struggling to to want to go, you don't feel like you want to go you feel like it's gonna trigger your anxiety, you can visualise yourself at that restaurant with it going really, really well and enjoying it.
Visualise your future self
And the last technique is to visualise your future self. So for me, this is one that I have used a few times I don't use it all the time. It's something that I'm going to start getting into again, because it's really powerful. So with the example of anxiety, you can imagine yourself living a life where you completely understand and feel able to manage your anxiety. So how does your life look like then what what are you doing? What are you wearing? Where are you going? Who are you talking to? What's your job? What kind of events do you go to? What do you do at the weekend? What do you do in the evenings? Literally visualise yourself feeling in control of your anxiety. How does it feel now that you have been able to manage your anxiety? Think about all those things, think about all of the senses and how you're going to how you're going to feel. So that's a really powerful technique to use.
I hope you found that really useful. There are so many more and I could talk about visualisation for absolutely hours because I love it. It's one of my favourite things to do. But just get creative. Just close your eyes and just start to imagine and see where it takes you.
Lucy J Smith is a Mental Health Advocate, Author of the Stand Up To Anxiety Book and creator of the Mental Wellness Club. After her own struggles with severe anxiety, Lucy found ways to understand and manage her anxiety and continues to manage it using personal development, self-care, routines and having an anxiety toolkit.
Related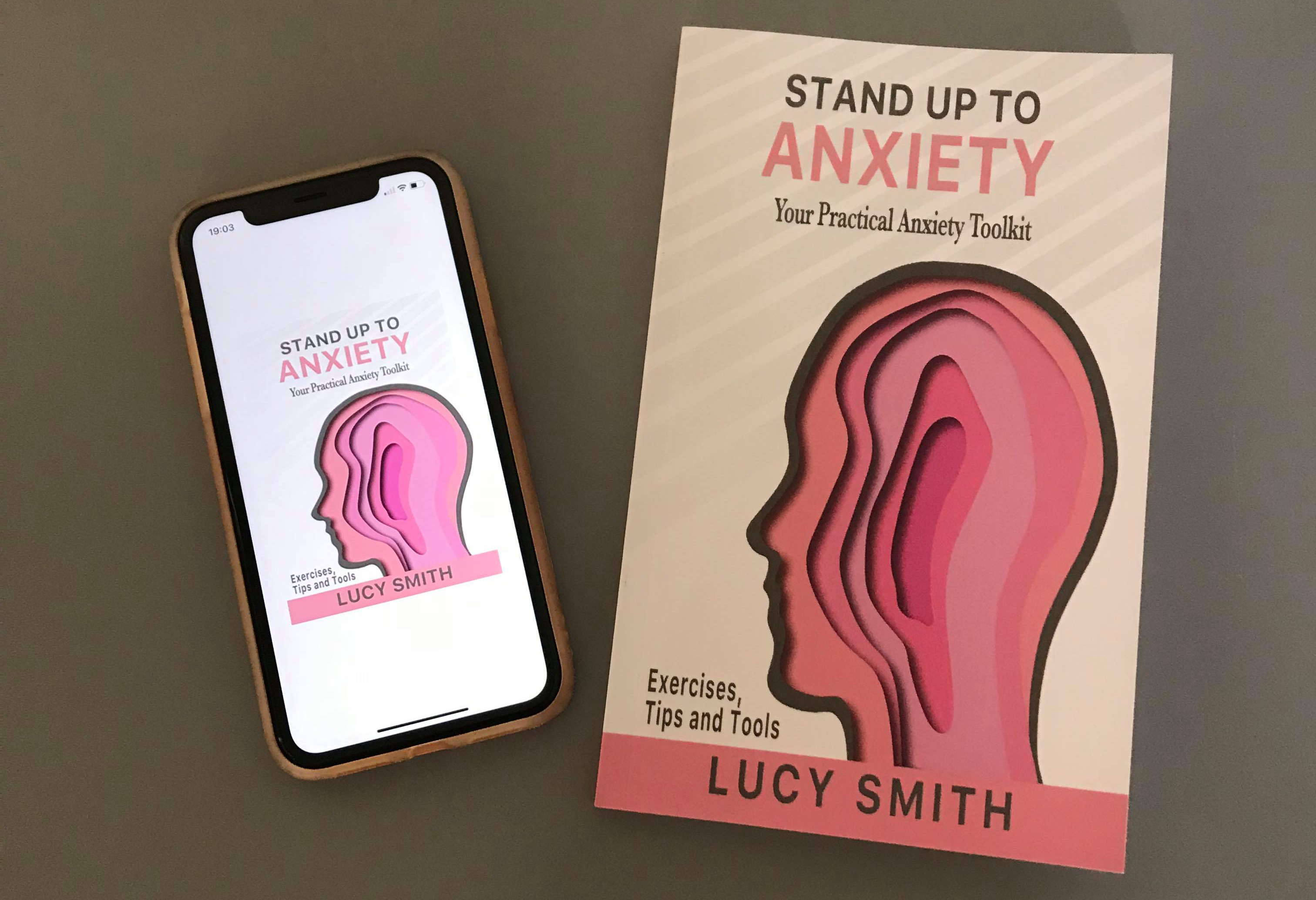 Is anxiety holding you back?
If you are struggling with anxiety right now, this book will be so helpful to you! It is based on my own experience of anxiety and panic attacks and talks you through the steps I took to understand and manage my anxiety.

Get the first chapter of the Stand Up To Anxiety Book for free
Enter your email below to get it sent straight to your inbox!
By entering your email address below you are agreeing to receive weekly emails from Lucy.