035: Dealing With Exam Anxiety
In this episode Lucy interviews Ella (@stylishstudy_) about her own anxiety and panic attacks that started at the age of 11. Ella gives some great tips about dealing with exam anxiety.
Scroll down to read or click play to listen
Dealing With Exam Anxiety
Lucy: Hi, everyone. Today, we've got Ella from stylish study talking all dealing with exam anxiety. So to start with Ella want to tell us a little bit about how you got to where you are today?
Ella: I am Ella and I run the online platform and brand called Stylish Study, where we help young female students learn how to revise but we also have a very strong emphasis on mental health and balance, for example dealing with exam anxiety. Whenever I saw things that were school related, it was always totally school centric and there wasn't very much that I felt that was mental health advice and real life advice for students. So I wanted to bridge that gap and create something so we help students revise, but we also help them balance everything out.
Ella's anxiety story
Lucy: That's amazing. I definitely wish I'd heard of you when I was in school. I needed something like that. And I work in a school myself now and you're right, like we do work with mental health, but it's it's mainly education based, mental health isn't at the forefront as much as I think it should be. So that's really good. What you're doing is definitely needed. Thank you. So when did you first realise that you were struggling with anxiety yourself?
Ella: So when I first started struggling with anxiety, I didn't actually know it was anxiety. I think I've always been quite an anxious person. So the night before I was about to go back to school, I'd worry about that day, for example. But when I actually started suffering from anxiety disorder, it came in the form of panic attacks, and I didn't actually realise what a panic attack was. I'd only started having them when I was about 11 years old, so I really didn't have much life experience and knowledge on anything to do with mental health. I remember I was out with my grandma one day, and I just literally got out of the car and honestly, I felt like I was gonna die, I had no idea what was happening to me and it was really scary. When you first experience a panic attack, you don't know it's a panic attack most of the time, so you do feel like something is medically wrong with you. I think when I first had my first panic attack, that's when I was starting to realise like something's not right here.
Lucy: That's really interesting. That's very, very similar to my story with that it was a huge panic attack with loads of physical symptoms that made me realise that I wasn't just a bit shy or a bit nervous, and that there was actually a bit more to it. It's like, we almost need that a huge moment to realise that actually, this isn't normal.
Ella: But I felt like when I was growing up, there was no one to tell me that like this might happen. I think that the more that we can spread awareness for this, that hopefully if they do have their first panic attack they can realise it might just be a symptom of anxiety and I might just need a little bit of help, a little bit of counselling, and that I'm not actually going to die right now. Okay, it can be really scary.
Ella's anxiety triggers
Lucy: Yeah, definitely. Like you I didn't know that what panic attacks and anxiety were when I first had mine. So if we can get it out there to children from a young age that this is what they're like and if you experience it then it is a panic attack and it is okay, it is normal and that you can get help for I think that would be really good. So do you know what your main triggers were? Obviously your your panic attacks sound very physical. But what were your triggers?
Ella: So I have health anxiety. So it's always been something health related. It could have been an ambulance. Like when I first started having anxiety, it could have been literally an ambulance going past or someone coughing and I thought, "oh my god, they're choking." I never really shared this, but my first thing that triggered my whole anxiety off was, I was the only person around once when my grandpa was choking and ever since then it was like, "oh my god, like everyone's choking, I'm going to be the only one to like help out." So I think from then it's been kind of anything medical has really triggered me. Now I'm like a lot better, but at a time, that was a really real thing for me like that cough or an ambulance would trigger me. But now it's sort of anything. Someone fainting or someone being sick. That's more what triggers me now.
Lucy: So have you struggled with health a lot yourself? Or is it mainly the health of others that's triggering you?
Ella: I think it's both. If someone is sick, I'm the worst person, I'll cry and take all the attention away from them. I can literally have a headache and think something's wrong with me, my brain is not okay. Yeah, it's either or. But I have been through a lot of therapy and I'm looking to actually get back into some more now, because I think it's always helpful to have it. I think it's lessened, but it's definitely someone having a medical incident and myself having a medical incident. They're both equally as triggering to me.
The impact of anxiety on education
Lucy: Okay. So did you find that that impacted your education a lot? Like, obviously, people in school are referred poorly or struggling? How was that?
Ella: I found that really hard, because I started getting anxious when I was 11. So I had no knowledge of it and no one else really had any knowledge of it. So I felt like it was something that I always had to hide. Because, as an 11 year old, you don't go around saying "I'm going to counselling" and everyone says "oh, that's cool." I think when you're younger, I don't think it's more stigmatised, but no one knows about it. I've got very good at hiding everything.
I always had an out of class pass my school was really helpful. Actually, they put things in place for me, I had a mentor at school. So when it was like really bad, I'd literally go to her every hour, and sit with her and just talk with her. It definitely impacted things. There were lessons I couldn't do. So for example, I had a really horrible history teacher, once he chased me out of the classroom when I was having a panic attack, because he wouldn't let me go and I was like, I really need to go, let me just go, and he was running after me. But after that he was better. His lessons were just really gory, and history is gory, but I just couldn't stand it any more so they let me finish history early and I did more English and Maths work during that time, but it definitely meant that I didn't feel as normal as other people.
Lucy: Yeah, I mean, this goes back to what we've already said that it's not talked about enough in primary school in particular. Yeah, for people to just see that as normal and not really be bothered by it.
Ella: When I got older, there were people that were then having their own mental health struggles, and I would often see them in the mentors office and then from that, we'd be like, oh, okay, like you're someone that I can feel that I don't feel as different around. I always have really understanding and really caring friends, I was always very blessed with that. I knew that I could tell them if I was having sort of a bad day, but it wasn't something that I wanted to make a big deal out of yet.
Learning to manage anxiety
Lucy: Definitely. So how did you learn how to manage it? I mean, it sounds like your school did do a decent job of helping you. But did you learn any other kind of techniques and strategies from your counsellor?
Ella: Yes, so my score was super low, I couldn't praise them enough for how well they helped me. I think it was CBT, my mum says it was CBT, I just saw it as counselling. I went through CAMHS and they talked to me about it, I had a really lovely counsellor, and she taught me a lot of breathing techniques. But the way that she really helped me to manage it was actually taking it one step at a time and realising that that situation wasn't dangerous.
So for example, even like having friends over my house was such like a massive thing to me, and having a shower was scary to me at one point. She would support me through it, one step at a time, then review it together after. So lots of counselling, her talking me through stuff and breathing techniques, but the main bulk of it was, okay, we're going to do this, but we're gonna do it little by little, and you're gonna see that actually, that isn't something that you need to worry about. So that I think that was the main way that I managed.
Founding Stylish Study and dealing with exam anxiety
Lucy: Yeah, definitely. So then how did you get to where you are now with helping other people? What made that decision for you?
Ella: My business was born off of just people not talking about what I wanted to talk about. I found that whenever people were talking about school, it was always just how to revise math and I didn't want it to be that way. So I wanted to put that out there of this is real person who's been through school, we're gonna give you real tips and we're going to give you real advice. We know that exam anxiety is a massive part of it, I remember that actually, that was one of the times that I felt the most normal in a way was around exam season, because I'd be stressing, but you'd see so many other people that didn't even deal with, mental health issues day to day, then they'd be like worrying, and they'd be having panic attacks. And obviously, it's not nice, but it did actually make me feel a bit more sort of normal, because everyone else was going through it. So that was one of the ways that I kind of got there. I was like this needs to be talked about, I don't want to come across as some robot that will talk to you about how to add two and two together, because I feel like people learn from real people. I wanted someone and a place I could go to online that made sense to me, that felt real. And that gave real advice on how to handle everything that a student goes through.
Lucy: Yeah, definitely. It's such a good idea. I hope in the future that this just gets taught in schools, and it's just normal to just discuss mental health and all those kinds of things from such an early age, I really hope that we get to a place where it's much more talked about. So what is one tip that you would give to someone to help manage their anxiety? If say they've got a big exam coming up? Or they're studying for exams this year? What would you suggest for them?
Ella: I think my main tip is literally just talk to someone. Because I could give you a piece of advice now and you'd be like, I don't think that would really work for me. But if you can talk to an adult that you trust, or even a friend that you trust, and just be as open as possible, which I know can be so scary. But having those conversations that person can help to like give you that advice that you need that's tailored to you really. Sometimes even sharing your worries can make a massive difference. And take a massive weight off of your shoulders. Even if you're just talking to the school about your exam anxiety, they can do different things, put you in different rooms. So, yeah, my big thing probably the number one tip I'd give for exam anxiety and just general anxiety is just take that first step and just please talk to someone.
Lucy: Yeah, I completely agree. I think once we started talking to people, it kind of normalises it a bit more like when it's all in our head, we begin to think we're the only people in the world feeling like this and there's no way out. But once we talk about it, we realise that actually that it's okay to feel that way and that there's help out there. That first step is hard but very, very important. Well do you want to tell us a little bit about how to find you. I know you've got a podcast, haven't you?
Ella: So you can find us on our website at www.stylishstudy.com. Or you can check out our Instagram: @stylishstudy_. We have our own podcast where we talk about everything to do with dealing with exam anxiety, student life revision tips, motivation, mental health, and future steps and you can find that on Apple podcasts called the Stylish Study show.
I hope you found this useful and have got some for dealing with exam anxiety and your mental wellness in general.
Ella is the founder of Stylish Study, a platform for young female students learn how to revise to get better grades and dealing with exam anxiety. As well as a strong emphasis on mental health and general student life.
Instagram: @stylishstudy_
Lucy J Smith is a Mental Health Advocate, Author of the Stand Up To Anxiety Book and creator of the Mental Wellness Club. After her own struggles with severe anxiety, Lucy found ways to understand and manage her anxiety and continues to manage it using personal development, self-care, routines and having an anxiety toolkit.
Related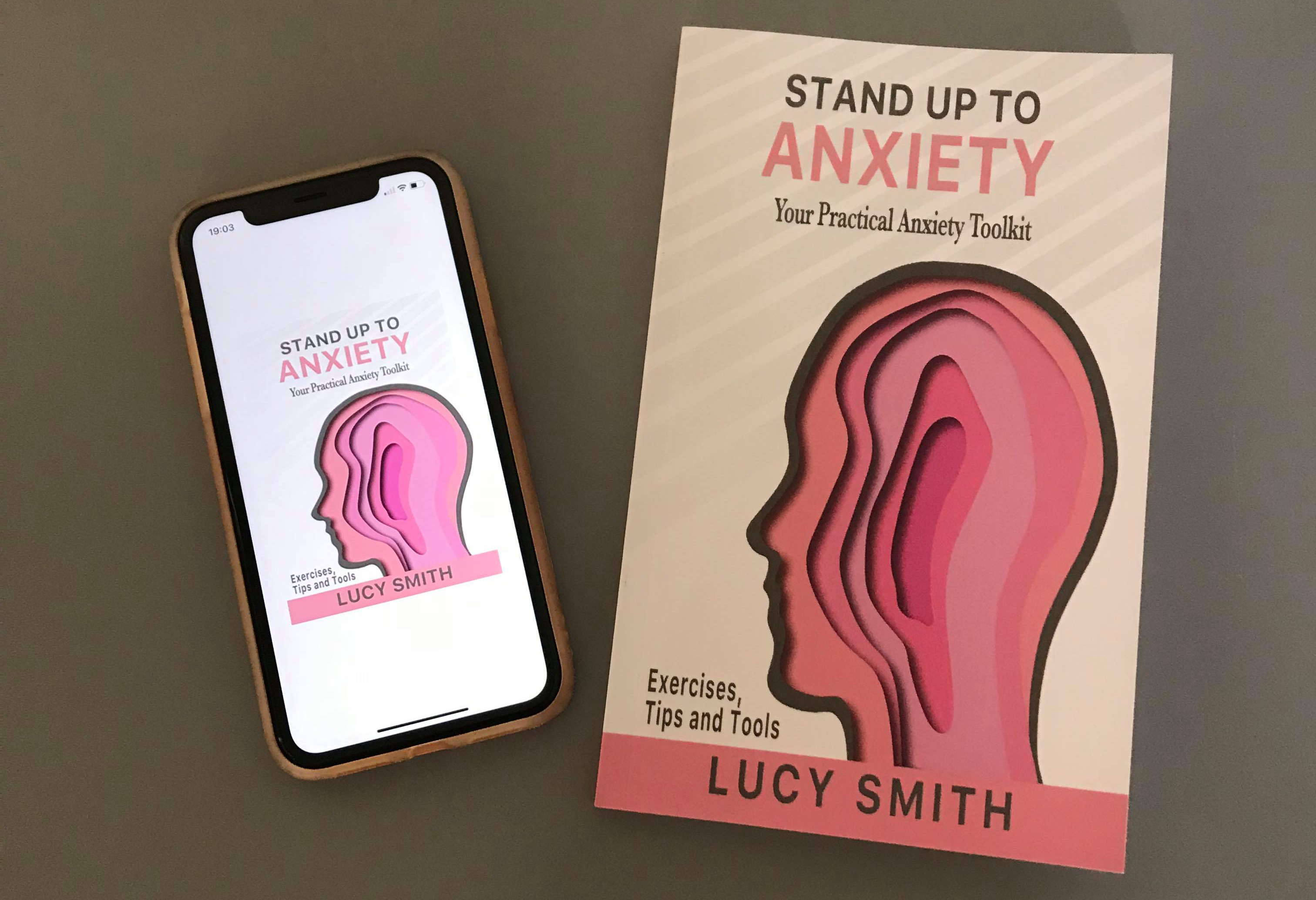 Is anxiety holding you back?
If you are struggling with anxiety right now, this book will be so helpful to you! It is based on my own experience of anxiety and panic attacks and talks you through the steps I took to understand and manage my anxiety.

Get the first chapter of the Stand Up To Anxiety Book for free
Enter your email below to get it sent straight to your inbox!
By entering your email address below you are agreeing to receive weekly emails from Lucy.