036: How To Use A Habit Tracker
In this episode Lucy talks about how to use a habit tracker. Learn how a habit tracker can help you to be consistent and how and when to start new habits. Use the Stand Up To Anxiety Journal as a habit tracker. Click here to order yours. 
Scroll down to read or click play to listen
How To Use A Habit Tracker
In today's episode, I'm going to talk about how to use a habit tracker and how to get consistent with your habits. So a habit tracker was a really, really good way to help you get consistent with new habits, I find it really, really rewarding to tick them off as I do them and to be able to see my progress and to know how consistent I've been.
It's also a really good way to reward yourself. So I really recommend when getting started with new habits that you set yourself a reward. So for example, if you do your new habits every single day for a week, reward yourself with something that you really love and that you enjoy doing. That will just help you to get motivated to do that new habit every day.
So I first used a habit tracker back in 2020, during the first lockdown here in the UK, when I was worried for my physical and mental health, and I felt like I needed to take some more control over it. So I began to make some new habits. For example, a few of them were to meditate, read, journal, eat healthy foods to eat my fruit and vegetables and to limited amount of sugary foods to less than two. Also to drink two litres of water to go for a walk outside to get some kind of exercise to talk about my feelings. Back then I was on some supplements as well. So to take those supplements. And I found it really, really powerful.
I used a bullet journal that I just ordered on Amazon, to be able to have that bullet journal to literally open up at the end of every single day and tick off what I had done helped me to get consistent. If it was nine o'clock at night, and I hadn't yet meditated, believe me, I was meditating because I wanted that tick. So it's a really, really powerful tool because it's something that you can visually see, there is actually space for this in the Stand Up To Anxiety Journal, which is what I use now, I no longer use a bullet journal, because I don't like to be committed to too many different things. And obviously, once I created the Stand Up To Anxiety Journal, I wanted to use my own journal rather than someone else's. So now I use my own journal to track this.
But the one good thing about it, as well as the motivation and the consistency is also that you can notice patterns. So if for example, and this happened for me with yoga, yoga was one of the ones that I wanted to do but I found that I was only doing it two or three times a week instead of every single day. So it gives you the opportunity to recognise the ones you're not quite as consistent with and to ask yourself why. So is that because you haven't got the time for it? Is it because you actually just don't like it? Is it that you just you don't have the resources, you need to actually do it? Why are you not doing that habit? Why are you not consistent with that one when you're consistent with all the others?
And then if your answer is actually no, I don't enjoy that anymore, or I don't like it, or I just don't want to do it. That's fine. And you recognise that then I would really suggest that you stop trying to do it. Because like I said, the ticks are really motivating. And if there's something in there that you just don't want to do, that can then get quite anxiety inducing and actually not help you at all having something in there that you don't want to do. But it's stressing you out equally because you're not ticking it everyday, you're not getting the activity done. So it's a really good way to be able to recognise the ones you do like and the ones you don't.
I've always said don't ever force yourself to do something that you don't enjoy. So stop the ones you don't like but continue the ones that you do. It's also really good because you can add new ones in as and when you feel ready. What I would suggest is that you start small, so in the Stand Up To Anxiety Journal there are space for six positive daily habits. Now, mine at the moment are meditate, visualise, journal, read, 9pm tech stop where I just stopped all of my technology and less than two sugary foods, which I eventually hope to narrow down to just one sugary food and then maybe even less than one a day. So a few a week. However, we'll get there when we get there because I love my sugar.
I have got really consistent with those habits and I know I can see my progress over time, I can see how committed I've been to them in the journal. But I wouldn't suggest that you go from having absolutely no habits to having 6, 8 or 10 unless you are used to doing them. So for example, if you already do two or three, then you can do six because you're doing the two or three that you already do. Plus you're adding two or three more so that would be manageable and then as and when you feel ready, add more into your day. But don't commit to too much because that will just have the adverse effect and then you're gonna be back to square one with struggling about being committed to too much.
I hope you found that really useful. If you would like to get started with tracking new habits, I really suggest you get the Stand Up To Anxiety Journal so that you can use the space in there to tick off every day once you've done your habit. It's a really great thing to do. I absolutely love using habit trackers. And it's a really good way to reward yourself as well and make sure that you do because rewards aren't just for kids. We don't just give gold stars and rewards to children. I think we should definitely have them as adults too. So make sure that you reward yourself for being consistent with your new habits.
Lucy J Smith is a Mental Health Advocate, Author of the Stand Up To Anxiety Book and creator of the Mental Wellness Club. After her own struggles with severe anxiety, Lucy found ways to understand and manage her anxiety and continues to manage it using personal development, self-care, routines and having an anxiety toolkit.
Related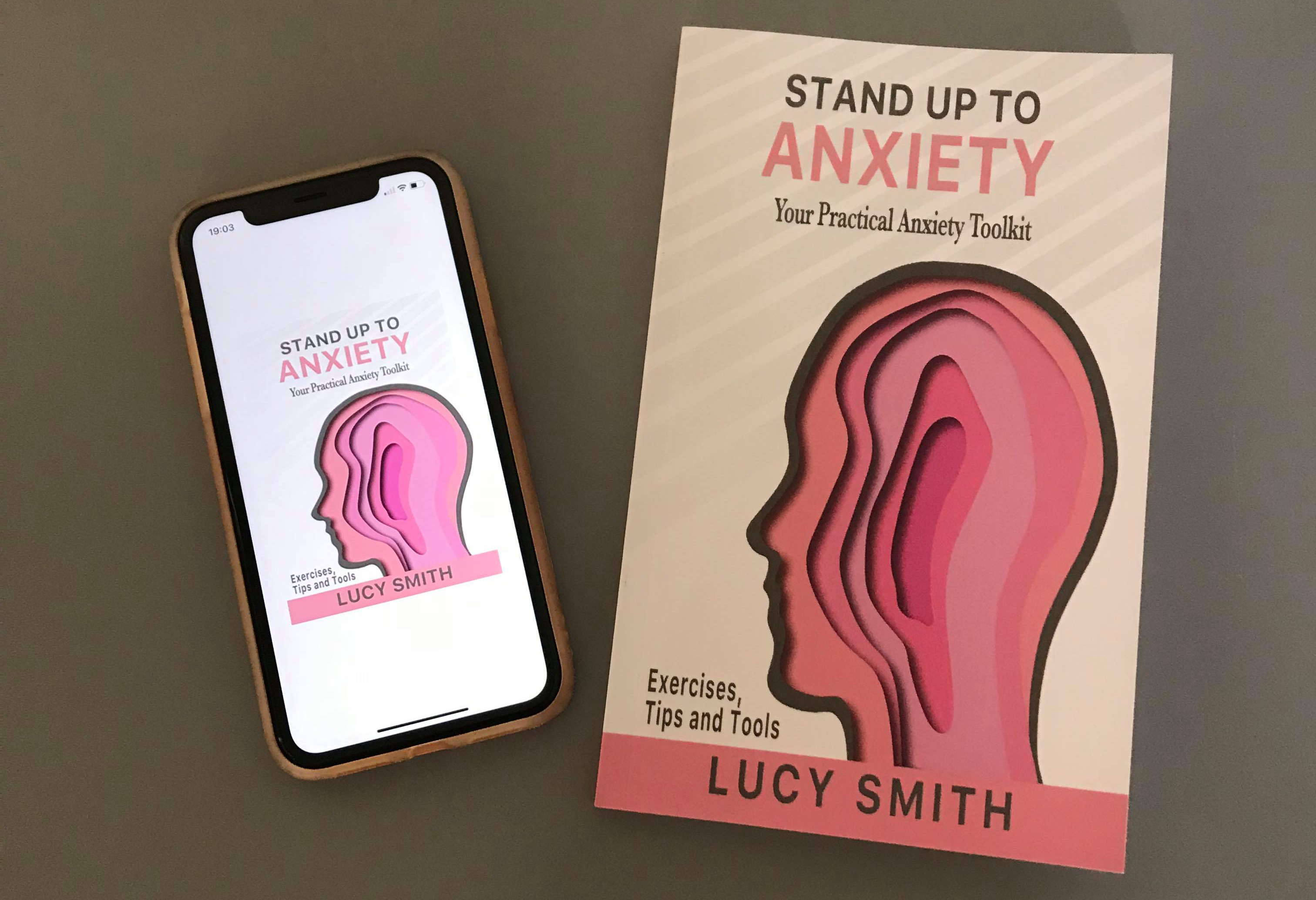 Is anxiety holding you back?
If you are struggling with anxiety right now, this book will be so helpful to you! It is based on my own experience of anxiety and panic attacks and talks you through the steps I took to understand and manage my anxiety.

Get the first chapter of the Stand Up To Anxiety Book for free
Enter your email below to get it sent straight to your inbox!
By entering your email address below you are agreeing to receive weekly emails from Lucy.