037: Using Hypnotherapy For Anxiety with Kate
In this episode Lucy interviews Kate (@elevate.integrate.therapy) all about her own anxiety, how she realised she was struggling with anxiety and using hypnotherapy for anxiety herself and in her therapy practice with her clients.
Scroll down to read or click play to listen
Using Hypnotherapy For Anxiety
Lucy: On today's episode, I'm joined by Kate to talk all about her own anxiety story and hypnotherapy and how hypnotherapy can help with anxiety. So to start with Kate, do you want to tell us a little bit about your anxiety?
Kate: Yes, thanks, Lucy, for having me here. I am a clinical therapist and honestly, it wasn't until working with a number of clients with anxiety that I really just started to identify with the fact that I too have anxiety. And reflecting on that, it's not that I didn't recognise that I was experiencing symptoms of anxiety with other anxiety, I just never really labelled myself as such. I think it was because I still continue to do things. So the anxiety never stopped me from doing things per se, I just did a lot of things in it from a place of feeling very uncomfortable and very overwhelmed.
Lucy: So would you say it was kind of like high functioning anxiety? It just didn't impact you at all. But now that you're aware of it, you can recognise that it was there the whole time?
Kate: Absolutely. And I think when you had sent me that question, in a prior conversation, I really started to reflect on it. Like when did I realised that I had anxiety. And so going back, even beyond being an adult, I do see times where something in me changed with experiences of being bullied in middle school. And moving across the country when I was younger, and starting over and losing a lot of things that I had externally been a source of confidence for me. So then in high school, starting fresh, also, I think, really just turned up the volume on my anxiety.
Methods that have helped with anxiety
Lucy: Yeah, definitely. So what methods have you tried since then? So did you counsel yourself, or what would you say you did?
Kate: Yeah. Well, I think it's gotten better since identifying that it is, in fact, anxiety. I've always been of the belief as a therapist, it's very important for me to be doing my own work. That's a big part of my integrity as a therapist. But now that I've actually looked at it beyond just, I'm doing this work for myself, for my clients and focusing more on here as my anxiety, I'm trying to support it and treat it, that's been much more effective.
I've tried a number of things, I practice yoga and have found things that get me out of my mind and into my body to be very effective. So using grounding techniques, spending time outside, being connected to nature, spending time on the water, finding different ways of playing outside has been very helpful. Working with a therapist who has supported me has been helpful. And then of course, more recently, using hypnosis, and then other things that cutting down on caffeine have all been an integral part of the ways that I support myself and my anxiety.
Lucy: That's amazing. So I find it so interesting every time I ask people like what they've done and what methods they've tried, it's always the same few methods that help the most. I always come across the same ones, like I've had people on the podcast talking about yoga and, and caffeine and different types of food that can help manage anxiety. It's just so interesting that you have actually used the same methods on your journey as well.
Kate: Yeah, these are the things that I realised I cannot do without and are the go-tos that I know they're going to help.
Lucy: Yeah, definitely. Yeah. I always talk about it as creating your own anxiety toolkit. So knowing that those are your go-to tools that will help.
Kate: It's so important to have that because I often say this to clients and on my Instagram, which is like my hardwire my default setting is anxious. And so I'm someone who is very often putting myself outside of my comfort zone. I'm often times activating my anxiety, if I'm okay with that, but having that solid toolbox is so crucial. Because again, I know I'm going to be basically evoking anxiety on a regular basis.
Lucy: Yeah, exactly. Then how did you first get into hypnotherapy? What did that look like?
Kate: Yeah, it's so interesting I took my undergrad, my Masters and I'd had quite a bit of experience in a number of organisations but I had actually never come across hypnotherapy until I was out of schooling and was working at a private treatment and mental health centre and it's a holistic centre and one of the other counsellors there offered hypnotherapy. I just kept hearing so many of the clients talking about hypnotherapy and how amazing it was, the radical shifts that were happening and how life changing it was, like really grandiose reviews from all of these clients. So I was very intrigued and I wanted to look into it. I honestly didn't research it that much because I was working with these clients, I saw the changes in them. So I found a reputable training, signed up for it and since then it's become the central resource that I use in all of my practices and therapies.
How hypnotherapy helps anxiety
Lucy: Amazing. So can you explain a little bit about how it actually helps with anxiety and what the process is there?
Kate: Yeah, so hypnosis is actually really helpful for anxiety because people with anxiety are very often good hypnotic subjects. And the reason for this is because with anxiety, a lot of the time we are future focused so we're doing a lot of imagining and visualising and that is exactly what hypnosis does. So people with anxiety usually have an increased capacity for vivid imagery and they also have a higher sensitivity to body stimulus, we're very aware of the somatic symptoms, you know, the sweating, the increased heart rate, the nauseousness. And that can actually lend itself again very well to hypnosis because you are tuning in and checking in with the body, to gain information and to regulate.
As well people with anxiety are really tuned into focusing on something – we get hyper focused on certain things. And again, that lends itself well in terms of treating it with hypnosis, because hypnosis is a hyper focused state. So we use that excellent ability to focus on something so that they can absorb a more adaptive belief system, thought pattern or way of relating to something. And, again, we're just highly suggestible.
Typically, as anxious people go to the worst case scenario, for example, you overhear something on the news that spikes anxiety, you get an email. And that's because we tend to be very susceptible and suggestible. So again, that lends itself very well to the hypnosis, because in that relaxed state, you receive positive suggestions. And so if you're someone who already takes things on quite easily, that's going to increase the likelihood that it's going to take root for you.
Lucy: That is really good to know that all of those characteristics that we can sort of see as negatives that anxiety can actually be put to good use.
Kate: Yeah, I work a lot with people with anxiety, various forms of anxiety and what I find is hypnosis has become one of my favourite tools. It doesn't have to be the only modality but using it in an integrative way, within an hour session, we might only go into the hypnosis for 15 minutes but it's just a really nice way to amplify and strengthen new tools that they're learning to strengthen the progress that they've already made and to increase their sense of hopefulness and optimism that they can continue to get better.
Getting started with Hypnotherapy
Lucy: So how can someone get started with hypnotherapy? Obviously, they can come to a counsellor or therapist and receive therapy that way. But is there any other resources or anything that that they can look into?
Kate: Yeah, it's, I mean, we live in such a wonderful world where there's so many resources and ways of accessing it. So I would say that I think the most effective way would be to connect with a therapist or a hypnotherapist to do this work. But if you want to get a feel for it first, or you want to start to implement, there are lots of free resources online on Spotify, YouTube, and you can listen to hypnosis recordings or guided meditations designed for anxiety. That way you can start to build that capacity to get into a hypnotic state and get a feel for what it's like. I actually just released a free stress relieving hypnosis so if people go to my Instagram page, you can head to my website and download that for free and that would be a nice place to start as well.
Lucy: I'll link the your website in the show notes as well so everybody can access that when they listen. There's something that I picked up on that when you mentioned meditation, what would you say is the difference between meditation and hypnotherapy?
Kate: So they are very similar, we're going into a naturally occurring state, we're going into a hyper focused, relaxed place. The difference is that in hypnosis, we are going in with a very specific target, we're going in with a very clear intention of shifting something of updating a memory of implanting new positive suggestions. So I consider the difference to be that hypnosis is a lot more active and it's more it is more of a treatment, rather than a practice.
In meditation, we're often often just practising that strength of observing our thoughts, or just connecting to the present moment. Whereas in hypnotherapy where you are intentionally having thoughts and actually in interactive hypnotherapy, you're still actually going to be having a dialogue with the practitioner, you're still going to be able to speak and respond to prompts.
Lucy: Okay, perfect. Thank you for explaining. So do you want to share a little bit more about your Instagram and your website and where everybody can find you?
Kate: Yeah, so I have my website, which is www.elevateintegratetherapy.com that's where you can learn more about me the work I do in my current offerings. I'm currently accepting one to one coaching clients. I do have a therapy practice which is currently full and then my Instagram is a really great place to connect because of course, I'm sharing content on there offering more information about hypnosis, how it works, specific techniques and different forms of free content. I often run monthly group hypnosis workshops as well which can be another great way to to experience it yourself.
Kate is an Integrative Coach, Counsellor and Hypnotherapist. She guides anxious women into trusting themselves and overcoming limiting beliefs so they feel more confidence, joy and purpose.
Instagram: @elevate.integrate.therapy
Website: www.elevateintegratetherapy.com
Lucy J Smith is a Mental Health Advocate, Author of the Stand Up To Anxiety Book and creator of the Mental Wellness Club. After her own struggles with severe anxiety, Lucy found ways to understand and manage her anxiety and continues to manage it using personal development, self-care, routines and having an anxiety toolkit.
Related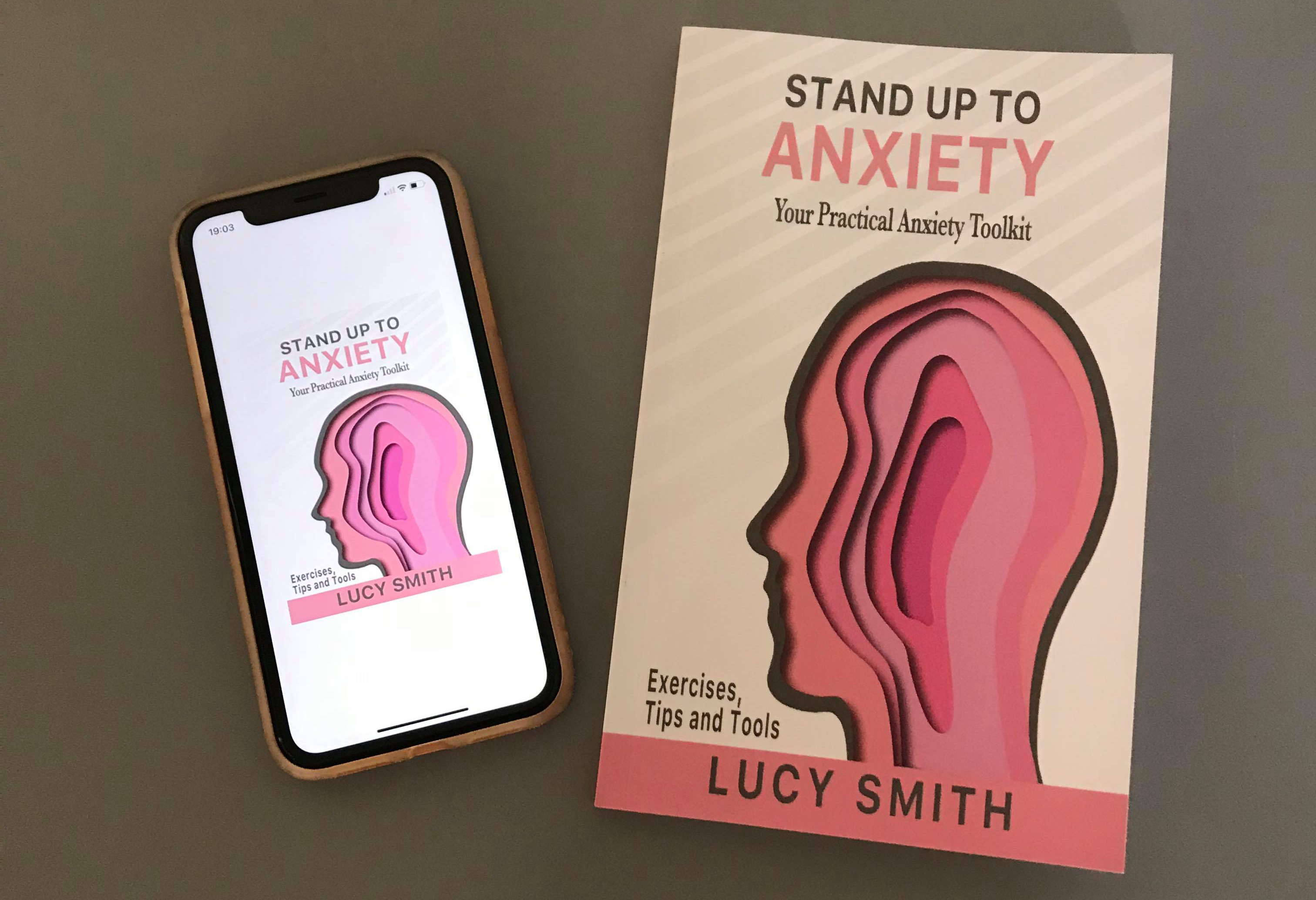 Is anxiety holding you back?
If you are struggling with anxiety right now, this book will be so helpful to you! It is based on my own experience of anxiety and panic attacks and talks you through the steps I took to understand and manage my anxiety.

Get the first chapter of the Stand Up To Anxiety Book for free
Enter your email below to get it sent straight to your inbox!
By entering your email address below you are agreeing to receive weekly emails from Lucy.