038: How To Create A Relaxing Evening Routine
In this episode Lucy talks about how to create a relaxing evening routine. This is something Lucy has done since the very start of her personal development journey and it has helped her to manage her anxiety and get a good night sleep.
Scroll down to read or click play to listen
How To Create A Relaxing Evening Routine
In today's episode, I'm going to be talking to you all about how to create a relaxing evening routine. So this is something that I've done since right at the start of my personal development journey, it's something that I find really helps me with winding down for a relaxing night's sleep. It helps me to get a better night's sleep, it helps me to erase the stress of my day, it helps me to feel a lot more calm and relaxed, it definitely helps me manage my anxiety. Especially because I used to get a lot of anxiety in the evening, I used to get a lot of nightmares. So having a relaxing evening routine definitely helps me with all of those things.
So if that's something that you struggle with, or you feel like evening is quite a difficult time for you, then I think a relaxing evening routine would be a really good idea for you just to help you wind down feel a little bit calmer before you go to bed and help you have a better night's sleep.
It doesn't have to take ages – the same as I say with morning routines. Only use the time that you feel you have available to you, if you try to commit too much time to it that you basically can't commit, it's going to be overwhelming. And it's going to be really hard for you to get consistent with. So even if it's as little as five or 10 minutes, just try and commit as much time as you can to it and make it the same time every day.
Sleeping patterns
I've been reading a book about sleep recently and it really jumped out at me just how important it is that we try to get into a really consistent sleeping pattern. So going to bed at the same time waking up at the same time. I think that's something that we don't tend to do, like we tend to go to sleep late at the weekends or have a lie in when in actual fact, it's a lot better for our body physically and mentally if we get into a really consistent sleeping pattern. So if possible (I say if possible, because I know for me personally, if I have bowls or we have social events and all those kinds of things sometimes it can't be helped and you're going to have a later night) try and make your evening routine start at the same time, be sort of 10 – 15 minutes or however long you've got and then go to sleep at the same time. I think that will really help you to get into a consistent sleeping pattern and help you with your anxiety as well.
The first thing to do is to pick a time. And bear with me on this one, your jaws may hit the floor, but trust me, this is a really, really good idea. Pick a time to turn off technology, and especially your phone and social media. So for me, this is nine o'clock. Again, every now and then things change, or I end up having to be on my phone later and that's okay. I'm not saying that we have to do this 100% of the time because I don't think that's realistic. But most of the time, when you can stick to that time where you turn off social media, you turn off your phone. I know a lot of people like to watch TV in the evening. I personally don't have a TV in my bedroom purely because I like my bedroom to be a space just for sleep. So that's, that's just not something that I have in my room, I don't have a TV, I watch TV downstairs. Then when I come to bed, I don't have any technology in my room, I don't keep my phone in my room, I don't have a TV, we literally just have an alarm clock and that's it.
Turn off Technology
So that's a really important thing to do. Make sure you have time away from technology before you go to sleep. I think the recommended time at the moment is at least an hour between last looking at technology and going to sleep just to be able to have the best night's sleep possible. I'm sure you can imagine the blue light that comes from things like phones, iPads, TVs, it's really harmful to your eyes. I think there's a lot of research that shows that basically it tricks your brain into thinking it is daytime, not nighttime, so your brain isn't ready to go to sleep, it's active, it's ready to wake up, it's ready to be alert, when in actual fact, that's the complete opposite of what we need when we need to go to sleep. So it's really important to try and have that time away from technology before bed.
Like I say, mine is nine o'clock choose whatever works for you. I pick nine o'clock, and then I go to bed anytime between 10 and 11. We do sometimes watch the TV later than nine. But I will try to do the relaxing activities that I'm going to share with you later in this episode between nine and bedtime. So I like things like a nice warm, relaxing bath. And that's something that I find really relaxing and helps me wind down especially if I've had a bit of a stressful day. That will help me just to relax and forget about that. practice a little bit of mindfulness. I also like to read so I will sit down and read after nine o'clock so that I'm not staring at a screen. I like to read books on my phone and iPad, but I always make sure that I read a physical book after nine o'clock so that I'm not staring at my screen.
Evening journaling
Then, before bed, I will journal using my Stand Up To Anxiety Journal, I journal about the things that I'm grateful that day, one thing that I'm proud of, one good thing that happened that day, one self care activity that I did that day and then I do a brain dump. So brain dump is one of my favourite things, especially before bed because very often we have a lot of things on our mind, we have 100,000 thoughts going round around around in our mind, and it feels impossible to sleep while they're all there. So I feel like a brain dump just helps me to get it all onto paper, and helps me just to be able to fall asleep and relax. So I really like my Stand Up To Anxiety Journal for that. It is available on Amazon so if you want to get a copy of the journal, then feel free to go onto Amazon and order one. All those prompts that I just explained all there for you, so that you can journal those prompts every single evening.
A few other things you can do things like meditation. When I've struggled with sleep in the past, I've done sleep meditations and I found that really, really useful. I also like visualisations if I'm struggling to fall asleep, I will do things like visualisation to help me fall asleep. I know when I was younger, my granddad used to always tell me to count sheep. So now I will do that visualisation where I close my eyes, I imagine the sheep in the field going through the gate, and I'll count them as they go through and before I know it, I will be asleep. And so that's a really useful technique that my granddad taught me probably without even knowing that it was visualisation, I think he just thought it was a really cool thing to just picture sheep and help you fall asleep. But I'm really glad he did. Because it's one that still helps me now.
It's just about finding the things that work for you. So not everything is going to work for everybody. Maybe you don't like baths, maybe you don't like reading, maybe you don't want to journal. So pick some other ones instead. But basically any activity that helps you to wind down that helps you to manage your stress and anxiety and that helps you to have a good night's sleep. I also went through a stage of really liking hot chocolate, so maybe something like that. I know as babies we get used to warm milk before bed, I definitely don't think there's any shame in doing that as an adult. So if that's something that that you find really relaxing and comforting and that helps you to have a good night's sleep then go for that I think we definitely shouldn't be putting ages on anything. Any strategy that helps with managing your anxiety and getting good night's sleep is definitely worth doing. So I hope you found that really useful. I would love to know what your evening routine is. So feel free to come and let me know over on Instagram or in my Facebook group and I will speak to you in the next episode.
Lucy J Smith is a Mental Health Advocate, Author of the Stand Up To Anxiety Book and creator of the Mental Wellness Club. After her own struggles with severe anxiety, Lucy found ways to understand and manage her anxiety and continues to manage it using personal development, self-care, routines and having an anxiety toolkit.
Related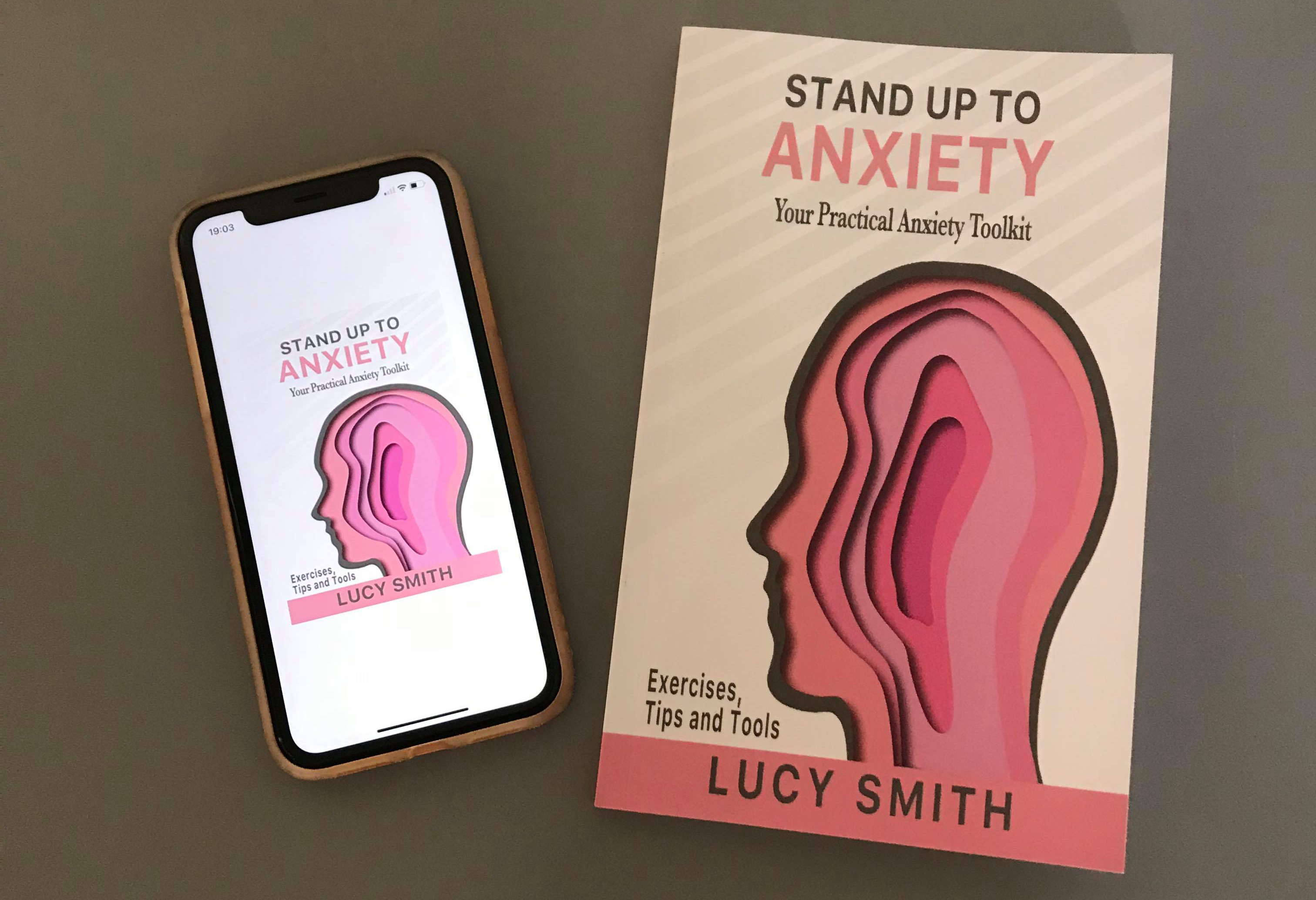 Is anxiety holding you back?
If you are struggling with anxiety right now, this book will be so helpful to you! It is based on my own experience of anxiety and panic attacks and talks you through the steps I took to understand and manage my anxiety.

Get the first chapter of the Stand Up To Anxiety Book for free
Enter your email below to get it sent straight to your inbox!
By entering your email address below you are agreeing to receive weekly emails from Lucy.