040: Dealing With Anxiety In Relationships
In this episode Lucy talks about dealing with anxiety in relationships. Including how to spot triggers to do with your relationships and how to manage it alongside your partner.
 Scroll down to read or click play to listen
Dealing With Anxiety In Relationships
In today's episode, I'm going to be talking about dealing with anxiety and relationships. So as well as your usual anxiety triggers and symptoms, you may experience some extra triggers while in a relationship. This may get easier over time, or it may not, it may change over time, it's really important to remember that it's really normal and however you're feeling it's, it's okay to feel that way. It's just really important that you are honest with your partner and that you share with them how you're feeling you share with them about your anxiety and your triggers and your symptoms, and make sure that they know what's going on so that they can begin to understand it a little bit more.
So firstly, I just want to talk through a few extra triggers that you may start to get while in a relationship. Because I think when we have anxiety, I know this is definitely for me, we need a lot of reassurance, we need a lot of comforting and it's almost like if we don't get that from our partner, we feel like they don't love us or they don't want us or they don't want to be with us anymore. That can be really, really hard for someone with anxiety, because it's not a rational thing to think, there's no logic behind it, there's absolutely no reason really for you to feel that way but your anxiety just tells you that is what's true in that moment in time. So it's really important to be able to recognise these as anxiety triggers.
Things like overthinking, if they don't reply to one of your texts, or if they're late when you're due to meet them. Or if they don't say I love you, and they hang up the phone. So all of those examples of things in a relationship without anxiety wouldn't even be thought of, but those of us with anxiety may start to overthink that and need constant reassurance that actually our partner loves us and wants to be with us.
It's really important to be honest with them. So literally tell them part of my anxiety means I overthink a lot and a lot of reassurance, a lot of comforting. Ask for that support from them, it's okay to ask for support, you need to show them how to support you. Especially if they don't struggle with mental health issues themselves, they may not know what to do to support you, they may not know the best thing to do. So it's really important that you tell them, look, I'm I'm overthinking a lot, or I'm worrying a lot about this thing in particular, so for example, not texting back and tell them that that's how you're feeling and that's the trigger that goes off.
Also tell them the symptoms you're feeling. So how it makes you feel. It would be doubt, overthinking, lots of different symptoms there, especially cognitive symptoms, but you may also feel your physical symptoms as normal with your anxiety. So things like your heart racing, sweating, shaking, those kinds of physical sensations. Explain all of that to your partner, and then show them how they can support you.
So is it that you need that reassurance? Maybe you just need them to tell you every couple of days that it's okay and that they understand your anxiety and that it's okay, they love you, they still want to be with you and just give you that reassurance that was there in your mind.
Also you need to work together on proactively managing it. So for example, with the texting back situation, you need to get to a place where you understand that it's okay for someone not to text back straight away, doesn't necessarily mean the worst case scenario, which I know for me, definitely, that's one of my go to thinking patterns. If someone doesn't reply to a text within half an hour, my head tells me that they've been in a car accident and they're in hospital. And that's literally just, that's a really, really hard thing for me to get out of as that is my go to thinking pattern. So it's about working together. And again, if you go to therapy, or you see a counsellor, this is something you can work on with them. It's getting to that place where you you don't go to the worst case scenario just because someone hasn't replied to the text. But again, your partner really needs to understand all of this to be able to support you in the best way possible.
Now, obviously, there's a lot of ways that you can learn to manage your anxiety. This podcast, my book, my website, has loads of loads of resources out there to help you with creating a toolkit and being able to manage your anxiety. So make sure you're using those tools and techniques alongside this. But in relation to the relationships, just make sure that you're just completely honest. Honesty is literally the best way forward. Because if you don't tell them and then suddenly you're having panic attacks because they've not replied to your text, and you haven't told them why they're not really gonna know what's going on and they might not react well, but if you are upfront with them, you explain that that's just a trigger at the moment. It's something you're working on and you'd really appreciate his or her support, and that you'd like to work through it together, I'm sure it would be more welcomed.
So it's just really, it's really about beginning to understand it yourself. I know that that can be really hard. Again, that's where resources like my book come in, because that will help you to begin to understand your triggers and symptoms, it will also give you the techniques to manage your anxiety. So just make sure that you are doing that as a couple if you are in a relationship.
I hope you found that really useful. If you have any questions about this, please let me know. And this is something that I'm going through at the moment. So I've been in a relationship now for about 18 months, and we live together and I'm really, really honest with my boyfriend about my anxiety, and he's really, really supportive because I've explained to him in full truth, exactly how my anxiety makes me feel and exactly what I feel anxious about. Luckily, I don't actually struggle too much with with the triggers I mentioned earlier, like the texting back and all of those kinds of things. I don't really struggle with that anymore, purely because we've had such an honest and open relationship with each other about my mental health. So I don't feel like I need to be anxious about it because I know that he supports me 100% so I hope you found that really useful, and I will speak to you in the next episode.
Lucy J Smith is a Mental Health Advocate, Author of the Stand Up To Anxiety Book and creator of the Mental Wellness Club. After her own struggles with severe anxiety, Lucy found ways to understand and manage her anxiety and continues to manage it using personal development, self-care, routines and having an anxiety toolkit.
Related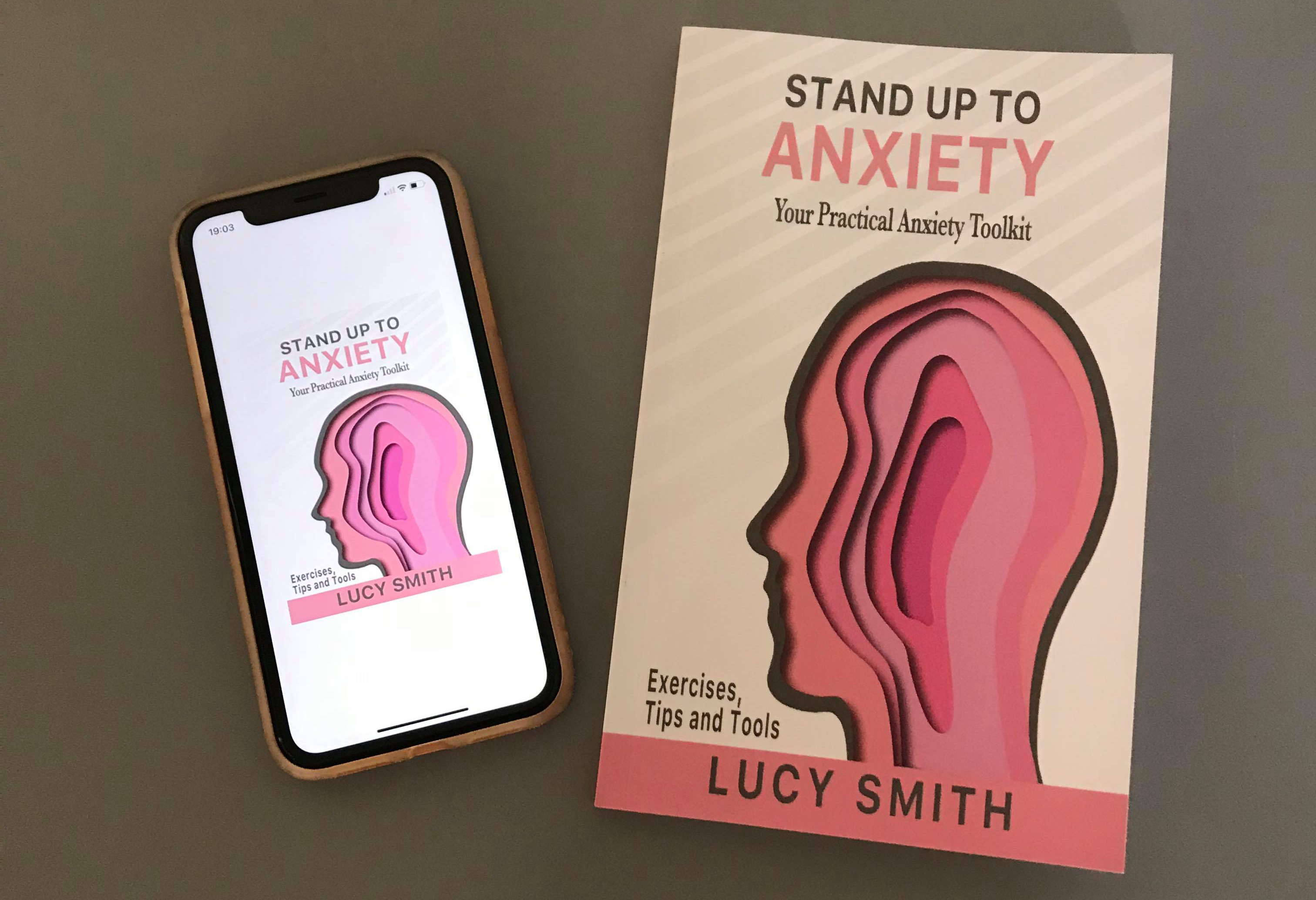 Is anxiety holding you back?
If you are struggling with anxiety right now, this book will be so helpful to you! It is based on my own experience of anxiety and panic attacks and talks you through the steps I took to understand and manage my anxiety.

Get the first chapter of the Stand Up To Anxiety Book for free
Enter your email below to get it sent straight to your inbox!
By entering your email address below you are agreeing to receive weekly emails from Lucy.