041: Journal Prompts For Anxiety
In this episode Lucy gives you 6 journal prompts for anxiety. Use these every day in your Stand Up To Anxiety Journal to reflect on your anxiety, track your progress and focus on some positives about your day.
 Scroll down to read or click play to listen
Journal Prompts For Anxiety
In today's episode, I'm going to be giving you six journal prompts for anxiety. So these are a few that I have used quite a lot over the past few years of my own anxiety, I find it really, really useful to be able to write down on paper, how I'm feeling and what's going on with me and my anxiety, and also to reflect in a positive way as well.
I'm going to show you how to do both of those with these journal prompts. At the moment, I'm using my stand up to anxiety journal, which I have these prompts in, and it allows me to have it all in one place to look back, to see my progress, to see how I'm getting on, to see how many times my anxiety has been triggered, what my symptoms are, what tools are used, and what works. The more positive journal prompts as well like the gratitude and things like that.
How am I feeling today?
So the first one is how am I feeling today. So, if you don't have the stand up to anxiety journal, you can do this in any journal or notebook or even on your phone on a memo. But I would suggest if you can't write it down, because it's, it's really healing to be able to write it down physically. So ask yourself, How am I feeling today? Now, it might take you a while to get to the bottom of it. But what I would suggest is just to keep going with it to start with just one or two words, whatever comes up, just write it down.
As you get used to doing these prompts, it will begin to flow a lot easier for you, and you'll begin to find it comes a lot a lot more naturally. So you could just write sad or upset or anxious, if you can, then you can go into why or how that's making you feel physically, or how that's making you think. If you want to go into detail, and if you feel able to, then I would really suggest in that as well. You obviously don't have to show these journal prompts to anybody, you can keep it completely private. If you see a counsellor, it's a good idea to take it with you to see them because obviously, they will be able to see it then. It's a really good way for them to be able to see exactly how you're feeling without you having to help talk about it. Because you know, sometimes it's really hard to talk out loud about how you're feeling. So that can be a really useful thing if you're seeing a counsellor. But also, it was just really good for you just to keep track on how you're feeling every day, what's been going on. And just kind of keep an overall check of how you're feeling generally.
What has triggered my anxiety?
The next one is what has triggered my anxiety. So this, again, I use my stand up anxiety journal for, purely because I like it to be in one book. So write down how your anxiety has been triggered. What was it that triggered it that day? So triggers are things that set off your anxiety, a few examples for me  are: driving, filling up with petrol and shopping. Although I am getting a lot better at managing the shopping trigger at the moment, now that I've started doing the food shop a couple of times a week, I'm really getting in the habit now of feeling okay, and being able to manage that trigger. That's something I'll talk about in other episodes – how you can learn how to manage your triggers. But for now just concentrate on writing down what your triggers were that day. It could be absolutely anything. It could be being in social situations in a public place it being too crowded, having to meet new people having to talk on the phone, there are so many potential triggers. So write down anything that's triggered your anxiety.
How did anxiety make me feel?
The next one is how did anxiety make me feel? So this is the symptoms of anxiety. So I've already mentioned a little bit about the physical symptoms. So how it makes your body feel so you might be sweaty, shaky, your heart might be racing, you might feel hot or dizzy. You could feel loads of cognitive symptoms, like worry, dread, overthinking and racing thoughts. Also, you could also have behavioural symptoms – not being able to sleep, avoiding a certain activity or procrastinating. So those kinds of behaviours that come after your anxiety has been triggered. Write down all of those symptoms and how your anxiety is making you feel, behave and how it's making you think as well.
So those are the three that I suggest you focus on to figure out how you're feeling and I really like to do that because although it is it feels like it's not nice to focus on the negative things that are going on in your day, I think it really is important because you need to be accepting of those feelings. It's okay to feel anxious, it's okay for your anxiety to be triggered. It's okay to feel those physical sensations that if we have it written down, we'll be able to track it over time will be able to see patterns. And again, if you're seeing a counsellor, or any other medical professional, then it can really help you with the work with them to be able to come together and figure out how you're feeling and why you're feeling that way and how to move forward.
So what I also like to do is journal positively. So that brings me on to my last three prompts. What I do with the journal, and the way the journal is set out is that you do your anxiety reflection prompts on the first page. Then the second page is all of the positive prompts. I do that on purpose, because I think it's really important to follow up any negative journaling with positive journaling.
One thing you can do, and this isn't a prompt, this is just another journaling tip. If you've written a lot of negative things about how you're feeling that day, see if you can come up with some lessons that you can learn from that or some kind of positives. So for example, my anxiety was triggered when I went to the food shop. So next time, I'll know that maybe I need to ask my boyfriend to come with me so that I feel more supported. Maybe I need to do some deep breathing or some mindfulness exercises while I'm there to try and keep myself calm. So I can learn a lesson from that experience and remember that for next time, so if you can try and do some positive experience from the negative journaling. So on to the last three prompts, the positive journal prompts.
What am I proud of today?
So the first one, what am I proud of today. So even if this is just one thing, just write down one thing that you're proud of – one thing that you've done that day that you feel really, really proud that you've achieved. It doesn't have to be huge, it can be something as small as making the bed or getting up and getting dressed or going for a walk, it can be absolutely anything. But just make sure you write down one thing that you are proud of.
What am I grateful for today?
What am I grateful for today? It's really important to focus on gratitude. I know for me, especially this is a really powerful one. And there were a lot of studies that show just how powerful gratitude really is. It's been shown to be one of the most powerful ways to change a negative mood. So if you're struggling, if you're feeling really anxious, if you can even just think about but especially if you write down anything, anything that you're grateful for that day, if it's something nice someone has said to you or something nice someone did for you, maybe somebody sent you a nice card, or they asked you if you were okay, or they checked in on you. So it could be absolutely anything that you are grateful for that day.
Brain dump
The last one is a brain dump. So this is one of my favourites. And again, this is in the Stand Up To Anxiety Journal, because it's something I find really, really useful, especially before bed. This is where you literally write down every single thing that's on your mind. So every worry, you have everything you're overthinking about everything that is just there that you're thinking about. write it all down, because I find that once you've written it down, it gets out of your head, it's on paper, it feels like it's more manageable, then you're not going to forget it so you don't have to worry about remembering it. And you can let it go. Now I know that it's easier said than done. And it's it's not always as easy as writing it down and it's gone, especially if it's things that are quite serious or things that are ongoing that you're worried about. But I definitely find that it does help me to write it all down. And then I can at least say that I'm going to worry about it tomorrow or I will try to proactively manage it tomorrow. And so it's just really helpful to have it written down.
So hope you found that really useful. Like I said, all of these prompts are in the stand up to anxiety journal. So if you haven't already got a copy, make sure you go and grab one. It's available in a couple of bookstores if you  look on my website, you will see the stockists or you can order on Amazon. You can use that every single day to help you with journaling and to give you these prompts every day to get you reflected on your anxiety and journaling in a positive way. So I hope you found that really useful and I'll speak to you in the next episode.
Lucy J Smith is a Mental Health Advocate, Author of the Stand Up To Anxiety Book and creator of the Mental Wellness Club. After her own struggles with severe anxiety, Lucy found ways to understand and manage her anxiety and continues to manage it using personal development, self-care, routines and having an anxiety toolkit.
Related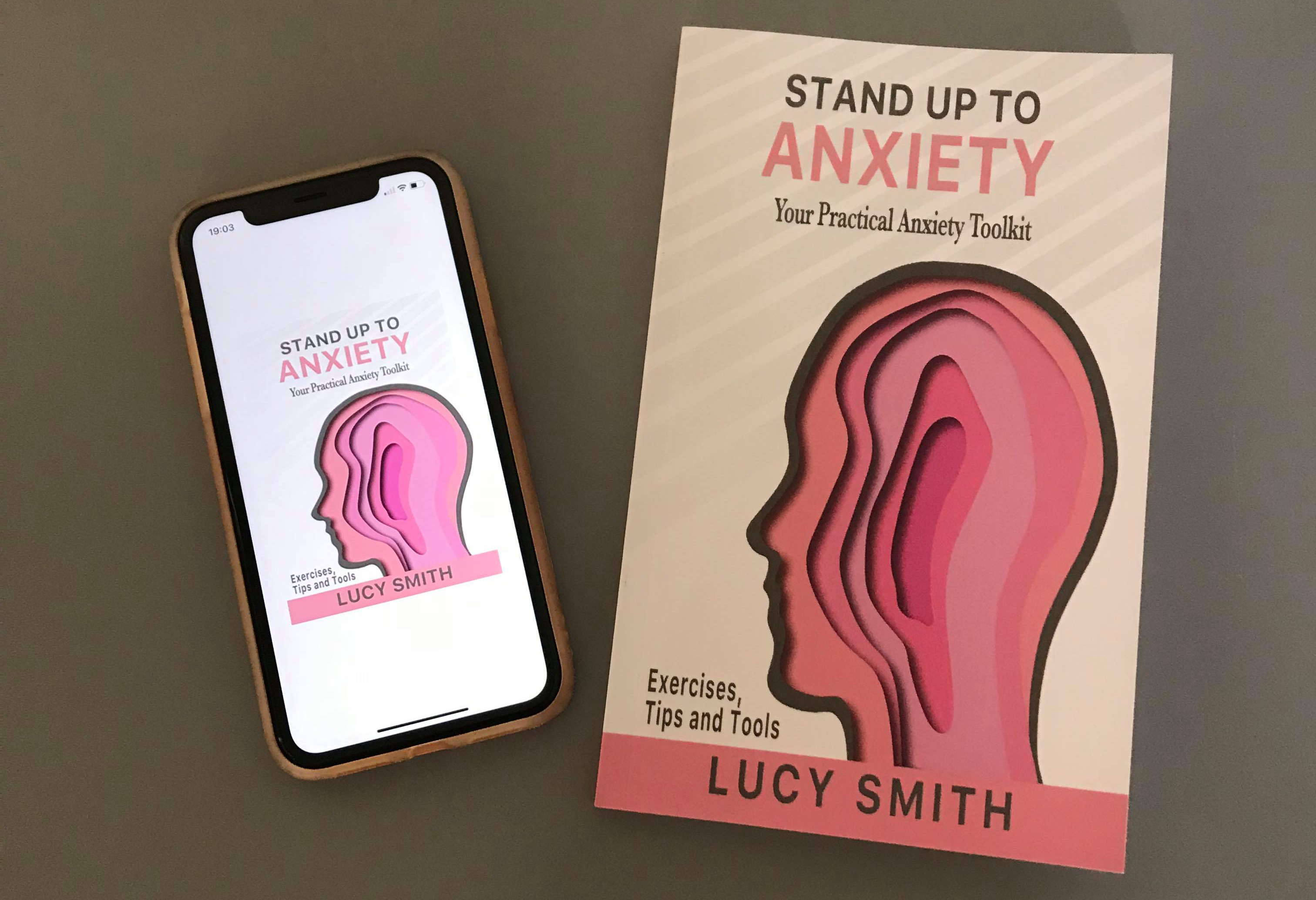 Is anxiety holding you back?
If you are struggling with anxiety right now, this book will be so helpful to you! It is based on my own experience of anxiety and panic attacks and talks you through the steps I took to understand and manage my anxiety.

Get the first chapter of the Stand Up To Anxiety Book for free
Enter your email below to get it sent straight to your inbox!
By entering your email address below you are agreeing to receive weekly emails from Lucy.