042: How To Use Distraction To Ease Anxiety Symptoms
In this episode Lucy talks about some ideas to use distraction to ease anxiety. This is a tool that Lucy finds useful as part of her anxiety toolkit. Lucy talks about a few different ways you can distract yourself, including music and television.
 Scroll down to read or click play to listen
How To Use Distraction To Ease Anxiety Symptoms
In today's episode, I'm going to be talking all about how to use distraction to ease anxiety symptoms. So this is something that I find really useful, but it doesn't work for everybody. So give it a go and if it helps you then carry on, if it doesn't, then just don't worry about it, because it's one of those techniques that just doesn't work for some people. And that is completely okay.
So distraction can be really helpful in the moment of anxiety to ease the symptoms. I never suggest doing this instead of other management and coping tools. Because we don't want to mask the problem, we still want to be able to deal with the problem, trigger, the symptoms, or whatever's happening with your anxiety, we don't just want to distract and forget about them. But in the moments of high anxiety distraction can be really useful just in that moment, to be able to focus your mind on something else, and to be able to get out of that downward spiral of how you're feeling.
I would then suggest to go back after and to reflect on what happened, why it happened, and update your toolkit with your triggers and symptoms and what happened, so that you know that going forward. Again, if you're working with a counsellor, then make sure you talk through that with them.
Ways to distract yourself
So a few different distraction ideas that work for me, again, like I say, with every tool I talk about, pick the ones that work for you, not everything will work for you. I like watching a comedy, so I have Netflix, and I have a few comedies that I will go to, and I will watch when I'm feeling anxious, and they just help to distract me, they make me laugh, and not always straight away.
So if I'm in moments of anxiety, my boyfriend can always tell because there's a funny show on TV, and I'm not laughing at the funny bits. The longer it goes on and the more relaxed I get, the more I start to laugh again, and kind of go back to my normal state. But to start with, I'm not laughing at the funny bits, which is it always makes me laugh thinking about that. But that's just that's completely okay, that's normal. That is a natural way to feel when when you're feeling anxious or upset or any other emotion really trying to distract yourself with a comedy ball, take your mind off it. But you might not necessarily laugh and find it really funny and really good from the start.
Uplifting films
Uplifting films are another one. So for me personally, I do not watch the news. I don't watch any horror films or crime, or any kind of police TV shows purely because that triggers my anxiety so that it's pointless for me, I don't want to watch something that's going to trigger my anxiety. So I only watch uplifting films. Again, like I just said with the comedy, if it's uplifting it doesn't make me feel happy straight away. It's not like I turn on a happy film and then within two seconds I'm happy again, because that's not always possible. It's definitely not a natural state to change into straightaway. So it's just an ongoing process. The more you watch it, the more relaxed you'll feel as it goes up.
Positive music
Another one is positive music. So I have a music playlist on my phone that I will listen to when I need to full of really uplifting positive music that makes me feel really happy. Again, it doesn't straight away. So work on it, just listen to it. See how you feel.
Reading
Reading is another one. And again, very similar to the TV, I only read positive kinds of books. So I won't be reading any crime or horror books or anything like that because it's triggering for me. So I will read either self help books or positive comedy books or heartwarming love stories type books. Those for me can be really relaxing. It kind of takes you into another world I find when I'm reading. So that can be a really useful distraction in those moments of anxiety.
Puzzles
The last one is puzzles. So I like puzzles as in like word search and to Sudoku puzzles, but I also like jigsaw puzzles. I do have an app on my iPad as well because jigsaw puzzles in the house aren't always that easy and possible for everybody. So there's apps as well on iPads and iPhones and things now that you can use. Again, that just allows you to focus on something else. And puzzles in particular are a really good mindfulness technique. So it's allowing you to focus in the present moment, to not be worrying about what's going on in your head or what anxiety has been triggered or how it's making you feel. You're literally just focusing on completing that puzzle.
I hope you found that really useful. Please remember what I said at the start and don't use this instead of coping tools and management because although it can help to ease the symptoms I really don't suggest this as the only tool because we need to be able to track our progress with anxiety, we need to be able to build up that toolkit that I talk about in my book, to know exactly what your triggers are, what your symptoms are, and how to manage it really effectively with things like mindfulness, exercise, meditation, breathing or absolutely anything else like that. So please don't use distraction solely on its own, I really don't suggest that but alongside all the other tools and strategies is really, really useful. So I hope you enjoyed that and I will speak to in the next episode.
Lucy J Smith is a Mental Health Advocate, Author of the Stand Up To Anxiety Book and creator of the Mental Wellness Club. After her own struggles with severe anxiety, Lucy found ways to understand and manage her anxiety and continues to manage it using personal development, self-care, routines and having an anxiety toolkit.
Related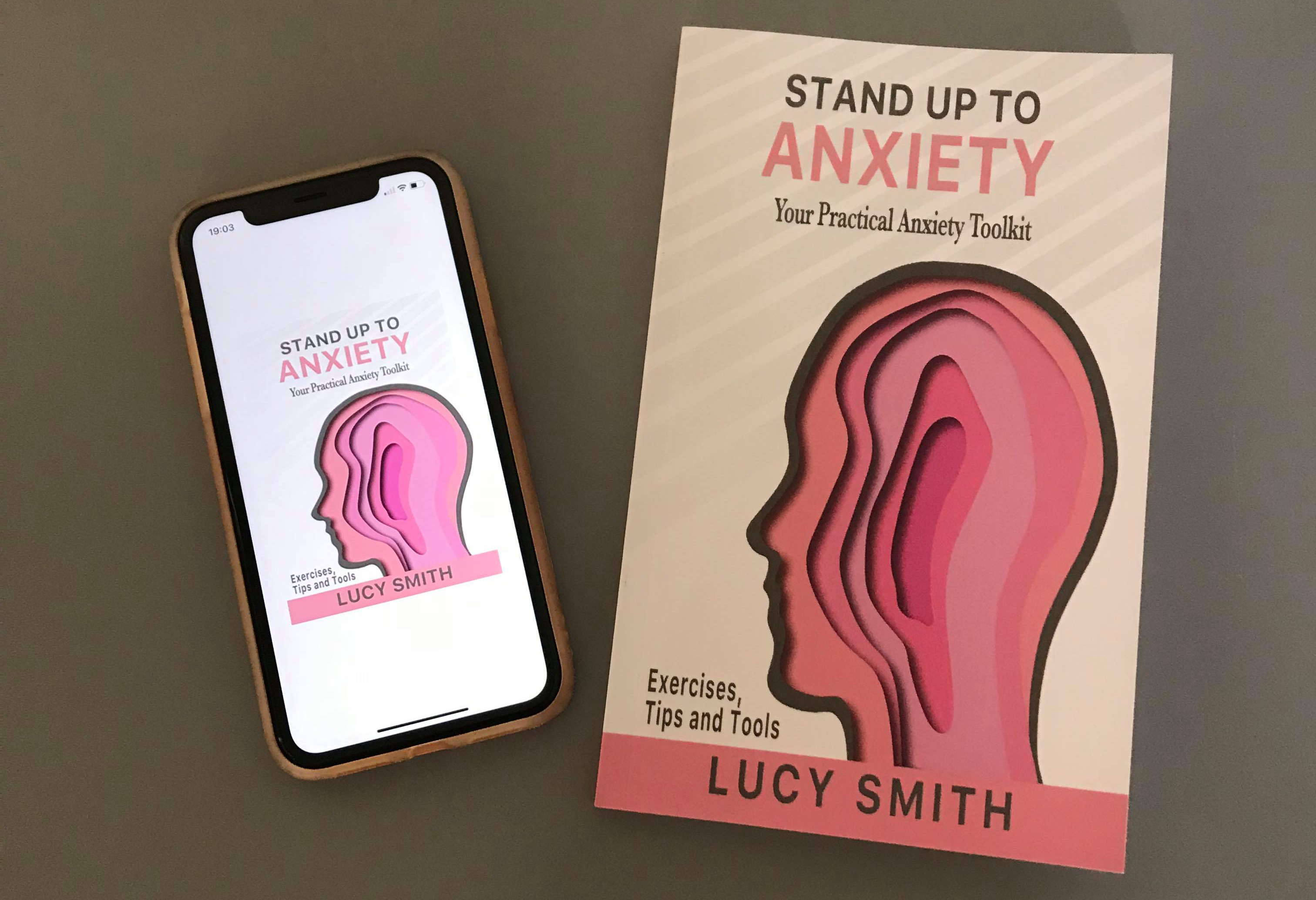 Is anxiety holding you back?
If you are struggling with anxiety right now, this book will be so helpful to you! It is based on my own experience of anxiety and panic attacks and talks you through the steps I took to understand and manage my anxiety.

Get the first chapter of the Stand Up To Anxiety Book for free
Enter your email below to get it sent straight to your inbox!
By entering your email address below you are agreeing to receive weekly emails from Lucy.