043: Coping With Changes To Coronavirus Restrictions
In this episode Lucy talks abut coping with changes to Coronavirus restrictions. Over the last year there have been a lot of changes to our lives, I know for me it has created new anxiety triggers and made managing anxiety harder than usual. It is important to remember that how you feel is normal and natural and you can move out of the Pandemic at your own pace.
 Scroll down to read or click play to listen
Coping With Changes To Coronavirus Restrictions
In today's episode, I'm going to be talking about coping with changes to Coronavirus restrictions. There are a lot of changes at the moment. In the UK, we are beginning to ease our restrictions and the rules are getting less and less. So we have a lot more freedom to do whatever we want to do.
For some people, that's really exciting and people are really looking forward to getting back to normal and doing what they want to do every day. But for other people that can be really triggering, it can be really hard to even think about changing again, when we just got used to what we're doing now, to then have to make new changes, again, can be really triggering.
How the Pandemic has affected anxiety
I just wanted to talk a little bit about how to cope with these changes. To start with, I'm going to talk about a few different ways that people have been struggling with anxiety during the pandemic. Now, this is based on my own experience, and what I've heard from followers on social media, and through my website and podcast.
A lot of people are experiencing anxiety for the first time. People that have never struggled with anxiety have begun to experience anxiety, they've began to have panic attacks, they've began to have symptoms, they've began to feel that their anxiety is triggered by the rules or restrictions, or just the general threat of having a virus spreading around the world, which obviously can be very triggering.
There's a lot of new anxiety triggers. I know, for me, personally, I had worked really, really hard on learning to manage my trigger of being in public places. And then back in March 2020, when all of the shops shut, and you had to wear masks, and social distance. And obviously, we all were seeing on the news, all of the death rates and all of the cases rising, I began to have those triggers again. I began to have panic attacks again in supermarkets, and I hadn't had them for months, probably years before, March 2020.
I know that people were just experiencing triggers they've never ever had before, people had never been afraid of walking into a supermarket. And now all of a sudden that was causing panic attacks or huge anxiety for them.
Another one, again, all of these actually apply to me, but I know they're very common in other people as well. Health anxiety was increasing. I actually stopped watching the news in the end, because seeing the cases rise, and the death rates and everything on the news was just triggering my anxiety, it was making me feel like I was going to die, that I was going to catch it that I was going to be really poorly that if I went into a supermarket or if I touch something or if I went to work or if I left the house that I would catch COVID and die. Those were the beliefs that my anxiety was telling me. I know that I'm definitely not the only.
Again with social anxiety, I've always had social anxiety anyway. And I've always had health anxiety. And that was just emphasised by COVID. So now I'm really struggling to get back into socialising with people and going out for meals or being at big events, going to parties, meeting new people, even just going to the supermarket is a struggle again for me now when it wasn't a couple of years ago. So a lot of changes there.
With the new changes coming in now and everything relaxing, like nightclubs have opened again now here in the UK. Now that's something that I don't particularly like doing. But it's open again now. So my friends were inviting me out, they wanted me to go out with them to nightclubs and restaurants and bars. And I and I don't feel ready to do that, it doesn't feel like something that's comfortable for me. So it's just really important to go at your own pace, to be honest with your friends and family and say if you if you're not feeling up to it, then say that that is completely normal. And that's okay.
Dealing with changes to routine caused by Coronavirus restrictions
There's also going to be a lot of changes to routine. So a lot of people have had to get used to working from home and that's been a huge change. They've got used to that and now, maybe offices are opening back up again and they're having to go back into the office. You've got all of those changes to deal with.
I think when it comes to changes to routine, it's really important to try and create a structured routine. So I know I said about this back at the start of the pandemic when we were all having to isolate and stay at home and work from home. I talked about the importance of making sure you have a scheduled routine just like you would at work. So that you didn't just end up, sitting around doing nothing all day and not making any time for yourself and also for your mental and physical health. So again, you just need to go back to that.
Now that you're back at work, maybe in the office, plan in the time for yourself, plan the time for you to go to the gym, exercise, have that evening of relaxation to be able to wind down after a stressful day. Add that all into your day, any personal development or self help type skills that you do things like reading, listening to podcasts, meditation or visualisation – schedule those into a day so that you've got a really structured routine. Having that written down on paper, especially, will really help you getting to get into your new routine and to get really consistent with it and for it to feel comfortable for you.
Ask for support when you need it
Lastly, just the idea that we're coming out of the pandemic, I think can be really triggering for some people. I know, for me, personally, I still can't really see an end to it, I'm still very scared of of everything that's going on. I still feel like there's a lot of threat. But obviously, I struggle with anxiety. So that is something that I recognise as an anxiety trigger for me. I have to try and be realistic and logical about it, which definitely is easier said than done, especially in moments of high anxiety and panic attacks.
Just about being really open and honest, talk to somebody that you trust, talk to a family member or a friend or a counsellor, and tell them how you're feeling, ask for support. It's really, really important that we're just open and honest about our mental health.
I always say if we had a problem with our ankle and it was hurting, and we couldn't walk, we wouldn't even hesitate to go to the doctor's or go to the hospital and get an X-Ray, and then have an operation or have medication to help it – we wouldn't even think twice about it, we would just do it. But when it comes to our mental health, we don't quite have the same approach. So I think it's really important that we try to take that same approach, we take it seriously we ask for support. Then we take the support and the guidance and advice and we actually use it.
I hope you found that really useful. I know that I myself am really struggling with COVID and everything going on and if you are please reach out and ask for support. If you don't have a friend or family member, feel free to contact me on Instagram and I will happily give you some support and head you in the right direction.
Lucy J Smith is a Mental Health Advocate, Author of the Stand Up To Anxiety Book and creator of the Mental Wellness Club. After her own struggles with severe anxiety, Lucy found ways to understand and manage her anxiety and continues to manage it using personal development, self-care, routines and having an anxiety toolkit.
Related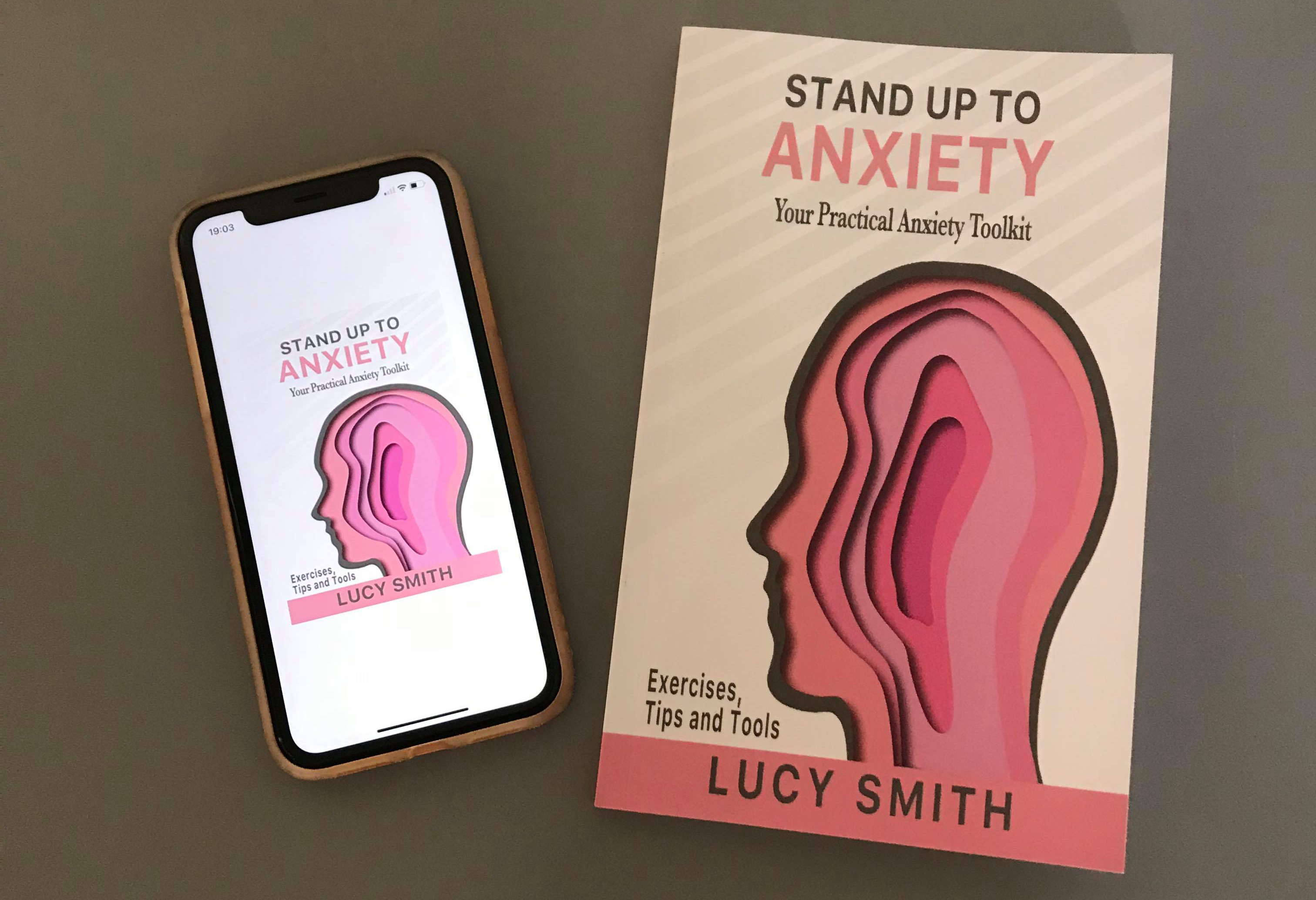 Is anxiety holding you back?
If you are struggling with anxiety right now, this book will be so helpful to you! It is based on my own experience of anxiety and panic attacks and talks you through the steps I took to understand and manage my anxiety.

Get the first chapter of the Stand Up To Anxiety Book for free
Enter your email below to get it sent straight to your inbox!
By entering your email address below you are agreeing to receive weekly emails from Lucy.