044: Using Self-Help To Manage Anxiety
In this episode Lucy talks about using self-help to manage anxiety. Since Lucy's counsellor first introduced her to self-help she has been dedicated to learning and implementing self-help tools and habits into her day.
 Scroll down to read or click play to listen
Using self-help to manage anxiety
In today's episode, I'm going to be talking about using self help to manage anxiety. This is something that I have done from the very beginning of knowing about my anxiety. So as you may remember from my story, I was referred to see a counsellor, I was diagnosed with severe anxiety and severe depression and my counsellor recommended a book for me on mindfulness.
The book was about 800 pages long and involved loads and loads of crazy, long words that I didn't understand. I didn't feel ready to understand. I felt completely overwhelmed. I never actually read the book. Still to this day, I haven't read it. Come to think of it, I probably should read it, because I would definitely understand the terms a little bit better now.
I was able then to do my own research and to move on with my own self-help journey with the guidance of my counsellor. I began to read loads of books, I picked simpler and shorter books to read, because those just felt easier to me at the time and a lot more manageable. I listened to podcasts, and I found podcasts that were really inspiring, and that had lots of mental health tools, self-help tips and just lots of supporting and really encouraging tips and advice.
Then I began to implement what I learned. I added every single thing into my days, I figured out what worked and what didn't work and I literally moved on from that. So I began to create a morning and evening routine and to get really consistent with these daily habits, things like meditation, journaling visualisation, and I was really able to sift through everything that I learned and realise what works for me.
So this obviously didn't happen overnight. This was trial and error over several months, probably even a couple of years, of me reading everything I could – articles, books, listening to podcasts, watching YouTube videos, trying or seeing what works, seeing what didn't, and then making my own anxiety toolkit that I now use today.
Meditation
So a few different techniques that I used, I'll just talk you through them in a bit more detail. So meditation is one that I learned about quite quickly. A lot of people were saying how useful meditation was for anxiety for calming the symptoms, and just for generally feeling really good about yourself every day. I'd always had it in my mind that meditation was sitting cross legged on a cushion, saying "Ohm" or chanting some words, in another language. That's what my idea of meditation was.
But I learned through self help, and through the books and the podcasts that I was listening to at the time, that actually meditation is a lot more than that. That meditation is purely about being present in the moment. So it's about allowing your thoughts to come and go.
I always like to think of it as clouds in the sky, imagine your led down on the floor looking up at the sky, and all the clouds are just passing over you. One comes in, it's right above your head, and then it moves on, and it's gone before you know it. I really like to think of meditation like that. So allow your thoughts to be like those clouds and to just come and go, let them pass. Don't draw any attention to them, don't judge them. Don't think about them. Don't argue with them. Literally just watch them appear and then watch them go.
Meditation was something that I found really useful. I began to do just one or two minutes at a time, leading up to 15-20 minutes. Now I I'm really good at meditation, because I've done it basically every day for the last probably five, if not six years. So now I'm really, really comfortable meditating for as long as I need to. I've got loads of different meditation techniques and tools that I use for different situations and circumstances.
Journaling
Another one is journaling. I have my own journal now that supports a lot of other people with their anxiety. But for me, journaling just started out as me writing down how I was feeling. Very often I had a lot of overwhelming thoughts that I couldn't quite work out and there was too much going on in my head. I felt that writing it down just really helped me to clear my mind, it really helped me to make a lot more sense of what was going on. It also was a really good way for me to check my anxiety to track how I was feeling and to try and move forward with that. I found journaling really useful.
If you haven't gotten started with journaling yet, I would really recommend that you start by using prompts to be able to help you rather than just opening up an empty page and starting to write, which can be quite daunting. Use prompts that are questions so you just have to answer them. If you haven't already ordered the Stand Up To Anxiety Journal then I suggest you do, purely because it is full of all of those prompts and it is geared specifically for anxiety. It's based on what my own experiences of anxiety and journaling and what really helps, and I know that a lot of other people have found it useful too.
Visualisation
The last one is visualisation. I absolutely love visualisation, I use it basically for everything. And you may have listened to my visualisation episode, which I believe is Episode 34 of the podcast, so if you want to go back and listen to that, then please do. I have used visualisation to help me get jobs, achieve success in sport, manage my anxiety, help me fall asleep, overcome my fear of driving and build my confidence just to name a few. I've literally used it in every single way possible and it's worked every single time, it's probably my favourite technique.
There's some really, really good ways you can visualise. The importance with visualisation is that you allow yourself to imagine it in as much detail as you possibly can. Now, this involves all of the senses – what you can see what you can hear, smell, taste and touch, but also how you feel. Once you attach that feeling to the visualisation, as well, it becomes so much more powerful and so much more energy into it and so much more belief.
There has been a lot of studies that have proven that your brain can't tell the difference between you actually doing an activity or visualising the activity. So, for example, if you were to visualise something every single day for five minutes, your brain would think you were actually doing it, which would then mean in the future you would be less afraid because to your brain, it's not a threat you've done it loads of times before, and you feel comfortable, and you're happy doing it. So you wouldn't have that potential anxiety trigger.
The technique that I would like to share with you for visualisation for anxiety, is to imagine yourself in an event that triggers your anxiety. Like I said, for me, this was driving, so let's stick with the example of driving just for ease. But this can be anything that triggers your anxiety. You would imagine yourself, getting in the car, turning the engine on checking the mirrors, you would imagine yourself doing it really really confidently, feeling really comfortable, feeling happy. Maybe you've got the radio on, listen to what song would be on, literally imagine it in as much detail as possible as if you were there in the car. Imagine who's in the car with you, what you're saying, what you're doing what you can smell, maybe you've got a car air freshener in there, you can smell that scent. And then like I said, attach the feeling to it as well – how proud you are of yourself, how grateful you are that you're able to drive, how happy you are that you've achieved it, maybe a little bit emotional because you're really proud of yourself. So attach all of those feelings to the visualisation as well. Like I said, that's going to show your brain that you are comfortable driving, that it's no longer a trigger that you can do it without anxiety and next time you go to drive, having visualised several times, your brain is going to believe you've done it before and maybe your stress response won't be triggered.
I hope you found that really useful. Please let me know what self-help techniques you found most useful, what ones you've tried, what ones help, what ones down, I always like to hear because it's it's all different for all of us. We've all got different strategies, and that's completely okay. It's just about finding what works for you.
Lucy J Smith is a Mental Health Advocate, Author of the Stand Up To Anxiety Book and creator of the Mental Wellness Club. After her own struggles with severe anxiety, Lucy found ways to understand and manage her anxiety and continues to manage it using personal development, self-care, routines and having an anxiety toolkit.
Related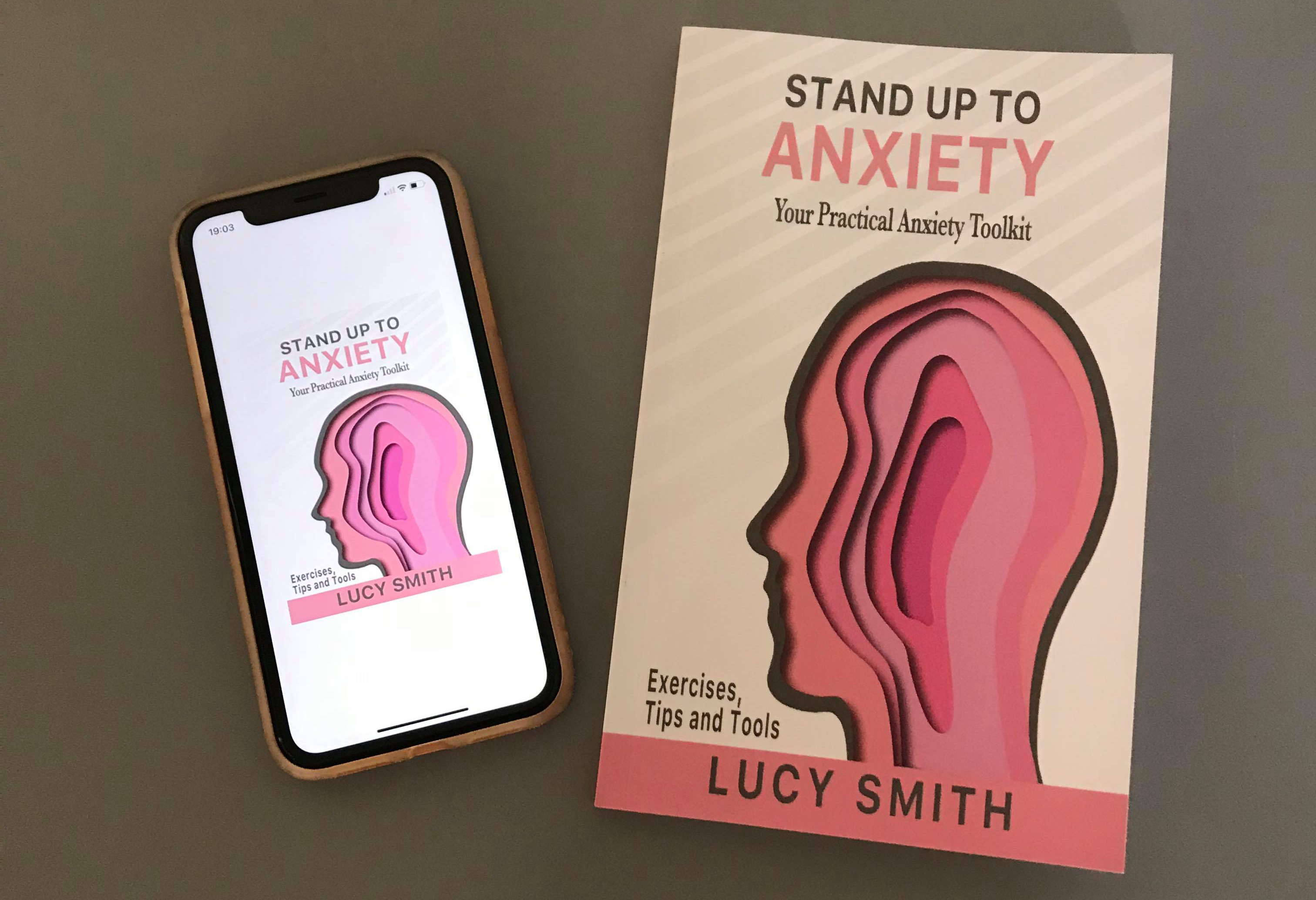 Is anxiety holding you back?
If you are struggling with anxiety right now, this book will be so helpful to you! It is based on my own experience of anxiety and panic attacks and talks you through the steps I took to understand and manage my anxiety.

Get the first chapter of the Stand Up To Anxiety Book for free
Enter your email below to get it sent straight to your inbox!
By entering your email address below you are agreeing to receive weekly emails from Lucy.