045: Create Your Own Anxiety Toolkit
In this episode Lucy talks about how to create your own anxiety toolkit. Lucy has learned how to understand and manage her anxiety and put together an anxiety toolkit which now helps her manage her anxiety every single day.
 Scroll down to read or click play to listen
Create Your Own Anxiety Toolkit
In today's episode, I'm going to be talking all about how to create your own anxiety toolkit. This is something that I have done a lot myself over the past few years since working with my counsellor, I decided that I was going to learn as much as I possibly could about anxiety, and that I was going to put together my own toolkit to be able to cope with it on my own. It was just something that I chose to do myself, this isn't something that you have to choose to do, instead of seeing a counsellor, but I really would suggest that you have an anxiety toolkit, physically written down so that you can use it alongside your counsellor or if you don't see a counsellor, and you can choose it on your own like I do.
Understand your anxiety
The first step to your anxiety toolkit is to understand your anxiety. This involves your triggers and symptoms. Triggers being the things that set off your anxiety, so for example, for me that was driving, being in public places, shopping, social situations, restaurants, alcohol, spiders, I could go on and on for ages, I had so many triggers at one point and I still do have some of them.
Now, it's really important to say that I haven't completely got rid of my anxiety. Because of this toolkit, but it makes me know what's going on. It lets me know all of my triggers and these will change over time, some of them you'll get used to and you won't feel as much anymore, others will stay forever. And that's completely okay. But having them written down on a physical list, either on your phone or in a notebook, whatever works best for you, is really, really useful because you're then going to have your list of up to date triggers, so you know, what could potentially trigger your anxiety.
The next part, like I said, is symptoms. If you've read my book, Stand Up To Anxiety, you'll know that I separate symptoms into three categories, which are physical, cognitive, and behavioural. So physical being the actual feelings and sensations you feel within your body. So you might have headache, stomachache, you might feel dizzy, you might be sweating, shaking, your heart might be racing, and all of those physical symptoms that we experience. Cognitive is within the mind, so dread overthinking, worrying a lot, lack of confidence. Behavioural being things like lack of sleep, distraction, lack of concentration, procrastination, or just avoiding activities in general.
So it's really important to be able to think about when your anxiety is triggered. Ask yourself these questions:
What happens next?
How does your body feel physically?
What are you thinking in your mind?
How are you behaving?
From that, you can start to create your own list of symptoms. Split it into three categories, so that when you feel those symptoms in the future, and it's particularly for those of us that struggle with health anxiety, you will know that those symptoms are there, because your anxiety has been triggered. I like to think of it as using them as a warning sign. So you can realise right, my heart is racing, I'm sweating and I'm beginning to overthink, my anxiety must have been triggered, what triggered it? Write down the trigger, if you know it. Sometimes there isn't a trigger, sometimes it just comes out of nowhere and that's completely normal, so you would write that down as your trigger. Then you can use that as a warning sign that your anxiety has been triggered and you can move on using the tools that we're about to discuss.
That's the way that I like to understand my anxiety, just because I think that keeps it really simple. But that is basically all we need to know what is triggering your anxiety, what is causing you to feel anxious, and how is it making you feel. So if you can get a really detailed list, it just has to be bullet points, including every single trigger and symptom that you've ever experienced. And like I said, keep it up to date. So if you begin to manage triggers, and they no longer trigger you then remove it. If you get new ones, add them. And if symptoms go, then you can remove those as well.
Managing your anxiety
So next up, we discuss the tools, which are obviously a very important part of the toolkit. So these are things like techniques, strategies, tools, whatever words you want to use to help you with managing your anxiety. Now there are absolutely hundreds, so I'm definitely not going to be talking to all of them today. But throughout the course of this podcast, I am going to be discussing them in in several different episodes so over time, you will begin to learn a lot of techniques that I have used.
It's really important to know that not all techniques work for everybody. Some may work for me and not for you and that's completely okay. Your toolkit is going to be different. I don't think that anyone's going to have toolkits that have exactly the same, I don't think that's even possible. It's really important for you to try these out, see if they work and if they do, then add them to your toolkit. If they don't, then just forget about them, it doesn't matter.
Breathing techniques
So the first one is breathing. Now I've added this one, because it's a really good one and I know it helps a lot of people. Personally, it actually doesn't help me, especially in moments of severe anxiety, because
I find that if I do breathing exercises, particularly deep breathing, that it actually makes me more dizzy and lightheaded, which is actually a trigger and a symptom of my anxiety, which makes it rather complicated. So I need to try and avoid feeling lightheaded and dizzy as much as possible. So obviously, I don't use that tool. But I know that a lot of people do find it really useful.
There's a technique where you can breathe in for four seconds, hold for four seconds, and then breathe out for four seconds. It helps to slow the breathing down and stimulate the relaxation hormones within your body and turn off the fight response. So it's really important to realise with anxiety that when you are feeling anxious it is because your stress response has been triggered. So the fight or flight part of your body has been triggered because it believes you're in danger. Which is good, it's handy when we're about to be hit by a car or we're about to be put ourselves in danger, we need that response, we need those hormones and that reaction. But they same response and the same hormones can be released just by us worrying about something or just a thought, or something that triggers our anxiety that actually isn't going to put us in danger at all. So it's really important to try and use some kind of relaxation technique to show your body that you're fine and to activate the relaxation response.
Visualisation
Visualising is one that I find really useful. I talked about visualising in Episode 34. So if you haven't already listened to that, go back and listen to it. I talked about three different techniques that can help with anxiety. I absolutely love it because it's a really good chance to be creative and get imaginative and just close your eyes and relax and think about something else and it can take you to another place when you get used to doing it.
I like to visualise my happy place. I visualise it in as much detail as I possibly can, for you that might be a nice warm beach with the sun shining on your back and hearing the waves and smelling the sea. It could be being in a park with your family, it could be being snuggled up on the sofa, watching a film with your partner, whatever it is just visualise your happy place as if you're there. That can really help to calm you down in moments of anxiety.
Distraction
The other technique I wanted to talk about is a little bit of a controversial one, because a lot of people don't find it useful. I do but I also believe that other techniques, and especially actually reflecting after has to be done alongside this technique.
Distraction is something that I will use to help ease my symptoms. I actually talked about this in Episode 42 very recently. Basically distraction can be used to ease your symptoms there and then in the moment, but we don't just want to mask the problem. We don't want to keep distracting ourselves from our anxiety, and never face it because that's not going to be beneficial at all. So as long as you're doing all the other steps, you're recognising your triggers, you're noting down your symptoms, you've got your anxiety toolkit written down, you're using your other tools and techniques to activate that relaxation response within your body.
As long as you're doing all of those as well, I think distraction is a good addition, I wouldn't suggest that you literally just put on films or comedies or music, or do puzzles or read and then never ever go back and think about your anxiety because ignoring it isn't going to help.
Make sure that you make this a physical list because that's going to make a really big impact. It's going to make it a lot more effective for you and update it regularly as and when you need to so that it's always up to date.
Lucy J Smith is a Mental Health Advocate, Author of the Stand Up To Anxiety Book and creator of the Mental Wellness Club. After her own struggles with severe anxiety, Lucy found ways to understand and manage her anxiety and continues to manage it using personal development, self-care, routines and having an anxiety toolkit.
Related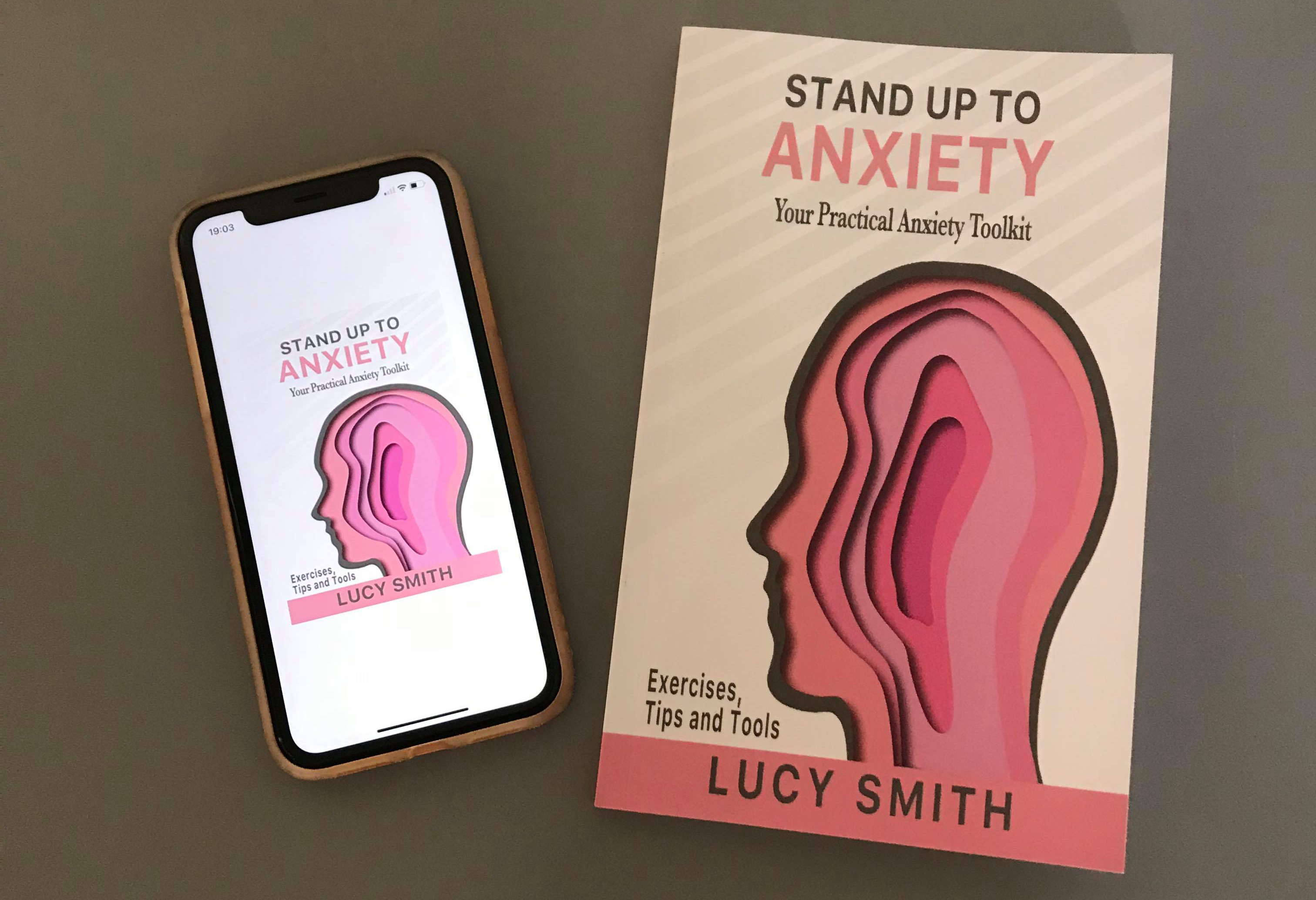 Is anxiety holding you back?
If you are struggling with anxiety right now, this book will be so helpful to you! It is based on my own experience of anxiety and panic attacks and talks you through the steps I took to understand and manage my anxiety.

Get the first chapter of the Stand Up To Anxiety Book for free
Enter your email below to get it sent straight to your inbox!
By entering your email address below you are agreeing to receive weekly emails from Lucy.