046: Preparing For Events That Trigger Anxiety
In this episode Lucy talks about preparing for events that trigger anxiety. Sometimes you'll have to do something that you know is a trigger for you but it cant be avoided, in times like this it is important to prepare for the event to help you through it.
 Scroll down to read or click play to listen
Preparing for events that trigger anxiety
In this episode, I'm going to be talking about preparing for events that trigger anxiety. So this could be an event that can't be avoided. For example, with me, this could be going out for a meal or going to a social event, I find those can be really triggering and more often than not, when I'm at a social event, I do feel some kind of anxiety while in there. So that's one that I know is likely to trigger anxiety.
There are a few things we can do. Obviously, it's not very beneficial to be avoiding activities that trigger anxiety, I've definitely found that the best way to work on these triggers and to be able to manage our anxiety is to actually face it. Avoiding it doesn't really help.
Ask for support
The first thing you can do is ask for support. Be really honest with the people that you're going with, if you feel comfortable, you can tell them that you're a little bit nervous, and that events like this normally trigger your anxiety. You can talk to somebody else, somebody that's not actually going but a partner or a friend or family member that you normally talk to you about your anxiety, tell them how you're feeling ask for some support.
I find that being able to really talk about how I'm feeling helps me to accept it and helps me to be able to plan a way to manage it. We don't always feel able to talk to people or to ask for support and that's completely okay. Part of being anxious or struggling with anxiety actually means that we find it very uncomfortable to open up about how we're feeling and to be able to trust people enough to tell them in detail how we're feeling and what we're experiencing. So there's a few other things that you can do just privately without anybody else knowing.
Visualisation
The first one is to visualise the best case scenario. Think about the event in as much detail as you can, picture in your mind as if you're already there and visualise it going as well as it possibly can. I'll stick with the example of being in a restaurant. So you would visualise what you're wearing, what you feel like, what you look like, what you sound like, what you're saying, who you're with and what's going on.
It's really, really important to attach the feeling to that as well, because visualisation plus imagining how you're feeling is a really powerful way to be able to basically trick your brain into believing that you've already done it and that you feel comfortable in that situation. So visualising is a really powerful tool and I suggest that you give that one a go.
It's one that it can take a while to get used to. I know for me personally, it took me a little while to be able to build up my imagination to be able to do techniques like this. So just be be patient with it and just see how it goes.
Grounding techniques
The next one you can do is use grounding techniques while you're there. So while you're actually at the restaurant, or whatever event it is that you're preparing for, you can use grounding techniques like mindfulness, senses exercises or breathing techniques to be able to ground you and keep you present in the moment and keep you focused on what's going on rather than your anxiety or your worries, your dread and doubts going on in your mind.
Again, that's one you can do just privately without anybody knowing. Or if you feel more comfortable, you can excuse yourself from the table or from wherever you are and go to the toilet or somewhere private to do this. There's a lot of different grounding techniques that you can use, I'm not going to go into them into too much detail now, purely because I'll be doing other episodes on grounding techniques. But even things like visualisation can be used as a grounding technique as well. So anything to keep you present in the moment can be really, really useful.
Plan a reward
The last thing I wanted to talk about is to plan something that you enjoy or for after, almost like a reward. So you would say if I go to this meal or whatever event it is that you're preparing for. Once I come back, I will do something that I absolutely love. That might be watching your favourite film, having a pamper evening, buying something that you've really wanted for a long time or baking something, whatever it is something that you really enjoy and something that is going to help you to get through it because I know for me personally, rewards are really helpful because it will actually get me through the event just thinking about the reward after.
Those are just a few ideas to help you with preparing for events that trigger anxiety. I just want to finish by saying that is really important to completely understand your anxiety to be able to manage it. You need to be able to know what events could potentially trigger your anxiety, so that you can prepare for them. If you don't know what events trigger your anxiety, you can't possibly prepare for them and when it happens, it's going to be a lot worse because anxiety out of nowhere can be quite overwhelming.
Make sure that you work on your anxiety toolkit. The previous episode of the podcast talked all about that so go back and have a listen, then put together your anxiety toolkit either physically on paper, or in your phone or laptop or somewhere that you can access it easily, including all of the things that trigger your anxiety and all of the symptoms that you experience. That's going to really help you with knowing exactly what your anxiety is and when it happens and it can help you to actually prepare for those events and those triggers.
Lucy J Smith is a Mental Health Advocate, Author of the Stand Up To Anxiety Book and creator of the Mental Wellness Club. After her own struggles with severe anxiety, Lucy found ways to understand and manage her anxiety and continues to manage it using personal development, self-care, routines and having an anxiety toolkit.
Related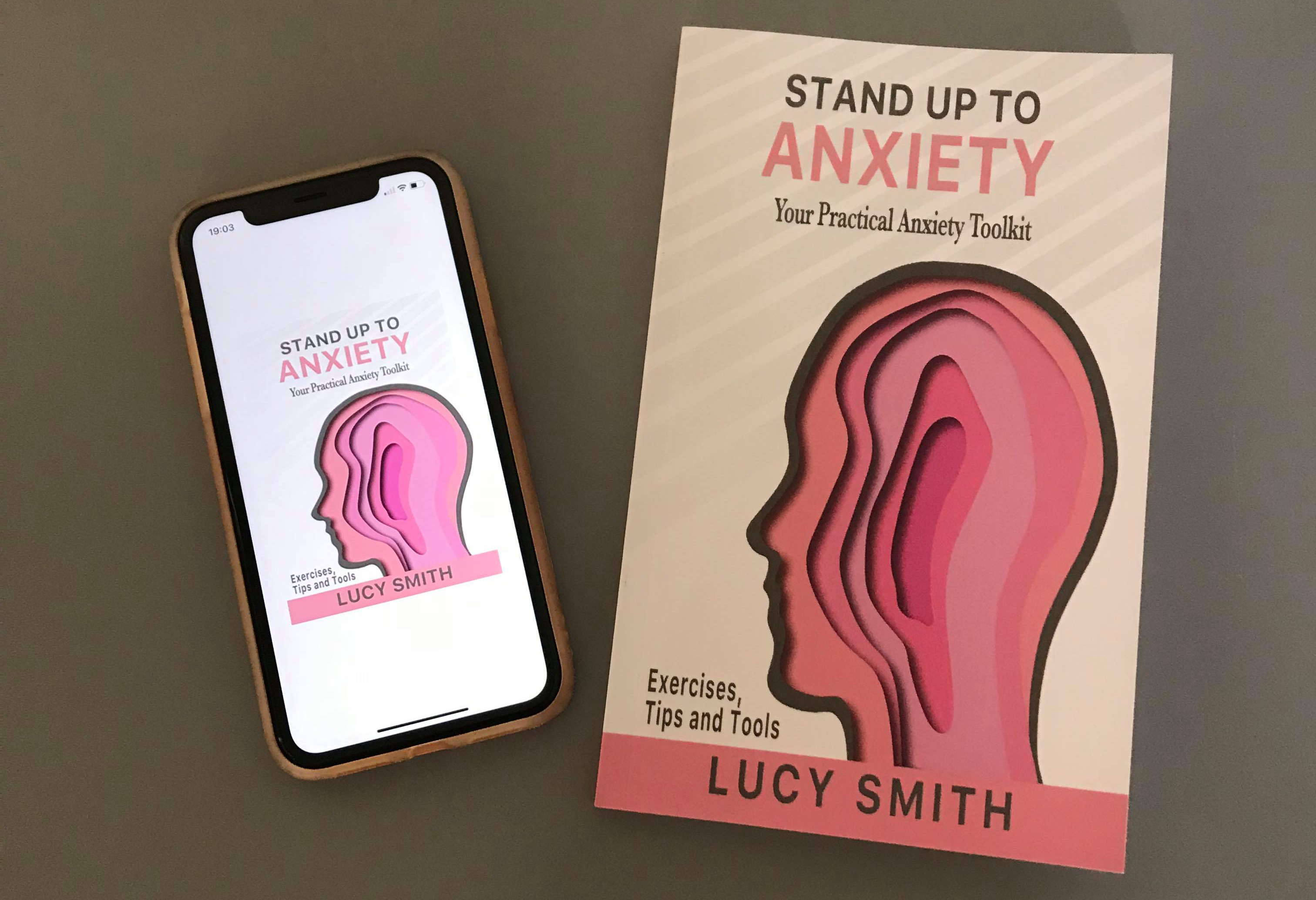 Is anxiety holding you back?
If you are struggling with anxiety right now, this book will be so helpful to you! It is based on my own experience of anxiety and panic attacks and talks you through the steps I took to understand and manage my anxiety.

Get the first chapter of the Stand Up To Anxiety Book for free
Enter your email below to get it sent straight to your inbox!
By entering your email address below you are agreeing to receive weekly emails from Lucy.