047: Dealing With Night Time Anxiety
In this episode Lucy talks about dealing with night time anxiety. Often anxiety can reach a peak during the night time, with less distractions and potentially more triggers around. This is something that Lucy has struggled with and she has now found a way to manage effectively.
 Scroll down to read or click play to listen
Dealing with night time anxiety
In today's episode, I'm going to be talking all about dealing with night time anxiety. I know for me personally, this is something that I really struggle with, I have got a lot better over the last few months, but especially in the early days of my anxiety, night time was probably the worst time of day for me.
When you get into bed, there's a lot less distractions we don't have people around us to talk to, we don't have distractions like technology, social media, or TVs. We don't have our busy work tasks, household chores or anything to do, we literally have no distractions. Our only task is to go to sleep and that for a lot of people is the time where the mind starts racing.
There's lots of thoughts and worries about what's happened. Lots of overthinking. I know for me, personally, I've been known to go through every single conversation I've had that day, word that I said, facial expression I made, what people thought of it, whether I should have done it, whether it was a good idea, I could go on and on and on. Unfortunately, that is what happens for a lot of people with anxiety. I think it's that moment where there's literally nothing else except your own thoughts and they just begin to run wild.
There's also things like planning your to do list for tomorrow. So getting really, really fixated on what needs to be done. So not only are you worrying about the past, and what has happened that day, you also begin to worry about the future. Like what's going to happen either in the short term, your to do list and things you've got to get done tomorrow or worrying about things very far in the future.
Now, it's really important to know that all of that is completely normal. It's okay. A lot of people with anxiety, anxiety experience it, it's nothing to be worried about, it's nothing to be ashamed of. It's all completely a normal part of anxiety. I know that doesn't make it any easier. However, hopefully the next few tips will help you to make it a little bit easier.
Journaling
The first thing is journaling and this is one that has really really helped me. So over the last few months, I've been using my own journal, the Stand Up To Anxiety Journal. I find this really useful for me because I do it last thing at night. So when I get into bed, I have my journal in my bedside table drawer, and I get it out and I journal for about 5 or 10 minutes before I go to sleep.
Now my journal involves an anxiety reflection for the day. So if I have had something happen, I can write it down there, instead of spending the next half an hour led in bed overthinking it. I can write down any triggers that I had that day, what symptoms I experienced what tools I used, and if they helped, so that anxiety reflection really helps me just to get that out onto paper, so that I'm not worrying and overthinking about it for the next half an hour.
Then another part of the journal is the positives about the day. I love this because it really helps me to focus on the positives that have happened that day. Because there always are positives no matter how hard it is sometimes to find them. Things that you're grateful for, one self care activity that you've done and things you're proud of. It's really useful to focus on the positives about your day after that anxiety reflection.
The last section of my journal is to do a brain dump. Now this is where coming into overthinking particularly and worrying about what's happened that day and the things that are on your mind. Doing a brain dump can really help you to get that out of your head and onto paper and it's almost like you can leave it on the paper, you can shut the book, you can put it back in your drawer, and it's gone. I find that really, really useful.
So things like if you are overthinking and worrying about your to do list for tomorrow, you can write it down in that space in the journal and then you can forget about it and go to sleep knowing that in the morning, you can open back up your journal and you can see your to do list and you haven't forgotten it. I know for me, one of the biggest things is that I'm worried that I'm going to forget what it is that I'm thinking about. I get a lot of ideas when I'm laying in bed at night because like I say no distractions, so that's bad for worrying but good for having the empty space in your mind to think about new creative ideas. So if I can write that in a brain dump section of my journal, then I don't have to worry about forgetting it because I know it's written down for me.
Relaxation techniques
Once I've journaled I will do some kind of relaxation technique. There's quite a few that I've done in the past and the one that I probably do the most at the moment is visualising purely because I'm finding visualising really effective at the moment, and it's something that I really enjoy doing. So, one that I talked about in my visualisation episode of this podcast was visualising sheep.
I absolutely love doing this, because it's one that my Poppa told me to do when I was very young. If ever I was having trouble sleeping, he always told me to count sheep. He said, to close my eyes, and to imagine I was looking at a field and all of the sheep were going through the gate back into their field to go to sleep and I had to count them as they went through the gate. By focusing on that counting, I'm focusing on visualising those sheep, it's very hard for your mind to be able to focus on anything else. So any of that worrying or overthinking or planning your to do list, your brain can't do both at the same time. So I found that really useful. Before I knew it, I would be asleep, I would never even reach 50 or 100, because I would just be asleep pretty much straight away because it was such a useful technique. So I still do that one now. I really like it because it reminds me of my Poppa and also because it is a really good technique.
Another visualisation technique is happy place. So literally visualising as if you are in your happy place. It could be relaxing on a warm beach or it could be snuggled up on the sofa reading a book and you visualise yourself as if you are doing that in as much detail as you possibly can. I find that really useful because it helps me to focus on something else. Again, like I said, the brain can't do both at the same time. So if you're visualising on a happy place, then it's going to help you relax and be able to fall asleep.
Other ones that I've done in the past not so much now, purely because I live with my boyfriend and I'm not sure he wants to listen to sleep meditations or music, although I'm sure he would if I needed to listen to it. Sleep meditations can be really useful. If, for example, I have struggled a lot with anxiety, I will use a sleep meditation to help me because they are really useful and especially for an afternoon nap. If I'm feeling a lot of physical symptoms, I will find a sleep meditation to help me with easing those symptoms and recovering physically or mentally. So they can be really really powerful. You can just go onto YouTube and search sleep meditation for anxiety or sleep meditation for a good night's sleep or anything like that and loads and loads will come up for you to be able to listen to.
Lucy J Smith is a Mental Health Advocate, Author of the Stand Up To Anxiety Book and creator of the Mental Wellness Club. After her own struggles with severe anxiety, Lucy found ways to understand and manage her anxiety and continues to manage it using personal development, self-care, routines and having an anxiety toolkit.
Related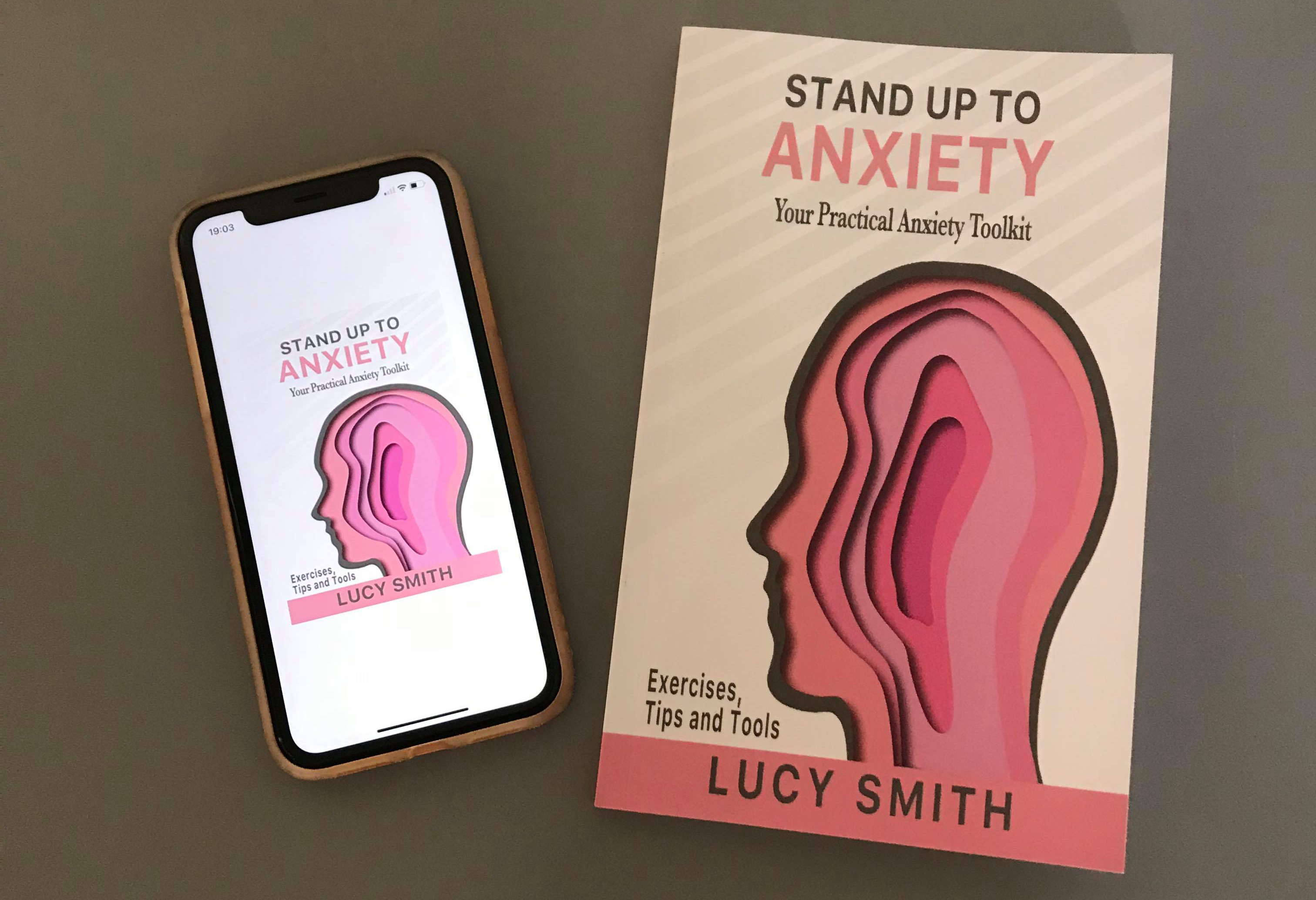 Is anxiety holding you back?
If you are struggling with anxiety right now, this book will be so helpful to you! It is based on my own experience of anxiety and panic attacks and talks you through the steps I took to understand and manage my anxiety.

Get the first chapter of the Stand Up To Anxiety Book for free
Enter your email below to get it sent straight to your inbox!
By entering your email address below you are agreeing to receive weekly emails from Lucy.