048: Open When Anxious – A Tool For Managing Anxiety
In this episode Lucy talks about Open When Anxious – a tool for managing anxiety that her and Sadie (@yoursocialanxietybestie) came up with during episode 16 of the Stand Up To Anxiety Podcast. Open With Anxious is a memo that holds affirmations, ideas and tools to help you manage your anxiety without having to think too much about what works for you.
 Scroll down to read or click play to listen
Open When Anxious – a tool for managing anxiety
In today's episode, I'm going to be sharing an idea with you for a memo called open when anxious. This is something that me and Sadie, another mental health advocate discussed on our podcast episode together (episode 016).
In terms of anxiety, sometimes it can be really hard to know what to do and to help get yourself out of it and it can be hard for somebody else to help you get out of it. So having a memo on your phone that is called open when anxious, it does exactly what it says – you need to open it when anxious, and it will have lots and lots of ideas on there to help you through.
How I made my Open When Anxious memo
I've split mine into three sections. You can do yours in these three sections, you can also add some more sections, you can basically make it whatever you want, it can be completely different for everybody.
The first section I've done is "I can get through this". This section lists all the times that I've got through anxiety or a panic attack. So some examples I've got:
1st October, I drove a new route to work and found my way feeling comfortable
15th of November spoke up in a work meeting, I was listened to
27th of November went to a party for okay most of the time.
I add to this every single time I've done something that has made me feel anxious or is usually a trigger, or normally causes a panic attack. And I've written down that I have done it and how it felt. So keep adding to it keep adding to that list every single time you go through one other thing that you get through.
The next section I've done is anxiety affirmations. So these are affirmations that I find useful to help me calm my anxiety. Again, in moments of anxiety, it can be really hard for you to think of these yourself. So being able to open this memo and see them all listed there will really help you to be able to just take away the thought process and just have to read it and help you to calm down. So a few that I've got on here are:
This will pass
I will be okay
I've got through this before
I can do it
Again, this is entirely up to you what you do. So there might be some affirmations that you like, it may be that you have to do some research and find some that you like, that's completely fine. But just make sure they're ones that you find really useful.
The third section that I've got is my anxiety toolkit. So this involves all of the tools that helped me to calm my anxiety. So this could be talking to my boyfriend, journaling about how I feel, writing down everything that's on my mind, a mindful walk in nature, or listening to a positive music playlist.
I've actually got quite good at this naturally, because I have been very aware of my anxiety for quite a few years now and I've been working proactively on my anxiety toolkit. But for those of you that are quite new to this and aren't 100% sure yet on what your toolkit is, and you're not confident in actually using it in it, this can be really helpful because you can just open this memo, pick a tool, try it, see if it helps, if it does your anxiety will begin to calm. If not, you can try another one.
Everyone is different
I think it's really important to know that everybody is anxiety is different, and no two people will have the same thought process, symptoms, triggers or tools that help. We all have completely different ways of managing. And that's completely normal. That's okay. What's important to know is what works for you. So don't worry about what works for me, don't worry about what works for someone else. Literally just try all of these things, see if they work for you. If they do then add them to your toolkit. If they don't then move on and try something else. That's completely okay.
I have actually shared a picture of my open when anxious example on Instagram, so head over to @lucyjsmith_26 and you will see my example. Like I said you can add any other sections that you want to it as well. Make it your own, make it something that can be really really useful for you to open when you're anxious.
Lucy J Smith is a Mental Health Advocate, Author of the Stand Up To Anxiety Book and creator of the Mental Wellness Club. After her own struggles with severe anxiety, Lucy found ways to understand and manage her anxiety and continues to manage it using personal development, self-care, routines and having an anxiety toolkit.
Related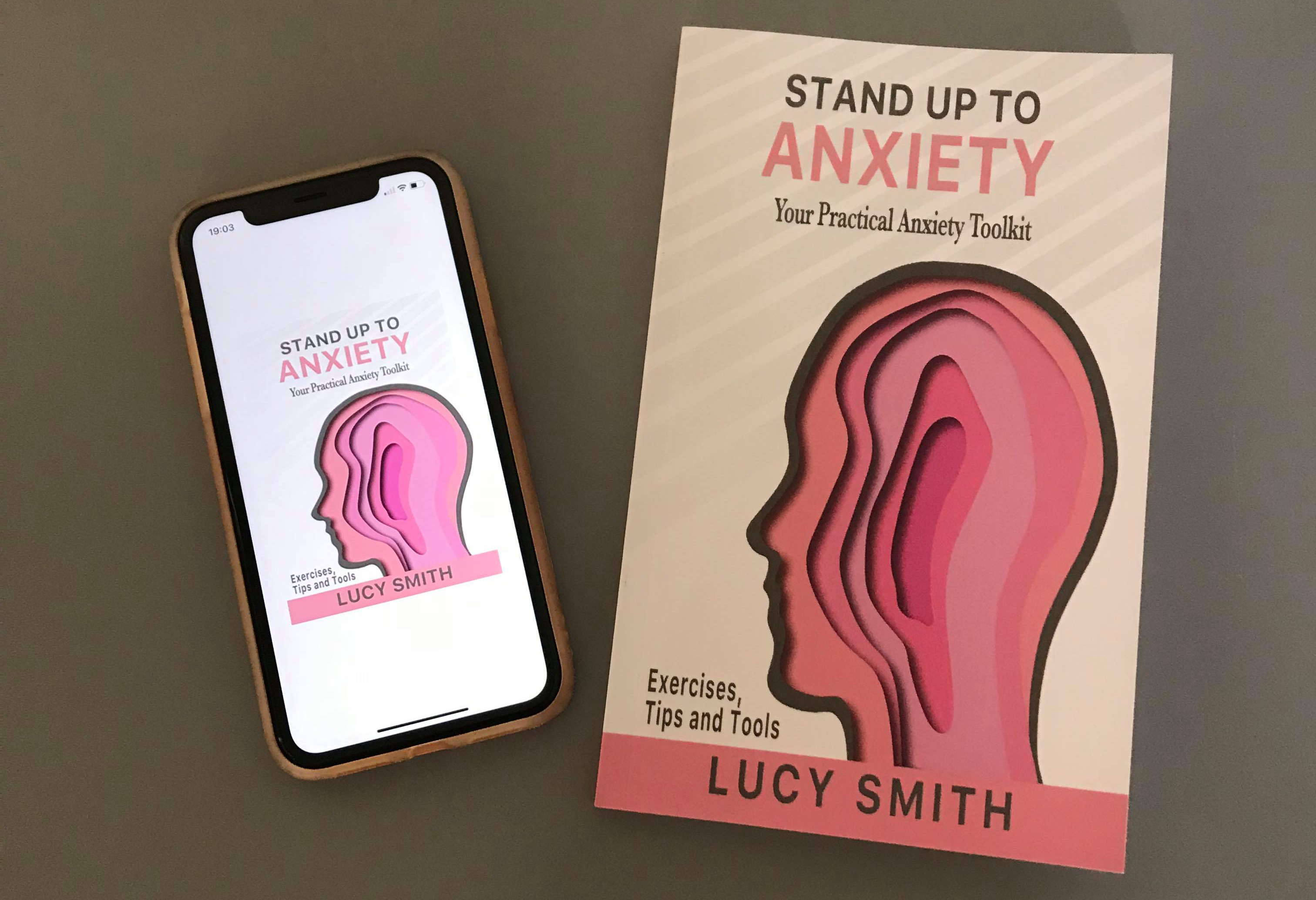 Is anxiety holding you back?
If you are struggling with anxiety right now, this book will be so helpful to you! It is based on my own experience of anxiety and panic attacks and talks you through the steps I took to understand and manage my anxiety.

Get the first chapter of the Stand Up To Anxiety Book for free
Enter your email below to get it sent straight to your inbox!
By entering your email address below you are agreeing to receive weekly emails from Lucy.