050: 10 Tips To Stand Up To Anxiety
In this episode you'll learn 10 tips to stand up to anxiety, from Lucy's own experience. Including knowing your symptoms, journaling and reducing your news intake.
Scroll down to read or click play to listen
10 tips to stand up to anxiety
Today is episode is the 50th episode of the stand up to anxiety podcast. So I thought I would do a special episode. I will do 10 tips to stand up to anxiety. These are based on my own personal experience with anxiety and what I have found has really worked for me and what has helped me with understanding and managing my anxiety and being able to actually feel in control of it rather than it controlling me.
1) Recognise Your Triggers
Tip number one is to recognise your triggers. Triggers are the things that set off your anxiety. So for me, this was things like driving, being in public places, social situations, sharps, and spiders, I had lots and lots of triggers. So really being able to recognise your triggers and know what potential situations, things, places or people may trigger your anxiety.
2) Know Your Symptoms
Number two, is to know your symptoms. Symptoms are the feelings, both physical feelings and cognitive, so feelings within your mind, and also behaviours that you've experienced and when you were struggling with anxiety. So once that trigger has taken place, what are the feelings that come after it? What are your symptoms of anxiety.
It's really important to know these symptoms, because you can use them as a warning sign to use your management tools. So if you notice that your heart starts racing or you start feeling hot and sweaty, or your mind starts racing, or you start overthinking, whatever your symptoms may be, as soon as you notice those symptoms, you can use that as a warning sign to start using your management tools.
3) Journaling
Tip number three is a management tool, which is journaling. I absolutely love journaling. As you all know, I have created my own called Stand Up To Anxiety, which is designed to help you deal with anxiety.
I believe that journaling is a really powerful way to stand up to your anxiety. But also, to learn more about yourself, so self awareness, to boost self esteem and to increase self confidence and generally just to look after your mental health. It's a  really powerful tool to use in lots of ways, a few different ways you can use journaling.
Gratitude is a really powerful one, focusing on the things that you have to be grateful for in your life. Journaling about your feelings can be really useful, because sometimes we find it hard to express how we're feeling out loud. So being able to write that down privately in an in a journal can really help. Then lastly, to journal about things that you're proud of and celebrate your success is a really good way to keep track and a good way to build your confidence as well.
4) Talk To Someone
Number four is to talk about your feelings regularly. So have a family member, friend or somebody that you can go to when you're feeling anxious, or when you're struggling and be able to talk to them about how you're feeling.
This also includes seeking professional support as and when you need it. So occasionally, it feels like our mental health condition is too much and we can't deal with it on our own anymore. That's completely okay. What's important is when you get to that stage that you seek the professional support that you need, and you actually get help with it. There's plenty of help out there to help you. So please don't ever be ashamed to to get that help.
5) Mindfulness
Tip number five is mindfulness. Mindfulness is probably the technique that I use the most on a day to day basis, just because it's so easy to do without people even realising you're doing it. So mindfulness can be done in lots of ways and put very simply, what it means is being present in the moment. The idea behind it is basically to take you away from the thoughts and the worries and the stresses in your head and focus on things around you.
One of my favourite things is to just look out the window and notice three new things that I can see. So that could be the bright blue sky, clouds, or a new flower that I haven't seen before. Or maybe there's some birds or butterflies or something out my window that I can have a look at. So notice through new things that you can see out of your window or in your house or wherever you are.
6) Eating Well
Number six is eating well. Now this is one that I'm still working on. It's definitely a work in progress and I definitely love my sweet food. However, I have noticed a link between increased sugar and increased anxiety. So it seems to me that the more sugary foods I eat, the more anxiety I get. And also, the more severe my anxiety is. So what would normally just be mild anxiety when eating a normal balanced diet, if I've eaten way too much sugar that day, my trigger my symptoms are way more severe, and my anxiety is way more severe than it usually would be. So that's something I'm still working on.
I definitely have noticed the link. And that's another thing actually going back to the journaling (tip number 3). Since using my Stand Up To Anxiety Journal, I've actually found it so much easier to track that kind of pattern because one of the prompts in the journal is six positive habits for the day. And I've put on there to only eat one sugary food because I was finding myself eating 4, 5, 6, literally way too many chocolate bars and sweets and all sorts every single day. So I wanted to cut that down to just one a day.
I put that as one of my positive habits. I now have to tick it when I've only eaten one and I have to leave it blank if I've had more than one which I really don't like because anybody that knows me knows that I absolutely love to get everything ticked off that I need to do. So that's a really good way to notice patterns. Because you can see the days that you've only had one sugary food and also because of the anxiety reflection within the journal, you can also compare that to how many triggers you've had in the same period of time. So that's something I found really useful linking back to journaling.
7) Drink Less Caffeine
Tip number seven is to drink less caffeine. I actually don't drink any caffeine at all anymore. I haven't done since I saw my counsellor years ago and she suggested that caffeine can be a trigger for anxiety and that also it worsens the symptoms. So since then, I haven't drank caffeine. I never really liked coffee anyway, but I don't drink tea anymore. I drink decaf tea, peppermint tea or any kind of fruit tea. But I make sure that it's always caffeine free.
You don't have to completely remove this, but I would definitely suggest reducing it just because it is it is really proven to to have an effect on anxiety, the amount of caffeine you drink. So definitely try and look at that if that's something that you drink a lot of.
8) Don't Watch The News
Tip Number eight is to reduce or even remove your news intake. So I actually don't watch the news at all anymore, probably for about the last five years now I haven't really watched the news. But when lockdown started back in March 2020 I began to watch the news every single day and read the news on my phone every single morning, every single night and probably a million times in between as well. I became really obsessed with it and quite paranoid really and it definitely increased my anxiety levels because I was looking at all the figures and the numbers and the death rates and everything like that and and that was just making my anxiety worse.
Obviously there's stuff we need to know we don't want to completely bury our heads in the sand. I basically get my news from friends and family. My partner will literally just tell me what I need to know so that I don't have to watch the news or read news articles on my phone. I just find that that really helps me to basically stay in a more positive frame of mind and not have my head filled with the negativity around the world, but I don't necessarily need to know.
Another thing on this is on Instagram, in particular, I follow a lot of happy news and positive news accounts. So I can see lots of positive things that are going on around the world. I find that really helps me too, because the mainstream media and news can very often be focused all around the negative things going on.
9) Feed Your Mind Everyday
Which brings me on actually to number nine, which is to feed your mind every day. So this can be absolutely anything like listening to this podcast, or reading articles, reading books, watching YouTube videos, anything at all like that, that can just help to educate you inspire you.
I always listen to audiobooks in the car, or if I'm getting ready for work in the morning, for example, so I just use them in basically any free time I have, I very rarely watch the TV anymore, unless it's to watch a comedy or a positive film. So when I'm not watching TV, and I'm not doing anything, like a podcast, I will have a audiobook on in the background.
10) Keep An Up To Date Toolkit
Number 10 is to keep an up to date toolkit. Now, obviously, if you've followed me for any amount of time, you'll know that for me creating an anxiety toolkit is the single most important thing for your mental health and to manage your anxiety and to stand up to your anxiety. So having an up to date toolkit, going back to tip one into with those triggers and symptoms, having a list of them on a memo on your phone, having a list of all of the tools that help like journaling, mindfulness, talking to people, and keeping that up to date.
So every time you have a new trigger, or you recognise a new symptom added to your list, every time that one stops, maybe you've got your driving under control, and it's no longer a huge trigger for you, it feels a lot more manageable, you can remove it. Or you can maybe do some kind of colour coded toolkit where you show that that's a bit less severe. so that you know exactly where you stand with your anxiety. I think for me, this is the most important thing.
For me, I know it so well now, that I literally know all in my head. But at the start, you need it written down on a memo on your phone or in a journal, preferably a phone so that you can have it with you when you're out and about you can just open it up. It takes all the hassle and the thought out of having to figure out what to do and you can just pick a tool and go for it.
I hope you found that really useful and I hope you have enjoyed the first 50 episodes of the Stand Up To Anxiety Podcast. I've got so many more ideas and episodes for the future. So I hope that you stay tuned and that you subscribe so you don't miss future episodes.
Lucy J Smith is a Mental Health Advocate, Author of the Stand Up To Anxiety Book and creator of the Mental Wellness Club. After her own struggles with severe anxiety, Lucy found ways to understand and manage her anxiety and continues to manage it using personal development, self-care, routines and having an anxiety toolkit.
Related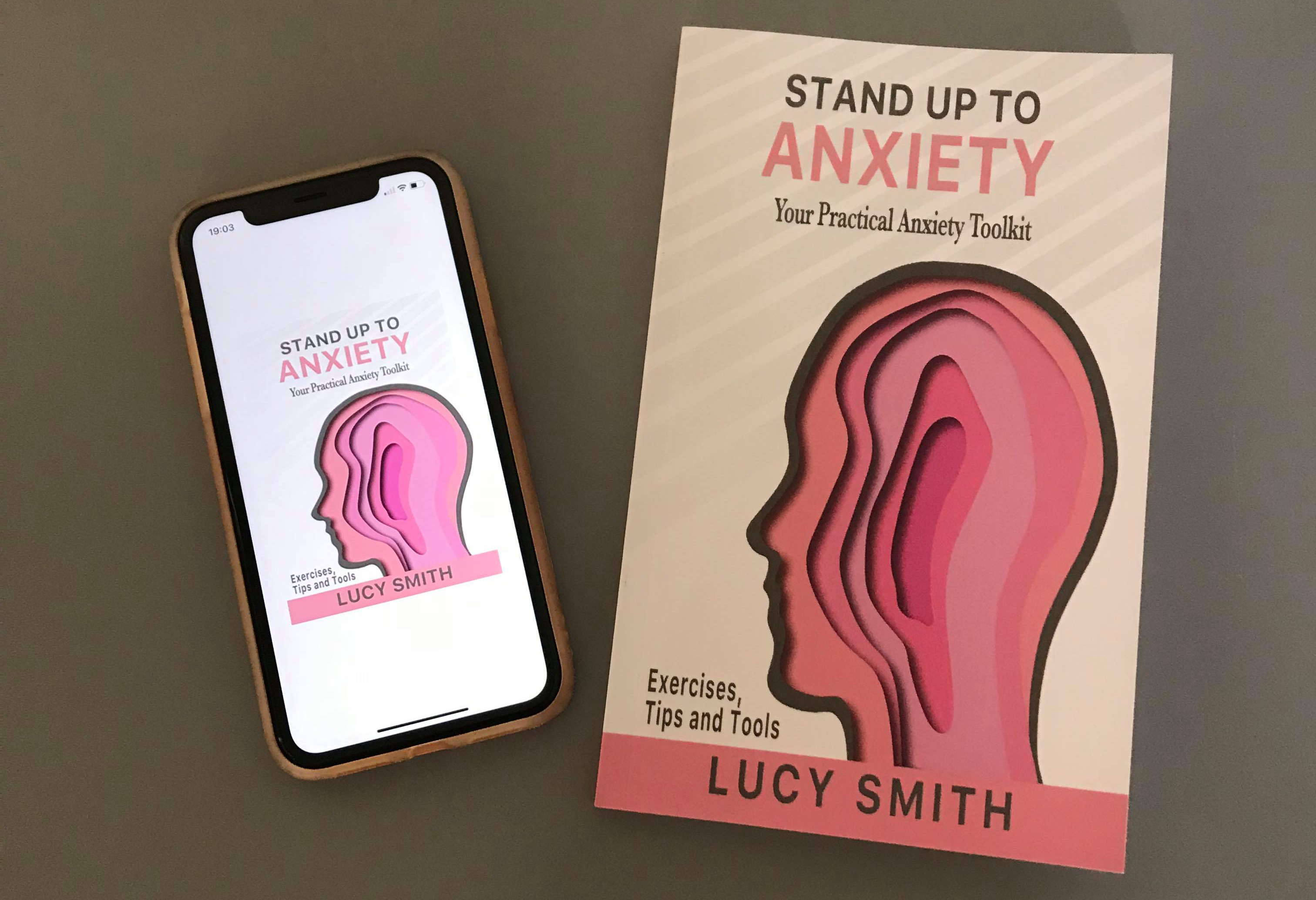 Is anxiety holding you back?
If you are struggling with anxiety right now, this book will be so helpful to you! It is based on my own experience of anxiety and panic attacks and talks you through the steps I took to understand and manage my anxiety.

Get the first chapter of the Stand Up To Anxiety Book for free
Enter your email below to get it sent straight to your inbox!
By entering your email address below you are agreeing to receive weekly emails from Lucy.