051: Mental Health Matters Talk With Dr Rosena
In this episode you can listen to Lucy being interviewed by Dr Rosena on the Mental Health Matters Show by Riverside Radio. Lucy talks about her top tips for looking after your mental health and how to make self-care a priority without feeling guilty.
Scroll down to read or click play to listen
Mental Health Matters Talk With Dr Rosena
Dr Rosena: Our next guest is Lucy Smith, very excited to have Lucy. She's a mental health advocate, author, and podcaster. She has an Instagram account, which offers tips support and encouragement, techniques and tools and podcasts and kids resources as well as a book and a journal. Lucy, welcome to the show.
Lucy: Hi, thank you so much for having me.
3 tips for staying mentally well
Dr Rosena: Thank you for being here. It's very, very exciting to have you. First of all, I'm going to ask you the same question that I asked her what are your top three tips for staying mentally well.
Lucy: So I think the first one is to be really, really aware of it, and to try and understand it.  I know for me personally, with my anxiety, I didn't really know how to manage it and how to work on it until I first accepted that it was anxiety and learned how to understand that as a mental health condition.
The next one is once you understand it, to create a toolkit to help you with managing your mental health. So for me that involves things like visualisation and mindfulness and meditation, exercise, eating well, drinking lots of water, all those kinds of things. So create your own toolkit.
And lastly, to make time for yourself and not feel guilty about it. So make it as a priority in your life, as much as you would everyday things like going to work and sleeping. Make self-care and looking after yourself a very important priority.
Dr Rosena: Thank you for those. How hard you think it is for us to be really honest with ourselves?
Lucy: I think it's really hard. For me personally, I kind of accepted that it was who I was, and that nothing could change about it. I think a lot of people have that and they feel like they can't change it. I didn't even know that mental health conditions existed, I hadn't heard of anxiety and depression until I was diagnosed. But I think that's the case for a lot of people. They don't really know how to understand it because they're not educated about it.
How to recognise you are struggling with anxiety
Dr Rosena: Yeah. What sorts of things do you think would be would be triggers now that you have come to recognise as your own anxiety? What triggers could people listening to this show look out for because I think part of the issue is because not a lot of people talk about it, people don't recognise that what they're feeling might be part of an anxiety process. What sort of things could they be looking out for?
Lucy: Yeah, definitely. So I think if you're feeling withdrawn, I think that's a really common symptom. If you're struggling with overthinking and worrying a lot. So for example, I used to lie in bed and go over every single conversation I had that day.
Dr Rosena: Oh my gosh, I know what that's like.
Lucy: I still occasionally do that now. But luckily, I've got journal prompts in place to help you with that now. I think those are probably the two most common symptoms. Also things like avoiding activities. So if someone's invited you out for a meal or a social occasion, and you either say no or you make up an excuse, or you say yes, and then actually pull out later on and say that you're not well, or that you've got other plans and things like that and trying to avoid the situation, I think is another way to realise that something's wrong.
Dr Rosena: Thank you. Would you agree that a lot of people might have found themselves in this position in the lockdown? I think some people have sort of described some of those symptoms and felt that those are new things for them. But the anxiety of going back out again, and socialising has to some people felt a bit much. Do you think that's something that's increased in lockdown?
Lucy: Yeah, I've had a lot of people tell me that exact thing. Also a lot of people that were struggling with anxiety before and myself included, have had new triggers come up. Like for me, I've worked really hard on my social anxiety and I was at a point where I was really comfortable with it, and I was beginning to get used to it. But now I've kind of slipped back into those old habits and feeling a little bit more anxious about it than I was before lockdown.
How to not feel guilty about self-care
Dr Rosena: Yeah, of course. You know, there's this interesting thing of taking time for yourself. Because I think we all struggle with the guilt that can surround that sometimes, don't we? What do you have to say to people who say, look, I'd love to have time for myself, but that's selfish, surely.
Lucy: Yeah, I think a lot of people think like that. I would definitely say that even though it feels like you've got everyone else to look after maybe kids or family members, partners, colleagues. You've got work, you've got everything going on in your life, but I always think if you make time for yourself and you put self care as a priority, you will actually perform better and help other people better in all other areas of your life. So you will be a better mum, dad, partner and work colleague by putting yourself first and making that time for yourself. Because if you put your mental health first everything else is a lot easier to manage.
3 techniques for your toolkit
Dr Rosena: I couldn't agree more. I think some of us learned the hard way that if you're not happy in yourself, you can't really be there for everybody else that you need to be. But I want to ask you, please, to talk about the toolkit. What are three things in your toolkit that you would like everybody listening tonight on mental health matters to take on board that you think are really really helpful, simple tips and tricks that they can do every day?
Lucy: The first one would definitely be mindfulness. So just taking time to be present and notice the things around you. So it could be something as simple as looking out the window and noticing three things that you can see.
Visualisation is one that I absolutely love using particularly for my anxiety, I've also used it for confidence as well in the past. So imagining yourself in a situation where you feel anxious, but imagining yourself feeling really calm and comfortable there instead and that's a really helpful tool that I use great.
The last one would be journaling. Making the time to write down how you're feeling, what's been going on for you and trying to express how you're feeling because it can be really hard sometimes to talk to people about it. But if you can write it down in a journal, even if you keep it private, that would be really helpful.
Dr Rosena: Brilliant. Thank you so much for joining us. I tell you I've learned a thing or two just myself right now and I'm sure our listeners have as well thank you so much again, and I shall be following you on Instagram because I think I could learn a few tips and tricks from you. Thank you Lucy.
Dr Rosena is the Labour MP for Tooting, Shadow Cabinet Minister for Mental Health and an A&E Doctor. She is the host of the first ever Mental Health Matters Show on Riverside Radio.
Follow Dr Rosena: @drrosena
Listen to the full Radio Show here: www.mixcloud.com/riversideradio/mental-health-matters-with-dr-rosena/
Follow Riverside Radio: @thisisriverside
Lucy J Smith is a Mental Health Advocate, Author of the Stand Up To Anxiety Book and creator of the Mental Wellness Club. After her own struggles with severe anxiety, Lucy found ways to understand and manage her anxiety and continues to manage it using personal development, self-care, routines and having an anxiety toolkit.
Related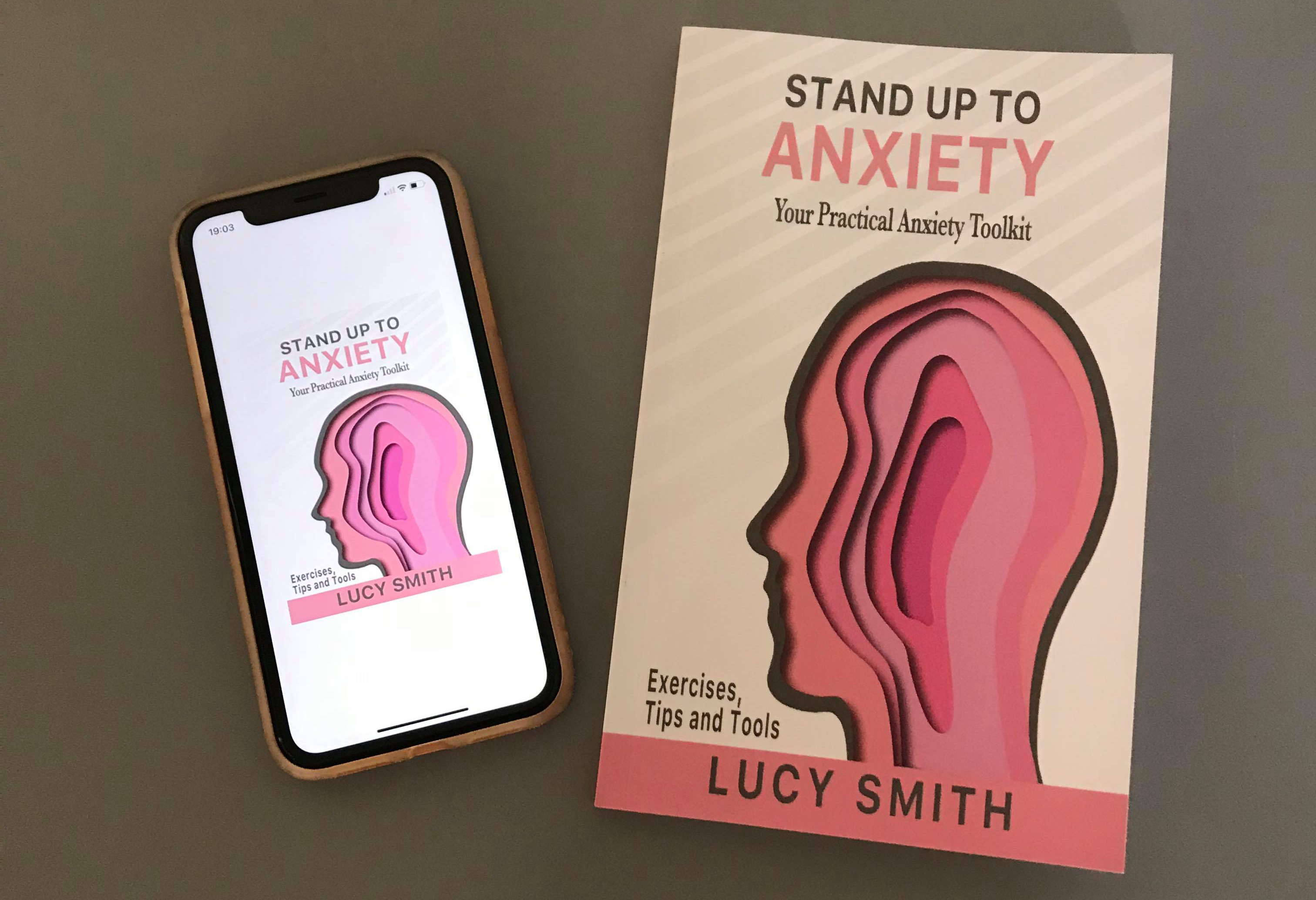 Is anxiety holding you back?
If you are struggling with anxiety right now, this book will be so helpful to you! It is based on my own experience of anxiety and panic attacks and talks you through the steps I took to understand and manage my anxiety.

Get the first chapter of the Stand Up To Anxiety Book for free
Enter your email below to get it sent straight to your inbox!
By entering your email address below you are agreeing to receive weekly emails from Lucy.