053: Self-Care For Mental Health With Habio App
In this episode Lucy interviews Jane, the Product Manager at Habio. Jane answers questions all about how self-care habits can help you look after and improve your mental health.
Jane answers these questions:
Why do you think self-care is so important?

 

How can self-care help your mental health?

 

How do you use self-care in your own lives?

 

What are your favourite self-care habits?

 

How can the Habio app support a self-care routine?

 

What's one tip you'd give someone to start adding more self-care into their life?

 
Click here to download the Habio App
Scroll down to read or click play to listen
Self-Care For Mental Health
Lucy: On today's episode, I'm interviewing Jane, who is the product manager of the heavy Oh app. So to start with Jane, do you want to tell us just a little bit about you and how you started working for heavier?
Jane: Oh, yeah, sure. Thank you. Hi, Lucy, thank you for inviting me to your podcast. Currently, I work as a product manager for Habio, which is a self-care assistant app. I've been on this project for more than a year already and I go deep into the mental health area, which is very exciting. We have a very good team and the product itself is really, really promising. I hope I will be able to tell a little bit more during the
podcast.
Why do you think self-care is so important?
Lucy: That's great. Thank you. So to start with, why do you think self care is so important?
Jane: Let me share you the story of how the idea of Habio as a self care assistant was born, because actually, it was born due to the understanding of how self care is important, and the desire to share this idea with others. Before the epidemic, as a company, we used to work in a slightly different direction, we were not connected to mental health. But when the epidemic started, we realised that life crisis was piling up, we were under huge stress and the overall team spirit was going down in isolation.
It seemed the world was changed rapidly, and the epidemic made bad things even worse. And to face them, we realised that we needed to change as well. But we also needed energy and support for this change. So we came up with an idea of a remote habit challenge. We created a channel and everybody picked a habit, and then sent their schedules.
The results were quite positive. Everyone started a new healthy habit, we got more energy, we got really inspired by the example of our teammates. We also got more new ideas and what is the most important thing we got mental strength and life challenges in isolation, we felt really empowered.
We analysed later and we saw that all the habits that we pick, were actually self care habits. Someone started drinking water. Someone woke up early to do something for oneself. Someone did yoga, someone followed their hobbies to switch focus, and rewire their brain after a hard working day. So we made a conclusion that actually self-care is the key to life crisis resistance and it fuels positive long term behaviour change as well.
The Habio project is our way to share this discovery. It's about habits, more than just habit tracking tool. Seeing your progress and habit building is really important. But we realise that there are much more behind the scenes when it comes to long term transformation. There is motivation and education, reflection, support of the community and self belief. We strive to make behaviour as comprehensive as self care itself should be.
Lucy: That's great, thank you. I think that's really interesting that you did a little experiment about it. I know for me personally, when I started adding more self care, and I got really consistent with it. It definitely had a lot of benefits in my life, but I didn't measure it quite as specifically as you did. So that's really interesting.
Jane: Yeah, this experience was really empowering.
Click here to download the Habio App
How do you use self-care in your own life?
Lucy: Yeah, I bet. So how do you use self care in your own life? What does it look like for you?
Jane: Well, I would like to share my very personal experience. I think the day when I realised they desperately need to have some time for myself. I work really hard and I have a family and I used to put their needs above mine, almost always. And to be honest, it made me feel tired and sometimes really exhausted. As a result, I used to lose my temper quite often.
After I brought some self-care into my life, the things have changed dramatically. Now if I'm really tired, I have some time for myself first and do things to restore my energy. I would say my relationships with close ones are way better now. I feel I am more in control of my emotions and moods.
Lucy: Yeah, that's that's really good. That's very similar to how I feel with my self-care practice.
Jane: I think many people go through that.
Lucy: I think that because so many people who have added self care and seeking positive experiences, anybody listening should definitely give it a go well, just because it's proven that it definitely does help it helps with your mental health even helps with physical health. It just helps with all aspects of friendship, work, family, everything, it does really help all areas of your life.
Jane: Yeah, that's true. That's absolutely true. And I feel it personally. After I started doing some self care for myself, I see the results, I see how different aspects of my life are getting better, I stay more more focused at work. I can spend more time with my family and be present and not worrying about things happening around around so it's really, one should give it a try.
Favourite self-care habits
Lucy: Yes, definitely. So what are your favourite self care habits that you like to do?
Jane: I have discovered that just a few self care habits have changed my mental and physical state quite significantly. I started with going to the swimming pool, once a week. Then I started drinking water with lemon, which really boosts immunity and helps to resist viruses, which is quite relevant nowadays. I do reading before going to bed. I do regular skincare routine to look fresh and nice. My most favourite one is a warm bath early in the morning a couple of times a week, it really helps to reset my body and mind and helps me to stay in my body like in the present.
Lucy: A warm bath is definitely one of my favourites too. Yeah. I like to have bath bombs and bath salts and petals and all sorts in my bath.
Jane: Yeah, my daughter adores those things and we have like a special drawer in the cabinet.
How the Habio App helps with self-care
Lucy: So how does the heavier app help to support someone with their self care routine if they were just getting started?
Jane: We help users build new routines and transform their behaviour to bring more joy in the first place. We also advocate a mindful approach to building healthy habits. And as you said, we believe that consistency is key. And building new routines works if one does it consistently, but also wisely and mindfully. There are features and appeals supporting these three aspects. We have tracking tools, personalised reminders, they help to increase attentional control and help to stay with the request and be present.
We have a habit coach that helps better understand mind and body connection. We also implemented journaling tools and interactive reflection prompts. They help to route the benefits of regular introspection into the daily life for our users. When it comes to self transformation, it's also vital to mention that self transformation requires facing your true self and uncovering your true needs. It can be tough, I know it personally. We support users along the way by creating the atmosphere of trust and safety.
We use emotive design and encouraging graphics. We also have inspirational and expertise moving content, some kind of buffer of positivity, and it works better for resilience in stressful situations. Our main message is you may fail, but it's normal. If you skip a habit, it doesn't mean you're bad or hopeless. You just need more time and even more self care to get the energy to move forward.
Lucy: Yeah, definitely. I really agree with that. I actually use the app myself and I have done since the start of the pandemic, because I wanted to get in a really consistent routine with myself, so I was looking for an app to help with that and yours was the one I found. I'm really glad I did, because it really helps with getting consistent because you can track it, I find that if you can track your habit, you're more likely to stay consistent with it.
Jane: That's true. I'm really glad to hear that because we really want to make this app work for for those who need to believe themselves, you know, and for those who miss some support. And apart from tracking tools, we also strive to provide support and empowering.
Lucy: Yeah, that's great. You also have a Psychologist working through the app as well, don't you? So can you tell us a little bit about that, and how she helps with the development of the app?
Jane: Yes, we have in-house Psychologist, Lily, she joined our team a couple of months ago, and she supports our direction in long term behaviour change. She provides the expertise and advice how to structure the app sessions and how to create the app content. So it empowers, motivates and helps our users stay on track, you know, not to lose their motivation. She also provide some advice and expertise on how self-care actually works, and why it is important for everybody's mental health.
Lucy: Yeah, that's amazing that you've got a Psychologist to help you I really like that. I think that just goes to show really how much the company value mental health and how much they really want to help their user with managing their mental health and implementing self-care.
Jane: Yeah and she is really helpful even for the team. When you know you have a Psychologist on the team, you can talk and ask questions and discuss some situations and she's always willing to give advice because we truly believe that the atmosphere and the team and in the company overall, we should follow the advice that we gave to our users ourselves and we strive to maintain the positive atmosphere, the empowering direction, also for the team members in house.
Top self-care tip
Lucy: Yeah, that's, that's great. So what is one tip that you would give to somebody to start adding more self care into their life if they haven't yet done it before?
Jane: Accept yourself as you are, with all your strengths and weaknesses. You are the best thing that you have. Take care of yourself and love yourself as the most caring parent would do. I would also like to quote my favourite character from my favourite movie. "You're kind, you're smart. You're important. Just remember that."
Lucy: That's great. Thank you so much. Is there anything else you wanted to add before we finish up?
Jane: Yeah, I would like to go a little bit on the topic of the importance of self-care for your mental health, just from the perspective of psychology, well, it works in the long term. The thing that most mental issues that are being dealt with at the moment, revolve around vulnerability or helplessness caused by anxiety. And there are also a lot of self acceptance issues such as lack of self love, or self confidence.
From this perspective, self care helps in three directions. It helps you make the world more safe and predictable. you regain control over small things first, from what you eat, or how often you drink too big a once in a while, such as how you feel or how you explain certain situations to yourself. In the long run, you managed to control more and more things and what used to be a threat becomes actually a challenge. As a result, you trust yourself more.
We also have the physical direction in the app, because we believe that while making your body healthier, you affect your mental health as well. Many psychological problems have physical ones at their core. It can be caused by bad sleep, or having meals or fatigue, or lack of physical exercise. Taking care of your body reinforces your nervous system as well.
As I've already mentioned, self love is at the core of any self transformation. When you love someone, you really care for them, and you're precious enough is not an exception. One may care for their children a lot, but neglect their own needs. And self care becomes an act of self love, which can keep for a lot of mental health problems. We believe that this knowledge is so important, and we're trying to spread it as wide as possible. So this is kind of our mission.
Support self-care for mental healthusing the Habio App
Lucy: Yeah, I completely agree. I think self-care something that's really, really underestimated. I don't think many people actually realise how much of an impact it can have on our mental health. If we just even just been 10 minutes a day on ourselves doing some kind of self care habit, it can have a huge difference.
Jane: Yeah, that's really, really true. I think that many people just cannot accept that means they do understand that they left something, they need something, something is left behind. But I also believe that they need help to go in the right direction to start with something because sometimes it's the hardest thing to start. And when you have a good start, you can move forward.
Lucy: Yeah, definitely. Thank you so much for coming on and chatting to me. It's been really useful and I'm sure everybody listening will find it really helpful too.
Jane: Thank you for inviting me, it was a pleasure.
Jane Korsak is a product manager at Habio, a self-care, and habit tracking app. She is responsible for defining the product vision and works closely with the engineering and content teams on product planning and development. Jane's deep interest in mental health and self-transformation drives her desire to create a comprehensive app for self-care and personal growth assistance. Before joining Habio as a product manager Jane focused on project management and internal communication development in IT.
Lucy J Smith is a Mental Health Advocate, Author of the Stand Up To Anxiety Book and creator of the Mental Wellness Club. After her own struggles with severe anxiety, Lucy found ways to understand and manage her anxiety and continues to manage it using personal development, self-care, routines and having an anxiety toolkit.
Related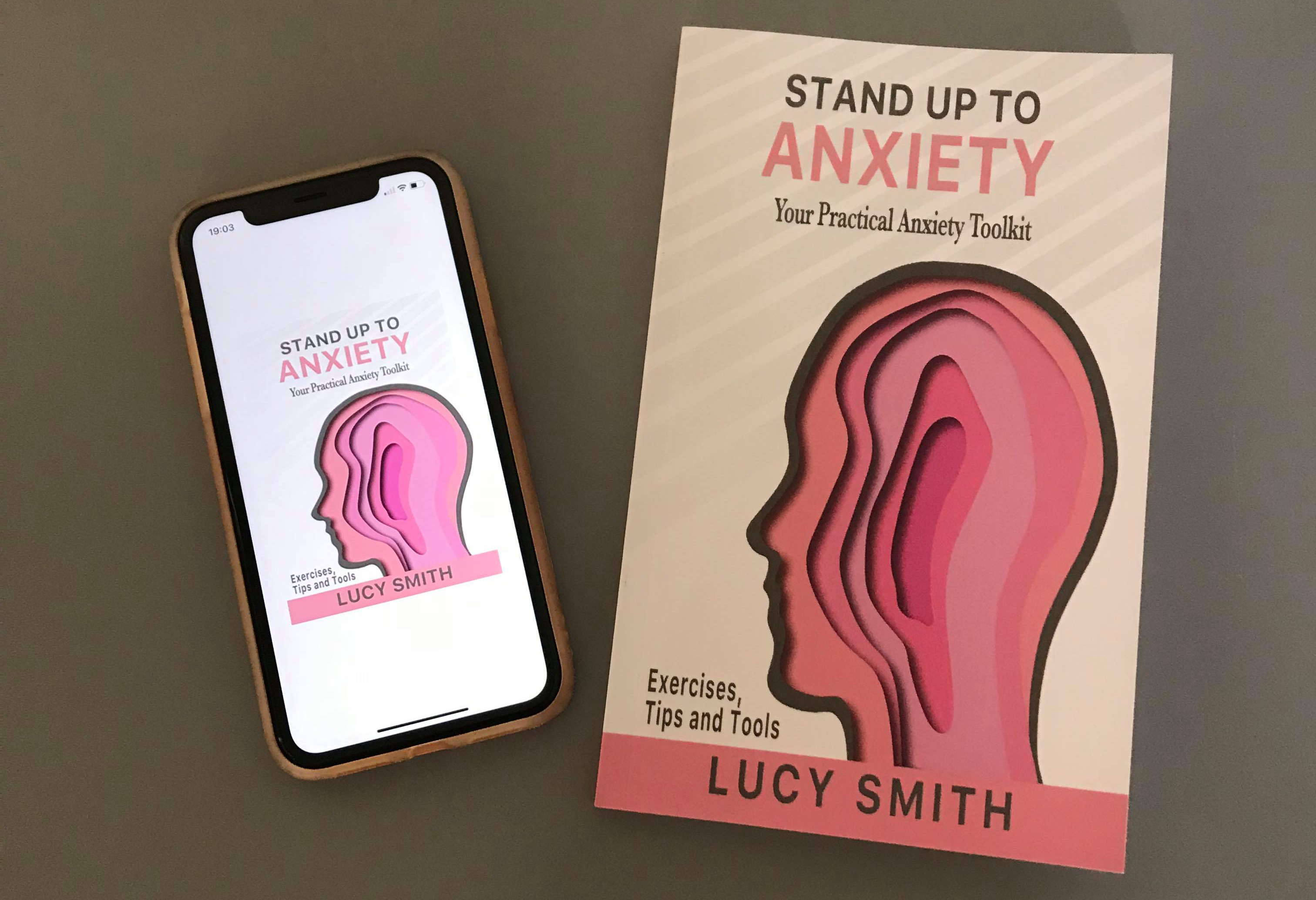 Is anxiety holding you back?
If you are struggling with anxiety right now, this book will be so helpful to you! It is based on my own experience of anxiety and panic attacks and talks you through the steps I took to understand and manage my anxiety.

Get the first chapter of the Stand Up To Anxiety Book for free
Enter your email below to get it sent straight to your inbox!
By entering your email address below you are agreeing to receive weekly emails from Lucy.