055: How To Help Morning Anxiety
In this episode Lucy talks about how to help morning anxiety including what it feels like and 5 tools to help you ease the symptoms of anxiety in the morning.
 Scroll down to read or click play to listen
How To Help Morning Anxiety
In today's episode, I'm going to talk all about how to help mourning anxiety. This is something that I have struggled with a lot in the past, and I still do sometimes now.
It's when you wake up feeling really, really anxious. But most of the time, you have no idea why. So you might wake up and you might have a lot of physical symptoms already, you might be feeling sick, you might have feelings of dread, doubt, or worry, or any kind of feeling physically or emotionally. It can be really, really hard to change the way that you're feeling.
Start your day with positive habits
The best way that I have found is to start your morning with some positive habits. Now I've talked a lot about morning routine and morning habits. I think it's something that a lot of people think won't work for them because they think they're not a morning person, or they think they haven't got time in the morning because it's so chaotic already. But I've noticed such a big difference on the morning I do these kinds of habits. I think it's really important to try and make the time, especially if you're struggling with morning anxiety because it can really help.
Meditation
The first one is to meditate. This is a really easy one because it can literally be done while led in bed and nobody needs to know your doing it. So as soon as you wake up, you can spend some time meditating. This can be something as simple as just counting your breath or focusing on a point in the room. I like to look out my window. So if you did want to get out of bed, have a look out your window, have a cup of tea, you can just spend five minutes just looking around outside. That's a really good meditation practice.
Visualisation
The next one is to visualise. This is one that I use a lot personally because I absolutely love visualising. This is where you visualise yourself feeling different to the way you feel now so I like to use it to visualise myself feeling really calm, feeling confident. I like to visualise my day going well, if there's something that I'm working towards, or something I've got to do that day, then I'll visualise myself doing it. It's a really good way to change the way you're feeling because it will trick your brain into believing that it's true, that's actually how you're feeling and that's how your day is going to go. That can also help stop or at least ease those physical symptoms of morning anxiety.
Journal
The next one is to journal. Now this is particularly good if you wake up and you've got a lot on your mind, you've got lots of thoughts, lots of worries, maybe you're thinking about the million things you have to do that day. So if you can get a notebook and just write down all the things you're thinking or all the tasks you need to get done, create a to-do list that can really help you just to clear your mind, get everything out of your mind and onto paper.
Exercise
Exercise is proven to be really, really beneficial first thing in the morning. This is one that I want to get into, but it's really hard for me to get consistent with exercise. But when I do, I feel absolutely amazing. So if you can do that first thing in the morning, then that's really good for you.
Eat well
Then lastly, to have a healthy breakfast. I don't talk about this enough, but I notice such a big difference on how I feel and my anxiety and how often I get triggered and how severe my symptoms are. I noticed a big difference in those when I eat healthy foods. So if I'm eating a lot of sugar, sweets, chocolate and sugary drinks I notice more anxiety. The same with alcohol, even if I drink alcohol anytime during the day, I find that my anxiety is increased. So things like eating a healthy breakfast, having a really balanced diet, drinking plenty of water, that can really help to calm your morning anxiety too.
It's really important basically to have a mix of all of these things to help you with your anxiety. It doesn't mean that you have to spend half an hour doing this every single morning because that doesn't sound achievable to most people and that's completely okay. Even if you could just wake up and spend your first two minutes thinking about how your day is going to go or thinking about things you're grateful for or just a couple of minutes journaling about what's on your mind that can really help you. I hope you found that really useful. I would love to know if you try any of these tools to help you with your morning anxiety and let me know how we get on with them.
Lucy J Smith is a Mental Health Advocate, Author of the Stand Up To Anxiety Book and creator of the Mental Wellness Club. After her own struggles with severe anxiety, Lucy found ways to understand and manage her anxiety and continues to manage it using personal development, self-care, routines and having an anxiety toolkit.
Related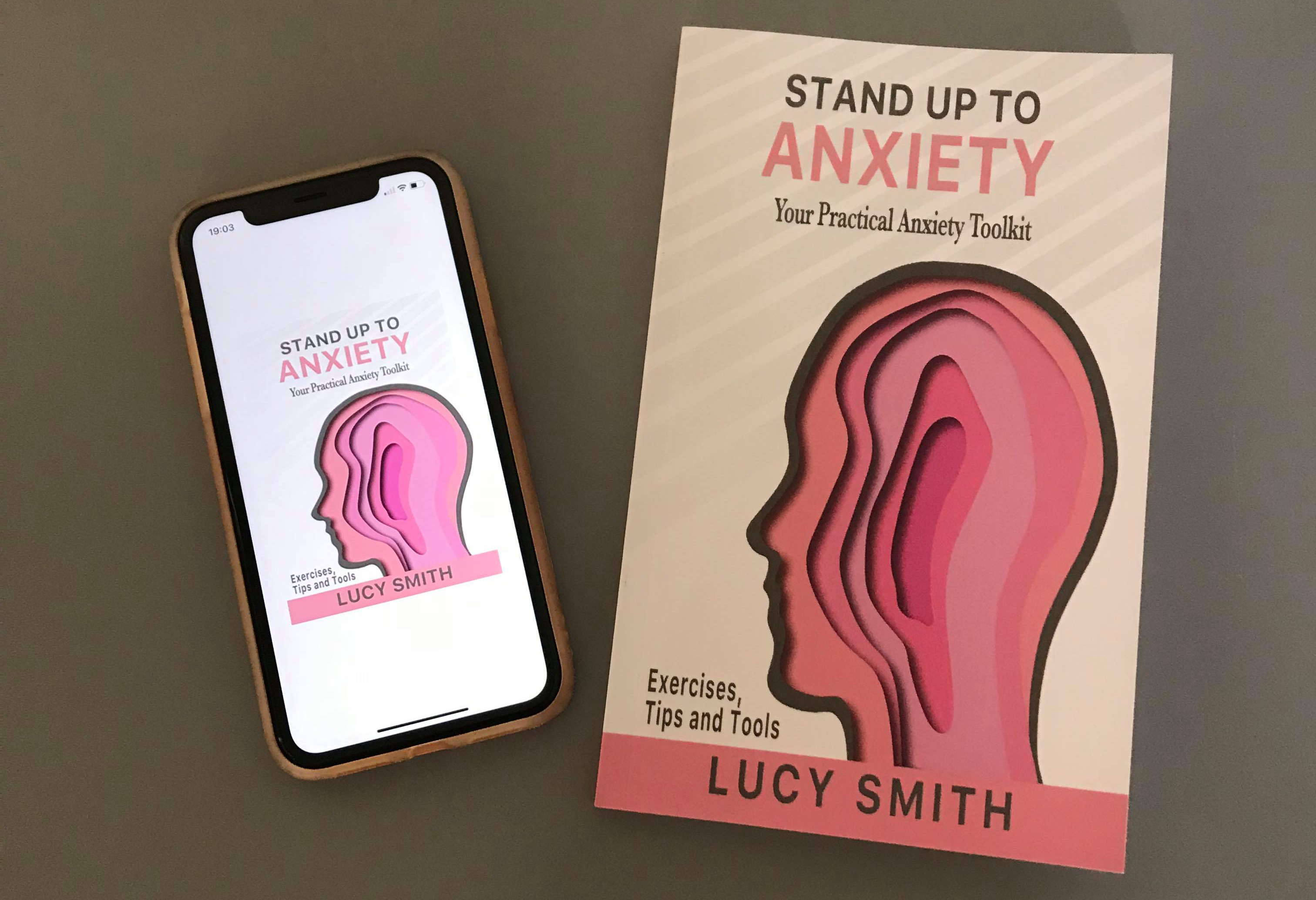 Is anxiety holding you back?
If you are struggling with anxiety right now, this book will be so helpful to you! It is based on my own experience of anxiety and panic attacks and talks you through the steps I took to understand and manage my anxiety.

Get the first chapter of the Stand Up To Anxiety Book for free
Enter your email below to get it sent straight to your inbox!
By entering your email address below you are agreeing to receive weekly emails from Lucy.