056: Starting Your Self-Help Journey
In this episode Lucy talks about starting your self-help journey. She gives you journal prompts to reflect on how you are feeling and to help pick your self-help tools.
Scroll down to read or click play to listen
Starting your self-help journey
In today's episode, I'm going to be talking all about how to start your self-help journey. So to start with, do a reflection on how you're currently feeling. To do that you can use the journal prompts that I'm about to explain now.
Get yourself a journal or notebook or plain piece of paper, and write down these questions and then just answer them as honestly as you can try to do it without any judgement for yourself, or the way you're feeling and just allow anything to flow. You don't have to show any of these answers to anybody so keep them private, if that's what you prefer. But just make sure that you do what you can to make them really, really honest, because that's going to help you the most.
How are you feeling now?
Try to do this in as much detail as you possibly can include things like any symptoms you might be experiencing. For example, if you're struggling a lot with headaches, stomach aches, dizziness, lacking confidence, avoiding social activities or not being able to sleep very well so you can get a really good overall picture of how you're feeling. Add any emotions that you think relate to how you're feeling.
What are the positives in your life?
Then have a think about what the positives are. So what are the positives in your life right now. So it could be that you're really happy in your home life, your social life is good, you're happy in work or that your diet and nutrition is good. So whatever the positives are, write them all down,
What are the negatives in your life?
Next write down any negatives that you have as well. So any of the above, I've just said the positives, if they are a negative for you, then write those down. Again, be really, really honest. So if you are struggling in certain areas of your life, please write it down because that will really help you to be able to figure out where you should focus the most.
How would you like to feel instead?
Lastly, write down how you would like to feel instead. Think about positive words, so rather than saying free from anxiety, or not having panic attacks, try and think of other words like calm, relaxed, confident, in control if you can but I know sometimes it's really hard to think positive words when you're really struggling. But if you can try and think about those positive ways that you want to feel instead.
Your self-help tools
Once you've done that, it's time to move on to self help tools. So write down any that you have heard of, it might be that you've heard some from this podcast, you've read my book, or some other books, or listened to other podcasts or YouTube videos, and you've learned a few different tools. So write down a list of every single one you've ever heard of. Then circle, highlight or tick any of the ones that you're interested in trying.
Especially if you've tried some in the past, make sure that you highlight those ones, you can leave little comments of how you found it before – if it helped or if it didn't, again be really honest with this, because not all tools work for everybody. So if mindfulness for example didn't work for you, then it's important you write that down, because obviously that's not going to be one that you'll you will add straight away because it's not one of the most useful ones for you.
Also, if you've had any form of counselling in the past, add their tips and any tools that they suggested or any ideas that they had. You can add that to your list as well to see if that will help you.
Schedule it in to your day
Then what you want to do then is schedule time into your day for those habits or tools. So I would really suggest using an app I use the app Habio. It's a really good app because you can add as many tools as you want every single day. It reminds you if you haven't done it yet, you can tick it off, you can track it and it's just it's much easier to stay consistent and motivated if you are using a habit tracker app like Habio. Click here if you want to go and download the app which I use.
To start with just start with one or two. Pick two that you are the most interested in from your list and then start with them. Pick an amount of time every single day that you feel you can commit to it. So it might be 10 minutes when you first wake up, 10 minutes during your lunch break or 15 minutes before you go to bed. Pick an amount of time in the time of day that works best for you. Again, this is going to be completely different for everybody. You're more likely to stick to it, if it's a time that works best for you and your lifestyle, so pick one that is most suitable.
Over time, you will begin to realise that some work and some don't. And that's completely okay. So just stick with the ones that you enjoy, and then either stop or change the ones that you don't enjoy so much. My self help schedule or routine has completely changed over the last six years, it's changed several times. That's normal.
Self-help ideas
To finish, I'm just going to end with a few different self help ideas for you. Again, this list is a tiny, tiny amount of what's out there. So please do go and research and figure out some other self help tools that might be good for you. Because I could literally go on for hours, naming all the different types of tools.
So just a few to get you started. Meditation and mindfulness, visualisation, journaling, exercise, talking to people, reading self help books, I mean, that self help in itself and also you will learn a lot from that so that's one that I really suggest quite early on, and listening to podcasts.
Those are probably the ones that I got started with, the earliest the ones that I found really useful. Like I said, mine has changed a lot over time and now I do it as part of my day without even realising it. For example, when I'm washing up I use that as a way to practice mindfulness. When I'm having a cup of tea in the morning I use that as a way to practice mindfulness. I do journaling every single night using my Stand Up To Anxiety Journal.
Mine has changed a lot over time, but that is that's just what happens with self help. It changes over time to suit you because your needs will change. Within a few months from now you'll be feeling a lot happier, maybe feeling a lot more confident, a lot calmer. So your tools and habits will need to change to reflect that.
Lucy J Smith is a Mental Health Advocate, Author of the Stand Up To Anxiety Book and creator of the Mental Wellness Club. After her own struggles with severe anxiety, Lucy found ways to understand and manage her anxiety and continues to manage it using personal development, self-care, routines and having an anxiety toolkit.
Related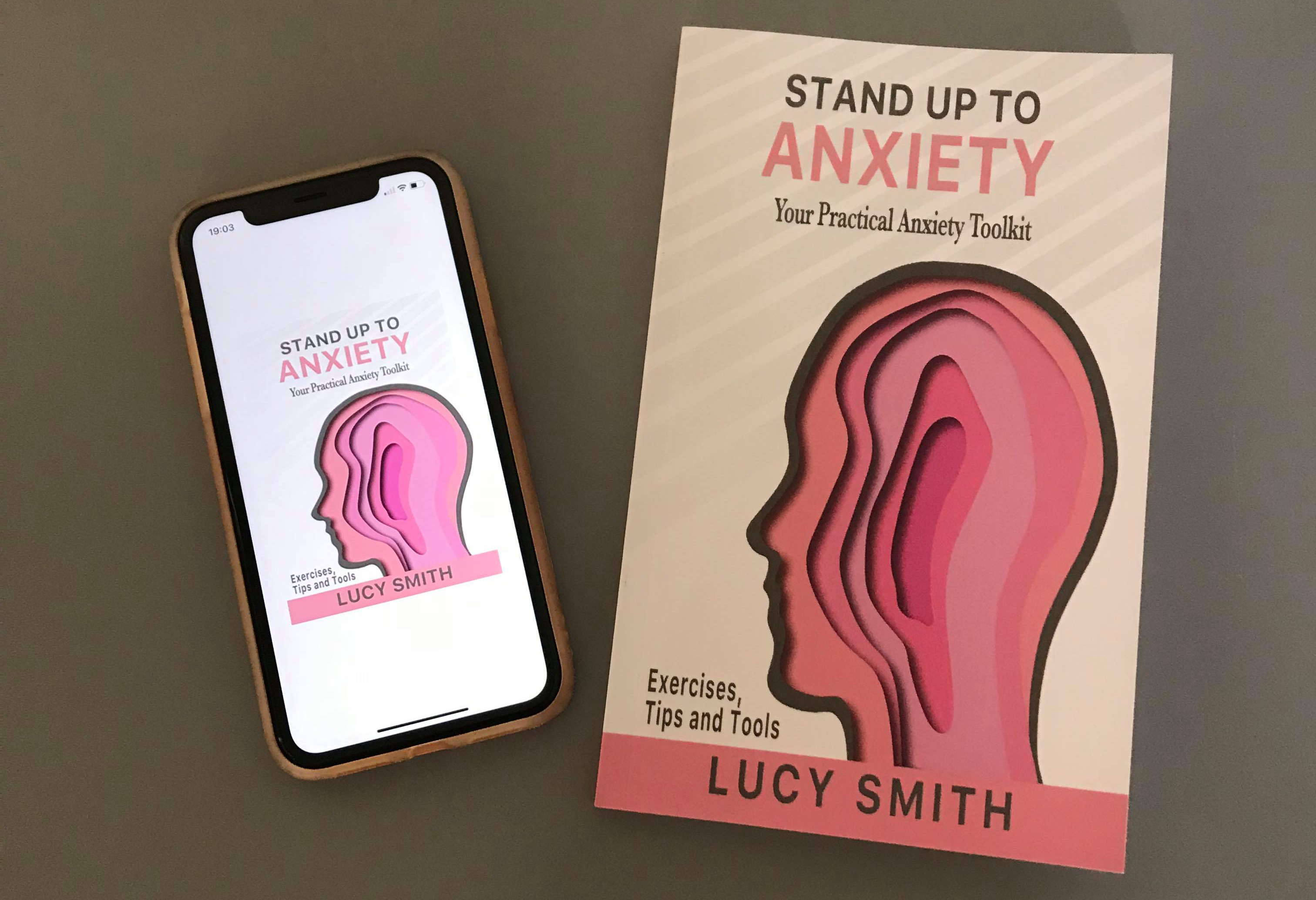 Is anxiety holding you back?
If you are struggling with anxiety right now, this book will be so helpful to you! It is based on my own experience of anxiety and panic attacks and talks you through the steps I took to understand and manage my anxiety.

Get the first chapter of the Stand Up To Anxiety Book for free
Enter your email below to get it sent straight to your inbox!
By entering your email address below you are agreeing to receive weekly emails from Lucy.