057: Signs That You Are A Highly Sensitive Person
In this episode Lucy goes through a list of 12 signs that you are a highly sensitive person. She also gives a few tips on how to manage these signs.
Scroll down to read or click play to listen
In today's episode, I'm going to be talking through a list of 12 signs that show that you're a highly sensitive person. So this is something that I think a lot of people with anxiety feel like they maybe struggle with. But I want you all to know that it's completely normal to feel like you are more sensitive than normal, or that you maybe react in different ways to most people. That's, that's completely normal, especially for those of us struggling with anxiety.
Have a listen to this list, see if any of them sound like you. And then in future episodes, I'm going to be talking about ways to help with these kinds of feelings and emotions that we experience if we're highly sensitive.
Emotionally exhausted by other people's feelings
The first one is that you feel emotionally exhausted by other people's feelings, so if there's people around you that are feeling angry or upset, you feel drained by their feelings. Also, you are quick to empathise with them, so you will try to support them, you will try to make them feel better. Again, this can lead to you feeling drained, and kind of absorbing their feelings and ending up feeling the same way they feel whether or not that actually has affected you. So say, for example, they're upset about something that has absolutely nothing to do with you, you can still end up feeling the same feeling that they feel.
Feeling under pressure with deadlines and tasks
The next one is time pressure, it's a struggle and sometimes you feel overwhelmed by tasks. So if you've got a lot of things to get done, you've got a lot of things on your to do list, it can feel too overwhelming to even start. Sometimes this is one that I struggle with, but I find that to do lists really help me. Once I've got it written down, I can just work through it and I can tick off as I go. I find that that's a really helpful tool for me.
Feeling withdrawn
You might find that you often feel withdrawn. If you are in groups of people, you get to a point where you just can't be around them anymore, you need some time and space to yourself. And this is one that's probably the most common sign or symptom for me, if I have spent a whole day with a group of people, by the end of the day, I am feeling were really withdrawn, I'm wanting to be completely on my own.
It can also show up in not speaking. So if you are in a group of people, and you've been with them for a long day or a few hours, and you begin to feel withdrawn, that can show up in you just completely going silent, not getting involved not joining in and not talking. So that can be something else that we experience.
Sensitive to noise, bright light and changes in temperature
The next one is really sensitive to noise, bright lights, and also changes in the temperature. So you're really aware of the temperature, how hot or cold it is. You feel really jumpy, so if there's a sudden loud noise, then you might get a bit startled and jump out of your skin. I know that's definitely one for me. If I see something out the corner of my eye, I will jump. I'm quite a jumpy person.
Low pain threshold
You can also be more sensitive to pain and have quite a low pain threshold. Again, this is the one for me, really sensitive to pain. So something that most people or some people wouldn't feel is really painful for you.
Overwhelmed by big crowds
Also that you feel overwhelmed by big crowds. Especially in public places where there's lots of people, this is one that a lot of people with anxiety struggle with anyway because it's quite a common trigger. But especially if you're a highly sensitive person as well it can be really overwhelming to be surrounded by a lot of people.
Struggle to cope with change
The next one is struggle to cope with change. Again, this one links very close to bit anxiety very often change is a common trigger. If the plan changes from what you thought it was originally that can be quite upsetting and quite hard to cope with.
Sensitive to caffeine and other stimulants
You can also be extra sensitive to caffeine and other stimulants. So I actually don't drink caffeine anymore for this reason because it triggers my anxiety. It gives me palpitations, it makes me more alert not in a good way, a lot more on edge and jumpy. I stay away from caffeine now for that reason, so if you're feeling extra sensitive to those it might be worth having a think about maybe cutting back or getting rid of it completely.
Hate conflict
You hate conflict. So both witnessing conflict and that can even be on the TV. I really struggle with watching violence of any kind, any kind of horror films, murder, crime scene, anything like that. I really, really struggle with watching to the point that I just don't anymore because it's not worth it.
Also experiencing conflict yourself. So if somebody is confronting you or somebody is arguing with you, you really hate that conflict, and try to step away from it, because it's not a very nice experience for you.
Hard on yourself
So quick to be quite down on yourself, when you don't meet expectations that you've set for yourself. This could be either expectations, goals or targets set by work or external people or just set by yourself. You're very quick to be negative about yourself.
Worry about what others think
You often worry about what other people think and have a constant fear of rejection, worried that people aren't going to like you or people aren't going to be your friend anymore, or your partner is going to leave you. This can be the same when going for jobs, you're worried about not getting the job, you're worried about criticism or negative comments made about you.
Struggle to let go of negative emotions
And lastly, that you struggle to let go of negative emotions. So if you're feeling upset or angry you struggle to let go of those emotions, you struggle to move on past them, and they seem to hang around for quite a while. You might tend to cry a lot, I know this one for me, I cry way too much. But again, like I said at the start, it's normal, we need to get to the place that we accept that it is completely normal for us and it's okay.
You may sometimes find that you overreact. Again, this one one that I probably do. So something happens and you react, arguably overreacting,  blown out of proportion, not what would be considered a rational reaction.
How to manage these signs
These things are something we can work on. They're not an issue. They're nothing to fix. But there are ways that we can learn to cope with these signs. I would just suggest using them as we do in the anxiety toolkit, if you want to, you can add a section with these kinds of things on as well. So that you know exactly what yours are and then from there, you can begin to work on tools to help.
Like I said, for me, the time pressure and the overwhelming by tasks, doing a to do list really helps me so maybe that's something that helps you and that's something that you can work on. Again, being overwhelmed in big crowds, something like mindfulness might really help you in that situation. So if you can add these symptoms or signs, whatever you want to call them to your anxiety toolkit and come up with a few ideas to help you with managing them that will be really, really useful.
Over the next few episodes, I'm going to go into a lot more detail on how to actually manage these and how to work on them. So listen out to future episodes for that. Let me know over on Instagram, which ones of these you find useful. In the post on my website, if you go to the show notes of this episode, you'll see a graphic with a list of all of these so you can screenshot that you can tick the ones that you associate with yourself and then share it on Instagram and tag me so I can see how you feel about yourself and if you're a highly sensitive person. I hope you found that really useful and I'll speak to you in the next episode.
Lucy J Smith is a Mental Health Advocate, Author of the Stand Up To Anxiety Book and creator of the Mental Wellness Club. After her own struggles with severe anxiety, Lucy found ways to understand and manage her anxiety and continues to manage it using personal development, self-care, routines and having an anxiety toolkit.
Related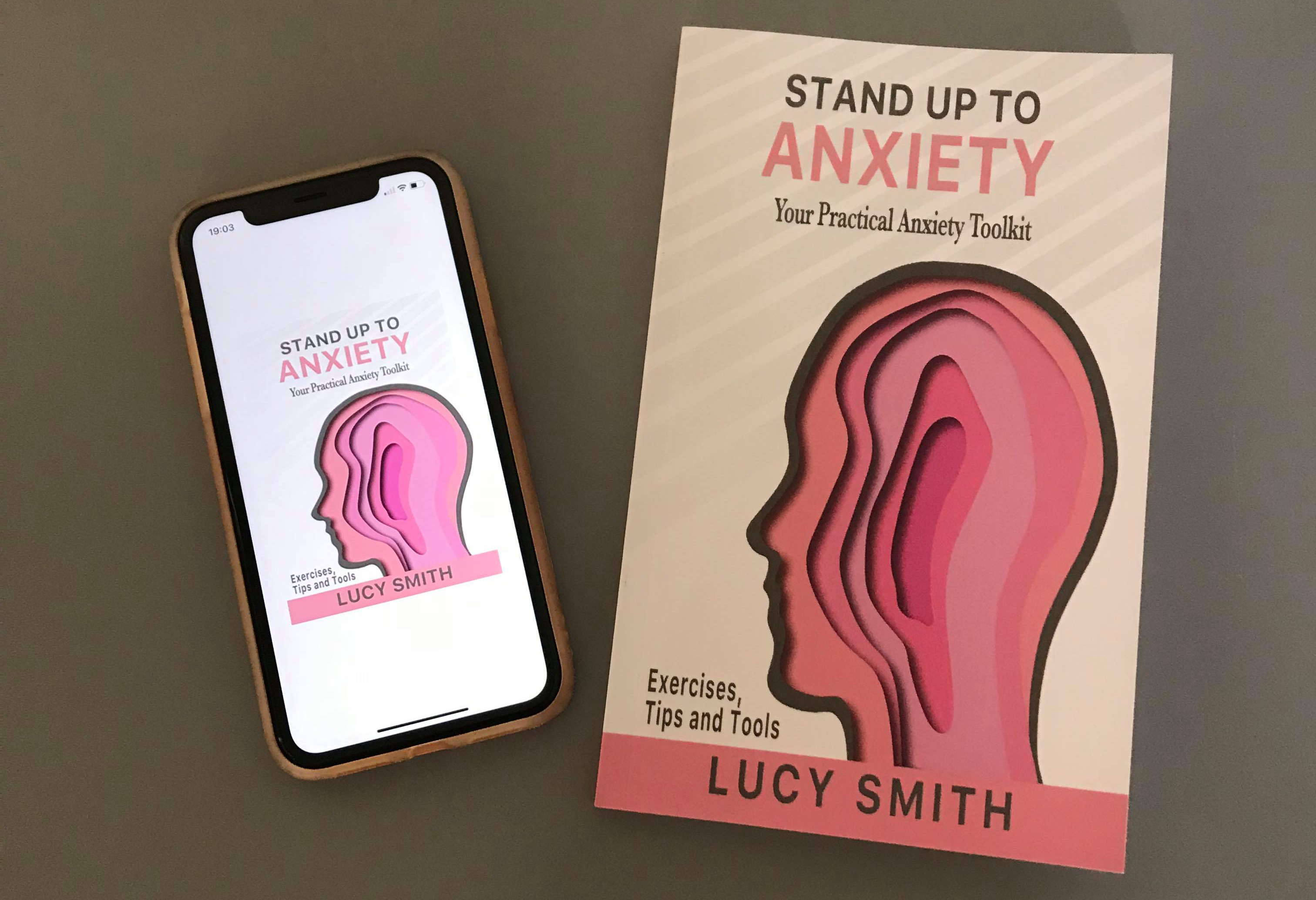 Is anxiety holding you back?
If you are struggling with anxiety right now, this book will be so helpful to you! It is based on my own experience of anxiety and panic attacks and talks you through the steps I took to understand and manage my anxiety.

Get the first chapter of the Stand Up To Anxiety Book for free
Enter your email below to get it sent straight to your inbox!
By entering your email address below you are agreeing to receive weekly emails from Lucy.