058: How To Thrive As A Highly Sensitive Person
In this episode Lucy talks about how to thrive as a highly sensitive person, giving practical tips to help all the signs discussed in episode 057.
Scroll down to read or click play to listen
How to thrive as a highly sensitive person
In today's episode, I'm going to be talking all about how to thrive as a highly sensitive person. This episode follows on from the previous episode, so if you haven't yet listened to that make sure you go and listen to that one first.
In Episode 57, I talk all about all the different signs that may show that you're a highly sensitive person. In today's episode, I'm going to be going through those signs again, but I'm going to be giving you some practical tips and tools to help you with how to start managing those signs and to thrive as a highly sensitive person without feeling overwhelmed by all the symptoms that you may feel that go alongside it.
Dealing with time pressure
Firstly, time pressure. This involves feeling overwhelmed by deadlines or if you've got a lot of tasks and don't know where to start. A to do list or priority list are a really good way to do this. So you can use a diary, write down the date and all the tasks you need to do, you can colour code them if you want to in order of priority. That will really help you to know where to start, because sometimes if we've got about 20 things in our heads that we know we need to do, we can't make sense of that to be able to actually get started, so writing it down, and some kind of prioritisation will really help you with that.
What to do when feeling withdrawn
The next one I wanted to talk about was feeling withdrawn. Just to allow it, it's completely okay to withdraw, it's completely okay to feel that you have had enough of being around other people and to just withdraw and use this as a time for self-care. Allow yourself to rest and relax, use it basically as a sign that you need to take some time for yourself, maybe go have a nice bath, take some time to read your favourite book, go for a nice nature walk. Just use that time productively for self care and just be okay with that, accept that it's okay to have some time for yourself.
Obviously, if you're becoming withdrawn a lot and it's becoming a daily occurrence, or it's happening really, really often, then you may need to have a little look into how you can manage that a little bit differently so that you withdraw less. But for now, if it's just every now and then just use it as a time for self-care.
Feeling overwhelmed?
The next one I wanted to talk about was being overwhelmed by big crowds. Now for me personally, this is one that I really struggle with. I like to practice mindfulness in these moments. So I will try to focus on things around me – maybe look at what colour the sky is, look at some trees or flowers, try and find something that you can focus on something that you find really relaxing. Look for something like that to help you feel a little bit calmer in those situations. This is a very positive way to thrive as a highly sensitive person.
Coping with change
The next one is struggling to cope with change. Planning can help with this, although obviously, if the plan changes, then then you're going to maybe struggle with to cope with that change. But I believe you can prepare to cope with change. I actually don't like change very much. So I'm very organised person, I always have really, really specific plans.
For example, I don't like to be late. So if I have to go a different way because there's traffic then I can really struggle with those kinds of changes. Whether or not I've planned for them. So when you can try to plan or prepare yourself if you know there's going to be a change. If there is a last minute change, then ask for support, tell the people around you that you're struggling with that change. Again, use mindfulness, use some grounding techniques to help you stay calm in that moment. So those are some really good things to use.
Tips for feeling sensitive to stimulants as a highly sensitive person
If you're feeling sensitive to caffeine or other stimulants, then the obvious thing is basically to reduce them. You can track your intake. I do this in a journal so in the
Stand Up To Anxiety Journal
, I have my daily habits. I don't drink caffeine at all now so it doesn't even have to be my habit because I just don't drink it and I haven't done for quite a few years. But one of mine on there is to only have one sugary food a day. So I can tick that box if I've only eaten one sugary food. I don't want to eat/drink any more than that any day.
I also have a space in the
journal
for my symptoms of anxiety so I can track and I can notice the pattern between my sugar intake and my anxiety triggers and symptoms. I know that the more sugar I have, the more my anxiety gets triggered, or the more severe my symptoms are. So that's a really good way to notice the patterns.
Then if you are realising the more caffeine you have, the more anxiety you have, or the more these kinds of symptoms as a highly sensitive person are coming up, then you can begin to either reduce or completely remove those stimulants from your lifestyle.
What to do if you hate conflict
The next one is hating conflict. So this is both witnessing, like on the TV or face to face with your friends, or family members, or also just experiencing it yourself through confrontation or arguments. So reduce where possible when it comes to TV. If watching films that are scary, or revolve around crime or anything like that triggers your anxiety, if that is making you really struggle in any way, then don't watch it. What's the point of watching something that makes you feel rubbish?
When it comes to face to face, or somebody is confronting you or arguing with you just walk away from them. This is easier said than done and sometimes you feel you have to fight your corner and that's completely okay. But if it's a family member or friend, I would just get in the habit of explaining to them  "I'm really struggling with confrontation, arguments, violence, conflict or whatever and I don't want to be around it" then when it happens, they will hopefully understand when you walk away from that situation.
Tips for the emotional signs to thrive as a highly sensitive person
Lastly, we've got a few that are about how you're feeling. I'm going to group them all together because the answers and the practical tips for these are all the same. So these tips cover:
Feeling emotionally exhausted or absorbing other people's feelings
Being quite down on yourself, when you don't meet the expectations you've set
Worrying about what other people think
Fear of rejection
Struggling to let go of negative emotions, crying a lot or overreacting
So for all of those kinds of feelings, or anything at all to do with how you're feeling emotionally, journaling is the best way I have found to help. Journaling about how you're feeling, literally try to write it down without judgement. Just allow yourself to write down the words of how you're feeling and let them sit there on the paper. Don't try to fix them, don't judge them, don't try to change them. Just write them down accept them for what they are. Talking to people can also really help if you've got somebody that you trust and that you can talk to.
How you talk to yourself matters. Positive self talk is really, really important. There's an episode coming up on this because it's such an important topic,  try to speak to yourself as you would a best friend. If your best friend was struggling, they were feeling upset or they were struggling with anxiety or anything at all, how would you speak to them? I'm sure you would be really, really supportive, you'd give them a cuddle, you'd tell them you're there for them, you would say it's okay, don't worry, it will all get better. So say those words to yourself and really try to be kinder to yourself, because that can make a huge difference.
Lastly, some positive affirmations can be really, really helpful. Again, that links in very well with the positive self talk. So rather than that negative, downward spiral of talking to yourself about how stupid you are, how rubbish you are, how many mistakes you've made, change that into really positive affirmations so that you can actually speak positively to yourself and about yourself. That can make a huge difference.
Over the next few weeks, I'm going to continue to talk about these kinds of things. I'm going to talk a lot, a lot more about positive self talk, affirmations, all of those kinds of topics because they're really, really useful. I think that a lot of us struggling with anxiety also struggle with negative self talk. So this is something that I want to focus on for a little while just so that you can learn a few tips about that specifically.
I hope you found that really useful and you now have some tips on how to thrive as a highly sensitive person. I know from person experience that it definitely can be done.
Lucy J Smith is a Mental Health Advocate, Author of the Stand Up To Anxiety Book and creator of the Mental Wellness Club. After her own struggles with severe anxiety, Lucy found ways to understand and manage her anxiety and continues to manage it using personal development, self-care, routines and having an anxiety toolkit.
Related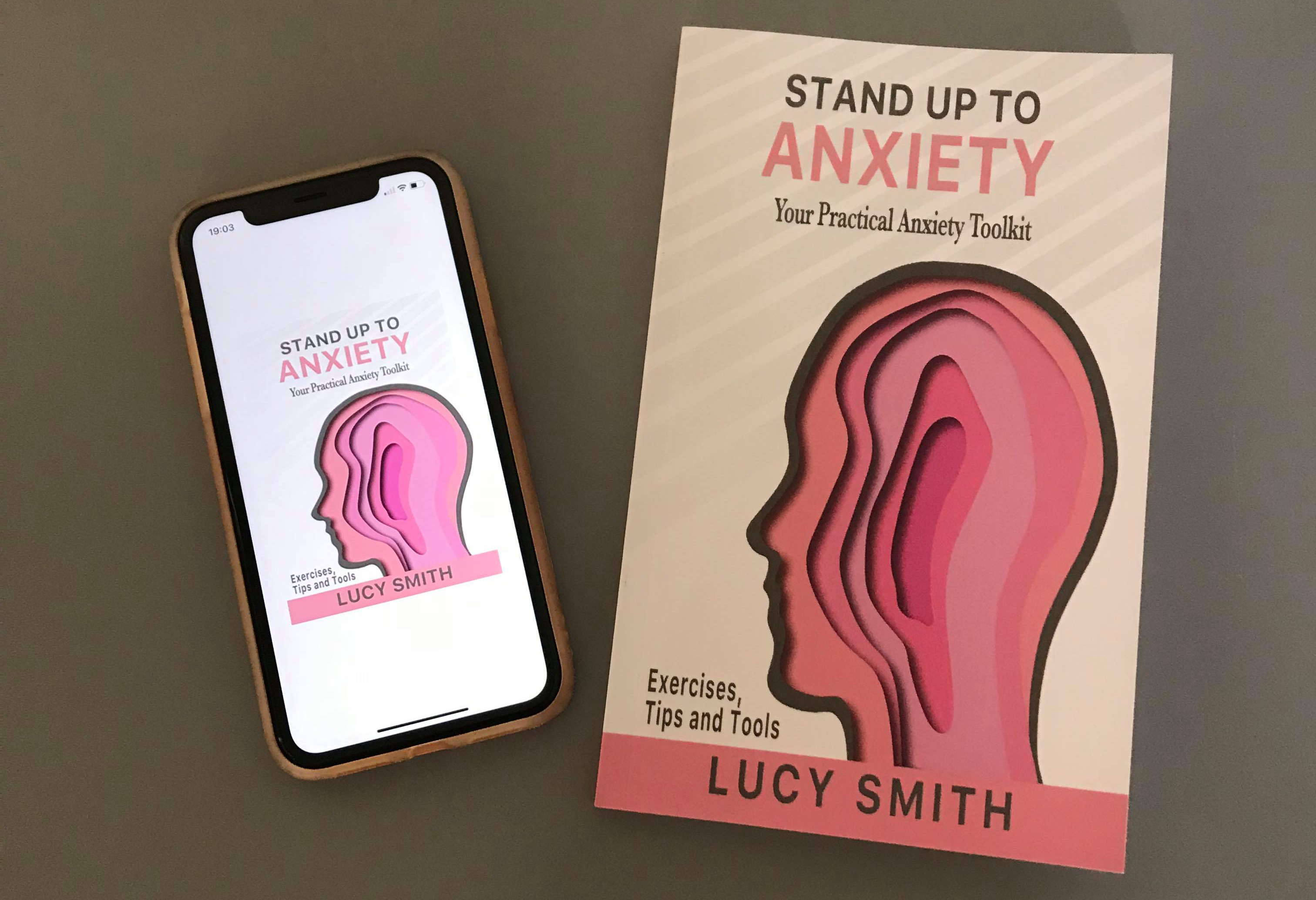 Is anxiety holding you back?
If you are struggling with anxiety right now, this book will be so helpful to you! It is based on my own experience of anxiety and panic attacks and talks you through the steps I took to understand and manage my anxiety.

Get the first chapter of the Stand Up To Anxiety Book for free
Enter your email below to get it sent straight to your inbox!
By entering your email address below you are agreeing to receive weekly emails from Lucy.