062: Dealing With Trauma with Jessi
**TRIGGER WARNING**
In this episode Lucy interviews Jessi all about dealing with trauma, Jessi explains the difference between mental health struggles and trauma and discusses her two favourite therapies to help trauma.
Scroll down to read or click play to listen
Dealing With Trauma
Lucy: Today on the podcast, I'm interviewing Jessi all about how she has struggled with trauma in the past and all of the therapies that have really helped her with overcoming that. So to start with Jessi, please can you just tell us a little bit about yourself?
Jessi: Yeah, absolutely. Well, first of all, Lucy, thank you so much for having me. I'm really excited to be here. A little bit of background, my struggles with mental health and trauma really started when I was in high school, I think so many people going through high school have similar struggles, although everyone has their own unique journey. But for me, it really looks like depression and anxiety, some self harm, some body dysmorphia, and disordered eating.
The big part of the trauma really came in because of a relationship I was in in high school, the guy that I was with, was also really struggling with his mental health very, very similar struggles to me and he was also struggling with suicidal ideation. I really felt responsible for him, honestly and I felt like I was responsible for keeping him happy and keeping him alive. So when the day came, that he did try to take his own life, I was the one that called the police that brought everyone there to really try to help and support him.
That night was very traumatic for me, but also kind of confusing, because I knew what it was like to struggle with mental health. I knew what it was like to feel like you weren't in control of your life and really struggling with that. So I not only struggled with the events of that night, but also with my decision from that night in my mental health for many years after the events of that night.
As I really started to heal started to explore some of these, these therapies that I'm sure we're going to talk about today. And then also look at, okay, how can I just talk about this? How can I just stand up whether it's on a podcast or on a stage or in a group of friends and say, hey, you know, this is what I was struggling with. This is, what I went through, this is how I got through it, and how can I help and be that guide for you throughout your own healing journey. And that really brought me to where I'm at today as a speaker and an author and just a really big mental health advocate, and helping people understand that it's not something that has to live in the shadows.
Lucy: Yeah, definitely. I think that's so so important, like you say, to talk about it. I mean, the experience you've been through, obviously, is very traumatic and very difficult for you and for your your boyfriend at the time. But to be able to then get through that and talk to other people can help them through it. So people that are struggling with exactly the same as you were back then can can learn from you and can know what to do to help them.
Jessi: Absolutely, I think it's just one of those things where you don't have to be an expert, you don't have to have seven PhDs, you just have to be able to say, this is where I was. And this is how I got to where I am now. And maybe this is going to be a path that works for you, too.
Lucy: Yeah, definitely. So what do you think is the main difference between mental health and trauma? Because I think people that are quite new to experiencing it, that might be a little bit confusing. So can you just explain the difference?
Jessi: Absolutely. Well, if you envision kind of a big bucket and a smaller bucket or a big circle on a smaller circle, trauma definitely is that smaller circle in the bigger circle of mental health and mental illness. But it has some very unique characteristics that make not only experiencing trauma, very different, but healing from trauma very different as well. So when you think of things like depression, or bipolar disorder, those live primarily in your brain, they are either chemical imbalances or emotional imbalances that are happening in your brain. And maybe in your nervous system, if you want to go to that extent.
Trauma has a very somatic component. And by that I mean it literally gets stored in your body, those stuck emotions, that stuck energy from your traumatic incident. It isn't just something that lives in your brain, it is something that is stored physically in your body. Some people carry trauma in their throat, for example, if they were a victim of sexual assault, and they were unable to scream or unable to speak up about the event after it happened, maybe that trauma is going to be held there. For other people, it may be held in their pelvis, it may be held in their back, it may be held in their arm, it really doesn't matter where it's held. But the point is that there's that very physical component of trauma.
The reason that it makes healing from trauma different is that so many traditional forms of therapy like talk therapy, CBT and DBT is that they don't really address that physical somatic component. They're excellent at addressing the brain things, but how can you really dig into that physical component of trauma by sitting there and talking about it?
That's why I'm such a big fan of different forms of integrative therapy that incorporate movement or that incorporate memory reprocessing or incorporate being outdoors or working with animals, things that really tap into that bodily physical component of trauma. Because a lot of times what happens is, once that physical part is kind of able to release and is able to move through your body, then the emotional part of trauma can kind of follow from that. So hat physical part can be kind of a dam that needs to break in order for the trauma healing process to begin, if that all makes sense.
Lucy: Yeah, definitely. Thank you. And so how would somebody notice if they are struggling from a previous trauma?
Jessi: Well, that's the interesting thing about trauma is in my experience, and in so many experiences of people that have spoken to both professionals and survivors, the definition of trauma is so very, very unique. For example, let's say that two women were mugged on their way home from work, one woman might feel like it wasn't really that big of a deal. I mean, yeah, it was an inconvenience and a little bit scary, but it's fine. And she's able to move on from that. Whereas the other woman may be completely traumatised by that and really need to start to heal.
Where this gets interesting is the American Psychological Association, who creates the DSM-5, which is the diagnostic manual for psychiatric disorders, they have a very specific list of what is considered a trauma. So when you start to look at psychiatric diagnoses surrounding trauma, it can get a little bit fuzzy of was this a trauma was this not a trauma is what I'm feeling remnants of trauma, or am I just being ridiculous, it gets a little bit fuzzy. But the way that I like to talk people through this is that if there's something from your past that is continuing to come up for you, it may be affecting your present relationships, or your present ability to work or your relationship with yourself and your body and your sexuality. And whatever that is, then there's probably something there that needs to be addressed. Oftentimes, from that physical part, it can literally feel like you're carrying a weight around, especially when you are in specific situations. So to give a really concrete example, for me, part of that relationship in high school was not necessarily taking being taken advantage of sexually, but it was kind of, I was a doormat, and so whatever he wanted, I gave type of thing. And so as I got older and moved on from that, anytime I found myself in any sort of intimate contact, even just a hug with some, with some people, I would get very, very anxious, I would get kind of flighty and jittery and nervous and kind of just tear about the kitchen or wherever I was in my house. And that was a trauma response. It wasn't that anything traumatic was happening in the present moment. But it was that my body was physically reacting, and I could feel something in my body when something was happening that reminded me of a traumatic incident. So if you find yourself having any sort of moments like that, where you're having kind of this, quote, major physical response to something that is, quote, not that major, and of course, those are very subjective terms. But that's probably an opportunity for you to look into yourself and into your past and say, Okay, where is this coming from? Where is this stemming from? And then probably acknowledge that that's because of some traumatic event from your past.
Lucy: That's great, thank you. So what would you say are two of your favourite therapies to help?
Jessi: Definitely, I get this question in so many podcasts interviews, and it's also my favourite and least favourite question because there are so many amazing ways to heal. And my book I discussed nine but to pull a couple today, I'd say two of my favourites are Equine Assisted Therapy and eco therapy, Equine Assisted Therapy, there's two main modes of that there's the EAGALA model and the poena model. And they're different but similar.
The gist of Equine Assisted Therapy is that you're using the horse in conjunction with nature and the mental health professionals on scene to kind of serve as metaphors and co-drivers in this seat of your trauma healing journey. Horses are incredibly intuitive, they are incredibly sensitive. And they're also able to model what a positive and healthy awareness with their environment is because of their life as a prey animal, as a prey animal as opposed to you know, a dog or a cat that is a predator. Horses have to be very aware of their surroundings at all times, because they're going to be the ones being chased. But they also aren't doing it in this hyper vigilant, overly aroused state, like people who have experienced a trauma can be in.
There are some incredible stories of trauma healing with Equine Assisted Therapy and with horses, just to name one that I think is absolutely almost magical, If I'm being honest. There was a woman who went to an equine assisted therapy facility, she wasn't a patient yet, but she just went to go see what it was all about. She was standing in this field with a horse that came up to her and kind of gently nibbled on her arm a little bit. And she was like, oh, that's really cute. And then the horse did a big lap around the field and came back and kind of nibble on her arm a little bit harder. And she's like, wow, he really loves me. And the horse did another lap around the field and came back and really chomped on this woman's arm, like bent down hard. And she's like, oh, that hurts. And that pattern of cute to love to hurt, helped her open up and identify her abusive relationship that she was in. Now this horse was not told or trained to do this with every person that comes onto the facility, but because of its ability to be intuitive and sense what's going on with the person, it was able to kind of be that catalyst for change in the beginning of this woman's healing journey.
Another one of my favourite therapies, like I said, is eco therapy. And the reason that I love eco therapy so much beyond just my personal enjoyment of being outdoors is because of the myriad of benefits that come from spending time in nature, whether that's just sitting on your back porch or going on a multi day backcountry adventure, there have been so many studies that look at not only the emotional benefits, like reduced symptoms of depression and anxiety, but also the physical benefits like lowering cholesterol and lowering and risk of heart disease that come from spending time in nature.
And when you pair nature's innate ability to heal, with a trauma and maybe movement in nature, or experiencing nature with all of your senses, through all of those inputs, that just creates a really beautiful healing environment and kind of like the horses nature becomes that co-therapist in your healing journey.
One of the things that's kind of cool about nature and eco therapy, is there's actually something called indoor eco therapy, which sounds incredibly oxymoronic. But what it is, is it brings elements of nature indoors, like a little mini fountain that you plug in, or a painting of nature on the wall or a sandbox that you can kind of touch and play. And when you're feeling over aroused, those things actually harness that same power of nature, though, not quite to the same extent. And bring it indoors so it's more accessible and can be integrated into really every element of your daily life. So nature's incredibly powerful horses are incredibly powerful. And I'd say those are probably two of my favourite integrative therapies for healing from trauma.
Lucy: Wow, that's so interesting. I literally can't believe that story about the horse.
Jessi: Right? It's crazy. But it's so cool.
Lucy: Yeah. Well, I mean, I haven't heard of either of those therapies, because I haven't experienced trauma myself. So that's not something that I've looked into much. But wow, those two sounds amazing. And to be honest, I do love going outside. And although I didn't know about that therapy, I do notice that the more I go outside, the better I feel mentally. So I guess that kind of links in with that as well, anyway.
Jessi: And I will say that the therapies that I mentioned today, as well as the ones that I discussed in my book, they're not exclusive to trauma, it's not like you're going to be kicked out of the building, if you don't have a trauma and you want to use one of those types of therapy. They've just been exceptionally helpful for trauma because of some of those elements that we already talked about. But yeah, they're, they're incredible. They're so powerful. And I'm the same as you. I mean, it sometimes feels like nature's really the only place that I can breathe, and just be calm for a little bit. So it's, it's, it's amazing the things that it can do for someone's psychological health.
Lucy: Yeah, definitely. So what's one tip that you would give someone that if they're listening today, and they want to get started, but they just haven't got a clue? How what would you suggest that they do?
Jessi: Now, the first thing that I would do or suggest doing is do a little bit of research, whether that's through reading my book, doing some research online, or whatever that is for you, do some research about what different types of therapy are out there that you would be interested in, because not every therapy is going to appeal to everyone. And then once you've figured out, okay, I want to try this. And here's a therapist in my area that works with this type of healing, go and try it.
And this is the big tip, this is what I'm building up to here. If it doesn't work, try something else. I think so many people, they get up the courage to go to therapy, and they're like, I'm going to do it, I'm going to start healing. And they go, and they either don't have a positive experience with the type of therapy, or they don't have a positive experience with the therapist as an individual that they chose. And then they're like, well, healing must not work for me, I'm not going to go back to therapy again.
The problem with that is that every single therapist conducts their therapy in a slightly different way. And every method of therapy works in a different way. And so if you try one, and you're like, not the right fit for me, don't just say, okay, therapy isn't the right fit for me. But try a different therapist, try a different model of healing until you find the one that really works well for you. Because I promise, when you find that match, it is going to make all the difference in the world when it comes to your ability to heal safely and successfully.
Lucy: Well, that's great. Thank you. And I think I'm definitely going to go and have a look into ordering your book, because it sounds like it can be really helpful just to learn a bit more about all these different types of therapies and how they can help.
Jessi: Yeah, thank you. It's on Amazon is everywhere you want to buy books, so hopefully you and some of your listeners can check that out.
Lucy: Yeah, I'll put the link in the bio as well so that everybody can can go and look at that as well. Perfect. Thank you. Cool. All right. Have you got anything else to add about dealing with trauma before we finish up?
Jessi: Just one kind of last little thing I like to share on podcasts interviews is that in the US, it's estimated that seven out of every 10 people will experience a trauma during their lifetime. And so if you are someone who has experienced a trauma whether you're in the US or not, but if you're someone who's experienced a trauma, and you're like, I'm completely alone, no one understands what I'm going through, I'm just navigating these choppy waters all by myself, I want you to take comfort in that statistic a little bit and understand that most likely, multiple people, you know, have experienced a trauma as well. And just that little ability to say, hey, this is what I've been through, can you relate to this at all, can open up doors for conversation and healing and connection and support that can feel impossible from where you're sitting at right now.
So you are not alone or whatever you're going through. Yes, your experiences are unique, and your reactions are unique, and your healing journey will be unique. But there are other people who have been where you are, and are willing to kind of be that support system for you as you go through your healing journey. So just remember that if you take nothing else away from today, just remember that you are not alone. You are not broken. And there are people out there who can and want to help you.
Lucy: Thank you. Yeah, I think that's not so important. And that's why I'm such a big fan of Instagram because there's so many mental health advocates out there that can prove to you exactly that, that you're not alone with anxiety, with depression, with trauma with anything, you are not alone. You're not the only one experiencing it. And the more you speak out about it, the more you learn that actually there's a lot of people out there that are feeling the same.
Jessi: Absolutely 100%
Jessi Beyer is an award-nominated international speaker and the #1 best-selling author of How To Heal: A Practical Guide To Nine Natural Therapies You Can Use To Release Your Trauma. Named a 2020 "Young Entrepreneur to Watch" by IdeaMensch, she has been featured in over 160 media outlets, including Thrive Global, Refinery29, and Elite Daily, and has spoken to thousands of people around the world through groups like Penn State University, Leadercast NOW, and the Institute on Violence, Abuse, and Trauma's international summit. Outside of her professional life, Jessi is an MA candidate in critical psychology and human services at Prescott College and a K9 search and rescue handler with her dog, Phoebe.
Lucy J Smith is a Mental Health Advocate, Author of the Stand Up To Anxiety Book and creator of the Mental Wellness Club. After her own struggles with severe anxiety, Lucy found ways to understand and manage her anxiety and continues to manage it using personal development, self-care, routines and having an anxiety toolkit.
Related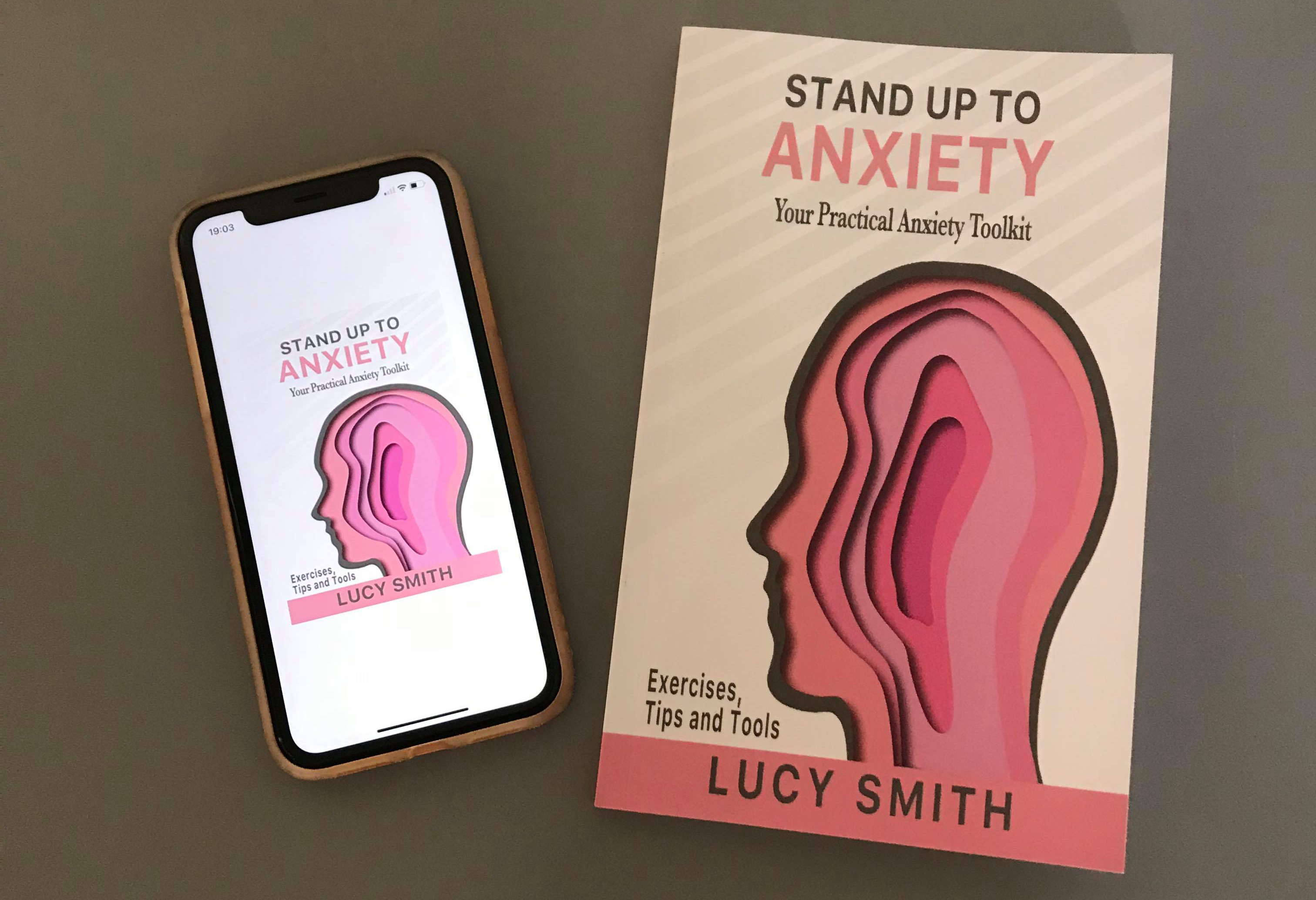 Is anxiety holding you back?
If you are struggling with anxiety right now, this book will be so helpful to you! It is based on my own experience of anxiety and panic attacks and talks you through the steps I took to understand and manage my anxiety.

Get the first chapter of the Stand Up To Anxiety Book for free
Enter your email below to get it sent straight to your inbox!
By entering your email address below you are agreeing to receive weekly emails from Lucy.