063: How To Overcome Fear
In this episode Lucy talks about how to overcome fear using the tool she describes in the Stand Up To Anxiety Book.
Scroll down to read or click play to listen
In today's episode I'm going to talk about how to face your fears. So I've had a lot of experience with this myself, because when I first was referred to see a counsellor, the first thing that she realised was that I had two huge fears, one of which was driving, and the other was being in public places alone, particularly shops.
Those were two things that I felt you had to be able to do, and feel confident doing to live a normal life, I felt like you can't really get by and live a normal life without being able to do those things on an everyday basis so I decided to work with the counsellor on overcoming them. I talked about this experience a lot in my book, because there was a particular technique that I used that really, really helped me with facing my fears.
Rating my anxiety
I call it 'rating my anxiety'. So what you do is you have to set a time, every single week to go out and face that fear and actually do the activity that scares you. And you rate how you're feeling. So on a scale of one to 10, how you were feeling before, during and after going to do that thing.
So it could be like it was for me at the start. It was 10 out of 10, I was trembling, I had loads of physical symptoms, I was feeling sick, I was shaking, I was really, really nervous. I was crying, It was terrible. It was a horrible physical experience for me. And then you rate how you're feeling during so you go out you do the drive, you go to the shop, or you do the public speaking whatever it might be and after you're finished, you reflect on how you felt during. And then once it's finished, and it's over, you reflect on how you feel after.
Generally, anxiety for me was a lot higher at the start a little bit less during and then after it calmed down quite a bit. But for about an hour or so after the experience it was still relatively high, then after about an hour, I had calmed down and gone back to what I would consider a normal kind of feeling.
The idea is that over time those numbers go down. So it starts as a 10 out of 10 and then within a few weeks or a few months, you're maybe feeling a seven out of 10. Then it goes down a little bit more, and it's only a five out of 10. I'm not saying that it will end up being zero out of 10 for you. But over time, it will continue to decrease and for me actually did go down to zero out of 10.
I actually stuck to exactly the same route with my driving. Because that was something that was easier for me to do. If I had to commit to a different route every week, it would have been so much harder. So to start with, I just decided to take small steps, do what felt achievable to me, because that's really, really important, we don't want to set goals that we don't think we can achieve. Because if you aim too high, and it feels too much for you, then it's just going to cause more anxiety and it won't help. So set something that's achievable. And then once you're comfortable with that, then you can change it up a little bit, maybe added a new route or a bit longer. And see how that works.
Now, obviously, there are variables in there that are going to come up every now and then. So for example, one of the occasions that I was driving a car nearly crashed into me, obviously, that was a 10 out of 10 during, but that was a few weeks in. So that sort of looked a bit abnormal because it was decreasing steadily and then randomly, it went up to 10 out of 10 again, so things like that will happen.
And that is always going to happen is the same with any kind of thing. For example, public speaking, it's going really well, your anxiety is going down and then you make a mistake, or you stumble, or you can't think of the word that you're trying to say. Then obviously that's just a terrible experience for you. So it goes back up to a nine or 10 out of 10. That's completely normal and that will always be there. I want you to realise that that's okay, even now.
So it's been about seven years, since I saw the counsellor and since I did this first work, and now generally, my anxiety before driving and before going to shops is about 0, 1 or 2 out of 10. So very low. But every now and then, for some reason, sometimes I don't even understand why it goes up a bit higher and it's five or six. I mean other times if for example, I have to drive someone new, or I'm really nervous about driving, then it might even be higher.
It's completely normal for it to fluctuate and I want you to realise that that's okay. But just being able to actually track this and have it written down is such a good way to help you with facing your fears. Like I said mine went from 10 out of 10 to zero out of 10 within a matter of months. And although sometimes now I do still get anxiety driving it's so much better than it was before and I'm not afraid of it. I don't let it hold me back in my life. So is a really good way to get to that place where it's not going to hold you back, it's not going to stop you from living.
It's just one really simple technique that you can use to help you with facing your fears. I'll go into it in a lot more detail in my book Stand Up To Anxiety. I also give my personal examples of how it worked for me and I give you the outline of how to actually do this yourself because there are a few more steps to it that you can read in the book. So if you haven't already ordered one, make sure you go to my website and click on the links to go to Amazon or any of the other bookstores that sell my book, and you can order your copy.
Lucy J Smith is a Mental Health Advocate, Author of the Stand Up To Anxiety Book and creator of the Mental Wellness Club. After her own struggles with severe anxiety, Lucy found ways to understand and manage her anxiety and continues to manage it using personal development, self-care, routines and having an anxiety toolkit.
Related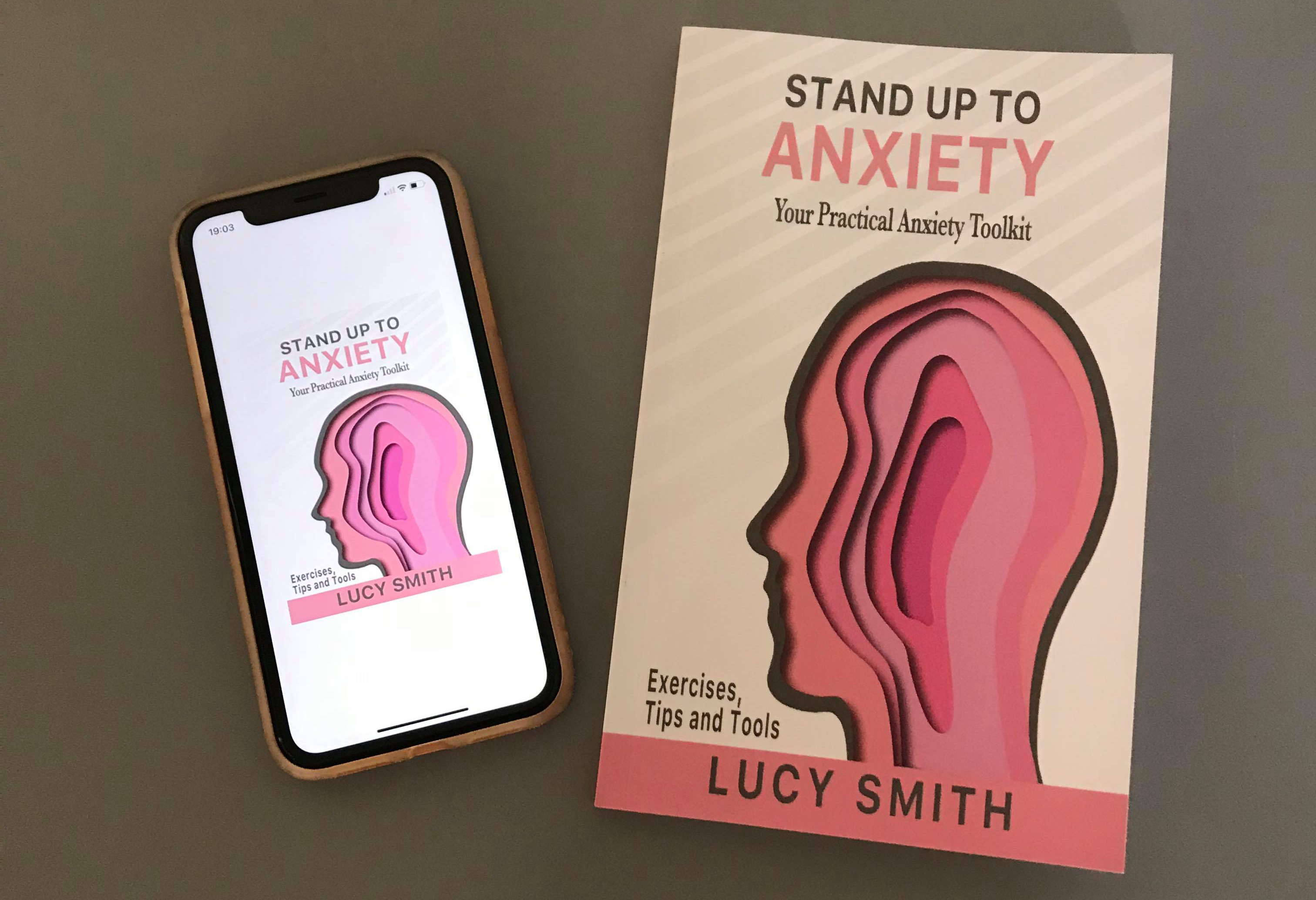 Is anxiety holding you back?
If you are struggling with anxiety right now, this book will be so helpful to you! It is based on my own experience of anxiety and panic attacks and talks you through the steps I took to understand and manage my anxiety.

Get the first chapter of the Stand Up To Anxiety Book for free
Enter your email below to get it sent straight to your inbox!
By entering your email address below you are agreeing to receive weekly emails from Lucy.