064: My Anxiety Progress Check
In this episode Lucy reflects on her anxiety levels at the moment. Her new triggers, common symptoms and the tools that are helping.
Scroll down to read or click play to listen
My Anxiety Progress Check
In today's episode, I thought it would be quite good to do an anxiety progress check on how I am feeling myself. So I did one of these when I first started the podcast. I think it's really useful for me to actually share with you guys how I am feeling and how I'm coping with my anxiety because it's very easy to get caught up in feeling like we're alone with our anxiety, and but we're the only ones experiencing it.
But I think if we can be really honest about how we're feeling, and obviously, for me, myself, I have this podcast, I'm a published author. I'm an anxiety mentor and a mental health advocate and I help a lot of people with their anxiety. But I think it's really important for me, just to be very clear that I'm still struggling with anxiety myself, and I haven't fixed my own, I don't even think that's possible to be honest. I've said, in my books, and everything that I've always talked about is about getting to a place where you understand and manage your anxiety, not overcome it or fix it.
Anxiety Progress Check – my triggers
So I'm going to start with just thinking about my triggers. Now, I've always had the same few triggers. And recently, I've noticed quite a new one crop up. The way I actually realise what my triggers are mainly is through nightmares, so I have quite vivid dreams, and my dreams generally are about my triggers. So that's a really good way for me to be able to realise what is triggering me at the moment.
I've been having a lot of nightmares about the dark. So about the dark being a scary place, or bad things happening when it's dark outside, which obviously is then causing me to feel anxious when I'm having to go outside, especially on my own in the dark. This stems back to beliefs from when I was a child and like all parents tell you don't go out in the dark or get back before it's dark and they mean well but it actually sets triggers that we're going to have for the rest of our lives if we don't work on fixing them.
Now this is also meant that I am struggling with driving in the dark again, because I must have this feeling in the back of my mind that bad things happen in the dark. If I'm driving in the dark, it's more dangerous, more likely that bad things are going to happen to me while I'm driving. So that's become a real trigger for me recently.
Anxiety Progress Check – my symptoms
Now my symptoms are generally always the same. So I experience palpitations, feeling sick, feeling hot and sweaty, they're my main physical symptoms, I get overwhelmed and I begin to really overthink everything and then I get a lot of self doubt and begin to lack confidence. And like I said, the nightmares are a very behavioural symptom, which then causes lack of sleep, which obviously then has its own physical symptoms as a result.
So a lot of symptoms, which has always been the way for me, I've always experienced a lot of symptoms, I think that generally people with anxiety do.
Anxiety Progress Check – my tools
I have got into the habit recently of meditating and visualising every single day and I'm finding this really, really helpful because I do it generally in the morning. But to be honest, I'm so in the habit of mindfulness, meditation and visualisation, that they just come naturally to me throughout the day. For example, sometimes I'll have a cup of tea and I'll just look out the window for 10 minutes and I don't even think of that as a chore or habit. It's just comes naturally, it's something that I really enjoy doing.
It's really important that you can find some tools that help you that you find really enjoyable. I use my own journal every single night, the stand up to anxiety journal, that helps me to reflect on my triggers and symptoms that day and the tools that I've used. I really like the brain dump section, that's one of my favourite parts of the journal because it helps me to fall asleep.
I'm trying to get into the habit of yoga and walking. Because I think that yoga is a really, really good way to align the mind and the body and I find it a really relaxing thing to do. And for daily walks, I absolutely love to go out during my lunch break and have a walk because it's just really grounding. I find it really relaxing, I find it a nice place just to be sort of quiet, relaxed and calm. I love looking at nature and that's really helpful to me, it's a really good way to de stress.
So that's generally what I'm using at the moment and touchwood I haven't had any panic attacks for a very long time now. However, I'm a little bit concerned about these new triggers coming up and the nightmares because sometimes I can get night terrors which can then cause panic attacks. So I'm keeping an eye on that and seeing what I can do to try and help me with that. Things like visualising myself at night, but being safe, visualising myself driving it dark in the dark and being safe and I'm finding that really useful.

Anxiety Progress Check – other
A few other things that I've noticed recently, I've been feeling quite tired. This is quite a common thing for me so I'm looking at taking some multivitamins every day. And again, linking back to the exercise go for the daily walk will really help with my tiredness as well.
I've also found that I've been a little bit distant from social media, I've been avoiding it a little bit, I think, and I'm not really sure why I've been doing that. So that's something that I'm going to look into, because I think social media can be quite a harmful place to be. But at the same time, it's, it's a community that I love, especially on Instagram, I've got such a amazing community of other mental health advocates, and I don't want to lose contact with them. Because that's a really good form of therapy for me, it's a really good way that I connect with the people and it helps me with my own anxiety as well.
I'm currently looking into that and thinking about what the potential reasons for that might be. Generally, when I've struggled with social media in the past, it's been things like comparing myself to others, or feeling judged by others, worrying about what people think. So I'm going to do a little bit of journaling on that and find out what might be the reason behind that.
I want you to take from this that you are definitely not alone with how you're feeling. Like I said I've been working on my anxiety now for about seven or eight years. I've published a book about anxiety, and I'm still struggling with anxiety. So please don't ever think that you're behind, or that you're alone in how you're feeling because you're really not.
I also want you to take from this that you can do your own progress check similar to this every month or every few weeks, just to think about what your triggers are, what your symptoms are, what tools are working and anything else at all that you've noticed about yourself, your mindset or your life. The stand up to anxiety journal can be a really helpful tool to help with that because it helps you to reflect every single day, and you've got it all written down so at the end of the month, you can go back you can look through and see what the most common triggers and symptoms were and you can begin to track how you've been feeling and reacting recently.
Lucy J Smith is a Mental Health Advocate, Author of the Stand Up To Anxiety Book and creator of the Mental Wellness Club. After her own struggles with severe anxiety, Lucy found ways to understand and manage her anxiety and continues to manage it using personal development, self-care, routines and having an anxiety toolkit.
Related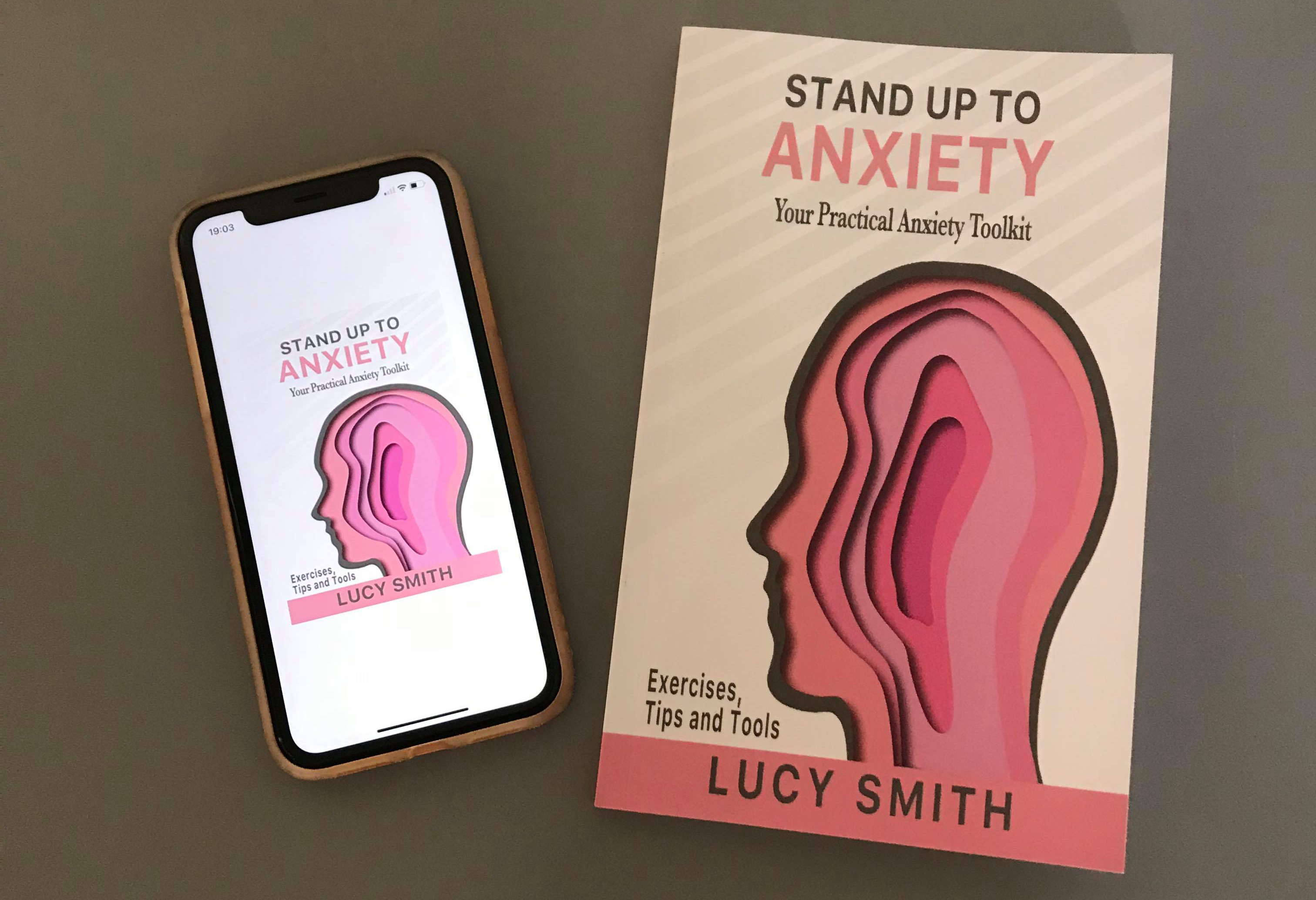 Is anxiety holding you back?
If you are struggling with anxiety right now, this book will be so helpful to you! It is based on my own experience of anxiety and panic attacks and talks you through the steps I took to understand and manage my anxiety.

Get the first chapter of the Stand Up To Anxiety Book for free
Enter your email below to get it sent straight to your inbox!
By entering your email address below you are agreeing to receive weekly emails from Lucy.