066: Fitness And Self-Care Are The Dream Team with Alix
In this episode Lucy interviews Alix all about how fitness & self-care are the dream team and how they can help with anxiety.
Scroll down to read or click play to listen
Fitness And Self-Care Are The Dream Team with Alix
Lucy: On today's episode, I'm joined by Alix to share with us all about her own anxiety journey, and also how fitness has helped her on that journey. So to start with Alex, do you want to tell us a little bit about you?
Alix: My name is Alix, I am a mom of two, I run my own business called chick fit, which is a women's fitness and wellness company. I have got, I suppose, two separate arms to my business. On the one hand, I do a lot of specialist work, I work with a lot of new mums, and post C section and I help with with the kind of recovery and the healing from that and also just rebuilding back to fitness in a kind of safe way.
Then the other side of my business is a fitness and wellness membership site, where I support women in building their fitness and reaching their fitness goals. It's a holistic take on fitness, that we need to have the other things in place in our lives as well, in order to allow us to have the time to look after ourselves really. I really believe that self-care part comes top of the list and that we need to tackle that before we then pile all of the other stuff on top.
Lucy: Yeah, I completely agree. I get people say to me so often that they don't have time for self care. And I'm like, yeah but if you don't have time for self care, then everything else is going to be a million times harder. It's so important that you start with yourself, because then everything else is just more manageable, isn't it? Like the things that wouldn't normally stress you out, will end up causing huge amounts of stress if you haven't made time for self care if you haven't looked after yourself.
Alix: Absolutely, yeah. I think because our lives are very full and then we say to ourselves, right, okay, it's the new year, or whatever the time period is, I'm going to get fit, I'm going to start exercising three or four times a week, I'm just going to do it. And what they do is they then try and pile it on top of everything else, and one of two things happens, either they get so stressed and overwhelmed by it, that it just makes them miserable, or they just do it for a couple of weeks and then as soon as they realise that it's not feeling good, they stop doing it altogether.
That's why I'm always saying to people, whatever you do, start small, but also examine what else is going on in your life, because you can't you can't just pile more stuff on top of an already busy life, something else is likely going to have to give or you're going to have to reprioritise some of the things to make it happen.
I think that for me exercise and self-care, obviously, it's my job, it's my business, it is absolutely vital. But  even I've struggled at times to fit those things in. I know that that's usually because I haven't prioritised properly and I haven't thought about it well, I'm not always amazing at it, but I'm getting better at it anyway.
Lucy: Yeah, definitely. I think you say exactly the same stuff that I say, it's really important that you reflect on what's going on and what kind of time and availability you've got, rather than just saying, right every morning I'm going to exercise because that's not possible for everybody. Or every morning I'm going to go for an hour walk, because we don't all have an hour in our mornings. I mean, mornings for most people are the most hectic time of the day.
Alix's Anxiety Struggle
Lucy: So when did you first realise that you are struggling with anxiety?
Alix: I was thinking about this earlier and it's a funny thing, because I don't think I've ever labelled myself as having anxiety as such. The reason is, because I've always related some of the stuff that I feel to being an introvert and I know that those two things often go hand in hand. But over the years, it's always been like, I feel like this because I'm an introvert.
But actually, when I reflect on it, when I think about it, and when I've thought about it more over the last couple of years, I kind of realise that there's lots of elements of anxiety but I kind of haven't labelled it as anxiety as much. I'll be like, oh, yeah, well, I feel a bit anxious about stuff but it's because I'm an introvert.
When I look back on my life the last 20-30 years as an adult, I realise that I suppose I'm a bit of a funny one because I am actually quite a sociable person. I did this personality test recently that said yeah, you're an introvert, but you're also quite sociable. But I'm sociable up to a point and that always confused me. Because I love being with other people, I find a lot of comfort in connection but too much of it becomes too much. I can go out for a night with my friends and that's great, but after a couple of hours you get that feeling of like, okay, I think you've had enough now, I think it's time to go home. And you know, you have you reached your limit.
I also realised that all of these years, I've often used alcohol when I go out and when I socialise, alcohol is the thing that kind of gets me through it. I'm sure I'm not alone in that, because I think that we all have our coping mechanisms, so to speak. I think alcohol has been one of mine, it made me more sociable, outgoing, easier to speak to people that I didn't know and it made it easier to feel like I was fun, instead of being the one that sort of sat there in the corner and watched everybody else have fun. I think social situations like that you can start feeling very easily overwhelmed and every so often, I will just suddenly feel like everything is too much.
I say that phrase to myself, I just want everyone to leave me alone, I just want to be on my own. Which is very difficult when you have a family and you've got kids. I've found that difficult over the years, and I've really tried to try to control it by planning, tidying and sorting everything in my life and everything in the house so that I don't feel overwhelmed by it.
I sometimes end up worrying way too much about what others think of me. And the overthinking that comes with anxiety as well like thinking about what might happen and what possibly could go wrong, catastrophising and all those kinds of things.
I don't think I've ever had that moment of like, right what I'm feeling here is anxiety. I've just been like, oh, this is just me. I think I've just accepted that this is part of me. Over the years, I've tried to fight against it and it's only really in the last couple of years that I've gone hang on a minute, this is just me, this is the way I am. So let's embrace it and let's just try and find ways of dealing with it and coping with it a little bit better. I am getting better at it, but we're all a work in progress, aren't we?
Lucy: Yes, definitely. That's the most important part of the process what you just said. You can't learn to understand it or manage it until you get to that point where you can accept actually, this is what's happening to me, this is completely normal.
Alix: Yeah, I need to accept it to be able to actually move on and help myself to learn from it and to manage it.
Anxiety, Fitness and Self-Care
Lucy: Yeah, definitely. So at what point did fitness start helping you with your anxiety? So was fitness first in your life? Or how did that work?
Alix: Yeah, fitness has just always been a part of my life. I used to enjoy sports in school, I wasn't particularly good at it but I would always a try it and I always enjoyed it. In my early 20s, I moved to London, joined a gym and that's really where that journey started. I have never used it to manage my anxiety but because it's always been a part of my life it has always helped me with that.
I think people assume that I'm just ridiculously motivated because of what I do. But the fact is, I'm just I'm a normal human being I will get up in the morning and go oh, I need to exercise but really don't want to, maybe I feel a bit rubbish, annoyed or overwhelmed. I know for a fact that if I make myself do it, it will make me feel better, every single time, I will feel better afterwards than I did before, however little I want to do it, it's always worth doing. I always feel calmer, more centred and happier after I've done the exercise. So I've not added it to help me cope with anxiety but I know that it does.
Lucy: Yeah, it's like what you said earlier, isn't it that when you're looking after yourself in other ways, everything else just feels easier? I guess it's fitness and anxiety, although you don't do it as a coping mechanism naturally, it just helps.
Benefits of exercise
Lucy: So we always hear that there's loads and loads of benefits to exercise, could you just talk us through a few of them?
Alix: To start with better cardiovascular health, bone health and those things are massively important. But as far as I'm concerned, one of the absolute, most valuable benefits of exercise is your own self confidence and your own self worth.
To continue this episode please scroll to the top of this page to listen
Alix is founder of ChickFit, a Womens Health & Fitness Coaching business, where she works 1-2-1, in groups and online with women at all ages and stages, from pregnancy right through to the menopause years. ChickFit is all about giving women a healthy and holistic approach to healing their bodies and regaining fitness, by combining exercise with soft tissue/massage therapy, nutrition, self care and day to day strategies to get the very best results and help women regain confidence in their bodies.
You can find me at www.chickfit.co.uk or @alixchickfit on Facebook and Instagram.
And check out the podcast – The Busy Woman's Guide to Fitness & Wellness – at www.podfollow.com/chickfit
Lucy J Smith is a Mental Health Advocate, Author of the Stand Up To Anxiety Book and creator of the Mental Wellness Club. After her own struggles with severe anxiety, Lucy found ways to understand and manage her anxiety and continues to manage it using personal development, self-care, routines and having an anxiety toolkit.
Related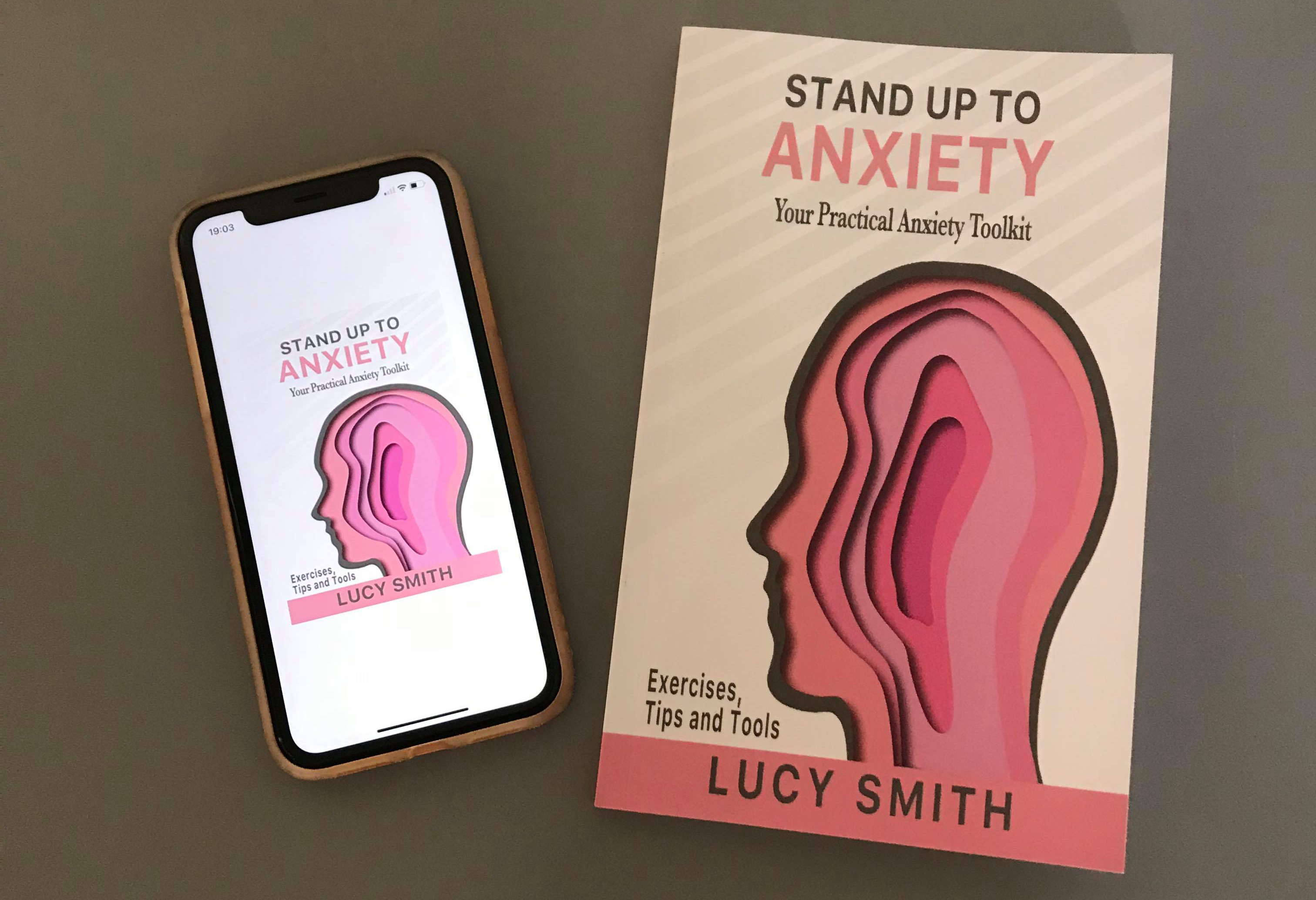 Is anxiety holding you back?
If you are struggling with anxiety right now, this book will be so helpful to you! It is based on my own experience of anxiety and panic attacks and talks you through the steps I took to understand and manage my anxiety.

Get the first chapter of the Stand Up To Anxiety Book for free
Enter your email below to get it sent straight to your inbox!
By entering your email address below you are agreeing to receive weekly emails from Lucy.