068: It's Okay To Take A Break From Social Media
Trigger Warning: death and covid.
In this episode Lucy talks about why she took a little break from this podcast and social media.
 Scroll down to read or click play to listen
It's Okay To Take A Break From Social Media
You might have noticed that I haven't published a podcast episode for a couple of months and I just wanted to come back on and share with you why it has been a couple of months and why I haven't been as active with the podcast, website and social media.
There's a few reasons really and I just want to start by saying that whether you have a business or use your social media for personal reasons, you should never ever feel pressure to show up every day and post every day. If you don't feel like posting or you've got nothing to say, or you've got nothing that you want to say, then that is completely okay. You should never ever feel like you have to. And that's for people that have businesses and people that don't, and they're just using their accounts to talk to their friends and family.
Now, sometimes things happen in our lives and we basically need to take some time away from everything else, that's completely normal. Some things obviously are bigger than others, some things that impact people in different ways. So it's really important, basically, to just be kind to yourself. If you feel you need a break, just to take it and not feel guilty for it.
This is as much a message to me as it is to you guys. When I started as a mental health advocate, I vowed that I would always be honest, I would always be open. That was the best way to share my own mental health journey and to also help other people with theirs. The more I share with you, the more it actually helps me too. So I'm really hoping that this podcast and honesty will really help you.
Dealing with loss
I'm going to attempt to do it in date order. But it all kind of happened at once, which is probably why it's been such a struggle. Back in sort of middle of March, I had a phone call to say that my nan was quite poorly and that she probably wasn't going to get better. So obviously, I had to go and see her spend a lot of time with her and do what I could. I've always been very close to my nan since I was a baby.
We actually lost my granddad about 14 years ago, which is, I believe, when my mental health issues began. So before that time, I didn't really have any anxiety or depression. And then once he passed away, I began to have panic attacks and anxiety and depression. So I think that that was the original trigger. That was something that I discussed when I saw a counsellor.
Transitioning to a new job
So it started off with that phone call. Then a couple of days later, I had a job interview because for those of you that don't know, I left my job in the school to persue my career in marketing, something that I wanted to do. So I had a temporary role that I was doing, and that was coming to an end. So I was looking for a new permanent role. And basically two days after finding out that my nan was really poorly, I went to an interview. I found out that I had got the job. So obviously crazy mixed emotions, really excited about a new job. That was basically the perfect job for me and something that I was really, really excited about. So quite a lot going on.
Then a few days after that I went and played in the national finals in bowls, the sport that I play. And a few days before I went my nan "went to be with poppa" is basically the only way I can word it. I can't say any other words. So I then went to play bowls, which is the sport that nanny and Poppa both played, and they're the reason that I play. So I went to play the national finals and it just so happened it was two singles events, so I was on my own rather than play with other people, and I found it really, really challenging.
I could hear her voice while I was while I was playing. I couldn't stop thinking about her and I found it really really hard to concentrate on the game and basically to put her out my mind which obviously I know is completely understandable, but doesn't make it feel any better or easier.
Looking after your mental and physical health with COVID.
Anyway, so that happened and then I got home and began to feel poorly bit of a cough, sort of achy muscles, and then tested positive for COVID. It just happened to be while I was home alone as well, so I'm home alone, I'm really upset. Because my Nanny is gone. I've got COVID, I feel like crap and in two days time I'm supposed to be starting a new job. So I'm sure you can imagine how I was feeling at that point.
So I managed to do quite a lot of self help tools to try and help me get through it. I managed to go to work on my first day, feel okay, confident and fairly happy. And that is purely down to how how many habits and tools I've managed to build up over the last few years and how comfortable I am with just using them to help me get through tough times.
Now obviously, that's not to say that since then I haven't cried or since then I haven't been upset, because obviously I have. But also I'm able to do things like go to work, even though it's in the same town that nanny and poppa to live in, and I have to drive past their house every morning. If anything, I sort of see that as a sign that she helped me to get that job and, and that's part of the reason that I was given that job.
Take a break from social media when you need to. Without guilt!
So basically, the point of this podcast, and what I really wanted to say is that things happen, hopefully not all at once for you as it did for me because that was probably the hardest week of my life. I'm only really saying it now I'm realising actually how tough that was, and should probably give myself a bit more credit for actually getting through it in some sort of way. But it's so so important to allow yourself a break if you need it.
It's equally as important to make sure that you don't end up bottling it all up or withdrawing from people. Make sure that you speak to people around you. I was always talking to my family, telling them how it was feeling, just having a FaceTime with my sister and crying, and doing whatever I needed to do to get through it.
Not everyone has that luxury. But if you've got a family member or friend, or if not, then a counsellor or somebody that you can speak to just to help you get through it. Because it's so so important to talk about it. I always say that if you bottle it up one day, it's just going to explode. And nobody wants that. That's not fun for anybody. So it's so important to talk about it regularly so that it doesn't get to that point.
Also just to make regular time for self care and personal development habits. So things like and as hard as it is, especially like I said in those situations that I was in with what was happening, things like exercise, you feel like what's the point of exercise, or you just want to lie in your pyjamas all day watching Netflix. And I know that's what it feels like. And to be honest, I did do that for two days when I was struggling with my COVID symptoms, obviously, and everything else as well. But it gets to the point where actually exercise, movement, going for a walk (obviously not if you've got COVID, please don't go walking around).
But things like meditation, journaling, all those kinds of self help habits that can really help you just get through that tough time and help you to put things into perspective and also just help you to get things off your chest.
I hope you found that really useful and understand why I needed a break from social media and this podcast. It's not something that's particularly easy for me to talk about and I think it probably won't be for quite a while, like I said, I think everything that I'm struggling with and have struggled with all kind of stems from what happened 14 years ago, so I'm not expecting to just be completely fine in five minutes time. But also I would like to get back in the habit of regular podcast episodes because I do really enjoy doing this.
I've also been nominated for an award for podcaster of the year. So I thought, if I'm up for an award, I should probably have a podcast. But again, I didn't want that extra pressure on myself. So maybe I'll change it to fortnightly, I'll see. But anyway, thank you for being here and listening to me crying about everything that's gone on the past month. I hope that you find it a little bit useful and that it helps you in some way.
Do you feel like you need to take a break from social media? Head over to Instagram and let me know.
Lucy J Smith is a Mental Health Advocate, Author of the Stand Up To Anxiety Book and creator of the Mental Wellness Club. After her own struggles with severe anxiety, Lucy found ways to understand and manage her anxiety and continues to manage it using personal development, self-care, routines and having an anxiety toolkit.
Related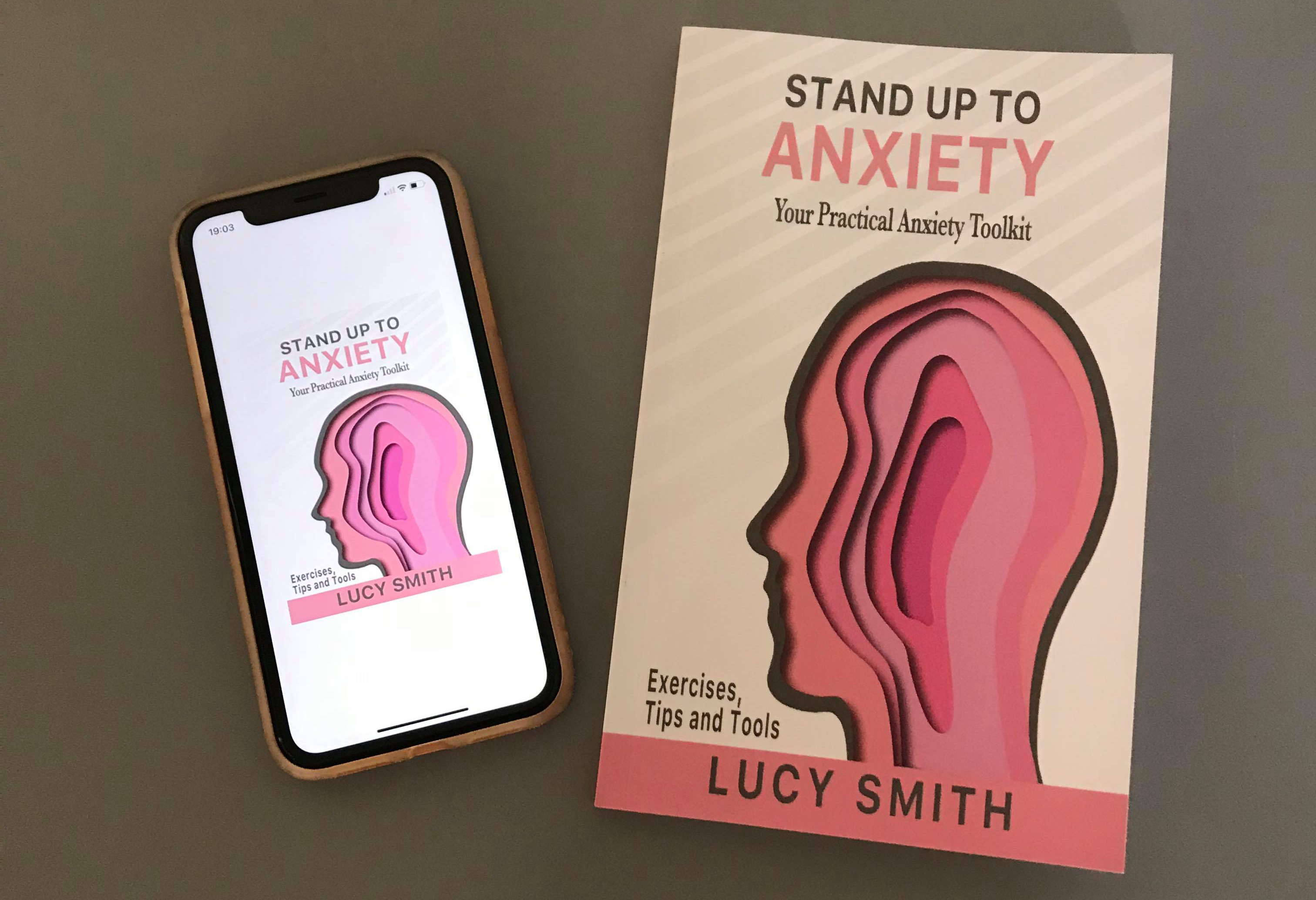 Is anxiety holding you back?
If you are struggling with anxiety right now, this book will be so helpful to you! It is based on my own experience of anxiety and panic attacks and talks you through the steps I took to understand and manage my anxiety.

Get the first chapter of the Stand Up To Anxiety Book for free
Enter your email below to get it sent straight to your inbox!
By entering your email address below you are agreeing to receive weekly emails from Lucy.