072: Personal Development Saved My Life
In this episode Lucy talks about how personal development saved her life and how it can save yours too.
Scroll down to read or click play to listen
Personal Development Saved My Life
In today's episode, I'm going to talk about how personal development saved my life. So that might sound like a dramatic title for an episode. But believe me when I say that this genuinely did save my life, so going back to how I used to feel, I had severe anxiety, panic attacks, depression, at certain points, I felt unable to leave my house to go to work. So not much of a life.
Now I'm able to do everything that I love, I'm able to play a sport competitively that I enjoy and play it with confidence and with ease. Whereas before, I used to struggle with severe panic attacks that stopped me from even doing that. I'm able to drive go to public places, go shopping, do all of the things that used to cause severe anxiety and panic attacks for me.
If I had not gone through personal development and invested on my personal development journey, then I would definitely not be where I am today. So I think it is fair to say that it genuinely has saved my life or definitely changed my life.
Seeking profession support
It all started when I went to see a counsellor because I had always felt like I was a bit shy, and I lacked confidence and I had accepted that that was who I was, that it was normal and that it wouldn't change. Until the day came when I had such a severe panic attack in a supermarket that I realised actually, this isn't normal, this is not okay and I need to get some kind of support with this because I don't know what to do.
I was referred to see a counsellor. They diagnosed me with severe anxiety and severe depression and explained I was having panic attacks and that was all the physical symptoms that I was feeling. Things like racing heart, tight chest, feeling sick, feeling dizzy and occasionally even fainting. They explained that all of that was completely normal and it was part of this mental illness called anxiety.
I began to work with my counsellor, they were really, really useful and really supportive for me, helping me to uncover some of my triggers and to start working on them and beginning to get my life back on track, really. But the thing that was most beneficial for my counselling sessions was that she recommended a book on personal development for me.
Now, it was a huge book about 800 pages and it was called finding peace in a frantic world. The irony of this story is I never actually read that book, because at the time, it was way too overwhelming. It was too big, there was long, complicated words that I didn't understand and I wasn't ready for that kind of book. But luckily, it did get me interested enough to think what is mindfulness? How can I find peace? What are all of these different habits that this book is talking about? Can I find something else to learn instead?
My personal development journey
I began to do my own research, I spent hours and hours reading different books, watching YouTube videos, listen to podcasts, basically consuming every piece of information on the internet, about mental health, and about any form of self help and personal development, things like mindfulness, gratitude, journaling, affirmations, all of those kinds of things, and just figuring out really how beneficial they could be.
So once I did all of that, and I knew I had all of these habits, and I was thinking, how do I implement these habits into my life? I've got a list here – what am I going to do. And I decided that a morning and an evening routine were the best way to implement these new habits that I would get up half an hour earlier and I would do all of these habits in the morning and before bed for 15-20 minutes, I would do some more before it went to sleep.
I found that really, really useful and I got some quick results that way, I found that by starting my morning with positive habits instead of what I used to be doing, which was things like watching the news, scrolling social media, and not doing many positive habits first thing in the morning. I found that actually I was in such a better frame of mind for the day, I was more productive during the day, my mood was improved, I was better around other people and just generally happier. So it was it was really, really good to see some results quite quickly.
I just began to get really, really consistent with those habits. So the fact that I did it the first 30 minutes when I first woke up was really really useful for me because I got out of bed and I knew that before we did anything else. I would do those habits, I wouldn't do anything else until I had done those habits and it's really good because you've got that anchor. So I know that I get out of bed and I do the habits whereas if it's in the middle of the day, you get a bit sidetracked, you get a bit distracted, you do other things and then you forget and before you know it, it's bedtime and you're too tired. So doing it first thing in the morning is a really good way to get consistent with some new habits.
You don't have to spend half an hour so if you've only got 15 minutes or 10 minutes and that's completely fine. But you can just make more time by waking up like I chose to if you want to.
Once I'd seen some results, I began to get really motivated. Because I was like, right, I'm doing these new habits, I'm feeling a lot better. I'm having less panic attacks, I'm feeling less anxiety, I'm feeling a lot happier, everything else is improving my work life, my sport, everything was improving, everything was feeling really, really good. So I was really motivated to carry it on.
I think at a certain point, I got a little bit complacent and thought, right, I'm better now it's all good. I don't need to do these habits anymore and I kind of started to slack a little bit and not do them every day, I was still doing them a couple of times a week, but I wasn't doing them every day. I wasn't doing them as consistently as I was before. I began to see an increase in my panic attacks and my anxiety again. So I thought, right, this is clearly going to be going up and down. If I do the habits every day, it's going to be well managed and under control. If I'm not doing it every day, then it's not going to be and I really saw the pattern that the more consistent I was I was with my routines, the more well managed my mental health was.
I'm now at the point where I do them just as part of my everyday life. So when I'm washing up, I use that as a practice of mindfulness. When I first wake up, I do a couple of minutes meditation, I think about the things that I'm grateful for and I do some visualisation for the day, all before I even leave the bed. That just takes me a few minutes.
Then before bed every night, I fill out the
Stand Up To Anxiety Journal
that helps me to track all of my anxiety for the day, notice any patterns or things that have come up for me. It also helps me to do some positive journaling on the day, like things that I'm proud of, a self care activity that I did and things that I'm grateful for. I then finish with a brain dump just to be able to clear everything that's on my mind so that I can have a more relaxed, peaceful sleep.
There are a few different ways to do it. There's not a one size fits all, I'm not saying get up half an hour earlier and do 10 positive habits because that's not for everybody. It is different for everybody and it's about finding what works best for you. Not everyone is going to have the same favourite habits and not everyone is going to have the same amount of time, which is why I have my
1:1 mentorship
option so that  you can work with me to create your own routine. It doesn't even have to be a routine, just daily habits, anything that can help you with your mental health, mindset, mood and how you're feeling, and you can get the same results that I did.
Lucy J Smith is a Mental Health Advocate, Author of the Stand Up To Anxiety Book and creator of the Mental Wellness Club. After her own struggles with severe anxiety, Lucy found ways to understand and manage her anxiety and continues to manage it using personal development, self-care, routines and having an anxiety toolkit.
Related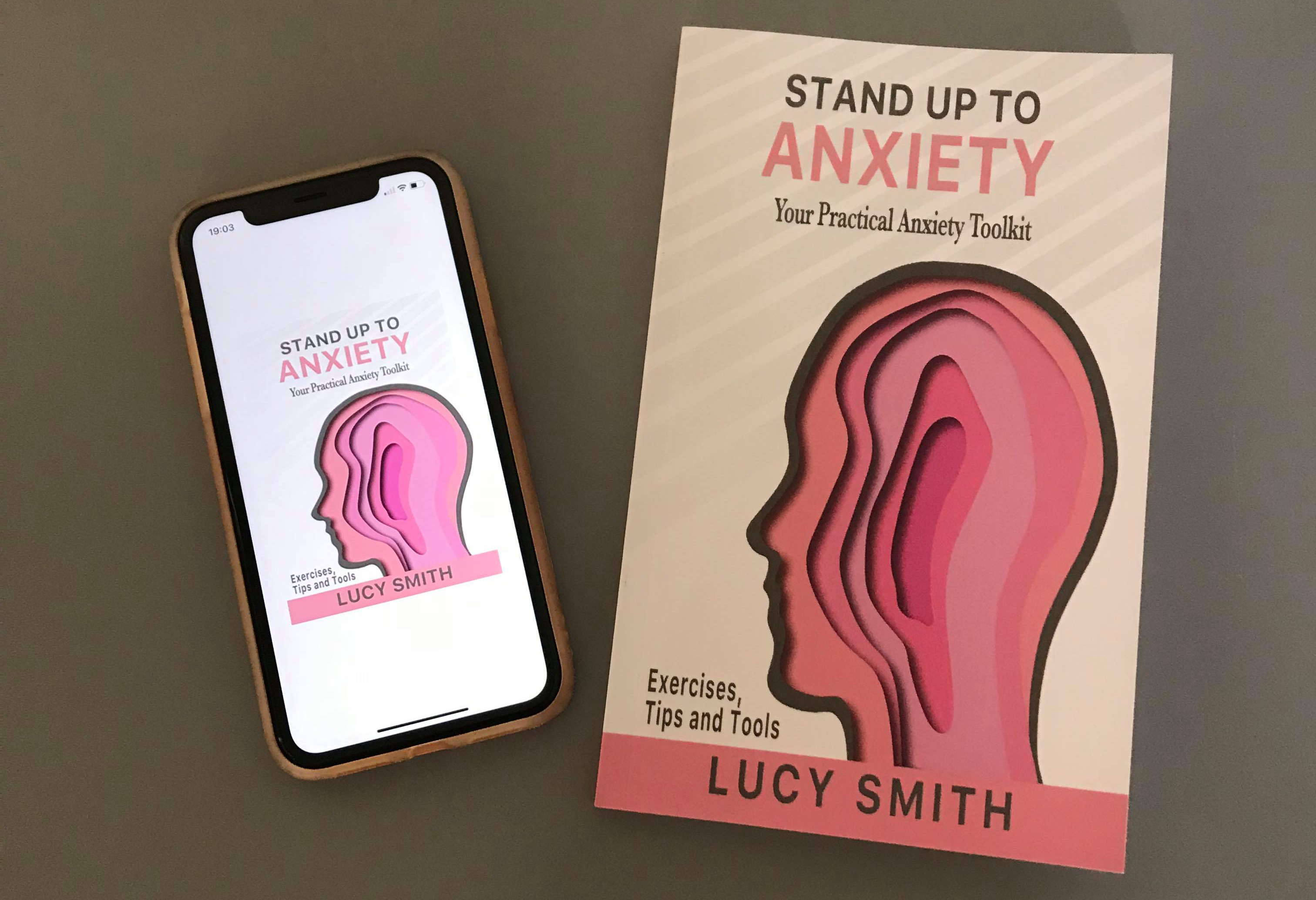 Is anxiety holding you back?
If you are struggling with anxiety right now, this book will be so helpful to you! It is based on my own experience of anxiety and panic attacks and talks you through the steps I took to understand and manage my anxiety.

Get the first chapter of the Stand Up To Anxiety Book for free
Enter your email below to get it sent straight to your inbox!
By entering your email address below you are agreeing to receive weekly emails from Lucy.