074: Understanding Grief When You Have Anxiety
In this episode Lucy interviews Alison all about understanding grief when you have anxiety.
Alison answers these questions and more:
Can you briefly explain what grief is?
What is your own experience of grief and anxiety?
How (if at all) is grief harder to go through if you have anxiety too?
3 top tips for dealing with grief

 
 Scroll down to read or click play to listen
Understanding Grief When You Have Anxiety
Lucy: Today on the podcast, I'm talking to Alison all about understanding grief when you have anxiety. So to start with Alison, can you tell us a little bit about you?
Alison: Yeah, so thanks for having me, Lucy, I'm so excited to be here. I am a coach, a speaker, and a mentor for incredible humans and leaders who just want to achieve their goals in life, or business. I got on this path many years ago, after studying psychology and holistic health.
I got into it after my own loss, I lost my dad when I was 16 years old so wanted to learn more about how I could cope with that loss and that ultimately turned into my profession. I've been doing that for the last five years professionally. On top of working with people in their lives and businesses, I love talking to youth as well, specifically on mental health and reminding them that no matter what has happened in the past, that they can move forward and create a new a new life for themselves.
Lucy: That's great. It's so good that you've managed to turn something that could have been really negative for your mental health in your life going forward into something really positive that not only helps you but help so many other people as well. That's really good.
Alison: Thank you. Yeah, it definitely wasn't the case at first. My dad was sick for seven years before he passed away so I feel I was born an anxious individual, but the anticipatory grief of knowing he had a terminal illness just sent me over the edge. And that didn't go away after he passed away.
We all have a choice in life. I didn't choose life at the beginning, I chose to stay stuck in my grief and I chose to stay stuck in my anxiety. It got to a point where I had to make a choice and ask for some help and that ultimately led me here. So I'm grateful for me then that made that choice, because it is it is a hard one, right?
Lucy: Yes, it definitely is. It's interesting that you say, obviously, at the time, it was a really, really hard experience. I've been through something similar with my granddad, I was very close to him. I felt like when he passed away is when all of my struggles began, that I wasn't aware of them before or whether that actually did start them. I began severe anxiety and severe depression and panic attacks, pretty much from the moment that he was gone. I wonder if if you've noticed that link, and whether losing someone close to you can almost cause a mental illness or what you think comes first? What's your thoughts on that?
Alison: Firstly, I'm sorry for your loss. It's a hard thing to go through. But I will say, you know, every single person on this planet will experience loss. It's a funny thing that ties us all together, right? Something that we can relate to. I think the first thing is recognising that you're not alone in it, because I think sometimes it becomes so overwhelming that we're like, nobody can understand. There's comfort in having these conversations.
I think for me, my grief definitely brought out all of the things that I was already dealing with. When somebody passes away or relationship ends or a job ends, because we can have grief for many different reasons. But specifically with a loss, unconsciously, we're afraid that that's going to happen again. We're afraid to get attached to people because that heartbreak is so heavy that we don't want to experience it again. So we try to avoid it. That can cause a lot of anxiety just in itself, being afraid that something bad is going to happen. That was my experience. Sometimes that becomes a story in your head, whether you consciously know it or not and that will hold you back from taking opportunities to connect with people or just being confident in who you are, because you're just terrified internally.
I think it definitely has the ability to bring out that sort of anxiety, depression, because we're just dealing with so many emotions, grief is made up of so many emotions and something that I realised because I was so young when this happened, but nobody teaches you how to deal with grief. The emotions that come with it, or any sort of loss. It's something that happens to every single person but nobody says okay, here's how you can deal with your anxiety or here's how you can move through your depression after. Those are natural and normal feelings but we try to avoid them, and they in turn get bigger and bigger.
Lack of education about mental health
Lucy: Yeah, definitely. I think, like you say, it's almost like a lack of education and lack of awareness of it. I mean, I personally didn't get taught anything in school about mental health and, and that's not good enough, really, that definitely needs to change so that people know exactly what to do when they're in that situation. Like, for me personally, the first time I heard the words anxiety and depression was when I was being diagnosed. That's not a great experience for anyone to be diagnosed with a mental illness, but have absolutely no knowledge on it at all.
Alison: Yeah. When I was in high school during that time, we didn't have talks about anything. I didn't even though I had anxiety, probably similar to you. Now, things have changed, which is great. But there's a real lack of coping skills. I think that comes from the generations before us who, when there was ever a problem, just avoided it or sent people away. I'm glad things are changing. But there still needs to be more, in my opinion. So yeah, definitely an improvement, but a long way to go.
What is grief?
Lucy: Yeah. So could you just briefly explain what grief is? I know, you've touched on it being not just loss and that there's other forms of grief as well. So could you just explain a bit more about that?
Alison: There's like a professional definition of it, and everyone can have their own. But grief, from what I understand is the emotional response to the loss of an actual person, relationship, or connection to something really. Like I said, before, we can grieve so many things in life. Not only just a loss of an actual person, but you know, if you've ever been through a breakup, or if you've ever wanted something so much and it didn't work out, or friendships and there's so many things, and I think it's the emotional toll that that takes on us as humans. Again, that we haven't been taught to deal with and I think when we don't deal with it, it can in turn, cause symptoms of anxiety and depression and all those other things.
Lucy: Definitely. And would you say that there are, there's like a physical aspect of it as well?
Alison: Yeah, I mean, grief is made up of so many emotions, as we know, and it does have a toll on our mind, our bodies and our spirits. I'm sure you have experienced the physical sensations of anxiety or depression, like I have, and so many other people, it's different for every single person. But what I know about emotions now is emotions are really energy in the body that are stuck.
It's really important when we're in grief to allow all of that to come out to surface, instead of pushing it inwards thinking that there's something wrong with us, or we shouldn't feel this way after so many months or years. It's your experience. It's my experience. It's your listeners experience, and it's okay, whatever that is.
Lucy: Yeah, definitely. So from your own experience, I know you said you sort of touched on it a little bit earlier, but what is your own experience of grief and anxiety and how have you kind of learned to go through that and cope with that?
Alison: I think I was born anxious. I just remember as a kid I didn't like to go to school, I didn't like to go to birthday parties, I never liked loud sounds and I was just a very sensitive kid. I became comfortable with people that I was comfortable with. I didn't like to put myself out there, I didn't like taking risks, everything was scary. So, naturally, I gravitated to my parents. They're the people you're closest with. As I grew up, I found myself really close to my dad, because I always looked like him. I was daddy's girl. I also loved my mom, but you get really close and connected with people. I didn't like to do anything without them so going to school for me was a really hard thing.
I eventually grew out of that as I made friends. But I was always concerned, like a worrier, never knowing what was going to happen, I think this was probably triggered when I lost my brother when I was five. So I had a really early experience with grief. Growing up with this really, almost premature experience of what it is to lose somebody, it just caused me to be insanely anxious. When I found out, he was sick, I was like, oh, no, like, I need to stay close to him, I'm going to have to spend all my time with him. I didn't go to school as much as I probably could have or should have, because I was so worried about not being there, if something happened.
I lived a lot of the time, in my head, I lived a lot of I was on survival mode for probably 20 years of my life. Because all of that stress stays in your nervous system and you can't relax. I have always had anxiety. I didn't know at the those times in my life that was what it was, after he passed away, I became very depressed and that anxiety was still there, because it doesn't go away just after somebody passes.
I had to make a decision, if I was going to continue to stay in this state, and make this my story for the rest of my life moving forward. Or if I could learn how to address these things. I remember going to the doctor, after my dad had passed away, like several months in and he said, Well, you're depressed and you need to go on this medication. At the time, I was studying Holistic Health, and I'm a very holistic, natural person. I remember thinking yeah, maybe you're right. In hindsight, I think I was just naturally grieving. We are so quick to say, you have this or you are this and so fast to avoid real life emotions, you know.
I went on a journey of allowing myself to feel these things and luckily having the right people in my life that could support me during these times. I became so self aware and recognised why things are coming up for me and how to feel my emotions in a healthy way.
That's why I wanted to pursue psychology, coaching, training all these other deep aspects of my career, because I realised, we need to talk about these things, first of all, and second of all, make it a normal thing to acknowledge emotions, feel emotions, learn how to do these things. In turn, I've become a person who is not so much afraid of a lot of things anymore. I still have my anxious moments but I don't allow my emotions and life around me to affect how I feel anymore and that is really empowering for me, but also to remind others that they can get to that point too.
Lucy: Yeah, definitely. I think that's so important that you can share your experiences to help others, that's something that really helps me because I still have anxiety, I still struggle with panic attacks, but knowing that I have the tools and that not only those tools help me but they they help lots of other people, it just helps me to keep going on my own journey.
Alison: For sure, it's universal. Some people don't even know they have panic attacks, then they do, and they're scary. I've learned that these are ways the body that the body can say, hey, I need your attention right now. That there's something going on that we need to address. For me having a communication with my body, because we can physically feel the sensations or a thought pattern that I can't escape from, it's like, okay, this is just information for me to look at right now. I ask myself how can I make this easier to move through? First step is we have to acknowledge that the body or the mind is trying to bring something us brings something up for us.
Lucy: Yeah, that's such a good way of looking at it. Almost like a message that you shouldn't ignore.
Alison: Yeah, what we don't own, owns us. What we don't acknowledge and what we try to avoid it only gets stronger. Or there's another saying – what we resist persists. Most people, to no fault of their own, are walking around trying to avoid looking at their feelings or feeling them because they're scared, but they're just going to make our experience so much worse if we don't.
Lucy: Yeah, definitely. So would you say that grief is harder to go through if you have anxiety, depression or anything underlying already?
Alison: I think it depends on the person, but it can definitely bring another layer to it. I think that any single person who deals with grief and doesn't know how to cope with it will struggle. But if you're already experiencing anxiety, depression or whatever it is, it's another thing. It's just another thing, and it becomes hard to go through those emotions, because everything becomes clumped together.
That's when it's a definite sign to get some support. I think it's important to recognise, we don't have to do these things on our own or go through these things on our own. The world around us might seem okay, but every single person is struggling with their own challenges, especially right now. We are just coming out of a collective grief, every single person throughout COVID has experience grief, loss and fear. So all of those things have an impact on us as well and for somebody who's already anxious or already depressed, that can definitely feed into it.
3 tips for dealing with grief
Lucy: Yeah, definitely. So what would be your three top tips for dealing with grief? Either for somebody that has anxiety as well, or just somebody that doesn't usually have anxiety, but maybe grief has triggered some anxiety? What would you say is the best thing for them to do?
Alison: The top tips to deal with grief, especially when you have anxiety is acknowledging that it's okay. That whatever you are feeling is okay. I think that when emotions are triggered, we get scared because they're uncomfortable. But the more you try to resist those feelings, the more power you're giving to them and the stronger they become. So allowing yourself to just not only acknowledge these emotions, but accept them for what they are is very important.
Secondly, grief is triggering up some fear, for example, or anxiety. But you can't be afraid of living your life. I think again, grief happens all the time for a lot of people. It's something that a lot of people can relate to. It does hold us back from living because we get so afraid of being hurt again, or are afraid of what if something bad happens to someone I love or what if I enter this relationship and again, it doesn't work out and I have to get my heart broken, that can cause a lot of fear and anxiety. But that will hold you back from living life.
I was that person. But I saw there is a way that we can reframe the situation. Most people forget how precious life truly is. They forget that it's really fragile and instead of living in the moment and being present and acknowledging the gift of their life, which is exactly what I didn't do, they are afraid of taking chances.
Finding the ways that you can be present in your life will help you because when you're present in your life, you're not focusing on the thoughts of your mind or the feelings that you have, you're focusing on the present moment in front of you. The more you do that, the more it becomes a safe exercise for you. The more you do that, you realise it's okay. To not worry that you're okay that you're safe.
There are some things that you can do including meditation, going for walks, all of these things that calm your nervous system down are really important. That's why a lot of people gravitate to walking in nature or doing some journaling, yoga, or whatever it is that works for you.
Lucy: Yeah, definitely. That's something that that's really helped me as well. Funnily enough, the next episode of the podcast after this one is all about creating a daily mindfulness practice, so that would be really helpful to listen to next week for some ideas.
Alison: Yeah, these are all ways. I know, we talked about mindfulness, but these are all things that we can do to feel safe in our life. That's how I started to look at it and the more I did that, the more I realised okay, I actually will be okay. If something bad happens, but I cannot focus on that because my job right now is to recognise that my life is a gift. And it can get taken from a lot of people and maybe even myself, and I have to live my life to the best of my ability. But the first step is to feel safe enough to do that.
The last tip, I would say is, if you have anxiety overcoming you, or worry, or emotion from grief. This usually happens to me all the time, what I would do is ground myself. You imagine all the emotion or all the energy that you're feeling to go through your body, out your feet, into the earth, down the floor, whatever that is, for me, that was a way that I could just focus on that moment instead of the emotions. What happens energetically is that emotions keep us from being grounded, so it's really important to find time in your day to to do that to connect to the earth.
Another way that I coped with this was reminding myself that I will deal with these emotions and I will come back to them but it's not the greatest time right now. Just to acknowledge again those emotions are there are those sensations are there and reminding yourself that you will come back.
I think that the inner child has a large grip on us when we go through the grieving process, because in a way, they're just scared. They're scared. They're sad. They're experiencing all of these things, it is our job to not allow our inner child to have that control over us. And for me, when I would say, okay, I'm gonna come back to you, I'm going to come back and deal with these emotions. But right now is not a good time was a way for me to get my power back in the situation, and move forward, but also not abandon my little girl and her feelings. Maybe it's not going to help everybody, but you have to feel free to try out these different strategies and different things, and see what works for you.
Lucy: That's so helpful. I always say the same. There are so many habits out there and you just have to try them all, then carry on with the ones that you like, and that work for you and just forget about the ones that don't to try and build your own toolkit.
Thank you so much for coming on and and helping to explain this. I know it's something that I have struggled with personally, and I know a lot of my listeners have too. And it's so good to get the perspective of someone else.
Alison Foy is a coach, mentor, and speaker who after struggling to cope with the death of her father while she was a teenager, completely turned her life around and has been on a path of empowering others to do the same for the past 5+ years . After formally studying psychology, different therapies, holistic health, and obtaining formal coaching and training certifications, she started her career working and speaking to youth all over the GTA with several different companies. She now works with and speaks to people all over the world and teaches them how to use the power of their minds, connect to the wisdom within, and confidently embrace life around them as they move forward achieving their goals.
Instagram: @alisonfoy
Community: wwwcommunity.mn.co/landing?space_id=7599024
Lucy J Smith is a Mental Health Advocate, Author of the Stand Up To Anxiety Book and creator of the Mental Wellness Club. After her own struggles with severe anxiety, Lucy found ways to understand and manage her anxiety and continues to manage it using personal development, self-care, routines and having an anxiety toolkit.
Related
2 comments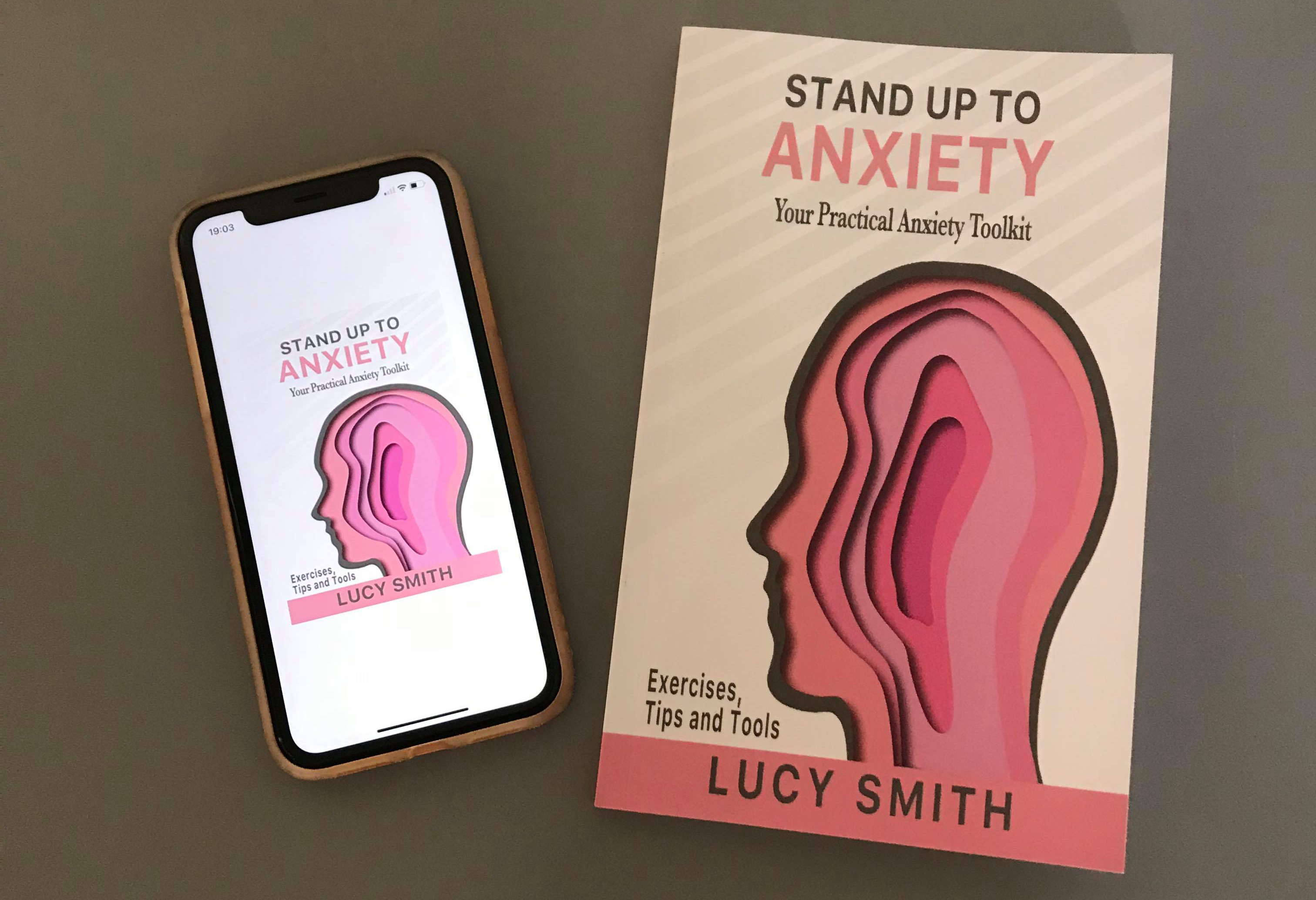 Is anxiety holding you back?
If you are struggling with anxiety right now, this book will be so helpful to you! It is based on my own experience of anxiety and panic attacks and talks you through the steps I took to understand and manage my anxiety.

Get the first chapter of the Stand Up To Anxiety Book for free
Enter your email below to get it sent straight to your inbox!
By entering your email address below you are agreeing to receive weekly emails from Lucy.