076: Trust In Something Bigger Than Yourself
In this episode Lucy talks about how to trust in something bigger than yourself, including a recent personal experience.
 Scroll down to read or click play to listen
Trust in something bigger than yourself
You may have seen recently I shared on Instagram that I had a bit of an interesting experience, something that was quite new to me. I said that I would share it probably on a podcast episode so that's what today's episode is going to be. I'm literally going to explain what happened and how it made me feel and how it's helped me to change my perspective and everything going forward.
Now, this is a bit different to my usual type of podcasts, normally, I give you some tips to go away and try or some new strategies to add to your toolkit. It's not going to be like that today, it's going to be about sharing my experience and what happened to me. Maybe you've had a similar experience, and you can relate to it or maybe you just find it quite an interesting story. So I hope you find that useful.
For those of you that don't know, I play bowls, and the other day I was marking, which is basically like umpiring or refereeing in relation to other sports. Now, when you're doing that, you're concentrating but you're not playing so while I was doing it, I was just thinking about other things I was taking in the surroundings, I was actually using it as a mindfulness practice, because I had been feeling a bit stressed out and worried. To be honest, my anxiety had been getting quite high again and I had been slipping back into old depression habits as well.
So I was basically using it as an opportunity to clear my head because it was a really hot sunny day, the Bowls Club where I play has got a lovely view, out across fields and hills, and it's really pretty. It was just a really enjoyable experience so I just thought I would use it as a mindfulness practice.
I was literally just being present in the moment focusing on my surroundings, using all my senses, just like I tell you guys to do. And then it started when I saw two white butterflies that flew right in front of my face. I hadn't seen two white butterflies together before and butterflies aren't something that I usually see as a sign. Ever since my granddad passed away when I was younger, I always used to look for birds. and if there were birds around I felt like he was there with me. I'd never really felt anything from butterflies before even though I had seen them around a lot.
You may have heard in previous episodes that my nan actually passed away a couple of months ago. This had been the first time that I'd seen two white butterflies together and the feeling when I saw them was really, really strong. While recording this episode I've literally just figured out why, so that's interesting, the experience continues. So, at the time, I didn't know why. I looked at those two white butterflies and thought of my Nanny and Poppa.
Right now, while recording this podcast episode, I am sat on my sofa and on my TV stand are two photos of my Nanny and Poppa, one of each of them. They are sat in their favourite place, which was in my parents garden in the house we grew up in. And believe it or not, the frame they are both in has white butterflies on it. So I've literally just figured it all out. I don't know how I didn't even think about that before. I've literally just figured it out while recording this episode. I'm not gonna edit this out, I'm just gonna leave it as it is!
Now we know why those white butterflies made me feel the way they did. So basically, when I saw those butterflies, when they flew across, I just had this knowing that everything was going to be okay and everything was going to work out. Without going into all of the details, a few crap things have happened recently and it's been a bit of a struggle. But I just knew when I saw those two butterflies that everything was going to work out and that things happen for a reason, which I've always believed but sometimes in the moment you don't feel like it's true because you're like how could this possibly be for the best? But I just knew I knew that it was all going to be okay.
You can't really explain that feeling because to go from feeling like it's terrible and there's no way out to just feeling so much lighter and feeling like it's all going to be okay. But not only feeling it but literally knowing it is a really hard feeling to explain. But that's the only way I can say it was literally like I knew that everything was going to be okay and that that I was going to be okay.
I carried on practising mindfulness, and those two white butterflies just kept flying about they were there for about an hour, just flying every now and then they flew in front of Scotts face, they flew in front of my face, I don't know, if Scott noticed it, I'll have to ask him.
The power of crystals
Then when I was having a drink, I looked somewhere that I look every single day and I found a crystal. When I say a crystal, I don't mean like a rock or anything that you would just find on the ground naturally, like it was literally an amethyst crystal. Now going back a few years, I was quite interested in crystals. I  had a couple of books about them, I was quite intrigued. I used to look into the energy that they can hold and how it can help you with your mental and physical health, your mood and everything in general.
I found them really, really useful but for some reason, I stopped using them. I had a collection of quite a few at a time. I think when I moved into this house, they must have got lost because I don't remember having them in this house. But anyway, I found this crystal and I literally knew that I had to pick it up and take it home. I didn't really question I just thought okay, for some reason, something's telling me to pick this crystal up and take it home. So that's what I did. I put it in my pocket, I took it home and I didn't really think anything else of it.
Moon energy
Then a couple of days later, I began thinking about the moon and about how I used to be interested in the moon as well. Now this could have been triggered by seeing the crystal I don't know if any of you guys know much about crystals and the moon and all of that. But you're supposed to charge, refresh, energise your crystals under a full moon. So it may have been that that triggered my thoughts about the moon, who knows.
One particular day I kept thinking about the moon. I've always been interested in the moon, I'm that person that's like oh, wow, look at the moon tonight, it looks amazing. Literally every single night of the moon cycle, I think it looks amazing.
I've always been interested and I've always believed that the moon impacts our mood, our behaviours, our feelings. I definitely agree with that. My period actually syncs with the moon cycle as bow, I mean, think of that what you will, but it comes like clockwork with the moon cycle. I believe all of that is true. I mean, I read somewhere that the moon controls the tides, as we all know and I think the human body is made up of like 70 or 80% water. So if the moon can control the tides, I'm sure it can control human bodies too, if we have that much water.
I kept thinking about the moon on this one particular day so I googled when is the next full moon because I was thinking, I'll just charge my crystal, that must be what I'm thinking about the moon. It was Wednesday 13th of July and it turns out, it wasn't only a full moon that night, but it was the biggest, brightest full moon of 2022. So again, with the white butterflies, and then the crystal and then the moon like I just kept getting these feelings and it's really hard to explain.
I'm literally smiling at myself talking about this. I don't know if you can tell but I'm also recording this episode without bullet points or notes because I literally just wanted to talk about it without any plan. So let me know how that's going and if you prefer more structure or just rambling like this.
I had these three feelings over the course of about a week. And ever since then, I've just felt so safe. supported, secure, happy and energised. Just really, really good physically and mentally. It feels like I'm in control of my life, everything feels like it's falling into place every day and feels like it's going to be okay even though there's plenty of evidence that suggests that maybe it won't be.
For some reason, those three things have just really, really helped me recently. They are all things that I am going to continue to use and trust in. I don't know why I stopped, because I do think it's really powerful. I know that not everybody is sort of interested in it or believes in it, and that's completely okay. It's not something that I'm going to start teaching or start talking about every week on this podcast. But I did always say that I would be really open and honest about my experiences and right now this week, that is my own personal experience and it is something that I'm going through so it feels right just to share it. It's an important message to share to trust in something bigger than yourself, whether like me it is crystals, the moon and signs from butterflies, religion, faith or anything in between.
I hope you enjoyed this slightly different episode, and I'll speak to you soon!
Lucy J Smith is a Mental Health Advocate, Author of the Stand Up To Anxiety Book and creator of the Mental Wellness Club. After her own struggles with severe anxiety, Lucy found ways to understand and manage her anxiety and continues to manage it using personal development, self-care, routines and having an anxiety toolkit.
Related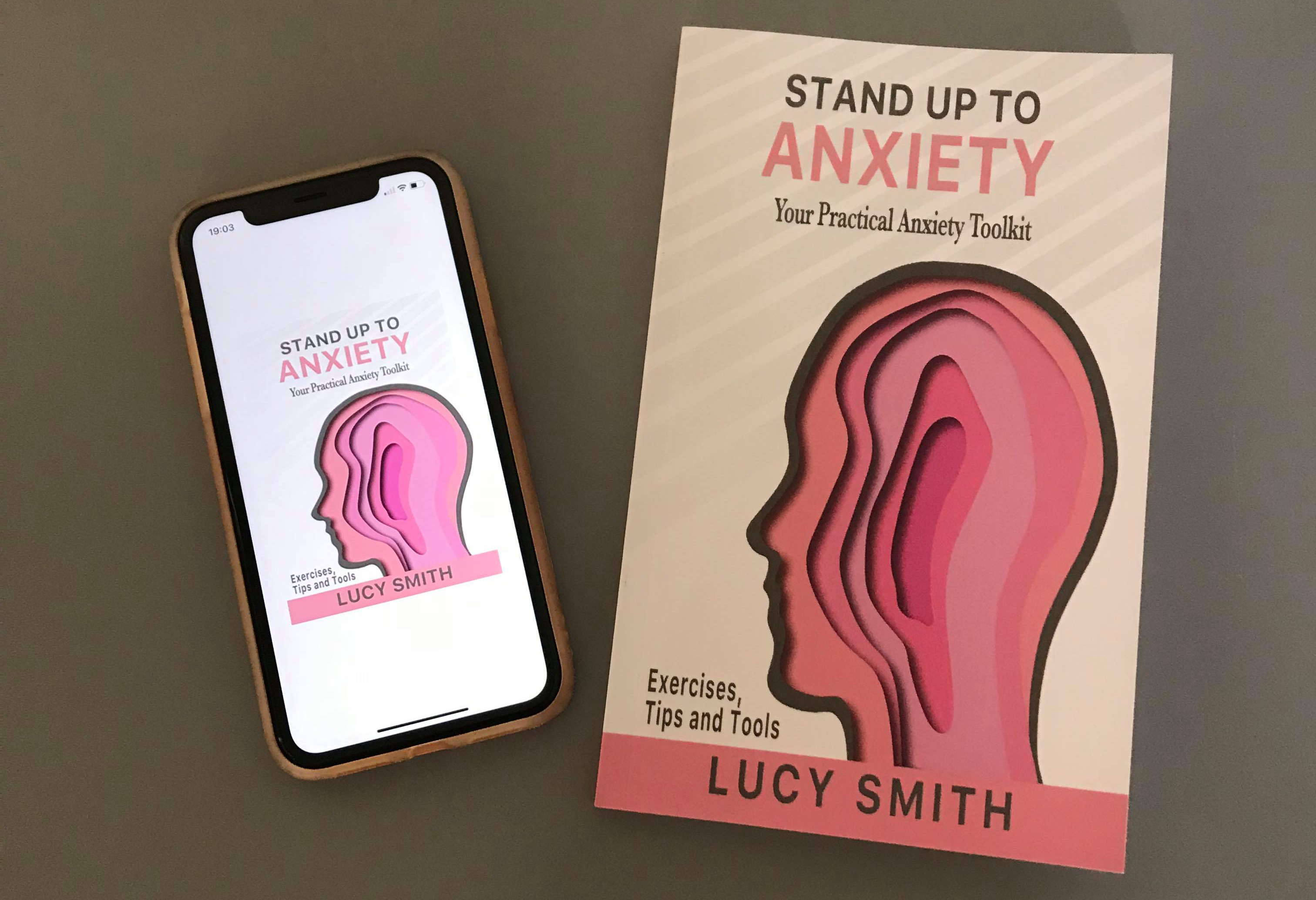 Is anxiety holding you back?
If you are struggling with anxiety right now, this book will be so helpful to you! It is based on my own experience of anxiety and panic attacks and talks you through the steps I took to understand and manage my anxiety.

Get the first chapter of the Stand Up To Anxiety Book for free
Enter your email below to get it sent straight to your inbox!
By entering your email address below you are agreeing to receive weekly emails from Lucy.