078: Supporting Teens With Mental Health
In this episode Lucy interviews Danielle all about supporting teens with their mental health, including the importance of self-care as a daily habit.
 Scroll down to read or click play to listen
Supporting teens with mental health
Lucy: On today's episode, I'm joined by Danielle from Serenity For Girls to talk about supporting teens with their own mental health, how parents can help them to support their mental health and just about mental health in general. So to start with Danielle, you want to tell us a little bit about your own mental health story?
Danielle: Hi, yes, Hi, Lucy. Yes, I'm from Serenity For Girls. So my business is all about promoting self-care, helping girls with confidence and self esteem, and empowering young girls. In terms of mental health, as you're aware, everyone has mental health and you know, it can be triggered at any given point.
For me, I'm quite a quiet person and I keep myself to myself. I have experienced anxiety, for example like if I am going to a new place, or meeting with people in social places, sometimes I have experienced that little bit of anxiety.
I think as well, with my role and my work as a nurse and health visitor, the role can be quite stressful at times. So again, I've experienced stress and anxiety within my role. As a health visitor, we explore maternal mental health a lot, so it's something that I've seen mums struggle with.
I've never been diagnosed with any mental health issues or anything. But for me, I think it's just the anxiety. I think anxiety is something that's quite common with a lot of people.
Lucy: Yeah, definitely. I think so many people, especially the last couple of years with COVID, have experienced anxiety when they hadn't previously. It's like this whole new feeling for quite a few people. Before they hadn't experienced anxiety, stress or worry and then all of a sudden, the pandemic hit, and everyone was like,  I don't know what to do. I don't know what to expect. I'm really, really nervous and feeling all these new feelings. I think a lot of people are going through that at the moment.
Danielle: I think you're right, COVID did have a massive impact on everyone's mental health. it did bring out a lot of people's worries and anxiety.
The benefits of self-care
Lucy: Yeah, definitely. So how has self-care helped you with your own experiences of anxiety?
Danielle: I think it's helped in the sense it gives you a routine and it gives you a purpose, and something to actually look forward to, especially when you're actually doing something different that you've never done before, including something different into your daily routine. I think having that feeling, knowing that you are actually doing something that is going to have a positive effect on your physical and your mental health just gives you a better standard of living.
I try to incorporate into my life at the moment, but it can be quite difficult, because I'm busy working full time,  I have my business and I have a daughter. But I think it's important to try and incorporate some sort of self care into into your life because it does have a positive impact impact on your mental and physical health.
Lucy: Yeah, definitely, I always say  five minutes a day is a really good start. If you can just commit five minutes a day to doing something that you really enjoy, or that makes you feel relaxed or makes you feel happy. And for me, that's basically what self care is.
Danielle: Just like for instance, before, I used to wake up in the morning and the first thing I would do was check my phone and have a cup of coffee. So now I switch that up a little bit. So now instead of having a coffee, I will go and make a little smoothie so that makes me feel a bit better because it feels like I'm doing something healthy. I try to stay off my phone and have time blocks as well. It's just a little things that can you know make a have a positive effect as well.
Lucy: Yeah, definitely. I think we're all a bit guilty of spending too much time on our phone every day. I try to have like a 9pm cut off where I don't go on my phone anymore at night. But I mean, it's easier said than done, isn't it?
Danielle: Yeah, it just takes over. Before I had my business I wasn't I wouldn't really on there. But then when you have a business, you're looking for content ideas, you're looking to see what everyone else is interested in. So I tend to spend a lot of time on there. But it can be really triggering and it's not really good for your mental health, because you can kind of like get sucked in it. I think it's really important for everyone to just try and reduce the amount of time that we have on social media.
Lucy: Yes, definitely. But one other thing I've done is making sure that I've got a really positive like feed. I unfollow accounts that trigger me and I only follow positive accounts, particularly on Instagram, it's a bit harder on Facebook, because we tend to just be friends with our friends and family so obviously, you have a bit less control there but I have been known to unfollow but keep them as friends so that I don't see their posts if they're very negative or trigger in people. But with Instagram, literally everyone that I follow is a positive, healthy, mental health awareness account, that doesn't trigger my anxiety that supports me, that helps me with healthy habits.
That really helps, because then if I am scrolling social media for 15 or 20 minutes, I'm actually only seeing really positive content, which does make a big difference. So that's another little tip if we are addicted to social media, at least make it positive.
So what made you decide to start a business focusing on the well being of teen girls, instead of the well being of everybody?
Danielle: Yeah, so my ideal client is actually preteen girls. So it's girls aged between 7 and 12 years of age. The reason why I chose that age, is because there's a lot of focus on teens, which is absolutely amazing but I think there's less focus on the preteen girls, and I think it's a really important stage in the life. So it's trying to like get there before they actually get into their teenage years.
I've got a daughter myself, who's 16 now, so I've seen all the things that can have an impact and an effect on her well being and her mental health. I've worked in a secondary school as a health and wellbeing officer. I've got that experience and seen firsthand the effects and impact of girls having low self esteem and confidence and the impact that can have on their everyday life and their well being.
It is a well known fact, a lot of research tells us that girls wellbeing, particularly between the ages of 7 and 12 is actually lower than boys in different areas, especially young girls between 10 and 13 in terms of their confidence, their appearance, things like that it's actually lower than boys.
I just wanted to do something that would help. Because like I said promoting wellbeing will have a positive impact on their physical and their mental health, social skills, even their academic achievement. So I just wanted to do something that could help our young girls really.
Lucy: Yeah, definitely. From what I've seen of your business, it looks like it's really, really helping and the products are really great. The subscription box is lovely as well. So I'm sure it does help lots of people.
Danielle: Yeah, and as well as the subscription box, I'm going to be doing face to face workshops for young girls as well. So the workshops are going to be all about building positive and healthy friendships, about resilience, growth mindset, just looking at their inner strengths on identity.
There's so much pressure for young girls at the moment with social media, everything was put out to them. This celebrity culture has a massive impact on their confidence levels as well. Also pressures from schools, friends, there's just a lot that they go through.
How can self-care help preteens and teens?
Lucy: Yeah, it's really good. So how do you think that self-care can help either preteens or teens with their mental health?
Danielle: I think it's the same with us, it's going to help them with their confidence and get them out of their comfort zone, it can help them with their concentration levels, and impacts their physical health if they're doing physical activity and obviously, their mental health as well. I guess it gives them some kind of purpose and routine and some sort of structure as well. So yes, I think it's the same kind of like impact it would have on us, you know, really?
Lucy: Yeah, definitely. I completely agree. I think it's like that with most things, isn't it? Even with the anxiety management tools that I talk about, they're really good for adults, but they're equally as good for children and they'll have the same benefits, you just have to kind of tweak them a little bit so that they are accessible to children. But once they are, I think they can all have the same impact and help everyone in the same way.
Danielle: Yeah, definitely 100%.
Lucy: So to finish then, what is one tip that you would give a teenager or a parent of a teen to help them get started with self care or supporting their mental health?
Danielle: Just to start small. So like I said, I've just switched from having coffee in the morning to having a smoothie, having less time on mobile phones, or doing something to start small and make a little change from your from their daily routine.
As you mentioned before, do something that you actually enjoy. So for instance, I don't like going to the gym so that's not something that I would incorporate into my self-care routine. But I could go for a walk, or go for a jog around the block. Doing something that you actually enjoy it, because then it will make it easier for you to stick to that particular routine.
Maybe you could do something as a family together. You could have your own self care routine together that you do each morning or every weekend or certain day of the week.
Lucy: Great. Yeah, that's really useful. Again, that's what I always say, when starting any kind of new routine, whether that's self-care, or whether it's an anxiety toolkit, just start with one or two habits, 5-10 minutes a day, something that's really achievable, something that you enjoy, and then you can build on it from there. If you find actually, I've got 10 more minutes I can add, or I want to try a couple of new habits, then you can, but I would always just start small.
Danielle: Yeah, definitely. And you can mix it up, you can do physical things like walking or you can change things in your diet, you could introduce new things into your routine, like journaling, affirmations, positive self talk.
Lucy: Great, thank you so much.
Danielle: That's absolutely fine. If there's any parents out there that want to try affirmations with their preteens, if you head over to my Instagram, there's a free workbook that they can download. It explains what affirmations are and a space to create their own affirmations.
Lucy J Smith is a Mental Health Advocate, Author of the Stand Up To Anxiety Book and creator of the Mental Wellness Club. After her own struggles with severe anxiety, Lucy found ways to understand and manage her anxiety and continues to manage it using personal development, self-care, routines and having an anxiety toolkit.
Related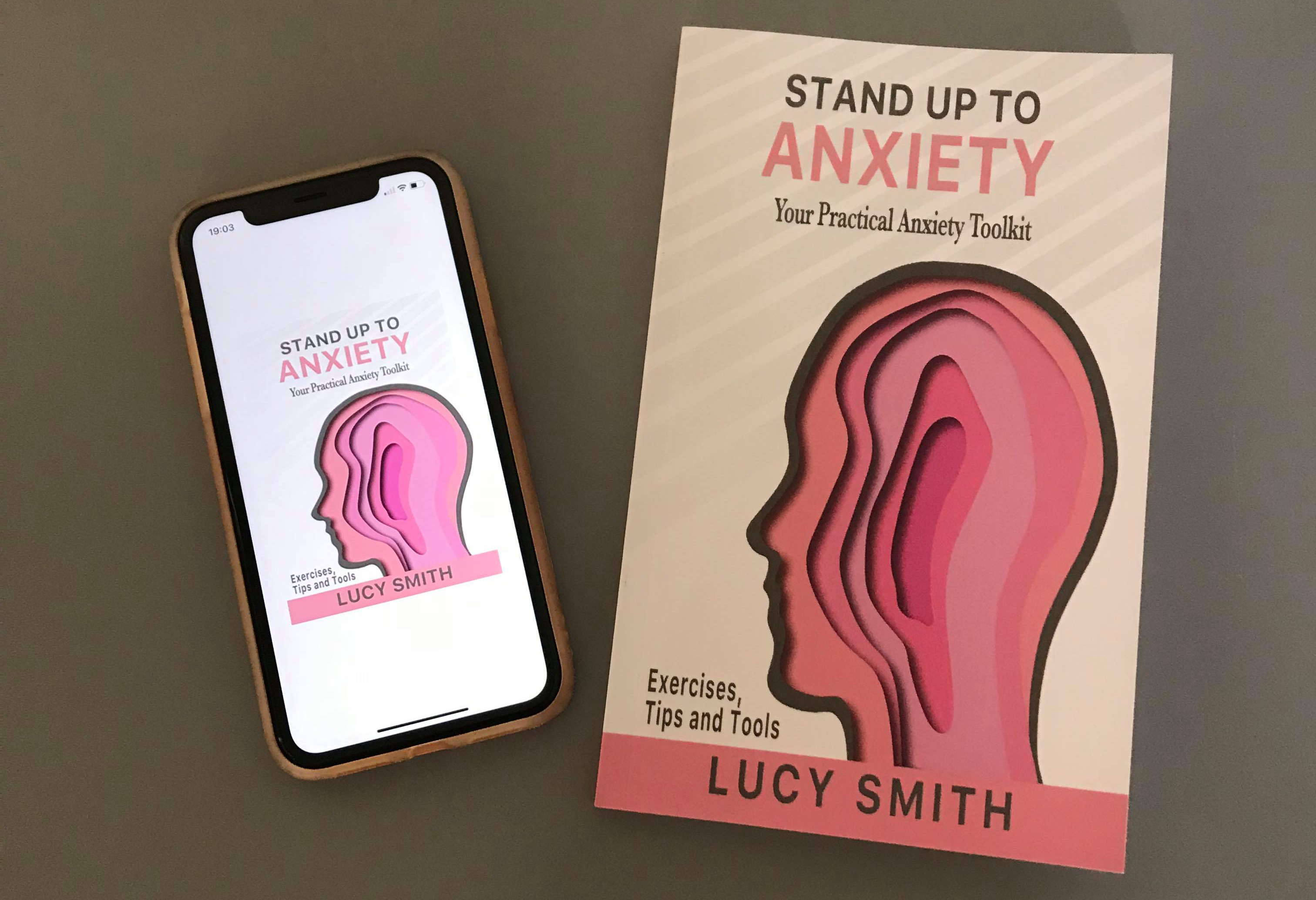 Is anxiety holding you back?
If you are struggling with anxiety right now, this book will be so helpful to you! It is based on my own experience of anxiety and panic attacks and talks you through the steps I took to understand and manage my anxiety.

Get the first chapter of the Stand Up To Anxiety Book for free
Enter your email below to get it sent straight to your inbox!
By entering your email address below you are agreeing to receive weekly emails from Lucy.