081: Positive Habits To Help Anxiety
In this episode Lucy talks about positive habits to help anxiety, including mindfulness, journaling and rest. These are just some of the habits that have helped Lucy to understand and manage her anxiety over the last 10 years.
 Scroll down to read or click play to listen
Positive habits to help anxiety
Over the last 10 or so years, I've really worked hard to build up a lot of positive habits that help me with my anxiety. It really starts with being aware of how you're feeling. I always like to think of my anxiety and my symptoms as a warning sign, a reminder to start one of my positive habits.
It's really good to get to that place where you feel the same. So you can look out for that racing heart, tight chest, headache, stomach ache, or feeling on edge and when you start feeling like that, you think, right, okay, my anxiety has been triggered, I need to use one of my positive habits to help me with this.
This ties in with the anxiety toolkit which is being really aware of all of your triggers and your symptoms, and then using that as a warning to help you to remind you to use the tools that you've got. For me this is the biggest thing that has helped me with my anxiety.
If you've followed me for any amount of time you'll realise having an anxiety toolkit is the basis of all of my work, book, journal and everything that I do, really.
Rest when you need to
So just a few ideas of positive habits to help you. So the first one is to rest when needed. So this is one that I'm talking about a lot recently, because it's something that I'm experiencing in my personal life and as I've always said, I'm going to be open and honest on here to share my own experience to be able to help you even more.
When we feel tired, exhausted or burned out, rest is so so useful. It will really help to feel better when we rest. Especially when we sleep as that's when our body heals itself. So it is important to rest when you feel you need it. I know that it's easy to feel like you've got so much going on and you can't possibly find the time for rest. Or it's selfish to spend time resting because you've got other people to look after.
But trust me when I say it makes everything so much easier when you put yourself first and when you make that time for rest when you need it. Something as simple as having an early night or cuddling up on your sofa, doing something relaxing, just giving your mind and your body the time just to switch off for a little while.
Add mindfulness into your day
Mindfulness is one of the first habits that I learned when I began my counselling and I started my self help journey. And since then, I've found so many ways to practice mindfulness. It's one of my favourites because it's one that doesn't have to take a lot of time and it can coincide with other habits and things that you've got to do everyday anyway, so it doesn't, doesn't take lots of time.
I'm going to share a couple with you today. So the first one, which you've probably heard me talk about before, is called 54321. It is where you look around you to find:
5 things that you can see
4 things that you can touch
3 things that you can hear
2 things that you can smell
1 thing that you can taste
The thought is that when you are being present in the moment and you're looking around you and you're focusing on finding those things, that it will take you away from the stress and the worries and the things that are going on in your mind. It's something that really helps me, it's one that's really easy to do with children as well if you have children that are struggling with anxiety, but for people of all ages, it's a really useful one just to get out of your head for a little while.
The next one is called A to Z. This is very similar to 54321, in that you're going to look at your surroundings. But what you're going to do is you're going to start with the letter A and you're going to work the whole way through the alphabet, finding something around you that starts with the letter of the alphabet and literally work through ABC and then on to Z.
Quite a fun one, again, one that you can do with children or as a family. Maybe if you're on a car ride or something like that, then it can be quite a good one to do just to keep everyone distracted and happy playing a game. It is fun to do but also a mindfulness activity because you're being present in the moment and focusing on the surroundings instead of what's going on in your mind.
Those are two of my favourites. Family friendly, child friendly, really accessible to everyone and you can do them anywhere. If you're at work, on public transport, in a supermarket, you can do them wherever you are. So it's a really useful one that you can just do at any time.
Positive habit of journaling
My next positive habit is journaling. Iy is probably my favourite, although I love them all so much that it's hard to pick a favourite, but journaling for me is so good because it can be used in so many different ways.
You can do things like journaling about your feelings, the things you're grateful for, focus on the positives or brain dumps to clear your mind. I now use my Stand Up To Anxiety Journal as it has all of the prompts in it that I feel I need to help me with my anxiety every day. So for me, that's been completely life changing.
Journaling is something that we can do every single day, it doesn't have to take a lot of time, especially if you've got a journal that you can use like the Stand Up To Anxiety one where you can pick it up and fill out the prompts, it might take 5 or 10 minutes before you go to bed. I know for me and a lot of people that use the journal, it's so useful and really helps you to fall asleep and have a good night's sleep, especially if you do it right before bed.
Talk about your feelings
The last one is talking to somebody. I think very often we feel like we can't express how we're feeling. As children, we grow up and we're told that it's not okay to cry, to stop crying, it's not that bad, you're exaggerating or you're being dramatic. I mean, I'm sure I'm not the only one that heard those kind of words growing up not just from parents, but also from teachers.
That's probably the most unhelpful thing to hear, especially if you do grow up to have a mental health condition, because actually expressing how you're feeling and talking about it is one of the best ways to help. It can sometimes feel like you're burdening the other person or you're giving them all your worries and concerns and it's making their life harder. But if they're the right person, and they're your support system, and they're somebody that loves you, then they are going to try and help.
Ask them to support you in the way that will help you, this can be a really helpful one to use. If you haven't got anybody and you do feel like it's getting out of control, then seeking professional support and advice is definitely recommended. It's something that I did straight away. At the point where I felt like I needed help. I went and got professional help and I began sessions with a counsellor. It's something that's really helpful, especially at the start of the journey to help you get on the right track with understanding your anxiety.
I hope you found that really useful. Head over to Instagram and let me know what your favourite positive habits are to help anxiety.
Lucy J Smith is a Mental Health Advocate, Author of the Stand Up To Anxiety Book and creator of the Mental Wellness Club. After her own struggles with severe anxiety, Lucy found ways to understand and manage her anxiety and continues to manage it using personal development, self-care, routines and having an anxiety toolkit.
Related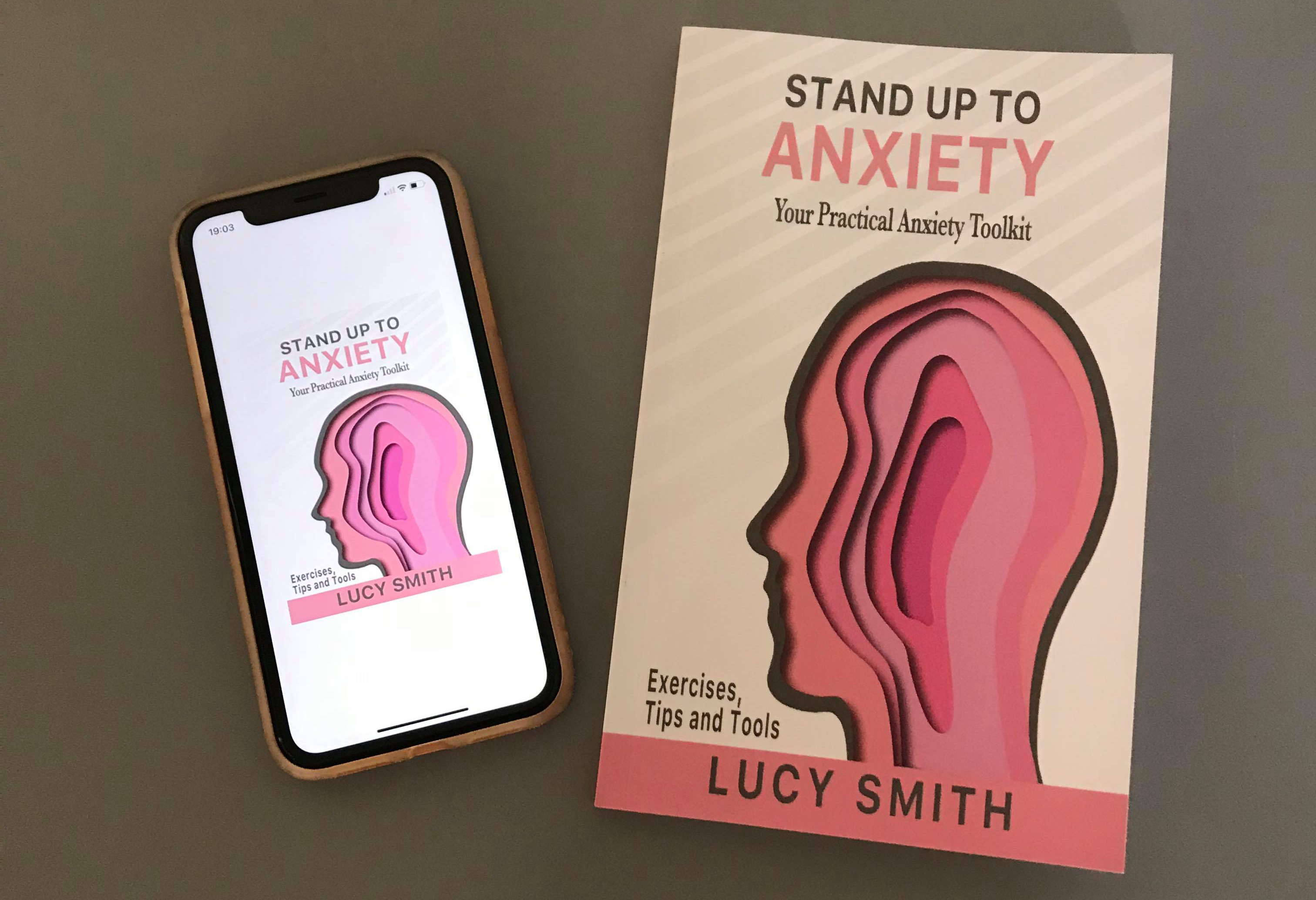 Is anxiety holding you back?
If you are struggling with anxiety right now, this book will be so helpful to you! It is based on my own experience of anxiety and panic attacks and talks you through the steps I took to understand and manage my anxiety.

Get the first chapter of the Stand Up To Anxiety Book for free
Enter your email below to get it sent straight to your inbox!
By entering your email address below you are agreeing to receive weekly emails from Lucy.