082: Types Of Journaling For Your Mental Health
In this episode Lucy talks about 4 types of journaling to help your mental health. These include feelings prompts, tracking your progress, gratitude and a brain dump.
Scroll down to read or click play to listen
Types Of Journaling For Your Mental Health
In today's episode, I'm going to talk all about journaling and the different types of journaling that you can use to help you with your mental health.
Journal prompts
One of the first types of journaling I tried was using journal prompts. You can use feeling prompts to really dig deeper on how you're feeling. So, for example, a few of these questions might be:
How do I feel?
What made me feel this way?
How does my body feel?
What am I thinking about?
You would write this prompt at the top of a piece of paper and then write down whatever comes to mind. So think about it in as much detail as you can, just allow anything that comes to mind just to be written down without judgement. Don't worry about what you're thinking or writing, just write down whatever comes to mind.
After that, you can look back through it to reflect and see what's going on for you. It's a really helpful way just to see how you're feeling. It's something that I've done quite a lot over the last few years, is probably one of my favourite self-help tools and is my go to if I am struggling.
Journaling, especially about my feelings, is something that really helps me to get to the bottom of it. It can also then help with thinking about a solution. So for example, if you're worried about something in particular, by journaling about it and writing down how you feel and why you feel that way, you might actually be able to figure out something that will make it feel better or something that will make you feel easier. It's a way that you can recognise patterns in your behaviour and your anxiety.
If every time you go out to the supermarket you feel anxious, you can remind yourself that that is a trigger for you. Then the next time you need to go to a supermarket you can prepare yourself for that using tools like mindfulness or whatever else helps you to be able to prepare yourself to go to the supermarket that day and hopefully reduce your anxiety and symptoms.
Track your progress
The next reason I use journaling which is to track my progress. I find it really useful when learning to understand and manage my anxiety to really keep on top of what it feels like and how it shows up for me.
This includes knowing what my symptoms are by asking how do I feel in my mind and my body and how do I behave? For me personally, that is my heart races, I feel hot, sweaty, shaky and sick. I feel on edge, jumpy and irritable. I have trouble sleeping and sometimes I avoid the activity. I have so many symptoms but because I am really aware of them and I use my journal to help me track them, I find it really easy to be able to recognise what my symptoms are.
It's also a way that you can recognise your triggers. You may be able to figure out new triggers from the feeling prompts. Being able to journal about these is so helpful because if you know what can potentially trigger your anxiety it will really help you when you have to face that situation next because you'll know that you'll need to do some extra work to prepare for it.
That brings me nicely to the last thing that I track in my progress, which is the tools that I use. Sometimes we use tools and they're not effective. That's completely normal. Like for me personally if I'm having a severe panic attack, breathing exercises do not help, they make my symptoms worse, they make me feel lightheaded and dizzy, which obviously doesn't help my anxiety. I can use my journal to track this. I can say had a panic attack, tried breathing techniques felt worse. Then I know next I'm having a panic attack, I shouldn't be using breathing techniques, I should be using something else instead. It can really help you to track your progress and to just understand your anxiety that little bit deeper because ultimately the more we understand our anxiety, the easier it is to manage.
Gratitude journaling
So far it's been quite negative based, a lot of focusing on how we're feeling right now, which is obviously good. But it's also important to do the positive side of journaling too, there are many types of journaling we can use to achieve this.
Gratitude is one of my favourite because it gets you to focus on all of the things you have in your life to be grateful for and trust me once you get going there are a lot. Some days it's really hard just to find one. But if you just think about everything around you so for example, living in a house, having family members and friends, a nice warm cup of tea, a comfortable bed to get into at the end of the day or whatever it is. It can be literally as simple as the normal everyday things that we often take for granted. I'm sure we can all think of five things every day that we're grateful for. That's something that I love to do.
Brain dump
Lastly, this is one that's particularly good before bed, is a brain dump. If you're anything like me, you'll get into bed and your mind decides that it's time to wake up and it literally will just start overthinking every single conversation that day going over it, thinking about what I said, what I didn't say, what I shouldn't have said and then the same for every single thing I did. It's so exhausting.
The brain dump really helps me with this because I get my journal and I write it all down. Every single thing that's come to my mind, no matter how big or small I write it down. Then I close my journal, I put it in the drawer, I close the drawer and I say that's it now it's gone, it's it's not on my mind anymore. It's in a journal and if I need to pick it up tomorrow because maybe there is something important that I need to remember, then I can do because it's written down and I'll remember it.
There's nothing worse than waking up at three o'clock in the morning and having a really good idea or remembering something that you've got to do and then being afraid that if you fall asleep, you're going to forget it. So it can be used for things like that as well. If you've got any ideas or any new worries come up or whatever it is use your brain dump to figure out all of those things, get it off your mind and onto paper.
I've been journaling for probably about seven or eight years now, pretty much since I started my journey with my counsellor and then my own self-help journey and became really aware of everything out there. But there wasn't one journal that had all of these things that I found really useful that I've just talked through today.
Once I published my book, quite a few people were coming to me asking if there is a journal for the book because the book is really helpful but I feel like a journal with it would be really good too. So basically, long story short, I decided to make my own journal with all the prompts that I know I need and that I know work best for understanding and managing anxiety. It goes really well alongside the book and helps you to implement all the tools and strategies that we talk about in the book.
I now use the Stand Up To Anxiety Journal every single day. I have done since I published it over a year ago and I find it so helpful and so many people that have ordered it do as well. If you haven't already got your copy, make sure you go over to Amazon and order your copy, just type "Stand Up To Anxiety" and the book and journal will come up if you haven't already got them. Or you can go to my website and there's a lot of information about it on the website if you want to read a little bit more first.
I hope you found this useful and it has given you some ideas of types of journaling to support your mental health.
Lucy J Smith is a Mental Health Advocate, Author of the Stand Up To Anxiety Book and creator of the Mental Wellness Club. After her own struggles with severe anxiety, Lucy found ways to understand and manage her anxiety and continues to manage it using personal development, self-care, routines and having an anxiety toolkit.
Related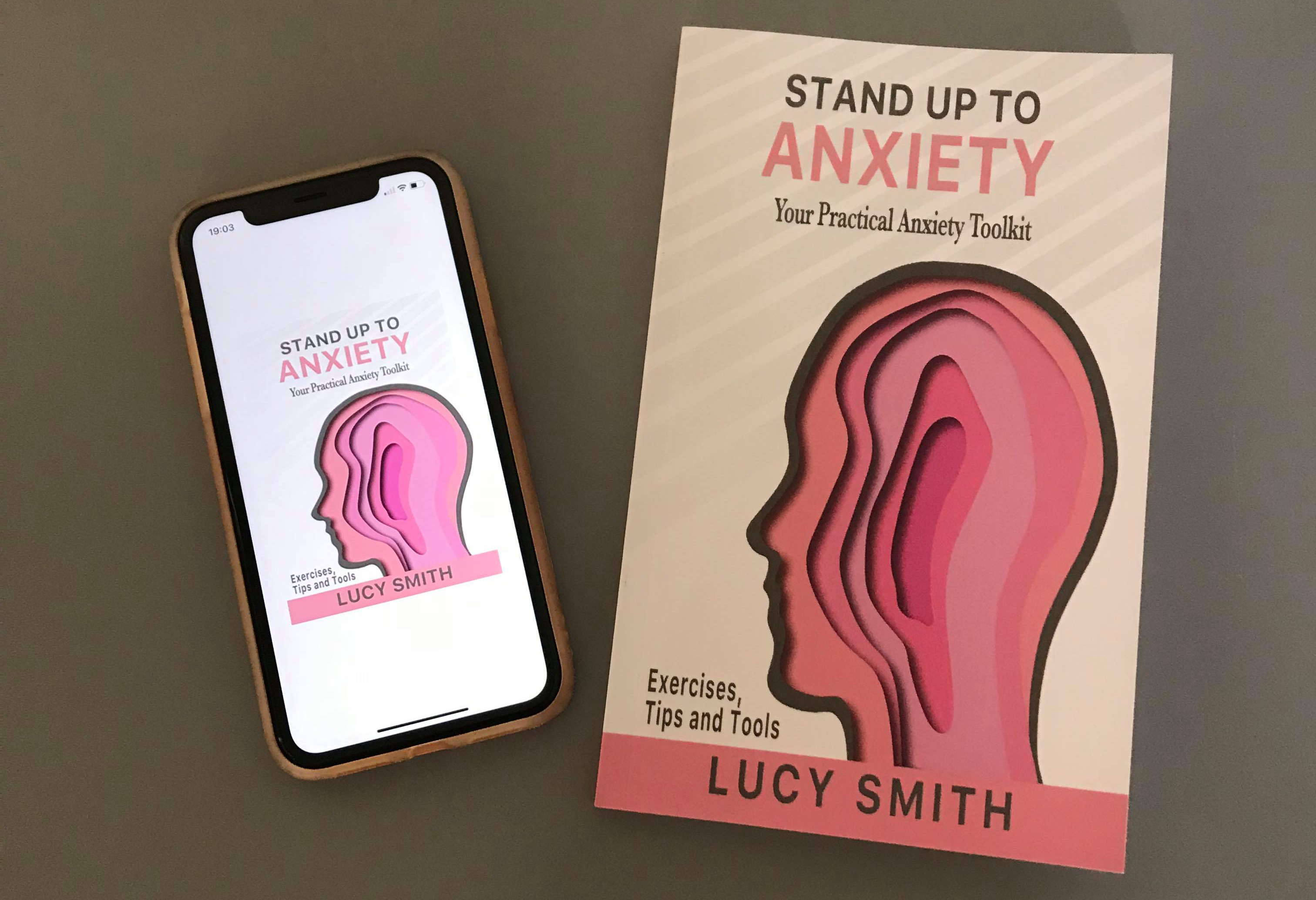 Is anxiety holding you back?
If you are struggling with anxiety right now, this book will be so helpful to you! It is based on my own experience of anxiety and panic attacks and talks you through the steps I took to understand and manage my anxiety.

Get the first chapter of the Stand Up To Anxiety Book for free
Enter your email below to get it sent straight to your inbox!
By entering your email address below you are agreeing to receive weekly emails from Lucy.