093: 5 Ways To Invest In Your Mental Wellness
In this episode Lucy talks about 5 ways to invest in your mental wellness, including resources, support, accountability and mentorship. If you'd like support on your journey, join the Mental Wellness Club by clicking here.
Scroll down to read or click play to listen
5 Ways To Invest In Your Mental Wellness
Investing in my mental wellness is something that I have done really consistently for the last seven or eight years and something that now I feel like I've gotten to a place where I feel completely invested in my mental wellness and like it's a priority and every single day. I don't really need to remind myself to do it, it just happens naturally, it just flows. It's part of my daily life and everyday habits.
Doing this helps me with my anxiety, depression, confidence, stress management and so many other things as well. It's something that's really useful and today I'm going to give you five ways to invest in your own.
Resources
The first one is resources. Now there are so many resources out there and believe me, I know because when I started seeing my counsellor and I was introduced to the world of self-help, I basically read hundreds of articles, watched hundreds of videos, listen to hundreds of podcasts, it goes on and on and on. I consumed so many resources and so much content and it was like a big jumbled mess in my mind.
I was overwhelmed and I didn't know where to start and I didn't know what to implement. I didn't know what to do. It was quite a confusing time not only because I've just been diagnosed with severe anxiety and severe depression, but also because I had all these different resources that I just didn't know what to do and where to start.
Support
It's really really hard to do this on your own. You need support, you need a support system, whether that someone cheering you on whether that someone else is going through something similar that you can talk to. Support is really, really important.
Also professional support, when needed. I saw a counsellor for several sessions. I know that lots of other people go down that route too. So for me, that's something that really helped. Not only did it help me with my mental health issues, but it also introduced me to the world of self help so that was another bonus.
Mentorship
Mentorship is something that's really helpful with mental wellness. I have done work last few years as a mentor and I've had a lot of people say to me that because I've been through anxiety and depression myself that I have a different take on it than most trained counsellors because I've experienced it and I know what people are going through.
Some counsellors don't experience it themselves and even if they do, it's not something that they can openly talk about with you. They're just there to be your trained professional and give you the tips and the techniques whereas I can give you my personal experience I can give you more tailored support because I know exactly how it is that you feel.
Accountability
Accountability is another one. It's really hard to get consistent with anything if you don't have accountability. I love when other people know that I'm working on something because it means I have to follow through. I have to do it.
Imagine that you're getting into self-help. You're looking at all the resources you've asked for the support, you've got the mentor. The last thing you need is accountability you need someone to be there checking in with you every week saying:
Have you done this?
How did you find it?
How did you get on?
What can you improve?
Asking you all those kinds of questions to really reflect on how you're feeling but also to get you motivated to actually stick to them.
Join The Mental Wellness Club
If this is something that you think is going to help you in the way that it's helped me, then I would really suggest that you join the Mental Wellness Club, which is my fifth way to invest in your mental wellness, because it does all of the things I've just talked about.
It gives you all the resources, it gives you the support, you have the mentorship for me and the live Q&A sessions every month where you can ask extra questions, and you have the accountability of the group environment and also have my support within the group to be able to reach out, tell people what you're going to do and then ask them to check in with you every week, which I'll be able to do and make sure that you're actually following through with the resources that you are learning.
A group environment to support your mental wellness is the most important thing because it feels so lonely. When we struggle with anxiety in particular, we feel like we're the only one in the world with these worries and that we're the only one with the struggles but actually that's not true. Being surrounded by other people on the same journey can be really inspiring. But also it can be really encouraging and show you that other people are feeling the same you're completely not alone, it is normal.
You might see people further along in the journey think wow, I really want to get to the place they have maybe that's how you feel about me and my journey. With me going from anxiety, not being able to leave the house, not being able to drive and really struggling to do things like go to work or play the sport that I loved to the person I am now where I am really confident at work, I have no anxiety when I drive, go shopping, go to the gym. I'm able to do things like this podcast and live videos and support people because I've got to this place where yes, I still have anxiety, I'm not saying I've got rid of it I don't think that's possible but I have it managed so well that it does not hold me back from anything in my life.
If anything, it actually pushes me on to achieve more because I know that if I can do that and if I can learn to understand the management anxiety this well that I can basically do anything else because we all know when we're struggling with anxiety, it feels like it is the absolute worst thing in the world.
I hope you found that really useful and that you come and join me over in the Mental Wellness Club.  You're going to get everything I've mentioned in this episode – resources, support, mentorship, accountability and so much more.
Lucy J Smith is a Mental Health Advocate, Author of the Stand Up To Anxiety Book and creator of the Mental Wellness Club. After her own struggles with severe anxiety, Lucy found ways to understand and manage her anxiety and continues to manage it using personal development, self-care, routines and having an anxiety toolkit.
Related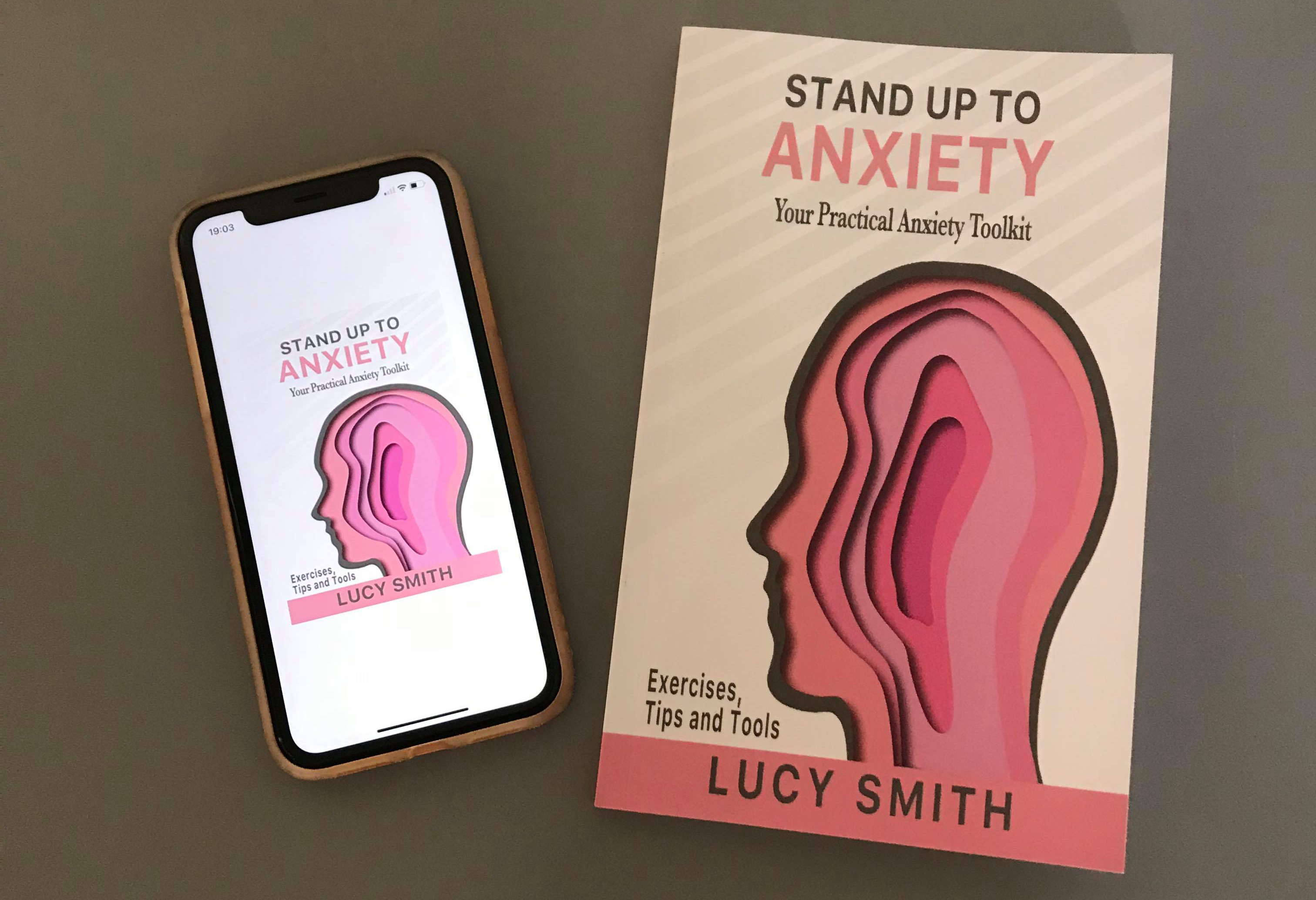 Is anxiety holding you back?
If you are struggling with anxiety right now, this book will be so helpful to you! It is based on my own experience of anxiety and panic attacks and talks you through the steps I took to understand and manage my anxiety.

Get the first chapter of the Stand Up To Anxiety Book for free
Enter your email below to get it sent straight to your inbox!
By entering your email address below you are agreeing to receive weekly emails from Lucy.