095: Dealing With Social Anxiety At Christmas Parties
In todays episode Lucy talk about dealing with social anxiety at Christmas parties, including how to prepare before the event, techniques for preventing and calming anxiety during the event and what to do when you get home.
Scroll down to read or click play to listen
Dealing With Social Anxiety At Christmas Parties
In today's episode, I'm going to talk about dealing with social anxiety at Christmas parties. So this is a really busy time of year with lots of socialising maybe more meals out and parties than you would do for the rest of the time of year. There's a few things that you could do before, during and after the event to help you with preparing for it.
Preparation before the event
The first thing to do is to prepare for the event. If you're going to a restaurant, look at the menu, check out the parking, look at the directions to get there. Plan your outfit, think about who you're going with and organise lifts with them or taxis. Think about everything that you possibly can and prepare for all of those things.
For me, I can't eat gluten because I have Coeliac Disease, so I need to check the menu check for something that I can eat. Sometimes this also includes ringing the restaurant beforehand to double check that they're aware of Coeliac Disease and that they have separate preparation areas for gluten free food, and all those kinds of things.
Make sure that you prepare yourself for anything that could cause you anxiety. If driving is one of your triggers, make sure that you know the directions you know where you're going or you have asked for a lift. Also think about where to park and how close the parking is to the place you're going. If you need to walk a little bit are you going to need an umbrella or a coat? Be as prepared as you possibly can be for the event.
Visualise it going well
Now the next thing to do before you go is to visualise it going well. Now this is one that I love because visualisation can be a really fun technique. You could visualise yourself going to the event, so going to that particular restaurant, the driving, parking and walking. You can visualise everything down to ordering your food if that's what triggers your anxiety, having conversations with people, maybe having a drink or having a dance whatever it is that could trigger your anxiety, visualise it going really well and you feeling really confident, happy and not feeling any anxiety.
I would recommend doing that as much as you can. visualising every day leading up to the event will really help you to believe that you're going to be okay and it can trick your mind into believing that you've already done it and you've already felt comfortable so why would you need to feel anxious at the actual time? It's a really powerful technique.
Dealing with social anxiety during the event
When you're actually there during the event, there are two ways that you can help to deal with your anxiety. Mindfulness, being really present in the moment, focusing on what's going on right then. You can focus on your senses, your breathing, somebody in particular, a picture on the wall or whatever else, something to really help you stay grounded, focused and present in the moment. This is going to help you to not spiral out of control because once anxiety starts it's quite hard to stop it so you want to try and stay calm and continue to stay calm while you're there.
Another way to do this is affirmations. You can use affirmations like:
I am good at socialising
I enjoy socialising
I love being out with my friends
My friends are supportive
I feel safe in this environment
You can use affirmations like that to reinforce that you are feeling good, safe and that you are not experiencing anxiety in that situation. That's just something you can do on and off throughout the evening. Like I said I would recommend doing it throughout the evening rather than waiting until anxiety is triggered because it's much harder to try and undo that anxiety and feel calm again.
Try to continuously say those affirmations to yourself. Obviously you haven't got to say them out loud and no one needs to know you're doing any of these things. That is the one positive with things like affirmations is that nobody knows you're doing it you can be saying those affirmations to yourself in your head on repeat and nobody will have a clue that you're doing it. So that's really helpful. So I would recommend doing that while you're there.
After the event
Then after so when you get home that night or the next day, reflect on how it went. Now, if something has gone wrong or something has happened and you want to think about it, that's fine. I don't ever think that ignoring the negative things is a good idea. I think we need to sometimes reflect on that. Think about if there's anything you could have done different or why it happened. Try not to overthink it and worry about it all the time because that's not going to be good for you. But do feel free just to write a couple of notes and think about something that you could do different for next time.
But more importantly, I want you to also reflect on the positives. Write a list of all the positive things that happened. Did you get involved in the conversation? Did you really enjoy your meal? Did you love the music that was being played in the club? What was it that you were doing that night that was really positive and that felt good for you?
Then write some gratitude lists. Write about the things that you're grateful for. This could be:
I am grateful for feeling comfortable while I was there
I am grateful for a lovely night with friends
I am grateful for being able to go and try new food
I am grateful for experiencing a new restaurant
Just write down loads of things that you're grateful for. Then what you can do is look back at those positivity and gratitude lists for your preparation for the next event to remind you that last time you did it, it felt really good, it didn't go as bad as you expected it to and that can then be added to your before preparation to help you get used to the idea of doing it again.
Now, like I've said so many times the thing with anxiety and social anxiety as well is that the more you do it, the more comfortable you will feel. If we avoid it and we only do it once a year then it's going to be more scary. If a restaurant is a trigger, the best thing to do is go and do that every week because we know it's a trigger but we want to get used to it it will get so much easier if we do on a regular basis. So we can use this time with them the more socialising than we would normally do with Christmas parties. We can use this time as like a way to build up that list of positives that list of yes we can do it we can go out to a restaurant we can go to a party we can go to a club and we can do it without feeling loads of anxiety. So that's going to really help you for the future as well.
Lucy J Smith is a Mental Health Advocate, Author of the Stand Up To Anxiety Book and creator of the Mental Wellness Club. After her own struggles with severe anxiety, Lucy found ways to understand and manage her anxiety and continues to manage it using personal development, self-care, routines and having an anxiety toolkit.
Related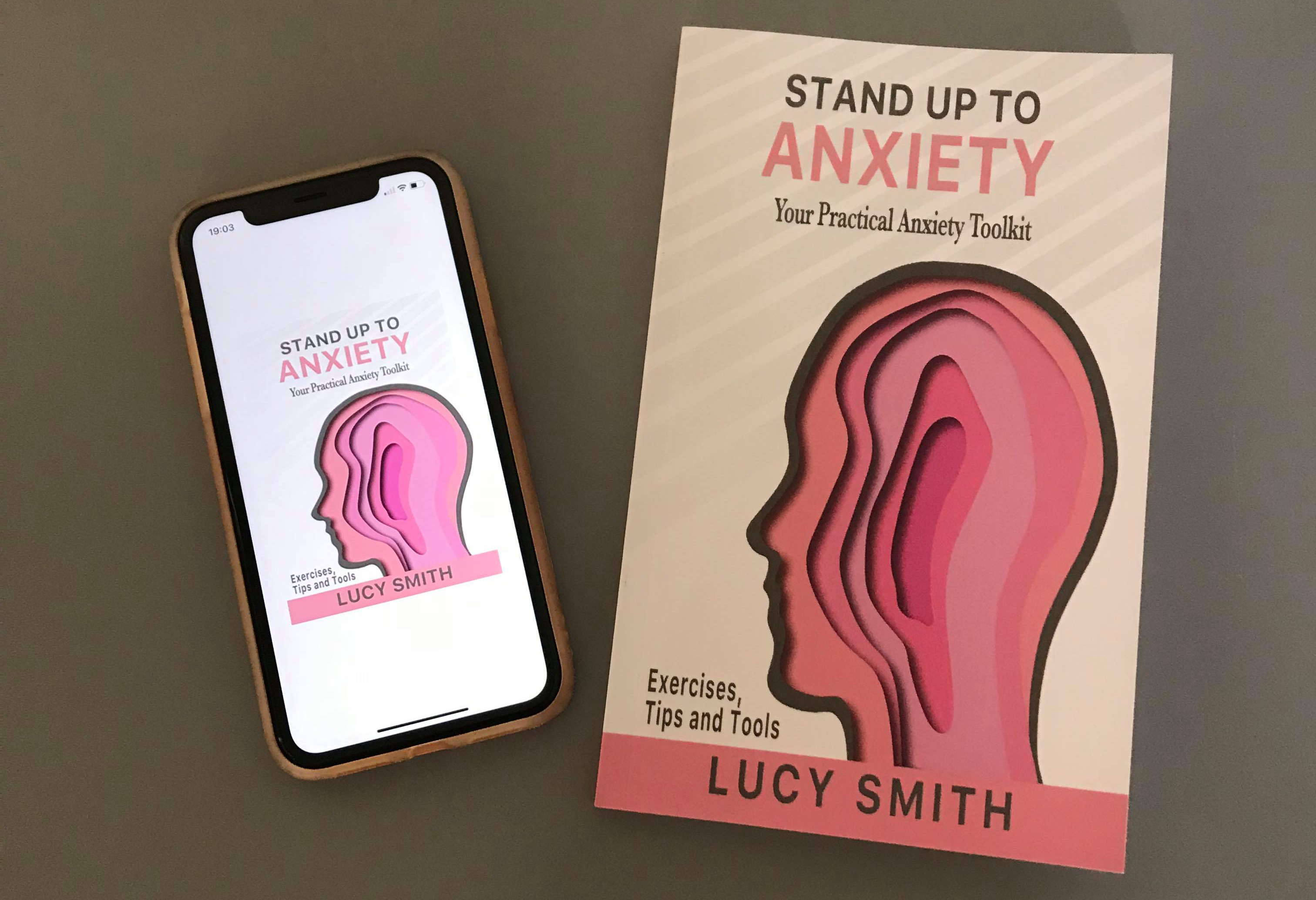 Is anxiety holding you back?
If you are struggling with anxiety right now, this book will be so helpful to you! It is based on my own experience of anxiety and panic attacks and talks you through the steps I took to understand and manage my anxiety.

Get the first chapter of the Stand Up To Anxiety Book for free
Enter your email below to get it sent straight to your inbox!
By entering your email address below you are agreeing to receive weekly emails from Lucy.