100: New Habits For The New Year
In this episode Lucy talks about creating new habits for the new year, including which ones to pick and how to get consistent with them.
Scroll down to read or click play to listen
New Habits For The New Year
In today's episode I'm going to talk about new habits for the new year. If you haven't already done the reflection and planning in
episode 99
then make sure you go back and do that first because that's going to be really helpful to help you with picking your habits and to help you with the the things in today's episode. So, habits are the thing that actually make the change.
Setting goals, intentions, focus words and whatever else is really good, but they are nothing without habits. Habits are the things that are actually going to make the change. Now what you want to do is pick relevant habits, this is why I said that you have to do the previous episodes exercise before moving on to this because you don't know what kind of habits to pick until you know what your end goal is that you want to actually achieve. For example, if you want to focus on confidence, then you're going to have specific habits that will be different to if you want to focus on anxiety. Pick the relevant habits that are going to be helpful to you and what your desired outcome is.
What you're going to do is you are going to choose one or two to get started with. The worst thing you can do is come up with a big list of 10 habits and then be like right I'm going to do them all, because that's too much too soon and you'll find that if you can't do all of them you'll end up doing absolutely none of them. Quite a lot of us have this all or nothing thinking where if we can't do all of it, we're going to do none of it and basically unless we do all 10 every single day we won't be happy. But that's too much to ask of yourself, so just start with one or two. Then when you're consistent with them and you're ready, then you can add some more.
My current habits
I'm going to talk you through my current habits. Now again, please bear in mind that I've been doing this for like 10 years now. So my list is quite long, but I did do what I'm asking you to do and start with one or two and build it up. You can get to the place I am today, just please don't rush it.
My daily habits are meditation. visualisation, journaling, reading, walking, self care, and vitamin supplements. Some of them I do at specific times, for example, I always do self-care in the evenings. I always take my supplements in the morning. I always do journaling straight before bed. But the other ones things like reading meditation and visualisation I do just throughout the day. For example, I do visualisation while I'm brushing my teeth, getting ready or in the car as a passenger. I do meditation  while I'm walking, washing up or in the shower. Sometimes I mix it up and do it the other way around. But basically I put meditation and visualisation into most of my daily habits because if we're going to have to do things like cleaning, washing up, getting dressed or having a shower every single day we might as well add some kind of positive habit to it to make it a better experience.
That's what I do personally, this is what I've done and be really consistent with these particular habits for the last three months when I got a habit tracker and I decided that these were going to be the ones I was going to track.
Track your habits
Tracking is the most important thing. Consistency with habits doesn't happen unless you are tracking them. You have to track your habits. If you just pick a load of habits, and then put them on your phone or put them in a journal and never look at them again. I can guarantee you're probably not going to end up being consistent with them. You need to track them. You need that daily accountability.
You need something to be able to physically tick whether that's on a phone, laptop, journal wherever it might be you need that thing to physically tick it off. It's so motivating. I can't even explain to you how motivating it is.
You can actually get everything you need to get consistent with your new habits within the
Mental Wellness Club.
So I'm offering you a 7 day free trial to join and to see if it's good for you see if it's something that you can you're going to find useful. Coming up in January we've got a Live Planning Party. We're going to go into this in so much more detail. You're going to pick your new habits and I'm going to help you get consistent with them day in day out. I'm going to give you all the tools and resources you need to get consistent with those habits and also help you pick them.
We have a monthly Q&A Live video as well. So if you want specific advice for example, you want to work on managing stress at work, you can put a comment in the group and I will give you specific ideas of habits to help you with managing stress at work. Same for building confidence in social situations, managing anxiety or calming panic attacks. Whatever it may be, I can give you specific advice for that and actually help you with picking the habits because I know sometimes we listen to these podcasts and we think well that's all well and good but I don't know what habits to pick. And I wouldn't just suggest picking the same as me because that doesn't work everybody it's going to be different. That is the main difference between this podcast and the
Mental Wellness Club
you will actually get specific support advice and mentorship within the club.
Lucy J Smith is a Mental Health Advocate, Author of the Stand Up To Anxiety Book and creator of the Mental Wellness Club. After her own struggles with severe anxiety, Lucy found ways to understand and manage her anxiety and continues to manage it using personal development, self-care, routines and having an anxiety toolkit.
Related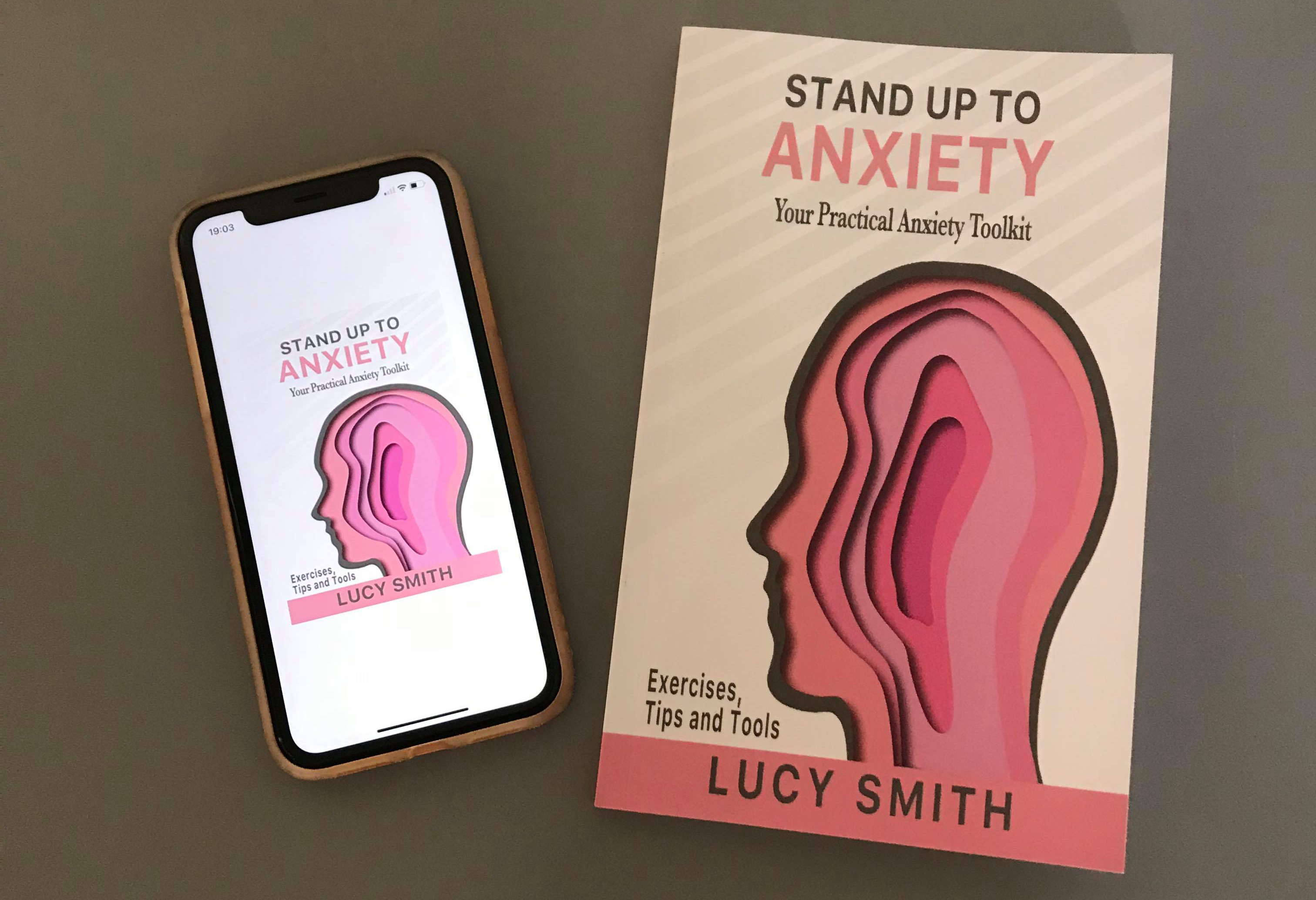 Is anxiety holding you back?
If you are struggling with anxiety right now, this book will be so helpful to you! It is based on my own experience of anxiety and panic attacks and talks you through the steps I took to understand and manage my anxiety.

Get the first chapter of the Stand Up To Anxiety Book for free
Enter your email below to get it sent straight to your inbox!
By entering your email address below you are agreeing to receive weekly emails from Lucy.