101: Healing The Vagus Nerve with Dr. Amanda Chan
In this episode Lucy interviews Dr. Amanda Chan about healing the vagus nerve, including what it is, how it impacts anxiety and what you can do to change it.
Scroll down to read or click play to listen
Healing The Vagus Nerve with Dr. Amanda Chan
Lucy: On today's episode, I'm joined by Dr. Amanda Chan to talk all about healing the vagus nerve. So to start with, do you want to just introduce yourself a little bit and let us know how you got into this work?
Dr. Amanda: I am a chiropractor, but I don't practice the traditional chiropractic techniques. I use a very light touch and gentle approach to working with somebody. I also teach tools and strategies to help the nervous system because throughout my career as a chiropractor, I found that people's nervous system had a big indication on how they heal.
Lucy: Perfect, so can you just explain briefly what the vagus nerve is because I know, for me personally, I had to do a little bit of research on it to find out so some of my listeners might not have heard it before and might not have much experience. So could you just explain as simply as possible? What it is and how it works?
Dr. Amanda: The vagus nerve is what we call a cranial nerve, which means it comes from the brain, and it goes to innovate a lot of organs in your body. So it goes into the throat, it has branches that go into the lungs and into the stomach. You have a vagus nerve on each side. It is what we call the master controller of the sympathetic nervous system.
The sympathetic nervous system is the fight or flight stress response, freeze and fawn, but it's your stress response. So it's how you respond to stress.
The parasympathetic nervous system is the rest and digest. The vagus nerve plays a huge role when you're resting when you're digesting and when you're healing your body.
The vagus nerve and anxiety
Lucy: Okay, yeah, that makes so much more sense when you put it like that. So how does this have a direct impact on anxiety and how might it show up in the lives of people that struggle with anxiety day to day?
Dr. Amanda: Sure, so if your vagus nerve isn't well regulated, or not functioning properly, it has a hard time switching from sympathetic (stress response) into your parasympathetic (rest and digest response). Even though you might be trying to relax or trying to do your meditation, or whatever it is that you use to help you with your anxiety. If your vagus nerve isn't working well, it doesn't help.
Lucy: Are there any things that could potentially help change that or is that just something that you can't really have much control over?
Dr. Amanda: So you can learn to regulate your nervous system again, the challenge is that it takes time so it's like learning a new skill. This is because our nervous system developed in utero, you started developing your spinal cord you had your ears to hear things. That's when things started to develop, so while you were in utero, you are designed so that when you come out, you're ready for the environment that you are going to be born into.
So if mom was under a lot of stress during your pregnancy, you would feel the same hormones, cortisol and adrenaline that she felt. Your nervous system would develop in a certain way. If you were inside the womb and you heard a lot of fighting your nervous system would also react so that when you came out, you were prepared for the environment that you would come out into.
Being aware of real or perceived threats
Lucy: Oh, that's really interesting. So what are a few things that we can do now to help reverse or change that?
Dr. Amanda: One of the techniques I like the best is when you to ask yourself, if something is a real or perceived threat, so when you feel like your blood pressure is increasing or like your heart rates increasing or your palms are getting sweaty, when you're responding in a way that you might try and run away from something or freeze. Then you need to ask yourself, Is this real or not? The "real" response, meaning is this endangering my life right now? If it's not, then it goes into the perceived threat and you're not actually in danger.
Lucy: Yeah, definitely. I think that's something that a lot of us who have anxiety struggle with, like trying to be able to tell the difference between what actually is dangerous and what just feels like it is
Dr. Amanda: For sure. It could simply be an email that sets you off and then in your mind, you have to go is this real and logical, we know an email isn't gonna kill us, even though we might not want to open it. But if we aren't in danger of our life, we do want the sympathetic nervous system to kick in.
Lucy: Yeah, definitely. SoI know something that you were keen to talk about was the development of the nervous system and how it plays a role in our perception. So could you just explain a little bit about that and how that might show up in our lives?
Dr. Amanda: Yeah. So your nervous system was developed in utero, and you came out in a certain way, then you will have the same hormones, cortisol and stress response that your family would have as well so that plays a role in how you see things because you're already wired a certain way, coming out.
Then based on, you know, the early years and what the dynamics were in your family, you're further cementing that into your nervous system. Until the age of about six, your mind is pretty open and you accept everything that you hear as fact. So if somebody tells you "money doesn't grow on trees" or other false beliefs, then it becomes cemented into our body and into the nervous system for us to feel that that's true, even though it might not be
Lucy: Yeah, definitely. I think the things our parents, teachers and family members say become our own beliefs and I know that's something that contributed to my struggle with anxiety because you don't necessarily get the support that you need and the reassurance that you need, so that can have a knock on effect as well.
Dr. Amanda: Absolutely, your community plays a huge role in whether you feel safe or not and the more safe that you feel less anxious you will be.
How to start healing your vagus nerve
Lucy: Yeah, definitely. So what is one tip you would give someone listening to get started with healing the vagus nerve, if they've literally never heard of it and the first time they've heard of it, what can they do to get started?
Dr. Amanda: There's a lot of different tools and strategies and based on what you feel works best for you. I'll list off a few:
Walking in nature and reconnecting with the nature
Meditation
Journal your thoughts
Cold therapy, such as taking a cold shower.
Laughing, watching a comedy series or movie for example
Lucy: That's really interesting. So many of those that you just mentioned, are ones that I use regularly just help me with my anxiety and to calm my symptoms so seems like there's a really big overlap between the things that I talk about a lot on this podcast for anxiety and the things that also would heal the vagus nerve, but I didn't actually know that at the time of recording those podcast episodes.
Dr. Amanda: Yes, it's brilliant. It's actually a lot of things that you would normally do to help calm anxiety, help change the way that you're feeling in a certain moment or to get different emotions and to get the chi running in your body to be different.
Lucy: Yeah, definitely. For me, it always just comes back to that if we spend time on rest and relaxation, self-care, looking after ourselves and self-help habits like mindfulness and journaling that it's only going to have a positive impact on our mental wellness overall.
Dr. Amanda: For sure. A lot of those exercises they help you build awareness and that is the key to changing the state that you are in. Once you're aware of something like that, you observe how you're being or you observe certain thoughts that you've been having over and over again, then you can choose a different thought, but if you're not aware of it, then you can choose something different.
Lucy: Yeah, definitely. I completely agree. Well, thank you so much for coming out and answering all my questions. I hope this really helped everyone listening. Is there anything else that you wanted to add before we finish up?
Dr. Amanda: Yeah, one of my mottos is:
The doctor determines the diagnosis. The patient figures out the prognosis.
So just because someone told you you had something or that something else is going on in your life, and you look up on Google and everything is grim. It doesn't mean that that has to be your history or your future.
Lucy: I love that. That's a really, really good motto to live by.
Dr. Amanda is a chiropractor who focuses on Neuro-Optimization. Her tools and strategies aim to help people regulate and optimize their nervous systems.
Lucy J Smith is a Mental Health Advocate, Author of the Stand Up To Anxiety Book and creator of the Mental Wellness Club. After her own struggles with severe anxiety, Lucy found ways to understand and manage her anxiety and continues to manage it using personal development, self-care, routines and having an anxiety toolkit.
Related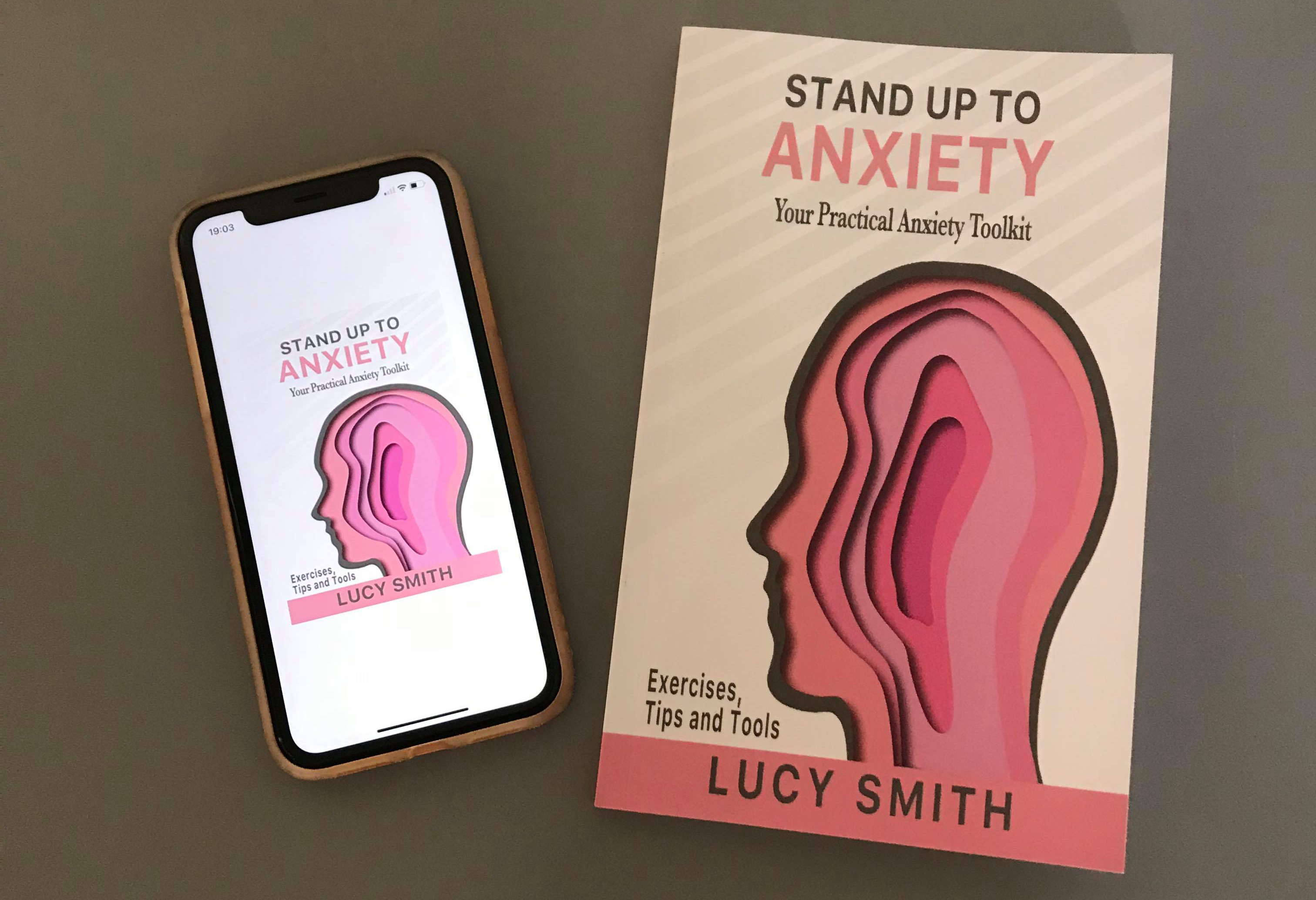 Is anxiety holding you back?
If you are struggling with anxiety right now, this book will be so helpful to you! It is based on my own experience of anxiety and panic attacks and talks you through the steps I took to understand and manage my anxiety.

Get the first chapter of the Stand Up To Anxiety Book for free
Enter your email below to get it sent straight to your inbox!
By entering your email address below you are agreeing to receive weekly emails from Lucy.